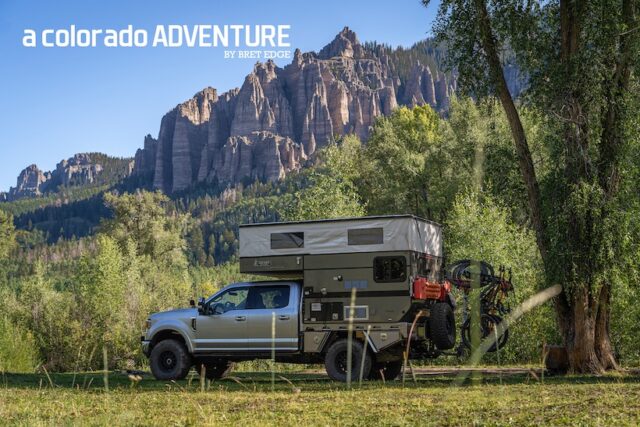 Planning a week-long Colorado Overland Adventure trip through the Rocky Mountains is at once exciting and overwhelming. With thousands of miles of scenic offroad trails to explore, narrowing down the "to-do" list is almost as challenging as catching your breath at 10,000', but we were up to the challenge.
We left Moab late Saturday morning. We'd reserved a campsite for two nights in Rocky Mountain National Park and our goal for day one was to camp as close to the park as possible. After several hours of driving, we turned down a random off road dirt road and were rewarded with a grassy site on a ridge overlooking Longs Peak.
The next two days passed quickly. Driving Trail Ridge Road across the park left us in awe of this majestic landscape. Views extended for miles, as deer, elk, moose, marmots, pikas, and squirrels entertained us through the windows. We arrived at our campsite with just enough time to eat dinner and organize gear for our upcoming hike before settling in for the evening.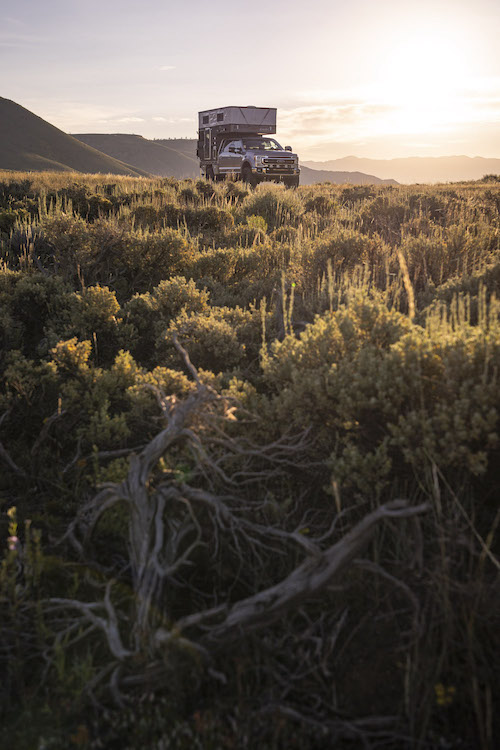 The next day we arrived at Bear Lake before sunrise and after breakfast we marched with the other ants, er…tourists, past Bear Lake, to Nymph, Dream and finally Emerald Lake. Fortunately, the crowds thinned as we passed each lake. The shore of Emerald Lake proved to be the perfect spot for a break before backtracking to a cutoff that would deliver us to Lake Haiyaha. The trail climbed steadily and occasionally provided incredible views of Longs Peak. A massive landslide earlier in the year filled Haiyaha with glacial silt, turning the water milky blue. We ended the day with a hearty pasta meal at camp and had no trouble falling asleep.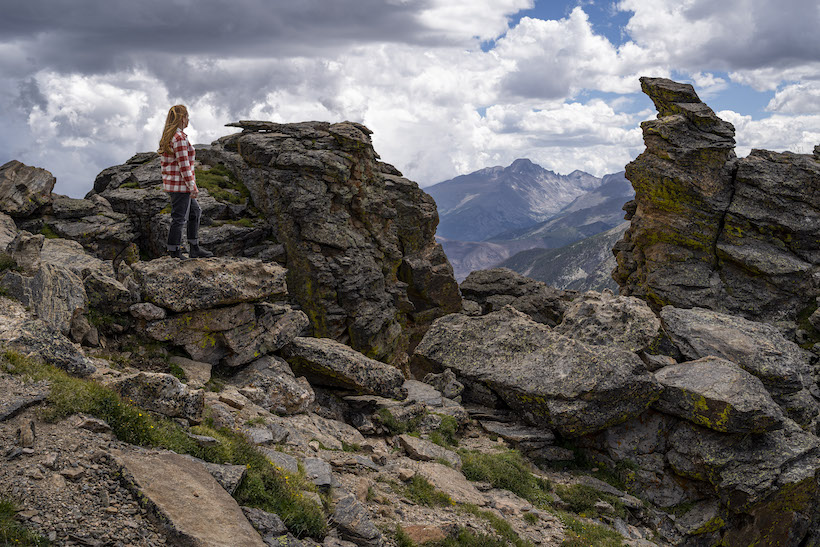 Leaving the park, we followed a route to Breckenridge over Guanella Pass, ultimately overland camping at a site next to a small creek. The next day we'd ride the Peaks trail from Breckenridge to Frisco on a mostly downhill route through the forest, over janky roots and rocks, past panoramic views, and an alpine lake. At 10,000' in elevation, the trail is heavy on fun and light on oxygen. A short initial climb gave way to a raucous descent that left us wearing huge smiles and covered in moon dust.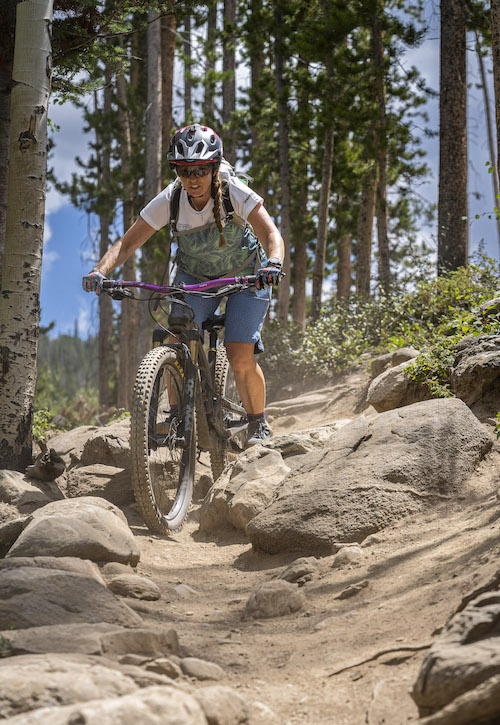 We left for Snowmass after lunch. A monsoon storm was forming as we made our way over Independence Pass. Late in the afternoon we found a sign indicating that several designated overland campsites were available on the Lincoln Creek Road as it climbed toward Grizzly Reservoir. We were thrilled to find one of the last sites empty and parked between tall pine trees, stoked that it was perfectly flat! Small raindrops began to fall as we popped the top, but the deluge held off until we were comfortably inside for the night.
The next day we finished the drive to Snowmass and set up a shuttle of the Snowmass Rim trail. Two steep climbs – including a demoralizing one in the middle – lead to outstanding 360-degree views. At the top of the second climb, we took a short break to let our lungs recover, then began an epic downhill on the North Rim trail to Seven Star, whose small berms begged to be railed. The ride ended at the visitor center, where we'd left our rig at the start of the ride. That evening we enjoyed a free concert at the resort and then crashed in one of the parking lots.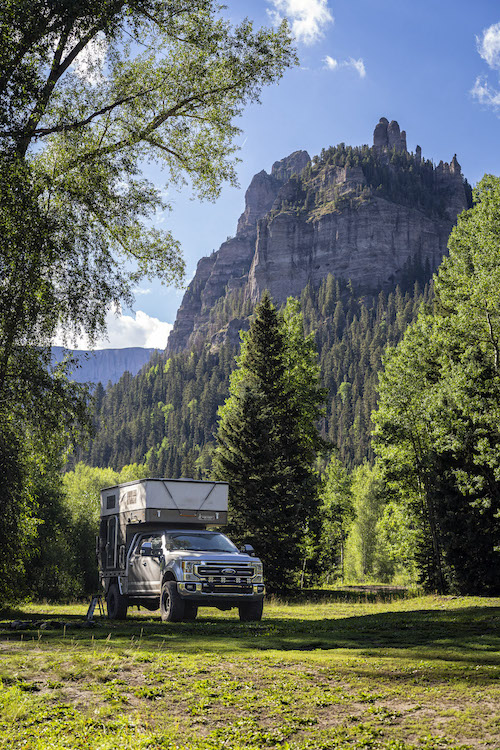 Our next stop was the Evolution Bike Park at Crested Butte. After two days of alpine climbing, we were ready to let the lifts bring us to the top of the trails. On the first run I shoulder checked an aspen tree, and on the next run crashed at high speed when a sharp rock caused my front tire to explode in magnificent fashion. I was about ready to call it a day when Melissa suggested we eat lunch, and then try another lap. Once properly fueled, we banged out several more runs without further incident, ending the day with a top to bottom ride of the Avery trail whose rock gardens, root drops and large jumps made for a memorable finale.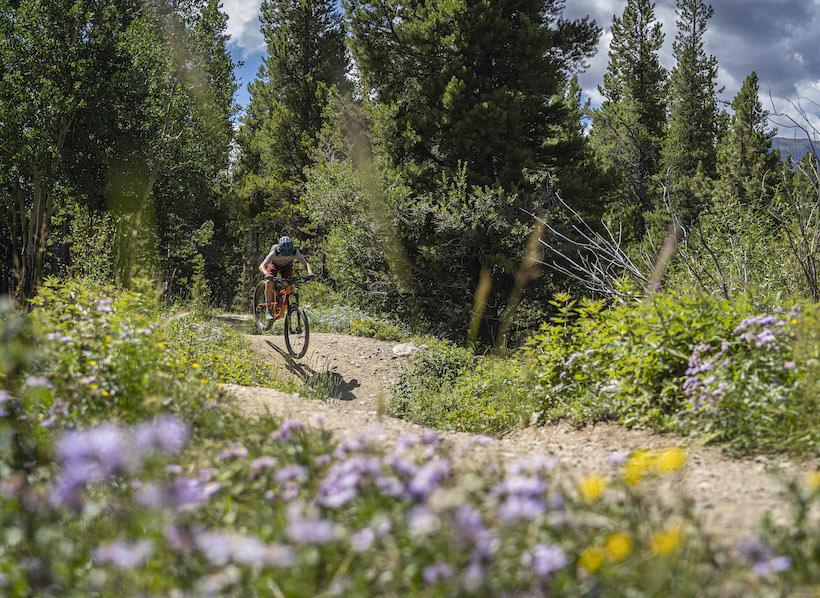 Exhausted from the week's Colorado overland adventure, we chose a scenic route home through the San Juan Mountains, camping near Owl Creek Pass and dropping down into Ridgway on our final day of the trip. The annual Arts Festival was setup at the town park, and we strolled through the booths appreciating the unique arts and crafts on display. We finished the drive to Moab where clothes, bodies and bikes would have the week's grime washed away before settling in to dream about the trip that just was, and Overlanding trips yet to come.
For other Trip reports CHECK HERE