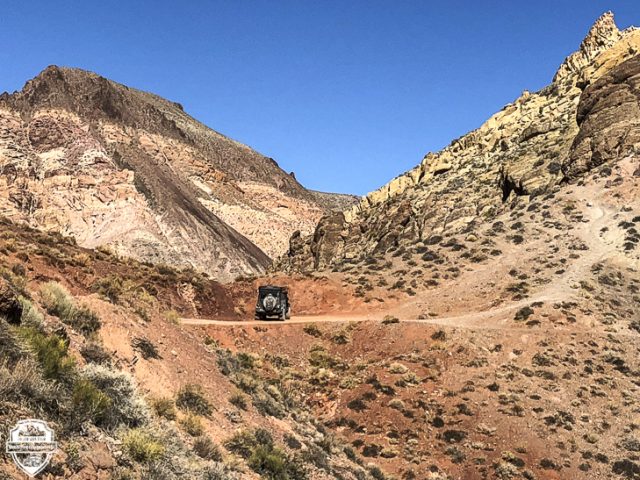 Welcome to part three in a four part series of TAP's journey through Death Valley. If you've missed the first two days, check them out then read on as we head over to Nevada to see some outdoor art and Rhyolite ghost town. Then journey with us through Titus Canyon, over Red Pass, down into the ghost town of Leadfield, then through the limestone hallways of the Titus Canyon gorge….and more. Read on and enjoy. I've attached a PDF of a map of Death Valley here
so that you can track our journey and get some planning ideas of your own. There are also numerous books on the off road trails in Death Valley National Park to use as additional resources.
DAY THREE DESTINATIONS:
Beatty NV, The Goldwell Open Air Museum, Rhyolite Ghost Town, Red Pass, Leadville Ghost town, Titus Canyon, Stovepipe Wells, Mahogany flat.
The Goldwell Open Air Museum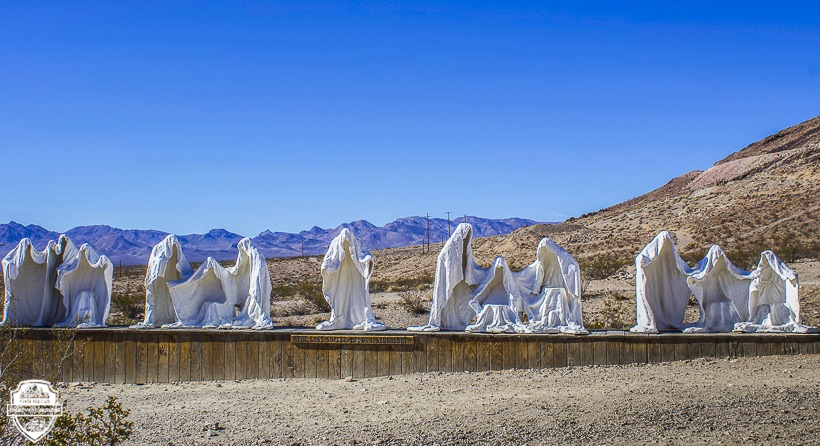 From Mesquite campground, we headed down Scotty's Castle Road,(North Highway) over to the 374 into Beatty NV for gas, then headed back out to the Goldwell Open Air Museum, home of a very interesting rendition of "The Last Supper" as well as other eclectic pieces of art. This open air museum was created by a group of European artists looking to make art in a free and open environment. It still has an artist in residency program located nearby. Read more about it here. This is a unique destination. Definitely worth a stop.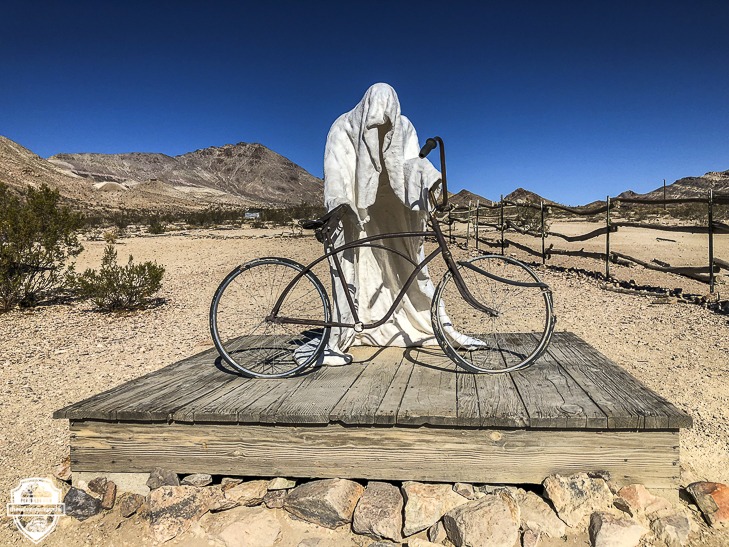 Rhyolite Ghost Town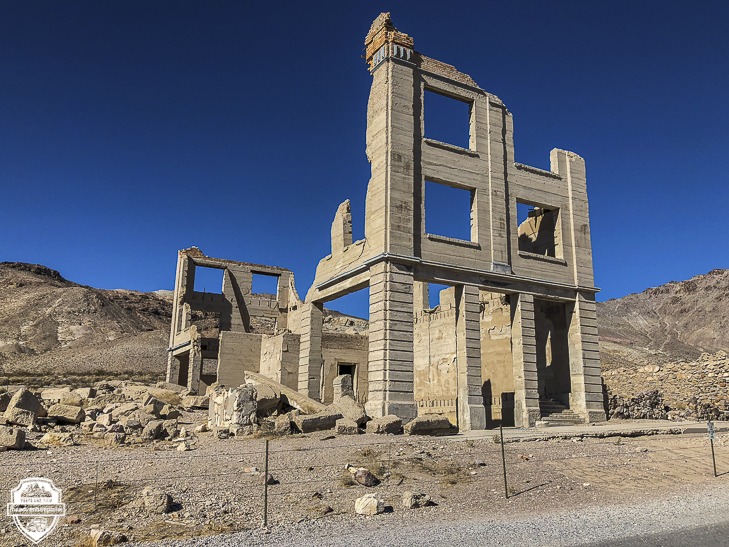 In 1904 the town of Rhyolite came into existence when two prospectors, Shorty Harris and E.L. Cross found gold in the quartz on a nearby hill. It sprang up, attracting folks looking for riches in mining and like so many other mining towns, closed down just over a decade after it'd been built. If you are interested in reading more of it's brief, but interesting history, click here. The last time TAP visited and wrote an article on Rhyolite you could wander in and out of all of the buildings freely. On this visit we found that most of the buildings now have fences around them to protect the integrity of what remains of the structures.
Red Pass
From Rhyolite we headed back into the park via the 374 and turned on to Titus Canyon Road. This one-way road heads west across the Amargosa Valley and climbs into the Grapevine Mountains. At White Pass it enters upper Titanothere Canyon. The fossil skull of a huge, rhino-like Ritanothere was found here in 1933, hence the name. Colorful rock deposits along this section contain fossil beds 30-35 million years old.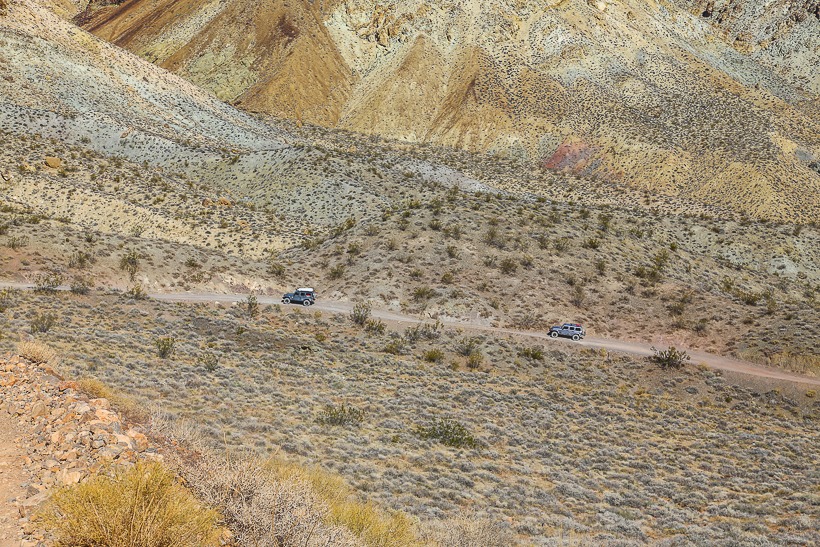 Red Pass is the highest point on the road and divides Titanothere and Titus Canyons. This is a really beautiful area that should not be missed. It's vibrant sediment striations of light green, brown and red make this an unforgettable leg of the journey. The road here is graded dirt with switchbacks. Once you arrive at the top of Red Pass, Titus Canyon opens up below and the views are stunning.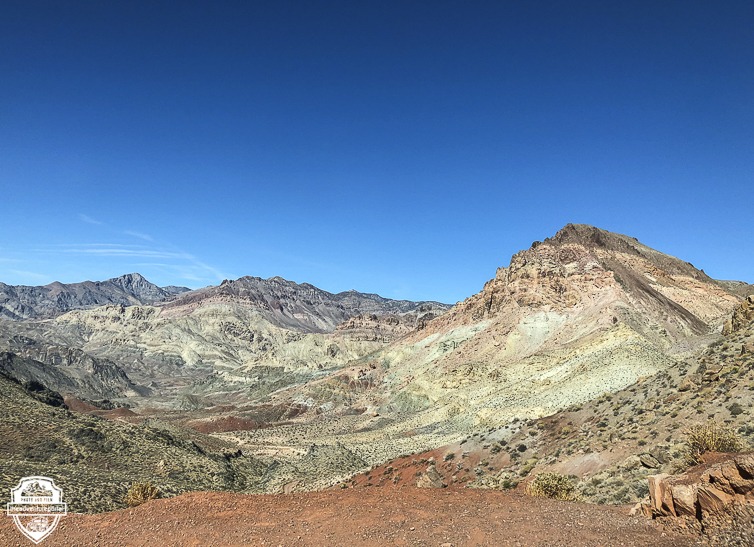 Leadfield Ghost Town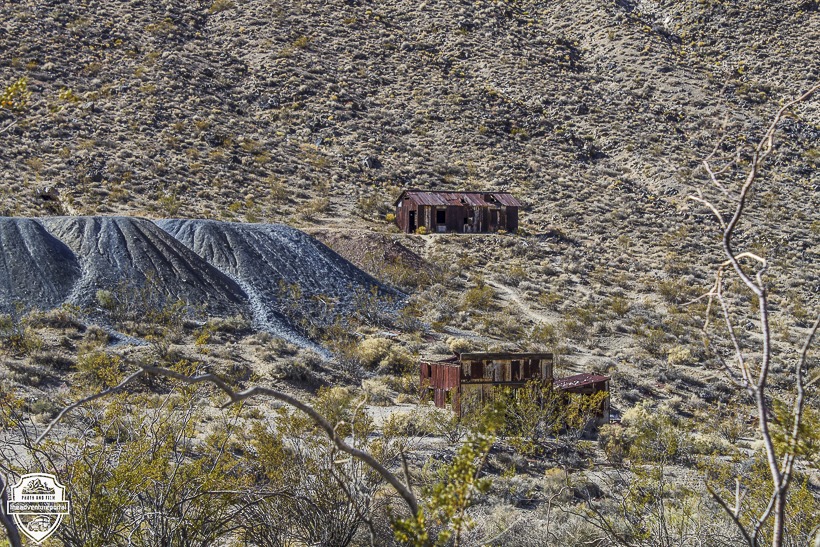 Winding over the pass, you begin to see a few rusty tin structures and a couple of mine shafts. These are the remains of Leadville. The townsite of Leadfield was established in 1925 and abandoned in 1927. It came into being as the result of an extensive and fraudulent advertising campaign by the Western Lead Mine Company and C.C. Julian of Julian Petroleum. His advertising posters showed steamboats navigating the Amargosa River to Leadfield despite the fact that the Amargosa River was dry much of the time and didn't run within 20 miles of Leadfield. Fifteen miles of road were built up the canyon to connect with the road to Beatty, Nevada. A concrete foundation for a stamp mill was poured, and the beginning of a series of power poles for electric lines were installed.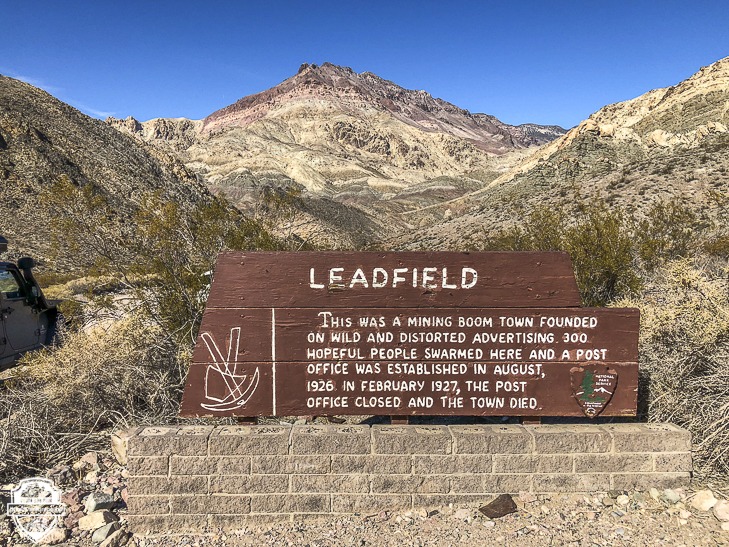 Historic photographs show some frame and corrugated metal buildings and there is evidence of a few dugouts, but the majority of the citizens of Leadfield lived in tents. The population peaked at around 300 in 1926, with a post office opening in August of that year. However, by February 1927, the post office closed down and the town died. The site is an example of one of the get-rich-quick schemes of the wild 1920s.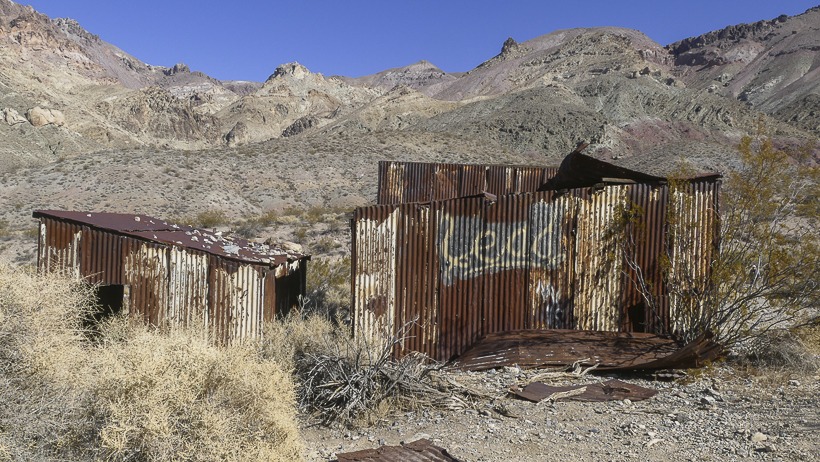 Titus Canyon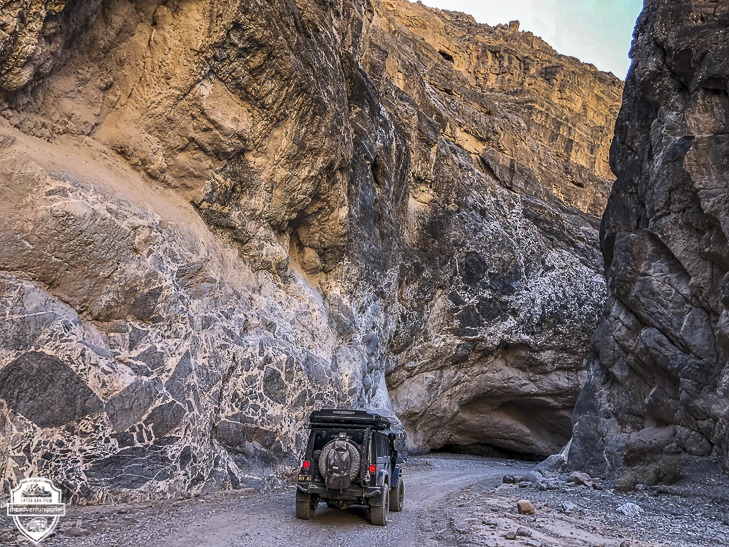 Titus Canyon is a deep, narrow gorge cut into the Grapevine Mountains. The gigantic rock walls close in on the road as you wind your way through and the sun flits in and out of view. The rock formations that make up the walls of this gorge are epic. Arches are carved in the face of the rocks, shallow caves have formed, and sediment layers have settled forming folded and twisted sculptures in limestone.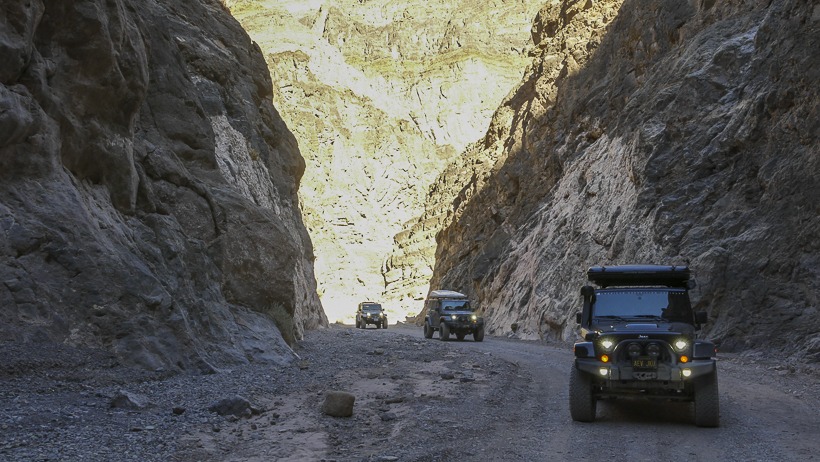 This is one of the most travelled sites in Death Valley and it's easy to see why. It's like going on a ride in nature's Disneyland. The last mile and a half of the canyon is the most narrow. Because this end of the canyon opens up onto a parking lot where visitors and hikers come to explore, be aware that you could be sharing the road with pedestrians. Upon exiting the Canyon, you reach the only stretch of Titus Canyon Road that is two-way. This road, from Beatty from where it intersects with Scotty's Castle Road or North Highway is approximately 25 miles long and will take you between 2-3 hours to traverse.
Stovepipe Wells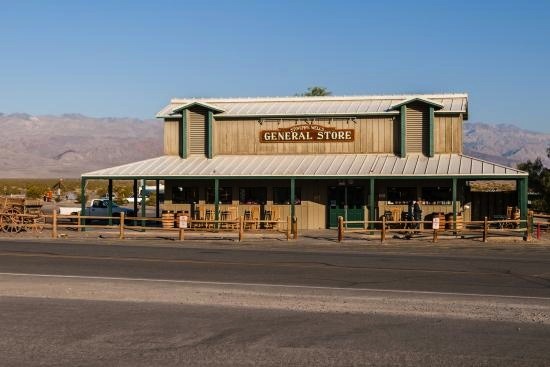 From Titus Canyon we headed into Stovepipe Wells for some gas and a conversation with a Ranger about road conditions on Golar Wash and Mengel Pass. Stovepipe Wells came into being in 1906 when a road between Rhyolite and Skidoo was built. It served as a waypoint for miners on their journey to the mine at Skidoo. Back then, Stovepipe Wells was composed of a collection of tents providing travelers with food, drink and lodging.
In 1925, Bob Eichmann built a hotel there and constructed a scenic toll road through Death Valley. These renovations were the beginning of the transition from mining community to tourist destination. The settlement is now registered as a California Historical Landmark. If you blink, you will miss this place. Stovepipe Wells is made up of approximately 7 buildings; a hotel, post office, gas station, gift shop, ranger station, a saloon and a couple of restaurants.
We spoke to a ranger about road conditions through Goler Wash and Mengel Pass because we wanted to check out Barker Ranch. Barker Ranch is notorious for its association with the Manson Family. It is known as their last hiding place. In 1968, the Manson family moved to Barker Ranch after obtaining Arlene Barker's permission to use the property on a temporary basis. Arlene Barker was the grandmother of Catherine Gilles, a member of the Manson family. She owned both Mayer's Ranch and Barker Ranch and the Manson family lived in both places in until 1969 when the Inyo County sheriff department, California Highway Patrol, and National Park Service Law Enforcement captured the group in raids on October 10 and October 12. Manson was supposedly caught hiding under the bathroom vanity. At the time of the raid, the officers were looking for persons responsible for vandalism within Death Valley further north. They had no idea that they had arrested a mass-murderer and his followers. Today the remnants of the ranch belong to National Park Service.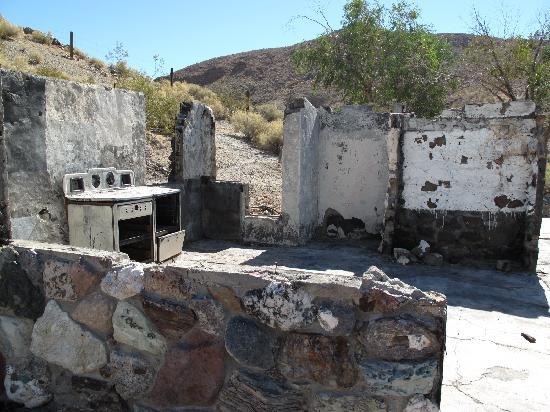 According to the Ranger, the roads had been mangled in a flash flood (The one that has Scotty's Castle closed until 2020.). He looked out the window at our rigs and said we could definitely do it, but the going would be very slow. It was about 2:30 and we wanted to get to camp before dark, so we discussed other options and decided on Emigrant Canyon Road over to Wildrose Canyon, past the Charcoal kilns and up to Mahogany Flat campground.
Mahogany Flat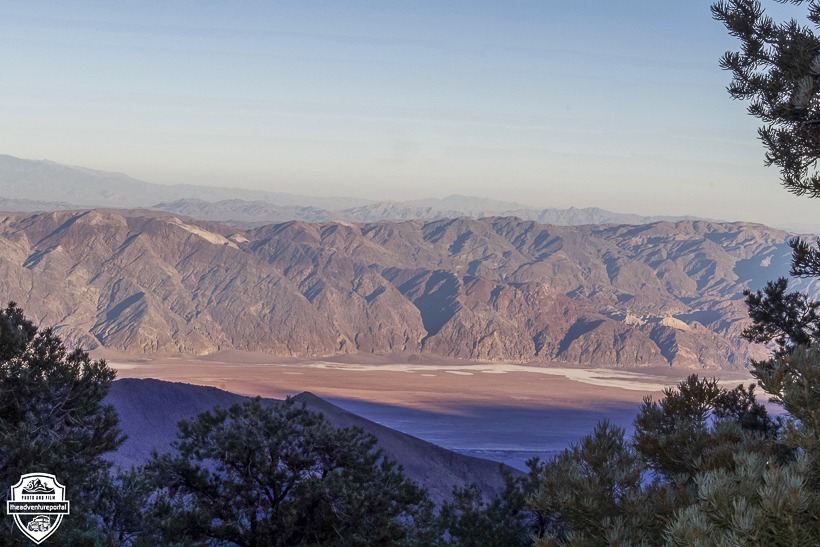 Mahogany Flat is situated at 8,100 feet between the highest point in Death Valley and the lowest point in North America. The highest point in Death Valley is Telescope Peak in the Panamint Range, at 11,043 feet. From Mahogany Flat, we could look up and see the switchback hiking trail leading up to the top of Telescope Peak. Looking down to the east, we had a view of Badwater Basin which sits at 86 meters or 282 feet below sea level; the lowest point in North America. Steve and Laura had to head back to the Bay Area the next day, while David and I were going to spend another day exploring, then head home the following morning. I'd say we had chosen an excellent spot to set up our last night's together camp.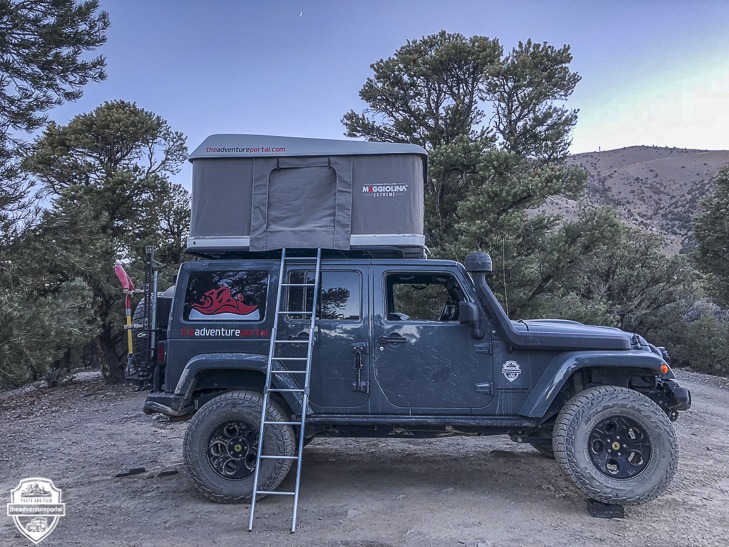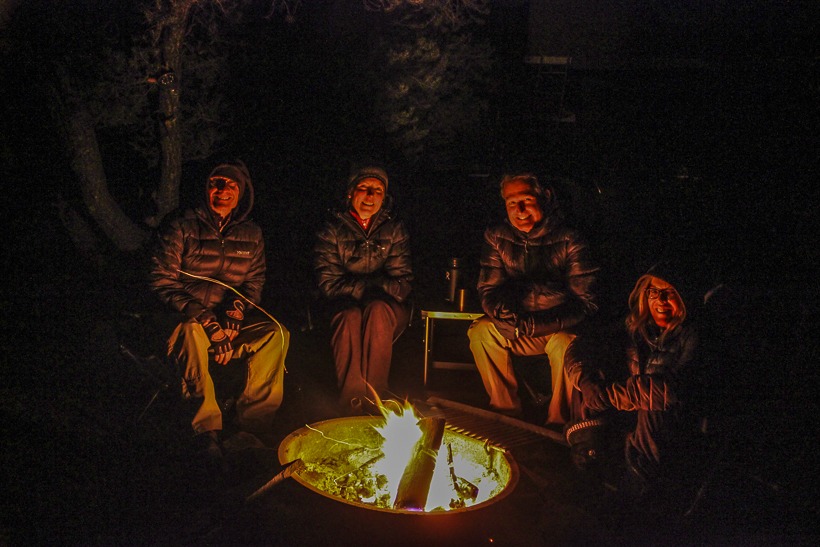 CHECK OUT DAY 4 We stop by the charcoal kilns, another ghost town then head out past the town of Trona and on to Jawbone Canyon OHV Recreation Area to check out a man-made tunnel with a crazy story behind it as well as some other points of interest.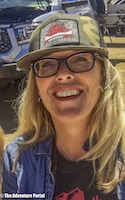 Author: Lori Palmer TAP Co-Founder and Editor
Photos: Steve Drewniany, David [email protected] and Lori Palmer