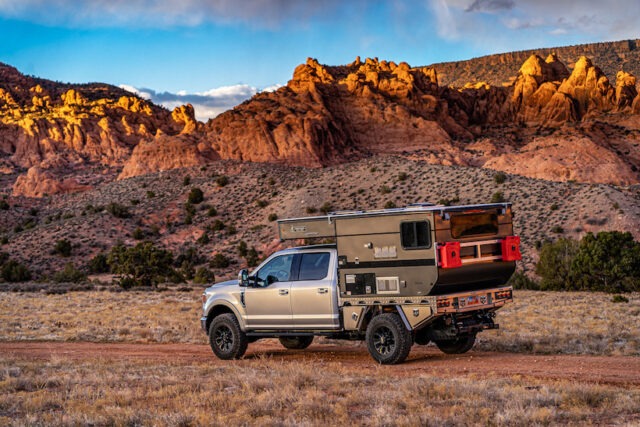 For better or worse, I've gotten soft. I turned 50 last year and though I still ride my mountain bike like a 20 year old, albeit one with a gut and less hair, I've come to appreciate that enjoying the great outdoors doesn't have to involve some level of suffering. As a young backpacker I tossed an emergency blanket on the ground, on top of which went my sleeping bag with nothing else between me and nature. I eventually graduated to a sleeping pad, inside a tent. Ten years later, at 30, I bought a Tacoma, installed a shell on the bed and built a plywood platform with gear storage below and an egg crate mattress topper on top. Oh, the luxury! A few years, one wife, and a kid later, we had a rooftop tent on top of an FJ Cruiser with a thick mattress and enough room to sit up and read at night. Then we accidentally bought a motorhome in 2017 and traveled as tourists for a couple of years, until the realization hit that motorhomes are for…other people. It did however, have a heater and a kitchen, a place to sit and eat in bad weather and a comfortable bed. Even electricity to power all the gadgets. If only something existed that offered these amenities and the ability to drive off-road?
I had been familiar with Four Wheel Campers for a number of years and felt like one of their pop-up campers might offer the right combination of luxury and capability, when paired with the right truck. My wife, Melissa, wasn't so sure. Luckily, I'm stubborn! We visited a dealer where we were able to step inside a camper to get a better feel for the size, layout and features. Eventually Melissa agreed we could order one, "only for weekend trips". I wasted no time forking over a deposit.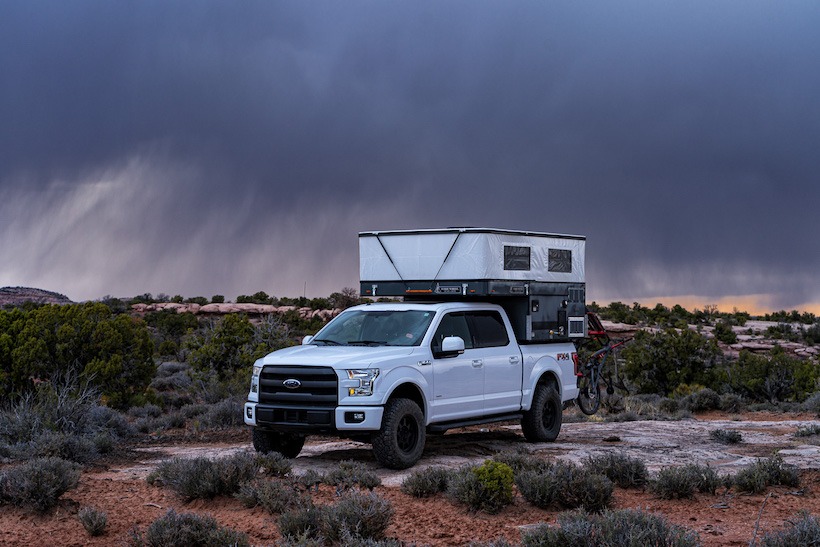 I already owned a Ford F150 SuperCrew with a short bed, so we purchased a reasonably optioned Four Wheel Campers Raven from Denny at the Jackson Hole dealer. We picked it up at the end of September and camped at the base of Shadow Mountain with the entire Teton Range dominating the horizon. Mother Nature must have sensed that I needed a win and sent a couple of inches of snow and sub-freezing temperatures our first night. I fired up the heater and much to my delight, it kept us warm and cozy all night. This was vehicle supported adventure at it's best!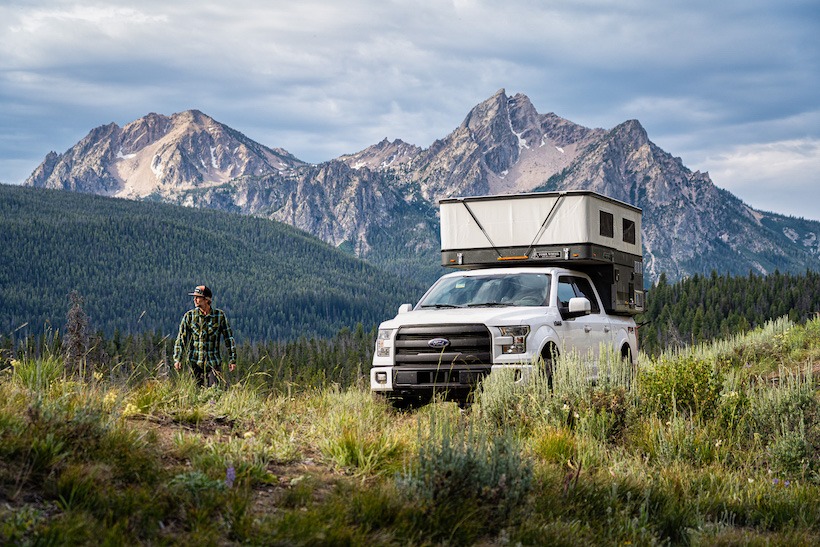 Over the next fifteen months, we drove over 30,000 miles and spent almost 100 nights in the Raven, including multiple week-long trips and a month in the Pacific Northwest. That motorhome? It sat unused and unloved in our driveway. The ability to access remote overland campsites, where we were more likely to hear coyotes yipping or rivers dancing than noisy neighbors with generators had sealed our fate. We were committed to the Four Wheel Campers lifestyle. There was one problem though; the Raven was too small for a family of three plus dog, mountain bikes, camping, photography and hiking gear. We needed more living area and additional storage space, both of which are offered by the Hawk UTE flatbed camper. The new, larger camper mandated a new, larger truck.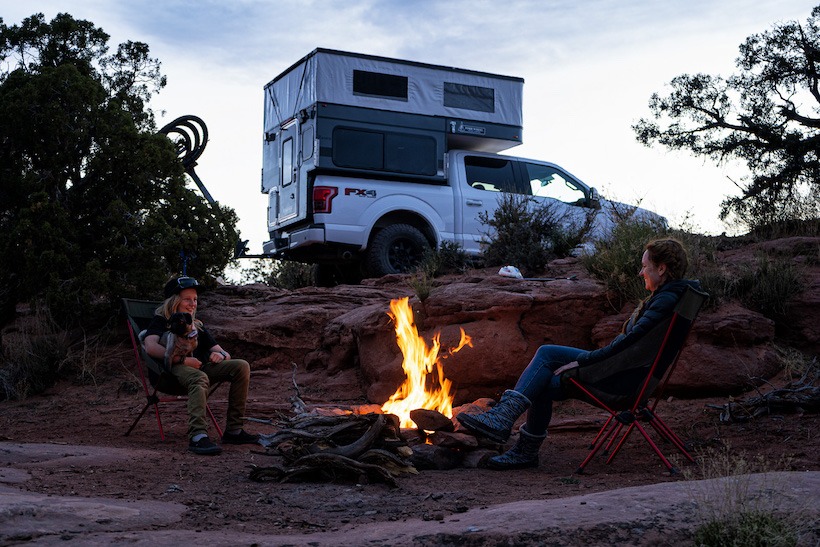 The 2021 Ford F250 Tremor was my undisputed platform of choice for several reasons, including familiarity, reliability, aesthetics and aftermarket support. I placed an order for the truck in September, anticipating a March delivery. However, when I reached out to Denny I was shocked to learn that camper deliveries were thirteen months out. In a stroke of good luck, Denny called in December to advise that he'd had a cancellation on a flatbed order and that if we could make a deposit, we'd have our camper in March! Without hesitation we ordered the camper and a Norweld Deluxe Weekender tray.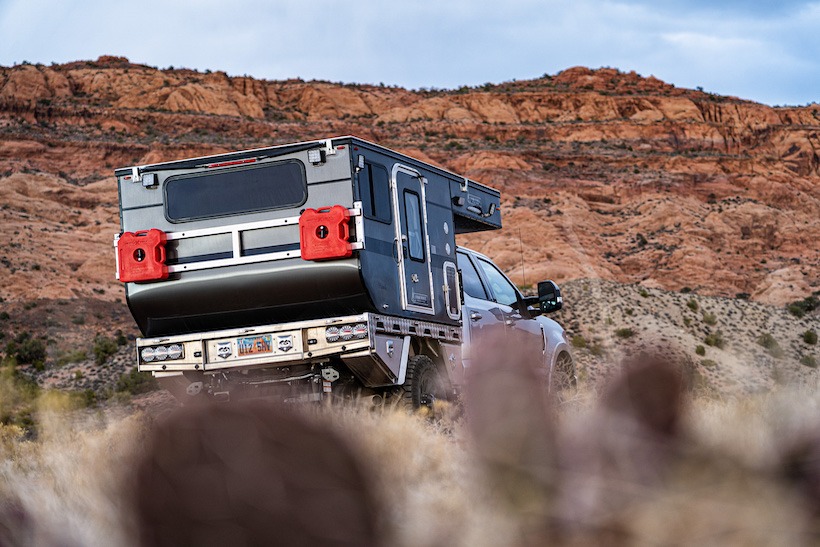 We took delivery of the truck two months early, in January. The Norweld tray arrived in February and we had it installed by the incredible crew at Boulder Vehicle Outfitters. Then, in March, our Hawk UTE Flatbed was delivered to Bozeman and I made the long drive to Montana for the camper installation.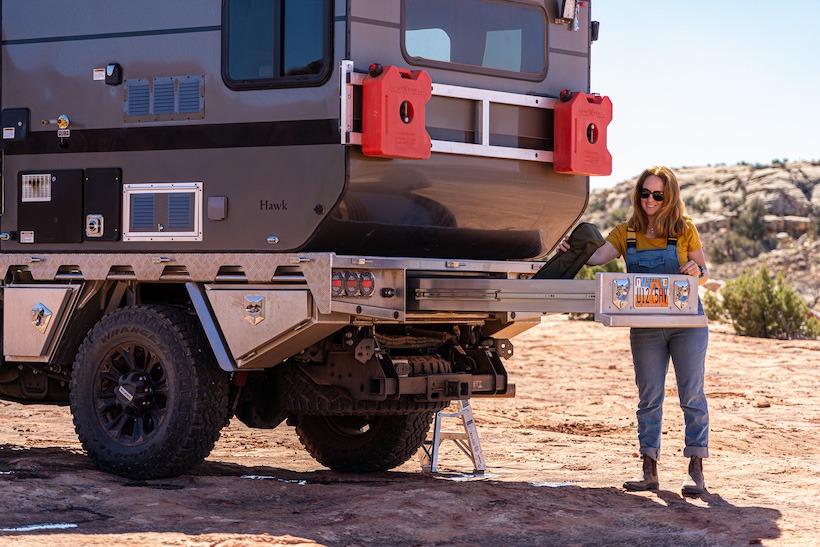 An F250 Tremor is quite off-road capable right off the dealer lot. With 35" tires, a small lift, locking rear differential and limited slip front, relocated breather tube, high clearance running boards and several electronic offroad modes, it delivers significant overland performance enhancements in a relatively affordable package. We tend to stray far off the beaten path, often blindly driving dirt roads in search of the best campsites or trailheads. For most people, the stock Tremor would be sufficient. We're not most people and we've planned a number of upgrades and modifications to improve capability and add functionality.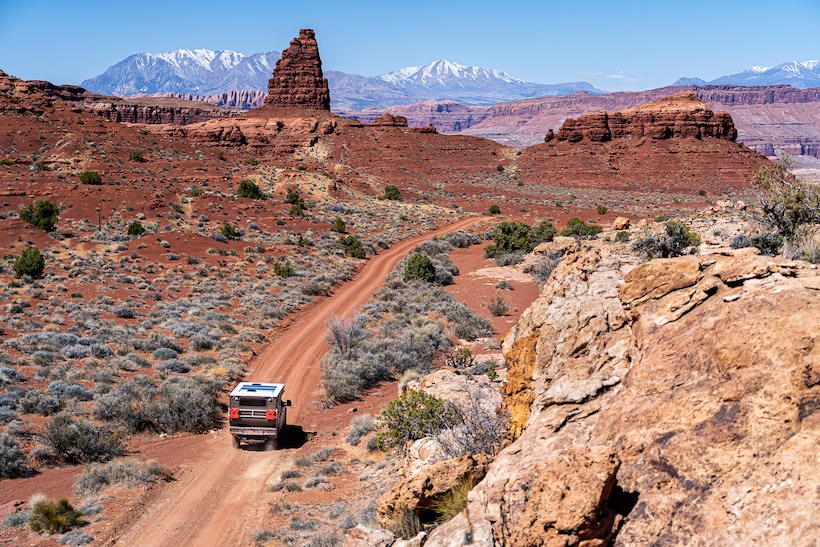 First, we're addressing suspension by installing a Carli Suspension Pintop system which features custom tuned King remote reservoir shocks. This will increase our ride height, provide more ground clearance and better approach/departure angles, while also allowing for the fitment of up to 37" tires. Carli systems balance on and offroad performance while being known for reliability and durability. At around the same time we'll install a set of Method Race Wheels and Nitto Ridge Grappler tires. Over the years I've run many brands of tires and the Nitto's have outperformed them all.
Later this spring we'll install a full suite of KC HiLiTES auxiliary lighting. Traveling backroads and country highways at night can be nerve wracking, as wildlife have a habit of making questionable roadside decisions. Additionally, we fill our days with mountain biking and hiking, which commonly leads to searching for a campsite after the sun's down. We'll mount a pair of Flex Era 4's on the A-pillars for use as "ditch lights" and a combination of either Flex Era 4 spots and floods on the bumper to improve long distance and peripheral lighting.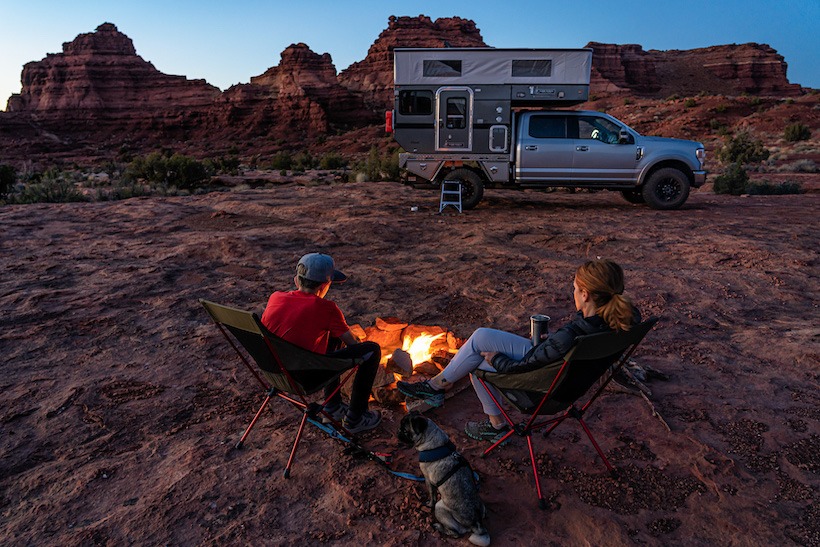 Even the best drivers benefit from a properly armored offroad rig. I am not the best driver, which makes it that much more important to protect our rig with an offroad bumper, skid plates and rock sliders. The bumper will house a winch and we'll attach a set of MAXTRAX recovery boards to the rear rack of the camper. We typically travel solo and the ability to self-rescue is critical. Off-road driving is eminently more comfortable when tires are aired down, but unless the trail ends at a gas station you'll need to be able to air up when you return to pavement. For this we'll install an ARB air compressor.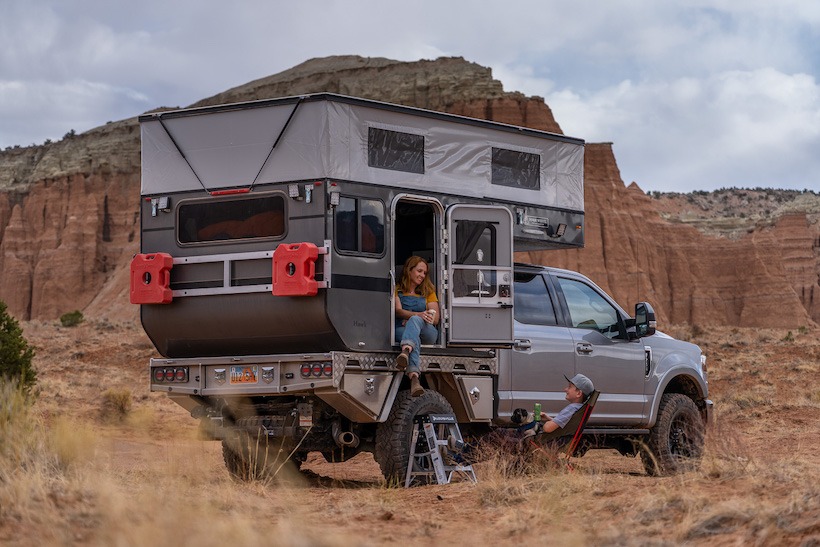 We ordered a well optioned Hawk UTE Flatbed and because these campers are so well sorted from the factory there are very few upgrades necessary. In retrospect, our time with the Raven was a trial run. We learned what worked, what didn't, and what options we couldn't live without, one of which was hot water. I am admittedly soft, and having the ability to splash warm water on my delicate face will be welcome. I'm actually most excited about not having to boil water to clean greasy dishes. Our Raven had dual 6 volt batteries but it was not equipped with solar. We never ran out of juice, but we came dangerously close multiple times. For that reason, we opted to install two solar panels on the roof of our Hawk UTE Flatbed to continuously feed the batteries. Other notable options include a 130 liter refrigerator, outside shower, side and rear facing LED flood lights, the requisite heater, an insulative thermal pack and dual roof vents with one reversible fan. Though Four Wheel Campers flatbed models offer substantial storage, there's always room for more. We've installed multiple storage pouches from 4XLand4XSea and an Overland Gear Guy kitchen organizer. These attach to the velcro at the bottom of the thermal pack, making it easy to add storage right where we need it. We're installing a 1,500 watt inverter to power one of the outlets that we'll use to run small appliances and electronics. At some point we may also install a second reversible fan. We need all the cooling power we can get on those warm desert nights!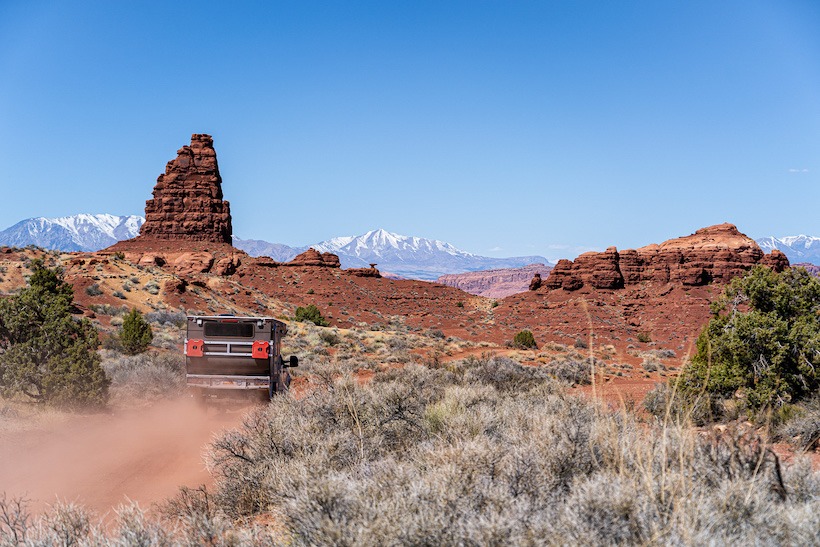 We're based in Moab, and many of our adventures take place within a couple hours drive but we also embark on several longer trips each year. We usually escape the desert heat in summer for a few weeks in cooler climes of the Pacific Northwest or northern Rockies.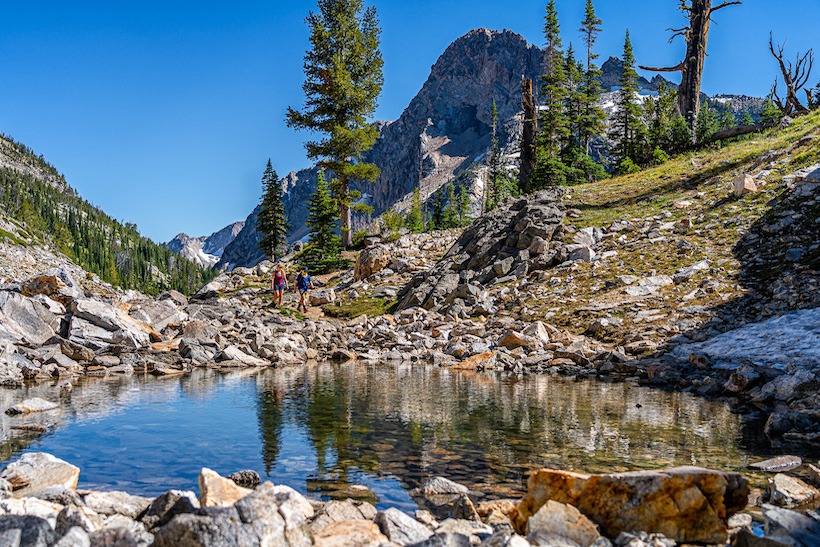 In winter, we head the other direction to the Sonoran Desert where snow and sub-freezing temperatures are rare. Wherever we go, we seek out the most beautiful trails to mountain bike and hike, staying at remote, off-grid campsites with breathtaking views. We're confident the F250 and Four Wheel Campers Hawk UTE Flatbed will provide the perfect platform for family adventures on which we'll create lifelong memories.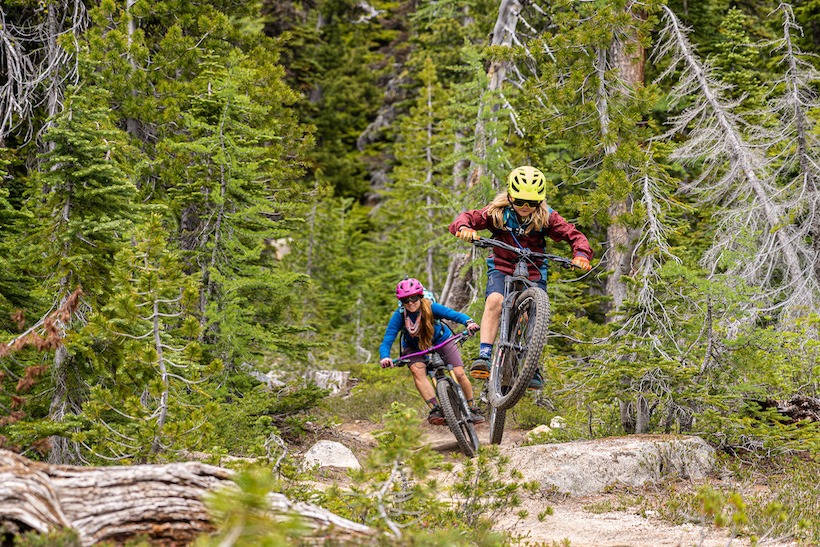 ________________________________________________________
For more Pop Up Camper stories, CHECK HERE