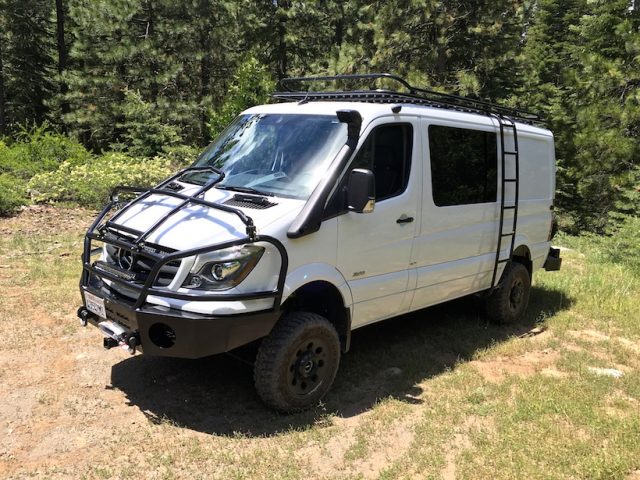 TAP ran a photo contest a while back called TAP my RIG and spotted this very sweet converted 4×4 Sprinter van. We contacted owner Erast Dasari from San Francisco CA and asked him a few things about his conversion. He told us that the goal of his conversion was to create a vehicle that could take him anywhere. Here's a bit more of what he had to say along with the list of modifications that he made on his Sprinter Van.
TAP: "Is this your first van conversion or have you done this before? In other words, has there been an evolution in terms of what you want out of a van and the type of componentry you have chosen?"
ED: "I have had multiple vans before. My first one was a 1991 Dodge Ram 350 with a 5.7 liter engine. I wasn't happy with the fuel economy on the 5.7 monster and wanted something that would give a better range. I've always loved the off-road theme, so I fitted it with off-road tires, an exhaust system, and a roof rack."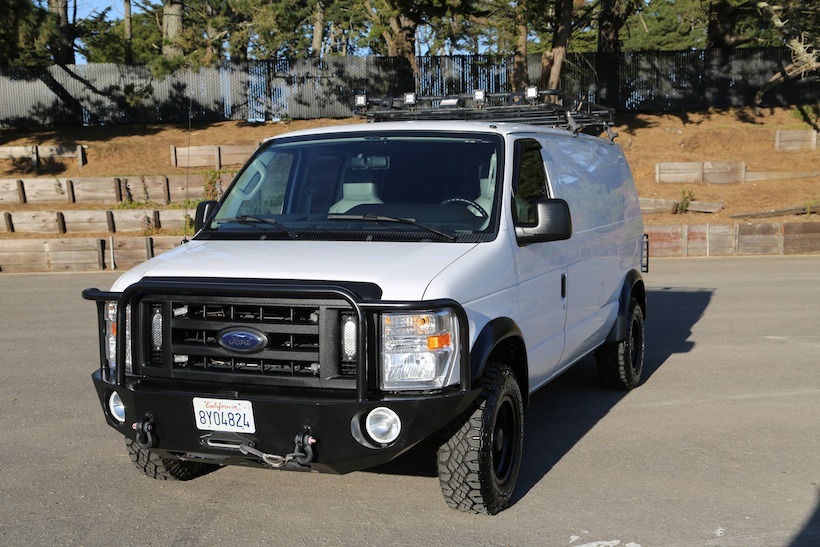 "After the dodge, I started looking for a van that had better interior and exterior designs. I bought a Ford Econoline 150 and converted it to a crew cab by retrofitting a four-person seat in the back. Both of these vehicles were two wheel drive. At that time, I couldn't afford an off-roading 4×4 system conversion, but I enjoyed the little off-road benefits of the rugged tires I installed on both. I sold the Ford knowing that I wanted much more from my next van, including better fuel economy, range, torque and reliability."
My 2016 Sprinter Van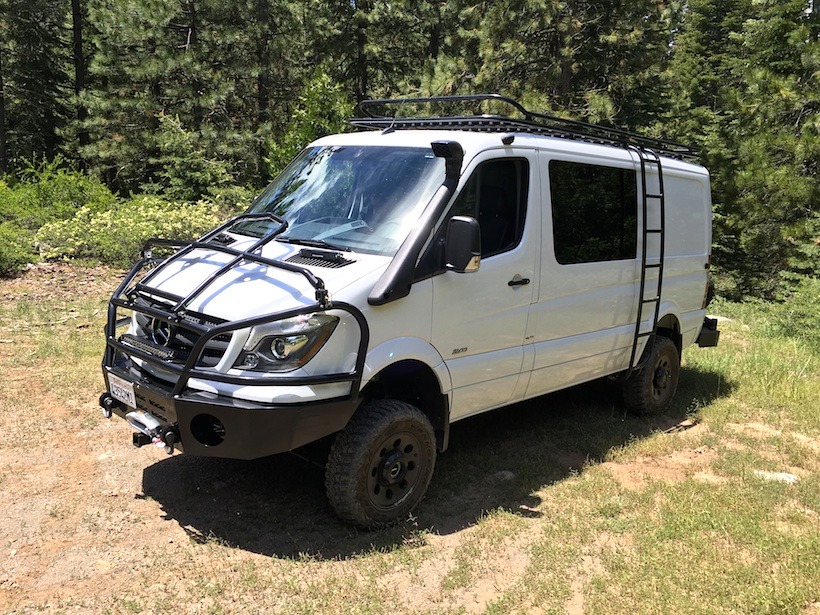 "I've always loved the Mercedes Sprinter Van and it's versatility, but didn't even think about doing a conversion until two events happened. First, I got stuck with my wife in South Lake Tahoe during a heavy snow storm and we were easily pulled to safety by a fully loaded Sportsmobile. We weren't stranded for long, but we could not have gotten out on our own. This was enough to make me appreciate the importance of a 4×4 system. Soon thereafter, a good friend of mine converted his Mercedes Sprinter Van into a 4×4, and started posting his off-road trips on Facebook. It looked fun, so I started doing research. I spent months figuring out what I really wanted and what would fit my lifestyle the best. First off, I looked for a 2016 Crew Cab as I wanted a universal van that could seat 5 people and give me the capability to bring cargo when necessary. I like these vans for their style and clean lines. The headlights and painted body panels are beautiful. I also appreciate them for their Euro 6 standards of pollution control. After identifying the van for me, I mapped out my conversion plan, from the Eaton differential and air locks to a custom built gas tank and an extra jerry can storage box on the rear bumper. I executed my plan as soon as my wife said yes. It took 6 long months until the conversion was complete and at the end, the beast was nothing like it had been before I started. My current rig is a 2016 Sprinter 2500, crew van with 2016 Grille fenders and bumper, 3.92 rear axle gear ratio, single rear wheels, 3.0 liter 6 cylinder Weistec turbine upgraded diesel engine chip tuned with an automatic transmission, sliding side cargo door, 144 inch wheelbase, std. roof, and under-body spare tire. It's definitely a head turner. People love it. It's a capable and gentle monster that is economical and safe, and I am sure that it can handle any adventures I throw at it!"
MY CUSTOM CONVERSION INCLUDES THE FOLLOWING PARTS AND FEATURES
5" lift (approx. 36 inches to floor at sliding side door)
HD welded steel subframe to replace OEM lighter-weight subframe
Manual hub locks, 6,000 lb. load rated

Dana 60 Super mono-beam front axle with rear axle appropriate gear ratio

Dual HD Rancho steering stabilizers

Open front differential

Front disc Heavy Duty brakes ( approx. 36 % bigger than OEM Sprinter )

2 speed manual shift NV271 transfer case

Oversized (1.375 inch dia.) front Roadmaster chrome moly sway bar with greasable, polyeurethane bushings

KYB auto adjusting gas pressure front shock absorbers

KYB auto adjusting gas pressure rear shock absorbers

Billet aluminum rear wheel adaptors

17″ polished aluminum front and rear and spare wheels

Dana Spicer front driveshaft

Dana Spicer rear driveshaft

Steel rear lift blocks

Tri-8 rear u-bolts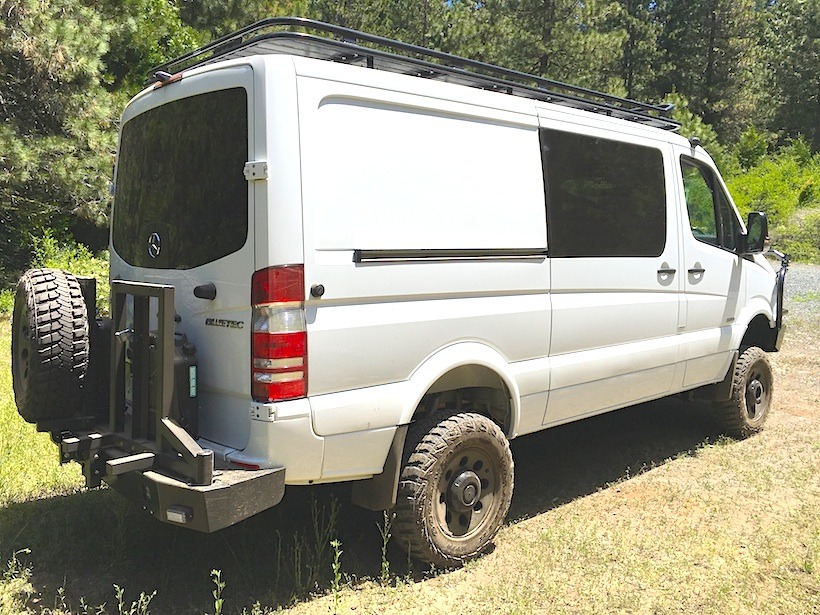 More Modifications:
Sportsmobile aluminum front bumper with black powder coat and dual driving light ports, with Grille guard and "kangaroo guard mounts"
Sportsmobile hinged "kangaroo guard/ hood guard" with matching black powder coat finish
Lightforce adjustable focus driving lights mounted in Aluminess front bumper
Replaced front axle differential with an Eaton Tru-Trak gear drive
Upgraded the rear spring pack to Sportsmobile "soft ride" 5 leaf springs
Blasted and powder coated all 5 wheels matt black
Replaced Goodyear A/T tires with Cooper A/T tires, N/C
Sportsmobile front 2″ receiver hitch anchored to sub frame and under front bumper
Upgraded front hub locks to dash switch locking
Aluminess rear bumper with black powder coat finish, dual "work" light ports with rectangular lights with dash switch
Swing-away deluxe cargo box with top taffrail on passenger side
Swing-away spare tire carrier on driver side
Sportsmobile snorkel kit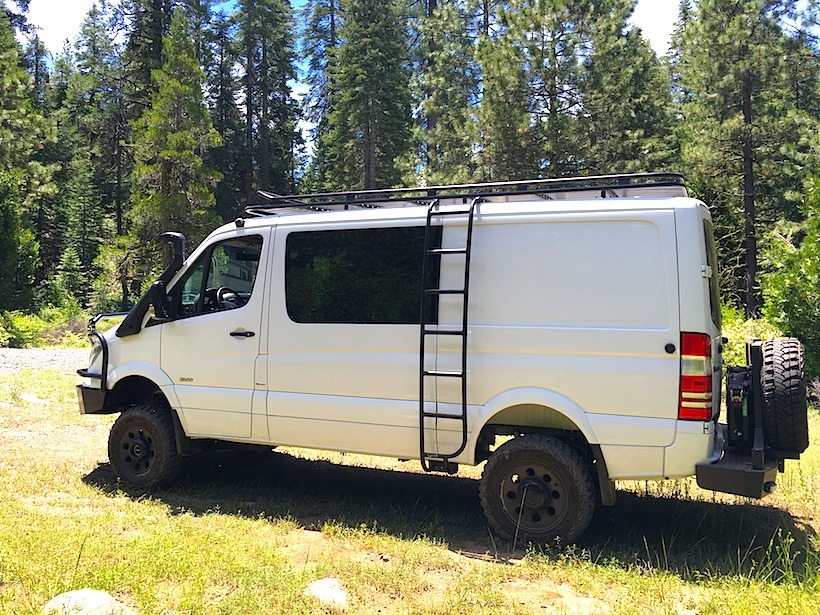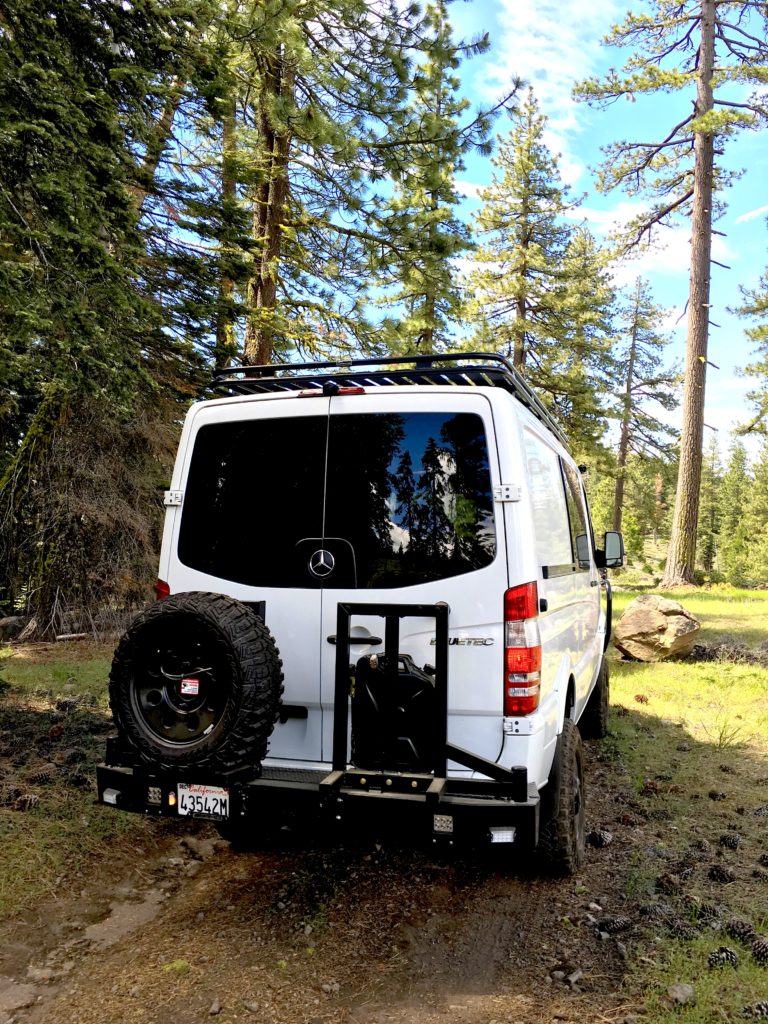 Solar panels mounted on Aluminess Roof Rack
Aluminess Side Ladder
Dual Battery system with battery isolator.
Secondary power system and extended range two-way security system with tracker.
Security system with night vision consisting of 5 HD cameras located around the van with DVR that records onto 1 Terabyte Solid State Hard Drive with movement and face recognition.
Custom Aluminum 45 Gallon Gas Tank
Powder Coated Jerry Cans Embedded into Rear Bumper by Aluminess
Emergency light system embedded into headlights and taillights.
10,000 Pound Winch System embedded into Aluminess front Bumper.
3,000 Watt Stereo System with 15" Woofer.
3,000 Watt DC-AC Inverter connected to secondary electrical system.
Elecrtical Power Gauge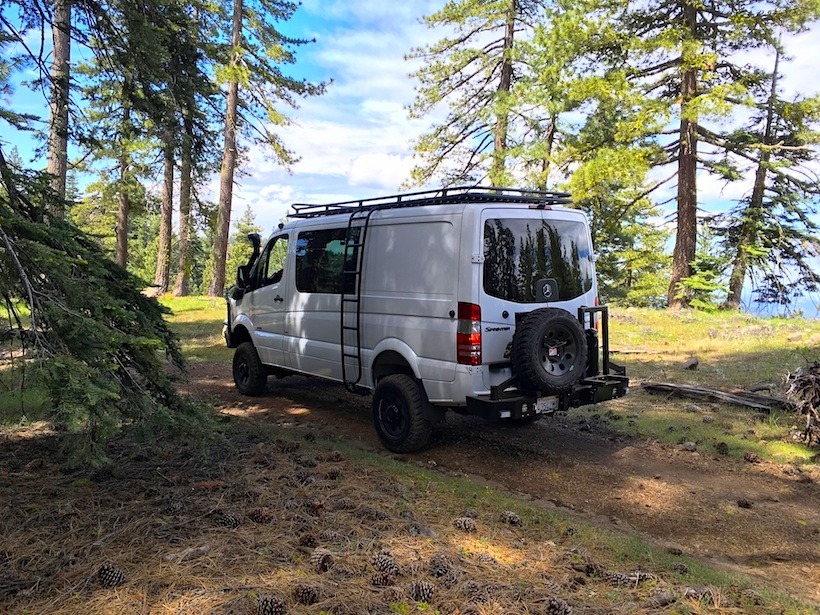 My wife and I have toured throughout Yosemite and Tahoe National Forest. We've already had the opportunity to help a fellow off-roader who was stuck in the snow using my winch. I am really grateful for all the upgrades and safety equipment on my beast. Next, we are shipping it to Italy to go touring around some remote areas of Europe. Can't wait!
Do you have a conversion you would like to share? Go to our Forums and let us know what you've done to your rig!
Author and photographs: Erast Dasari
Editor: Lori Palmer
For more overland and off-road capable rigs, CHECK HERE