"Nah, I'd rather sleep on the ground than in my rooftop tent."
"I'm finally finished modifying my rig."
"Storage? I've got plenty of it!"
Said no overlander, ever. When it comes to storage, we can never have too much. Clothes, blankets, food, electronic equipment, camping supplies, firewood, hiking and mountain biking gear…the list is endless, and there are just as many ways to stow it away on a trip. Some storage solutions are better than others and the Radius Gearbox 5500 is a classic example of storage done right.
My first real overlanding rig was a 2001 Tacoma that I bought new, threw a shell over the bed and slapped on an inexpensive lift and 33" tires. I built a platform in the truck bed under which I could store camping gear in cheap plastic under bed boxes. At the time, I thought I'd reached the apex of gear organization. That is, until the plastic cracked and the boxes began to fall apart less than a year later.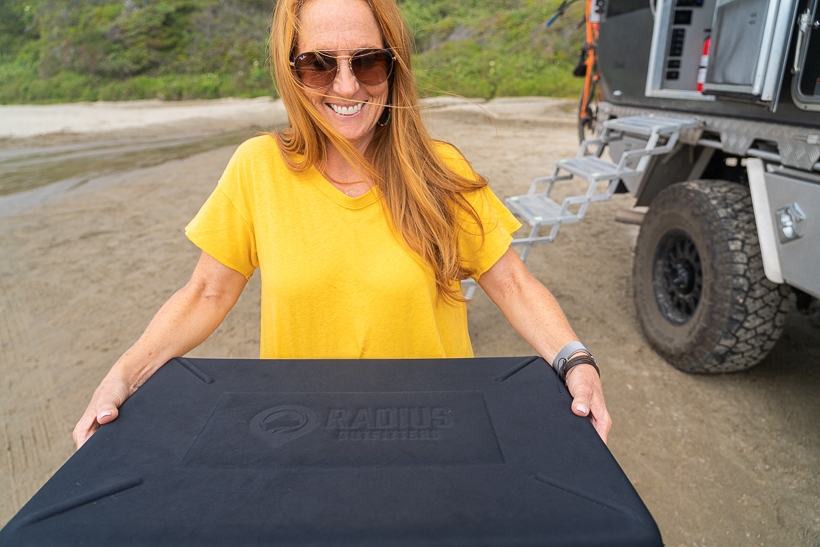 Flash forward 32 years and overlanders have countless ways to store and organize gear. Expensive aluminum boxes? Check. Packing cubes? Yup. Heavy duty roto molded plastic crates? They're a thing. Of course, dollar store Rubbermaid bins continue to be a viable alternative. What if you don't want to spend your kid's college money on storage bins but you want a durable, well designed, and modular storage option? That's where Radius Outfitters comes in. With three sizes of storage bins they call "Gearboxes" and multiple other rugged, yet stylish totes, tool rolls and seat back storage solutions, there's something for everyone.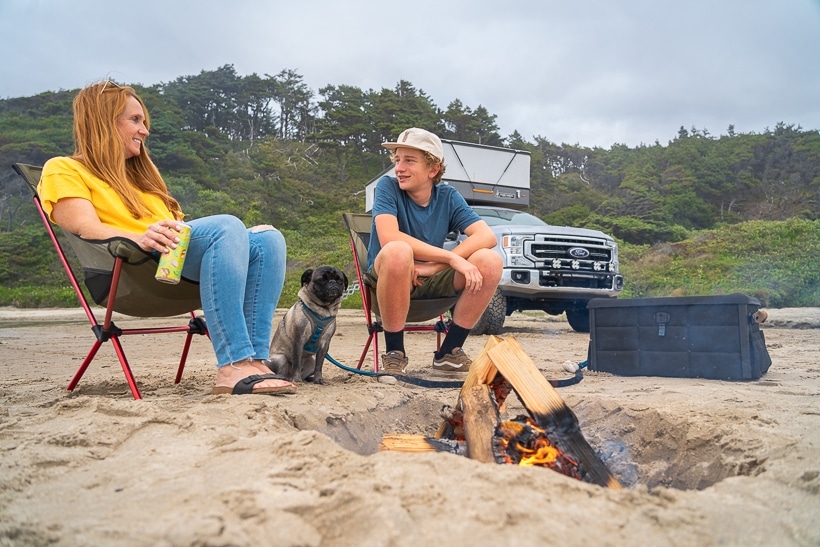 As a family of three plus pug who travel with an excessive amount of mountain biking, hiking, camping and photography gear, we need all the help we can get when it comes to staying organized. When I was offered the opportunity to try out a Radius Gearbox 5500, I jumped on it. We planned to spend the summer exploring Oregon in our rig, affectionately named the Funhawg, which would be stuffed full of all the tools we'd need to support our adventures. The Gearbox 5500 proved itself to be absolutely essential during our travels.
One of the most significant differences between the Gearboxes and their hard sided counterparts is the ability to pack flat when not in use. In fact, when you unpackage it you have to first assemble the box, which my son and I managed in less than five minutes. The Gearboxes are sort of a hybrid hard/soft side construction. That is to say they stand up on their own, but they're covered in a ballistic nylon material and lightly quilted, which does a fantastic job of keeping things quiet when you're driving rough dirt roads. Each Gearbox comes with several dividers that attach inside the box with Velcro, allowing for a nearly endless number of ways to organize your gear. The lid also attaches via a long Velcro strip and locks closed using a slick magnetic Fidlock latch.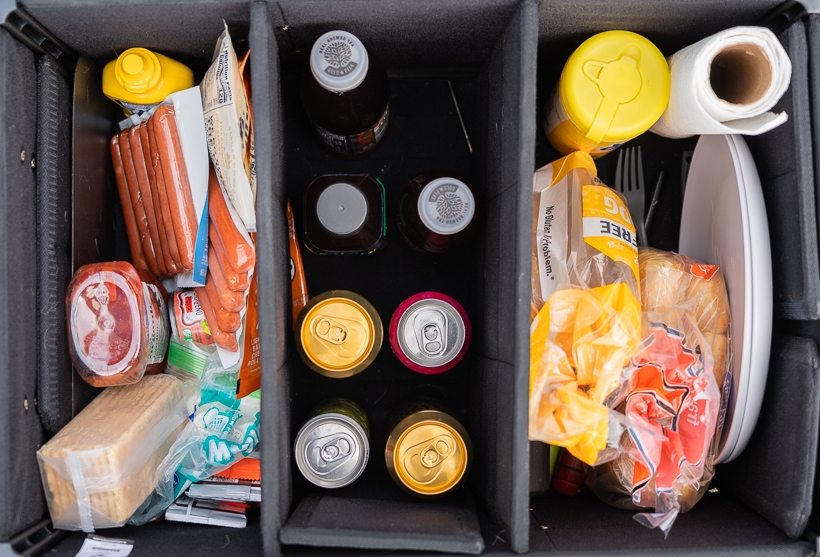 How we used the Gearbox evolved during our trip. Initially, it held my son's mountain bike equipment but that transitioned into storage for kitchen items, and finally into a repository for extra drinks, snacks, dog food and a first aid kit. We kept it on the backseat of our rig, allowing easy access to items we found ourselves frequently reaching for. We also used it for beach campfire cookouts, where we'd grab the leather lined handles on each end to move all the food, plates and other necessary items from the truck to the beach. Then, we'd use the Gearbox lid as a table while preparing food and then as a footrest while chowing down on perfectly charred hot dogs!
Overall, I found the Gearbox 5500 to be a durable, adaptable and super useful storage solution. Is it perfect? Nope. But, my gripes are minor. The bottom of the Gearbox has two strips of Velcro that are supposed to stick to vehicle carpet, thus preventing the box from sliding around. When the box is used in sand – like on a beach – the Velcro fills up with sand and it's tough to clean it out. There are three small pockets on each end of the box that could be useful, but the elastic tops don't open wide enough. There's no way to label the boxes for easy identification of the contents. If you only have one Gearbox, that's not a problem but if you have several, it could be annoying. Lastly…I hope you like black, because that's the only color these are offered in.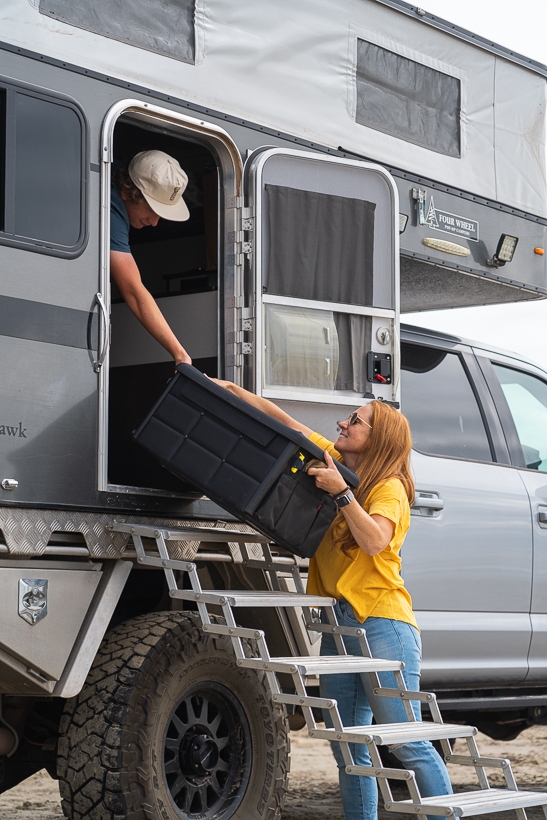 The Radius Gearbox 5500 retails for $249. That's not cheap, but for the quality, durability and modularity these offer, I believe they're a good value. So much so that we bought the Gearbox 3000 to further organize cooking gear that lives full-time in our camper. You could easily spend more – or less – but the Radius Gearboxes are a solid option in the overland storage market.
For More TAP Trail Tested Reviews CLICK HERE
__________________________________________________________
In-field contributor: Bret Edge – 2021 F250 and Four Wheel Campers Hawk UTE
Bret is a professional adventure and nature photographer in Moab, Utah. He, his wife Melissa, son Jackson, and adventure pug travel frequently throughout the West in search of the best trails to mountain bike and hike, and the most epic campsites for their 2021 F250 and Four Wheel Campers Hawk UTE. Some of his favorite places include the Sonoran Desert, Oregon Coast, Northern Rockies and the Cascades.