Known for it's thoughtful design and quality of product, Dometic launches the Dometic GO Collection. We're looking forward to getting certain products for TAP Trail Tested review.
The Dometic GO vehicle-based camp kit is elevated by design, innovation, and durability. Made with lightweight materials and smart design for easy packing, the new collection equips the car for long days on the trail and nights around the campfire.
"From powered coolers and drinkware, to water heaters and mobile air conditioners, at Dometic we make every getaway outside more comfortable." says Juan Vargues, President and CEO at Dometic. "We were pioneers in modern refrigeration 100 years ago and we have specialized in mobile living solutions for over 70 years. With the addition of versatile, resilient and lightweight camping gear that fits in the back of any vehicle, Dometic makes it easier than ever for outdoor lovers to enjoy a spontaneous detour to chase the waves, the powder or the quietest river bend."
Dometic GO reduces your packing time and removes the obstacles involved with preparing to hit the road and take on outdoor adventure. The collection is created for "Vehicle Based Adventure" where people use their daily cars as a basecamp for outdoor activities. Designed to fit into the back of a mid-size SUV or vehicle, this new collection will transform any car into a basecamp in minutes.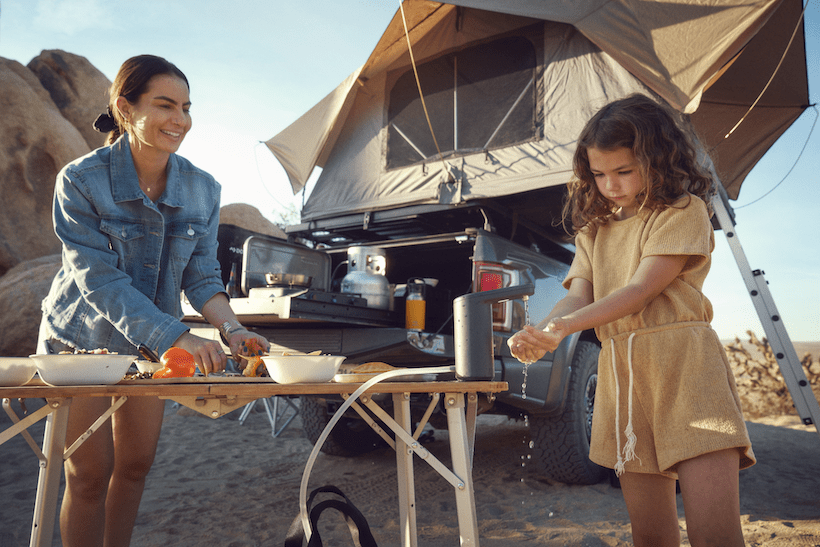 Hydration Water Jug: an easy, efficient way to store, transport and use water around camp
Hydration Water Faucet: provides runningwater on-site, dispensing with the ease of asingle tap
Compact Camp Chair: lightweight, robust chair designed for comfort and packability
Compact Camp Bench: unique and compact, 2-seater bench for any scenario
Compact Camp Table: one table for every need, featuring 3 adjustable height options and hassle-free construction
Blanket: weatherproof and cozy, this dual-sided blanket is a go-anywhere, do-anything outdoor staple
Portable Gear Soft Storage: soft, versatile protection for the grab-and-go essentials
Insulated Insert: transforms Portable Gear Storage into a mini cooler
Hard Storage: waterproof and dustproof, stores, stacks and organizes essential outdoor gear
Mobile Cooling: CFX3 powered coolers, Patrolice chests, WCI Cool ice chests
Outdoor Drinkware: a wide range of designedthermo bottles and cups which keep both hot and cold drinks