Our perfect Overland Rig: I grew up dreaming of dusty Baja roads, endless uncrowded beaches, fish tacos, hand pressed tortillas, and night skies filled with fireworks. I think I watched a few too many surf movies in the 80's and 90's but self contained traveling has always been something that has intrigued me.
Fast forward 30 years and I find myself owning the perfect overland rig that can accomplish everything I dreamed of and more. Allow me to introduce the Four Wheel Camper, Pop-up Camper, known as the Project M.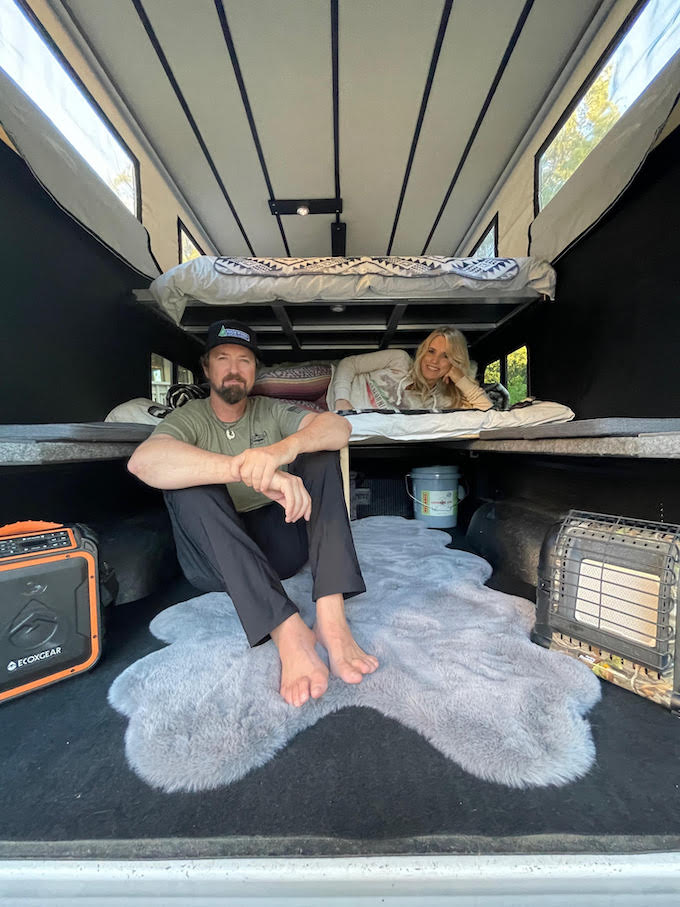 A quick back story, Kelly is my beautiful wife, and we've been married for over 30 years. I was fortunate enough to marry my high school sweetheart. We now have six children, and three grandchildren. When we met I was a competitive snowboarder, skateboarder, and surfer. We got married very young, started a family, and we owned owned a plumbing company for 15 years. I then became a golf professional, transitioned into event production and started event announcing for Iron Man Half Marathons, Paddleboard races, the Santa Cruz paddle fest, June Lake Triathlon, and more. Kelly and I also became addicted to kayak bass fishing, we now compete in some tournaments , and we started a line of hand printed Fish Sox. During all of this craziness, we always took our children with us wherever we went and everyone participated in every activity.
We have always had a work rig in our family but for a time we started building a one ton conversion van into the ultimate travel vehicle. Every year we would travel off-road down into Baja and make camp at Estero Beach, then we would take short trips further down the coast exploring the waves and small fishing villages. One summer on our way down Interstate 5 we were in a head on collision with a young man that had stolen a vehicle and was in a high speed chase with the highway patrol. His vehicle became airborne as he entered the freeway and Kelly navigated our van to safety after hitting his Jeep Charokee full speed. We were pretty shaken up but our children were all fine, so we rented a van, transferred our gear, and went on with our Mexican Vacation. Probably not the smartest thing, but hey, we had places to see, fish tacos were calling, and soaking up some sun was a great way to heal. My ribs never felt right when I was paddling my surfboard, and Kelly's wrist hurts whenever she would press down to get up on her board, it all made sense when we got x-rays following the trip and found out I has a few broken ribs and Kelly's wrist was fractured at impact. We healed, but our van was totaled.
As our event production company grew I found myself always towing our 28' trailer filled with all of our event equipment using a Ford F-350. I also used the back of my truck at the events delivering water aid station supplies on the race courses, and picking up deliveries from Costco. I really wanted to rebuild a new conversion van so I could sleep at the event sites, but a van doesn't have the needed towing capacity for our 12,000lb trailer. We started looking at the Four Wheel Camper models but the slide in units eliminated the function of the truck bed. We were stuck needing our truck, and at a serious crossroad as we admired so many friends sleeping in their sprinter vans at events.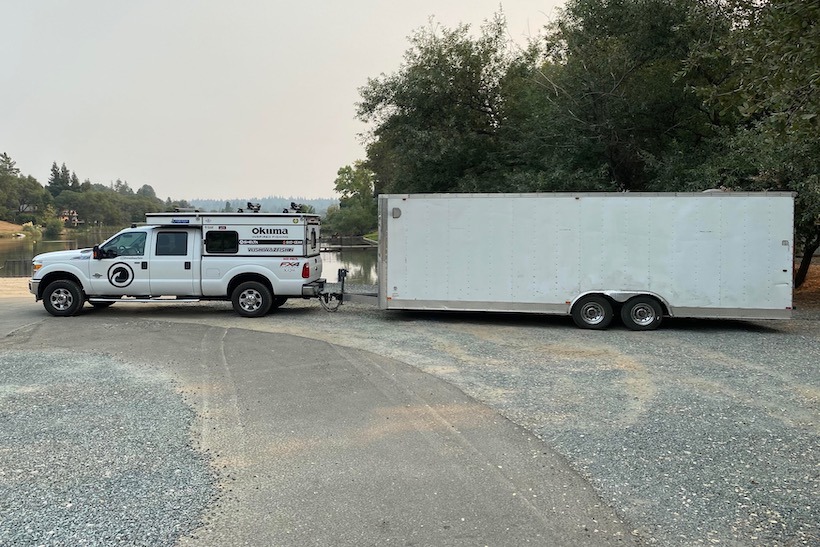 I'm not sure exactly sure how it all happened or if a messenger came from heaven but enter the "Project M". A custom built popup style off-road camper that simply clamps to the back of our Ford F-350. Instantly we have an overland rig I can stand in, this is no easy feat as I'm 6'5" tall, a custom queen size organic bed from Sage Sleep to sink into following work or play, we still have the use of our truck bed as needed with normal tailgate operation, and most importantly, our tow capacity hasn't changed as the camper weighs under 500lbs. Goodbye van life with a side order of work truck, hello the best of both worlds.
The camper is always mounted on our truck and we don't even notice it's there in normal operation. A trip down to the grocery store or Home Depot, no problem. Standard parking works just fine, drive through restaurants, you bet, but if you ever want to pause and take about three minutes, flip the six easy reach clamps, you instantly have a home away from home wherever you park. During covid when everyone was stuck eating in their cars, we would purchase our food, pop up the camper, stretch out and enjoy our meal. Remember when every bathroom was closed, we always have a lug-able loo with liners in the back so my wife and our daughter were never inconvenienced.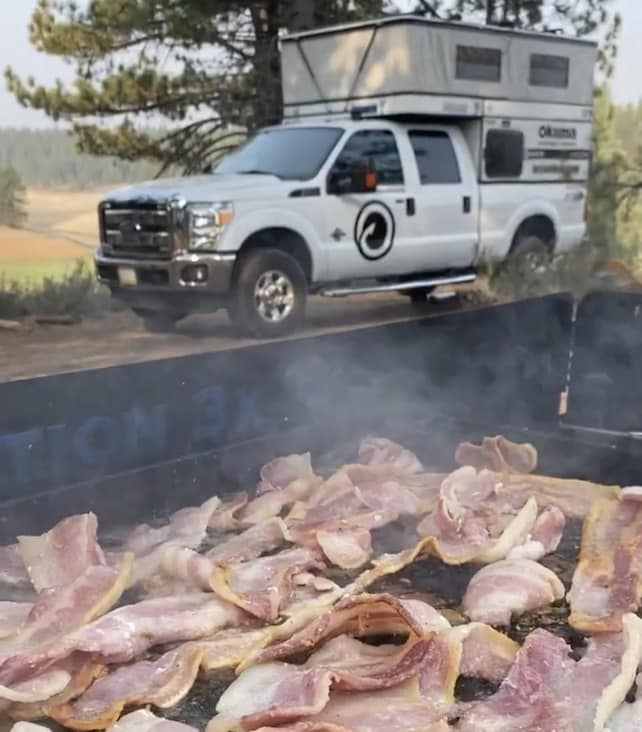 Having the Project M on our 4×4 rig, we've ventured to places we never could reach in a van, and if equipment and gear is muddy or wet, it's so convenient to still have a normal operating truck bed. Kelly has outfitted the camper with cozy blankets, endless throw pillows, and all the comforts of home, but at its core, it still functions like a work truck. We have a Mr. Heater on demand shower unit we bring with us wherever we go, a water filter for drinking water, first aid supplies, a small camp stove, some freeze dried meals, some drinking water, and a few basic camp essentials. We are big believers in having a family 72hour emergency kit ready, I guess our permanent mobile 72 hour kit could accommodate us for a few months if needed.
A huge benefit with the Four Wheel Camper Project M, is I can still lower the tailgate and slide in my pedal drive kayak and transport my boat to fishing tournaments. I can pre-fish the day before, sleep right at the boat launch in some areas, saving precious moments of sleep not wasting time driving to a hotel. We've even used it for recent wildfire emergency evacuations, no need to load up a trailer for an emergency bug-out, the Four Wheel Camper is always ready.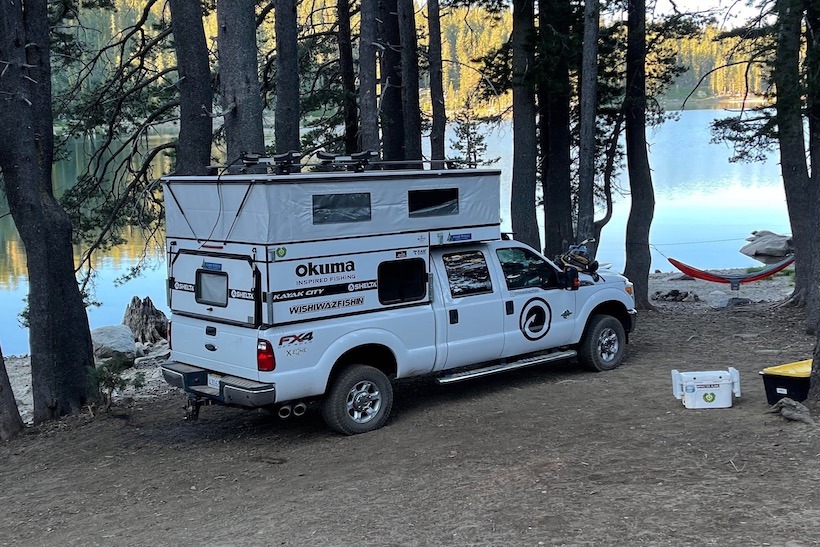 We've taken the rig on so many overnight adventures it's been a great asset, but the instant convenience is where this unit really shines. We just ventured to Santa Cruz for our son's 14th birthday and he wanted to play disc golf, skateboard, and go surfing all in the same day. We slept in the rig in the redwoods, then went to the disc golf course where we popped up the camper. Kelly and our daughter stayed in the camper enjoying the morning while we played disc golf. Next was a quick stop at the skatepark, pop top popped again, windows open for a cool breeze, and then we finished the day off surfing. That's right, you guessed it, our rig, gave us ocean front parking, and a perfect spot to enjoy the view post surf.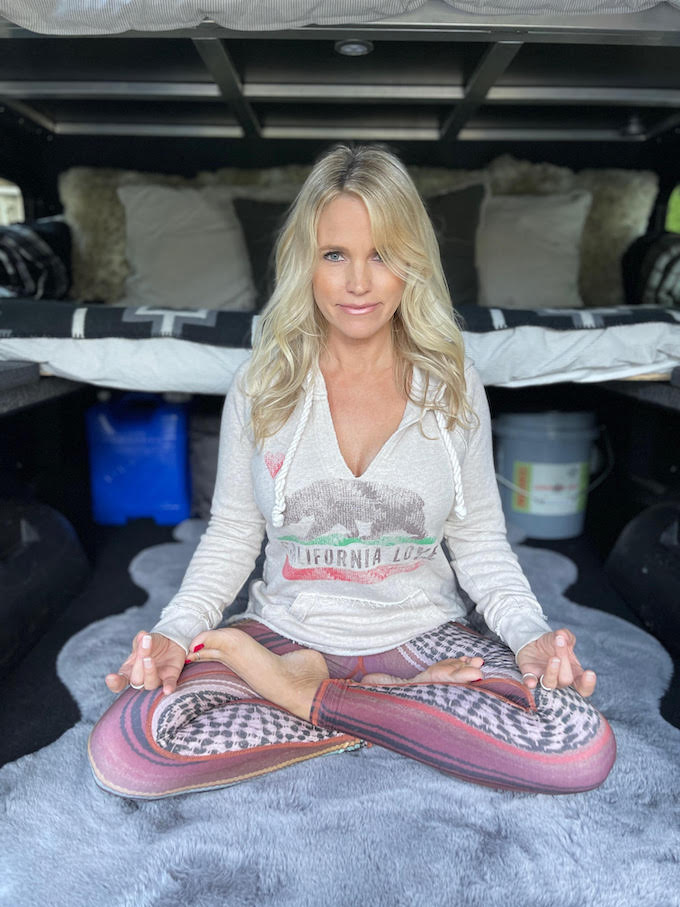 We have always tried to maximize every opportunity of adventure, participated in endless activities, and this camper has proven itself over and over again. When we burn all the daylight playing a little too long, and can't make it back home to our home beds, no problem, we simply find a safe and legal location to park, and we have an instant hotel. I could go on and on about the advantages of this unit, but we've got fish to catch, the sun is going down, and soon we need to plan our return to Baja. If you ever spot us out and about and want to see the rig and how easy it is to pop up and camp, don't be shy, we're happy to show you one of our favorite things.
The Project M, from Four Wheel Camper is always ready.
Instagram Kelly- https://www.instagram.com/misswishiwazfishin/
Chris- https://www.instagram.com/mrwishiwazfishin/
Sponsors:
Fish Sox- https://fishsoxusa.com/
Okuma Fishing- https://okumafishingusa.com/
Sage Sleep- https://sagesleeporganics.com/
Mr Heater- https://www.mrheater.com/
__________________________________________________________________
For more pop up camper articles, CHECK HERE