Last month, TAP headed up to the Oregon Dunes Recreation Area in the beautiful coastal community of Florence, to host a free, In – Field, women's only, 4WD training course put on by AEV. It was taught by Chris Wood, Master Trainer for the I4WD Trainers Association and Global Sales Director of AEV. Most attendees were owners of JK's with AEV components and had come from all over the U.S. for training and to drive the dunes with like-minded women.
The "women's only" component was not meant to be negative toward men; we had several guys there who were training to lead trail runs. The idea came up because all the trainings I have gone to have been made up solely of men…super nice guys, but where were the women? The Adventure Portal crew spoke to Chris Wood of AEV late last year about the possibility of TAP hosting an AEV women's only in – field event and AEV graciously agreed to it.
Every time I get together with a group of off-roaders, it's a blast. We have common interests and stories to share, cool components to show off, great trails that are a "must do", etc. You are in your tribe and it feels good. That's how it felt meeting up with women who were from OK4WD, Grenadeacorp, Jeep Girls Rock, Northwest Overland, women in training for Rebelle Rally, a coordinator of Rauch Creek Women's Wheeling Day and Jeep club members or individual enthusiasts. Attendees came all the way from New Jersey, Montana, California, Oregon and Washington. The key focus of our day at the dunes was how to be safe and have fun when driving in sand, while also respecting the Tread Lightly principles.
The group met up at 7:30 a.m and headed to a staging area to air down and settle in for class before hitting the dunes.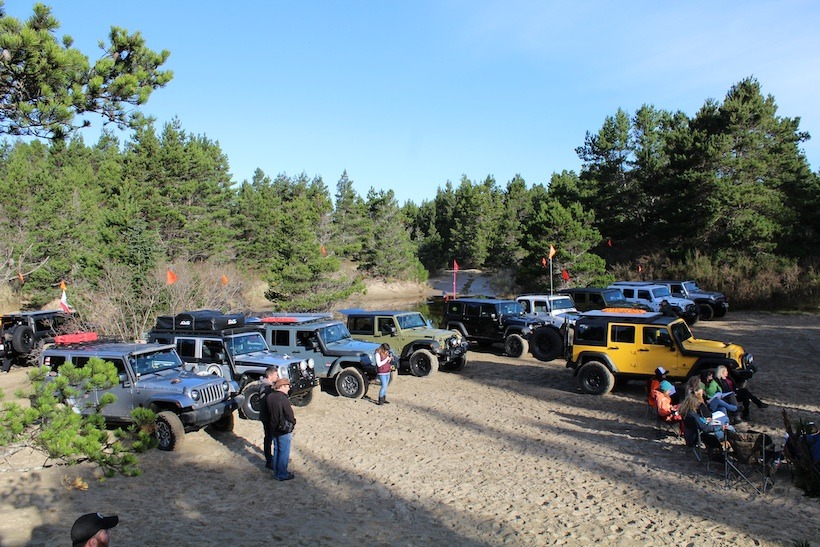 The training class lasted about 4 hours and Chris highlighted some critical points to consider when getting ready for an off-roading adventure.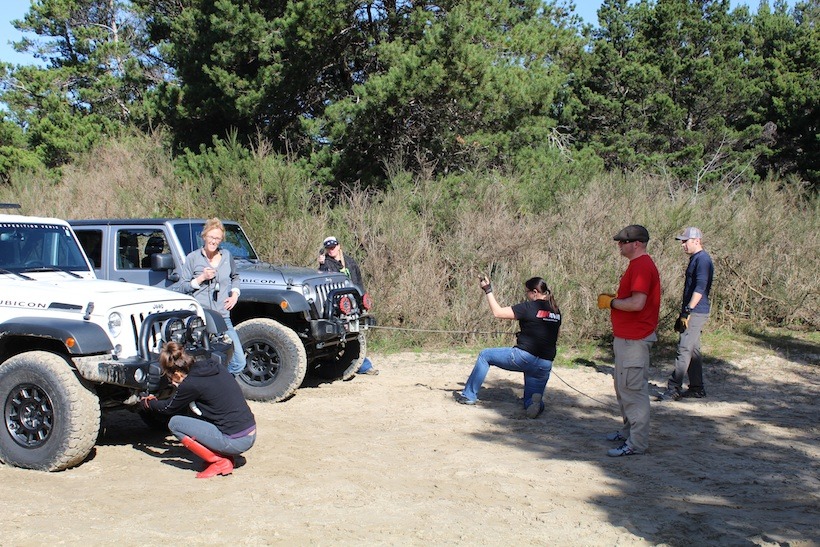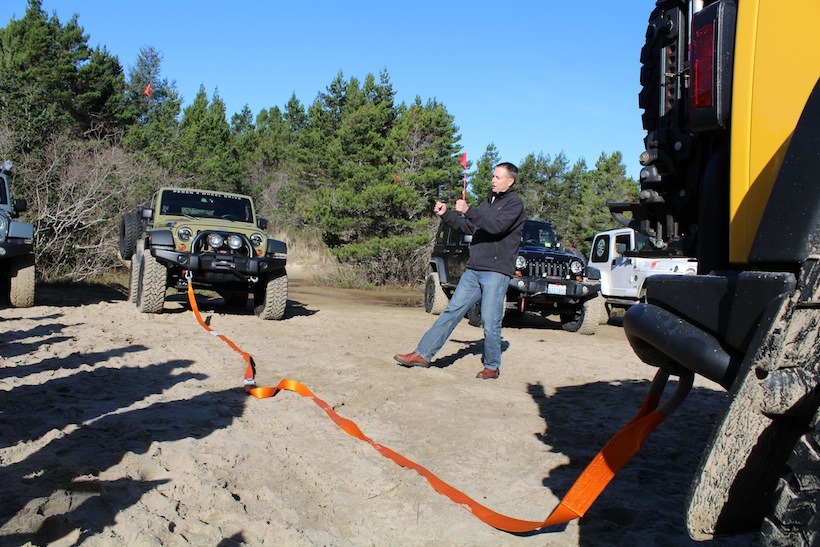 Here are just a few highlights from the training session that may seem "elementary", but are valuable points to review.
Before heading out check your vehicle's:
-Tires for wear and/or sidewall irregularities and be sure your spare is in good working condition
-Carry spares of the following items: fan belts, radiator hoses, fluids
-Make sure your battery is securely fastened in place
-Check your vehicle's undercarriage, driveshafts, clutch, brakes, lights, steering linkage and seat belts
Before heading out become familiar with:
-The location of your vehicle's lowest points (gas tank, transmission and axles)
-Your vehicle's dimensions: height, width including fender flares and roof rack
-Transfer case function-ease of shifting from 4 hi to 4 low.
-How to change your tire, especially in awkward/dangerous situations.
-Backing your vehicle using only your mirrors.
-Tire placement when driving over rocks. Place some in a parking lot or field for practice, if needed.
When making travel plans:
-Tell someone where you are going and when you will be returning. Let them know that you will call them when you return. It's essential that someone know where you will be and when you will be coming back so that they can notify help if you have not returned.
-When planning your trip: Allow for unexpected delays and plan alternative stops/camp sites.
-Carry maps to back up your electronics.
-Train yourself to make mental notes of the terrain you will be covering. Study intersections on 4WD trails from both directions of travel so that if you need to backtrack you'll remember which way to go. You can also build rock kiosks to serve as reminders.
-Check weather forecasts.
-Find out if special permits are needed and get them.
-When traveling with multiple vehicles, make sure that all are familiar with the seven core rules of convoy travel: 1. Headlights on. 2. Lead vehicle announces oncoming traffic. 3. No tailgating. 4. Keep trailing vehicles in sight. 5. One vehicle at a time on steep up-hills and down-hills. 6. Advise convoy drivers of directions to a final destination. 7. Last vehicle keeps others advised of problems and progress at the rear.
I have to say, Chris Wood presented his material in a comprehensive and demonstrative way, making the information relevant; easy to understand and apply.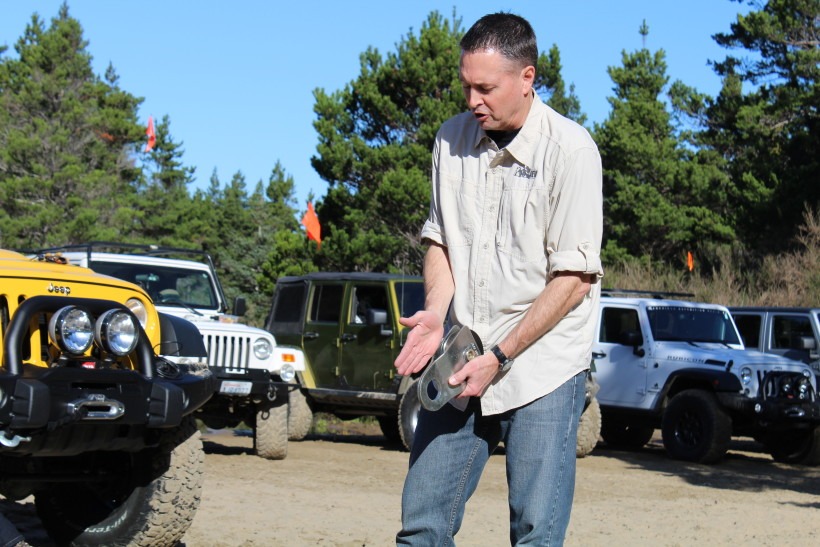 To the dunes….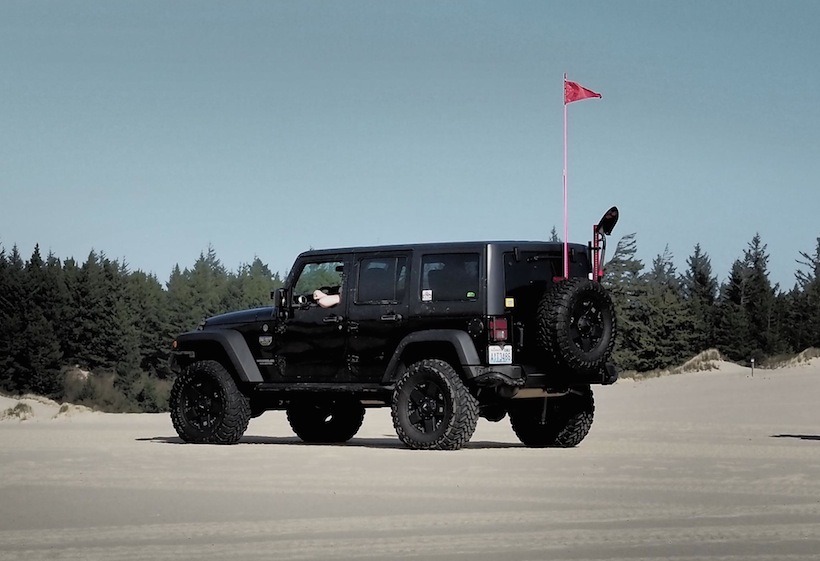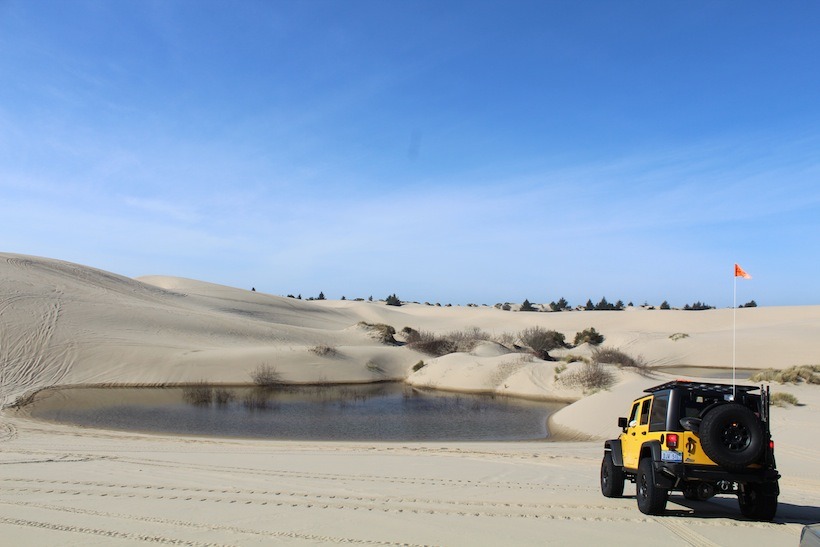 We all headed out to the dunes after lunch and started on some low, easy side swipes. One of the exercises was to let up on the throttle half way into a side turn while at a 25-ish degree angle. This made our jeeps slide sideways down the dune. Here, we practiced turning into the slide and steadily increasing the throttle to come out of the slide. Too fast an acceleration while turning into the slide either buried your wheels or bumped your vehicle around mercilessly (yeah, I did….).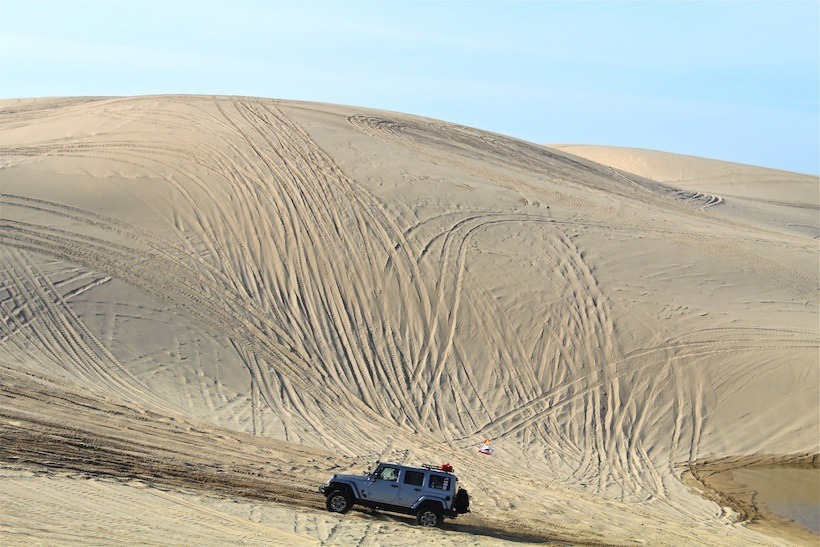 We practiced the "art of momentum" when driving on deep sand or up a dune. Building momentum for the incline, then keeping a consistent amount of throttle while traveling up the dune was practiced on dunes with varying degrees of incline.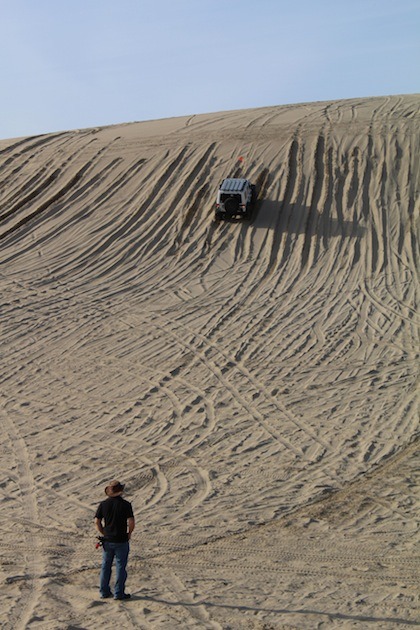 A couple of vehicle recoveries were performed when a driver had not given her vehicle enough torque as she was beginning the incline, then attempted to "gun it" toward the top as her vehicle's power was fading, only to find that she'd dug her jeep into the sand. Another common scenario was when a driver let off on the throttle as she was cresting, only to become high centered. These provided Chris with "teachable moments" which were valuable assets to the day's journey.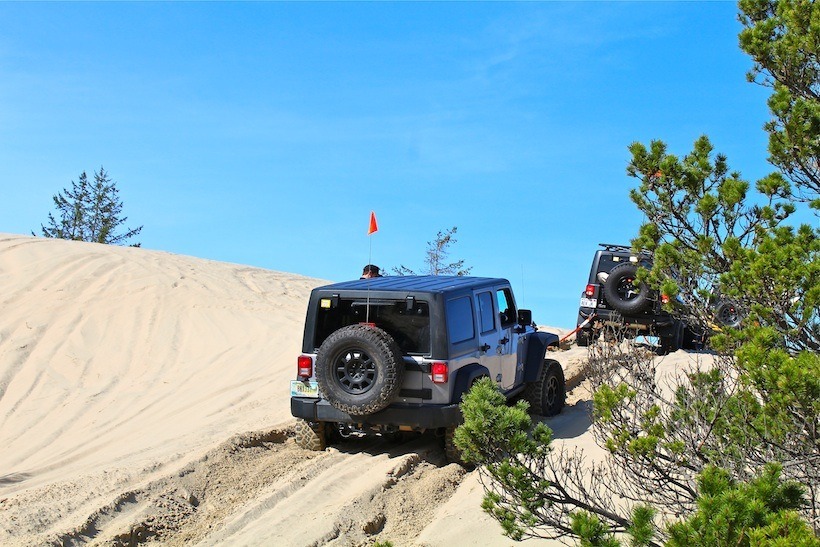 Later, for the in-field recovery training portion, Chris demonstrated the use of the High- Lift jack, the Pull- Pall winch anchor and MAXTRAX Vehicle Recovery Boards.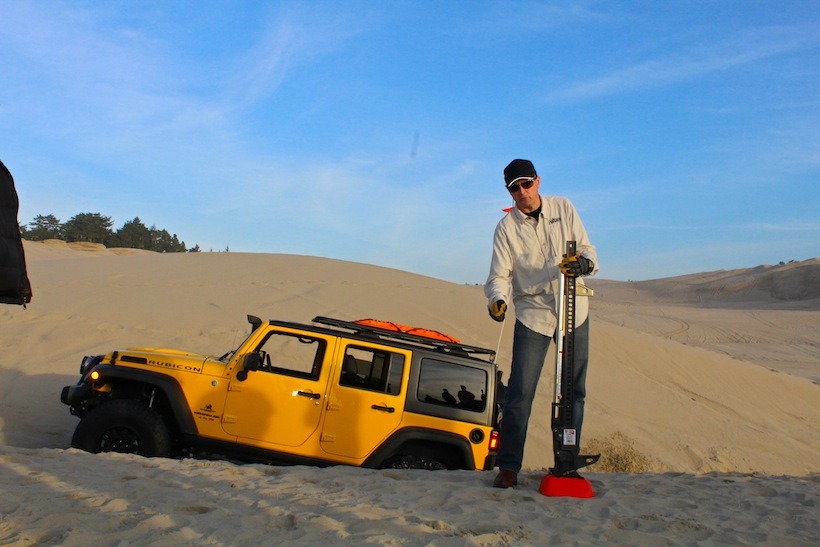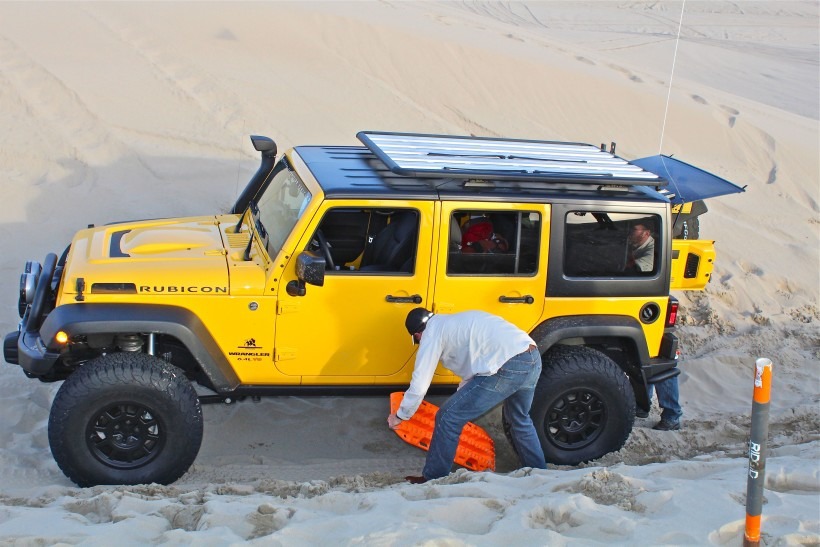 One of the last dunes to be driven was over 5 stories high; definitely a rush!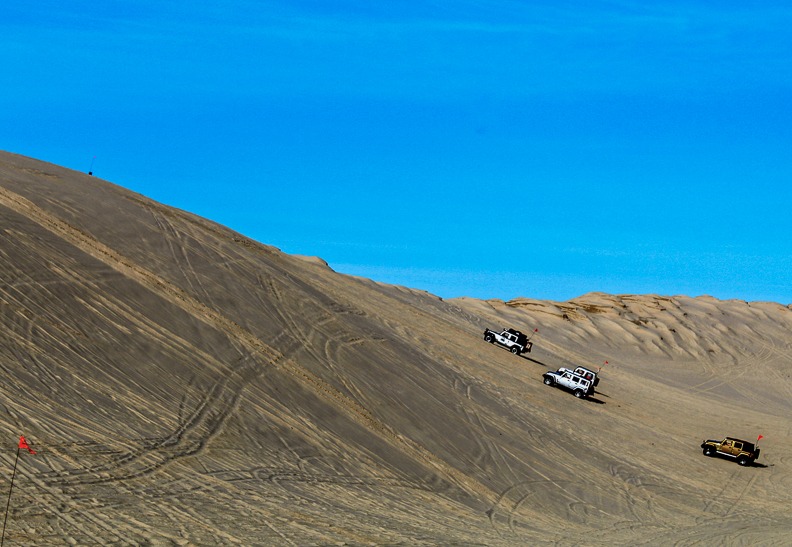 After that, we practiced squaring up with a decline before making a decent and letting the vehicle's engine do its magic in low when traveling down the steep face of a dune.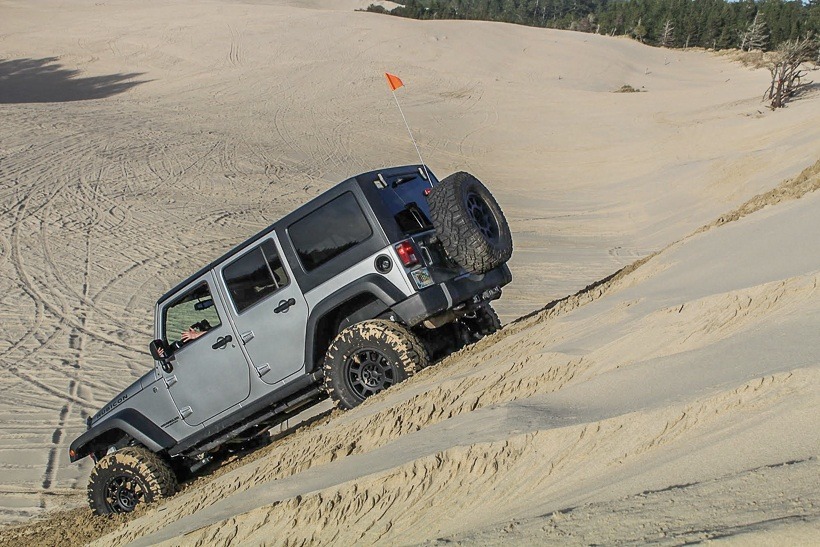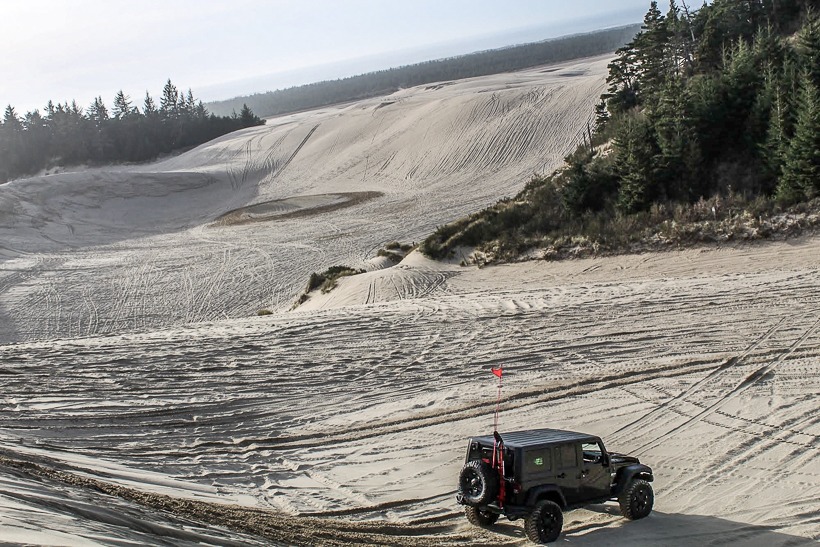 The Oregon Dunes National Recreation Area is situated on the coast, so as the day progressed, the fog began to roll in and the environment changed completely. In the thick fog we practiced spotting hand signals and paired up in our vehicles with the driver's eyes closed and the passenger relaying the spotter's signals to navigate the vehicle through a zig zag course. I am a talker. I had to remember to give ONE CLEAR SIGNAL at a time. No multi-tasking when it comes to guiding vehicles through challenging terrain. By the way, this is a common mistake. In the heat of the moment, there is a tendency to throw out too much information all at once. Here, it was duly noted that the key is to signal slowly. Nothing needs to be rushed when guiding a vehicle over challenging terrain.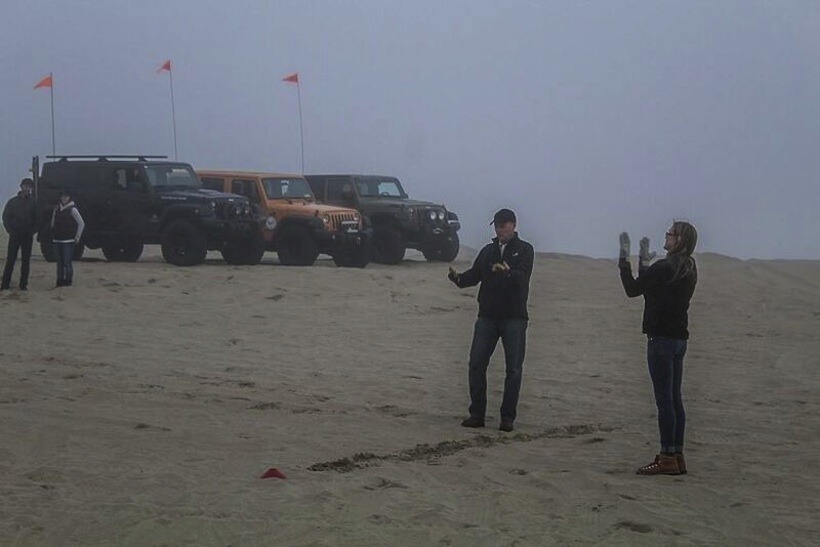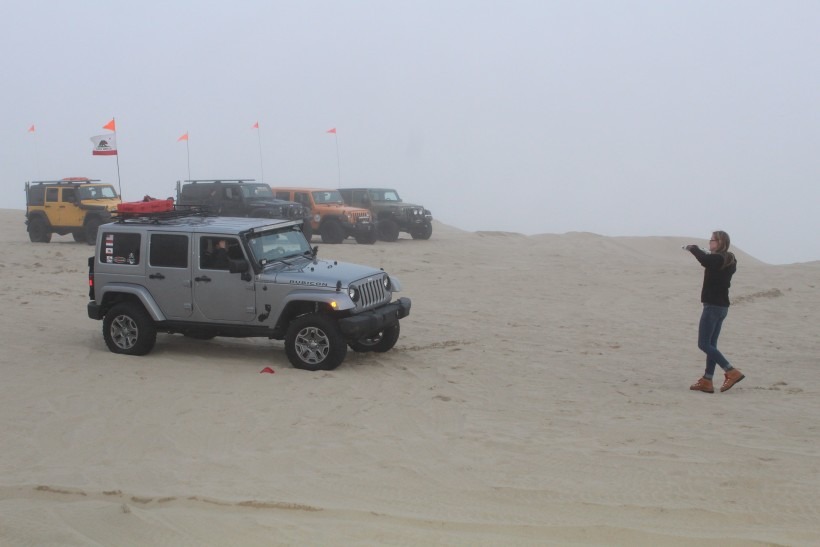 Jeeps are remarkably capable off-road vehicles and having the guidance of a certified I4WDTA Master Trainer, excellent (read-AEV) components, breathtaking terrain, a fantastic group of women, and a super helpful support crew, made this experience one that I will never forget.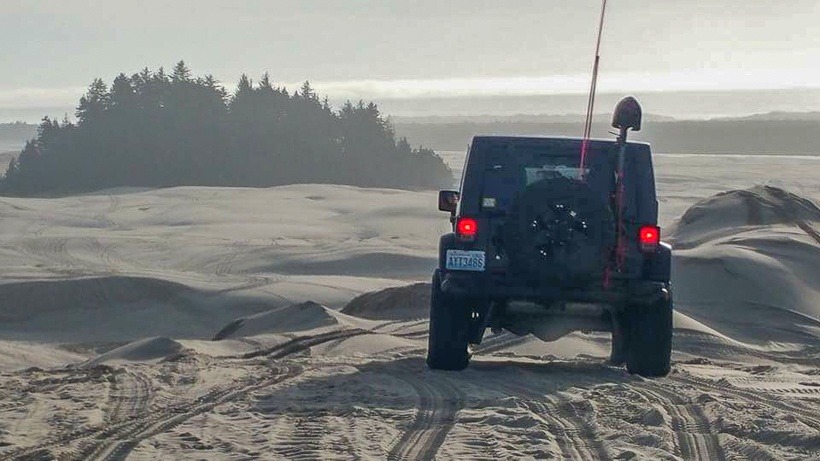 For more information on AEV components, visit them at www.aev-conversions.com
TAP would like to extend a big thanks to Chris Wood and AEV for holding this event and for agreeing to let The Adventure Portal host a women's day. We'd also like to thank Jackson Ellis of Glendale Dodge Chrysler Jeep, Brad Peden of Peden 4 Wheel Drive, Ken Benham of SAR: Snohomish County Search and Rescue Greg Gerhardt: comrade and photographer and Paul Kientz of AEV, for their support during the training.
Photos: Lori Palmer, Lisa Van Rynsoever, Jim Olexa
Author: Lori Palmer, Editor and Co-Founder TAP