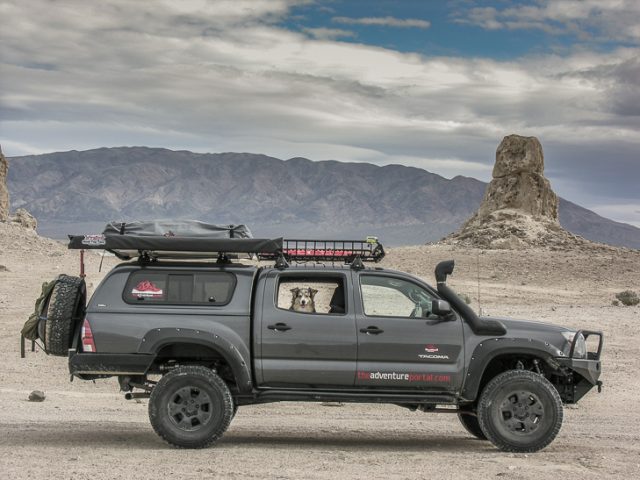 So, we've done some upgrades since the last build write-up and it's time again to showcase The Beast. Our 2010, double cab, TRD, short bed Tacoma is the workhorse of our show; always dirty, inside and out, the beast that carries the burden each trip. Our Rubicon, on the other hand, is the pampered show horse; prancing around, showing off her off-road prowess, almost mocking our grunting, creaking, beast of burden. Interestingly though, it's the Taco that gets all the attention, all the cat calls and whistles in the parking lot. "Nice rig dude!", is a common occurrence, as Rubi looks on pretending not to care!
In 2015, we decided to move away from the overland trailer life and build out our rigs to act as our sleeping and cooking platforms. The decision was made to keep Rubi relatively light and "crawl" ready, as that goes along with Lori's driving style and attitude. I'm more of an Overlander, so it obviously made sense for the Tacoma to become the camp platform. With 80k miles on the clock, The Beast is holding up well. Below are the 2015/2016 additions.
SnugTop topper: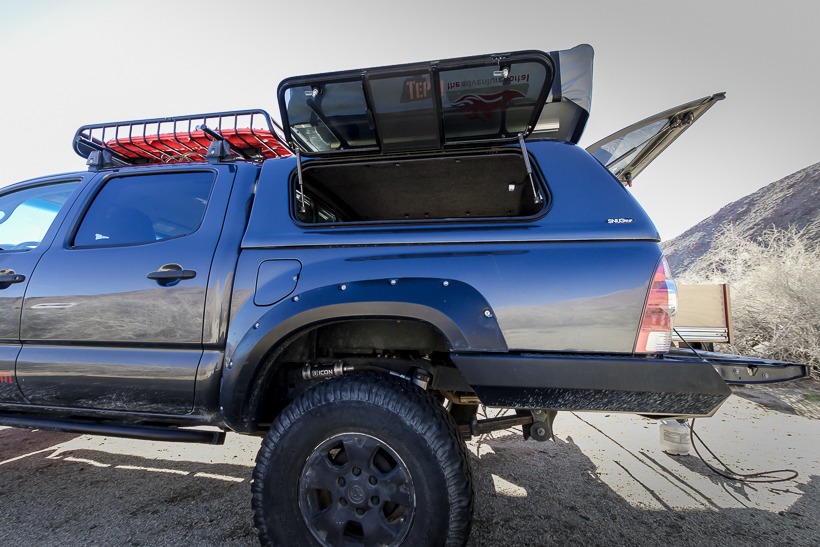 We've used SnugTop toppers from day one and last year they graciously offered us a brand new model. The 6 year old Super Sport model we were using was still working fine, but definitely getting worn around the edges after 1000's of miles off-road. We decided to go with the REBEL. It gives us the ability to hold up to 500lbs on the roof and features locking, flip-out, side windows. This new topper allows us to site an RTT, when desired, and provides easy and efficient access to the rear of the truck bed. snugtop.com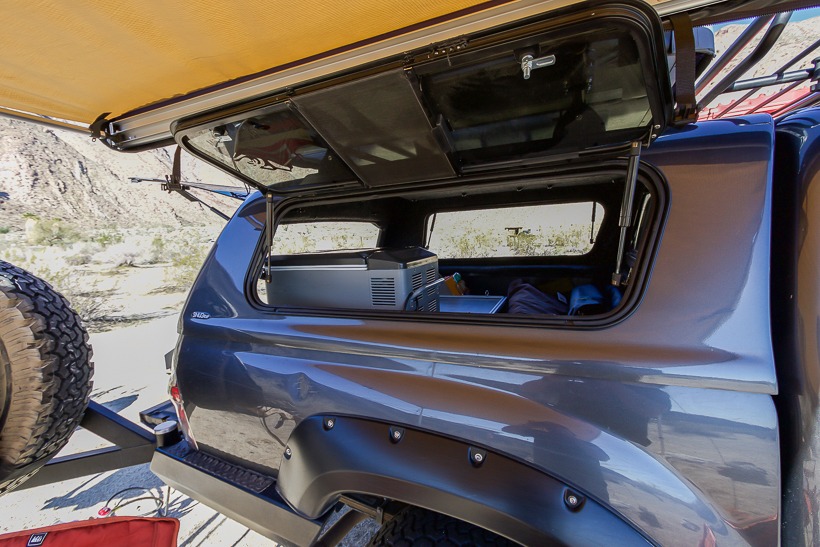 Truck bed kitchen build: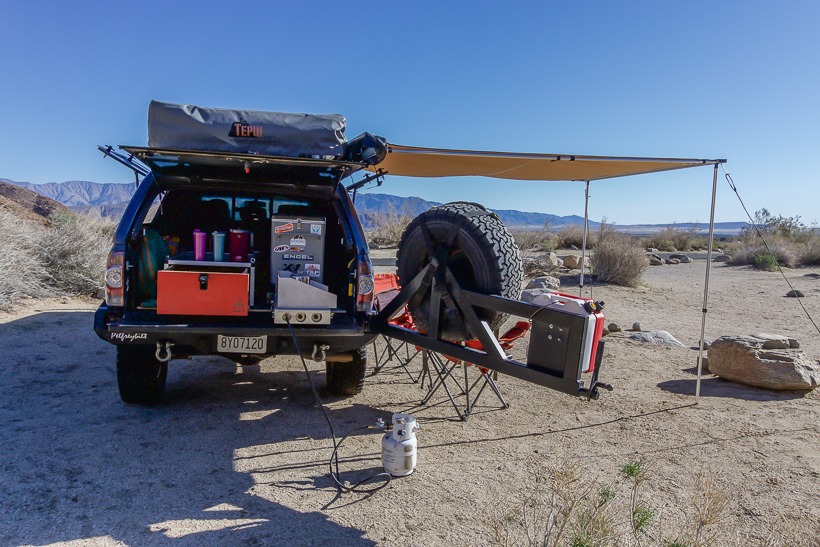 Building out the truck bed was a commitment, meaning the truck was now dedicated completely to overland travel. After thinking things through, I genuinely came to the conclusion that I rarely used it for anything else. On the odd occasion I might, I could simply spend $20 an hour at Home Depot and rent a truck to haul stuff.
We decided to go with a drawer system from Goose-Gear. All we needed was one drawer that could efficiently hold our kitchen gear (utensils, pots/pans/silver wear/plates/spices/cooking oil etc, etc), but also stand up to the rigors of overland travel. The drawer measures 22w x 36d x 12h and comes with heavy duty drawer guides and compression latches. It sits on a Goose-Gear plate system that bolts into the truck bed and provides a smooth, flat and solid surface for the drawer installation. Since installing the drawer and plate in November 2015, we've journeyed across Baja, the Mojave Road and many trails in Anza State park. I'm happy to report everything is working perfectly and holding up extremely well to the punishment we're providing. goose-gear.com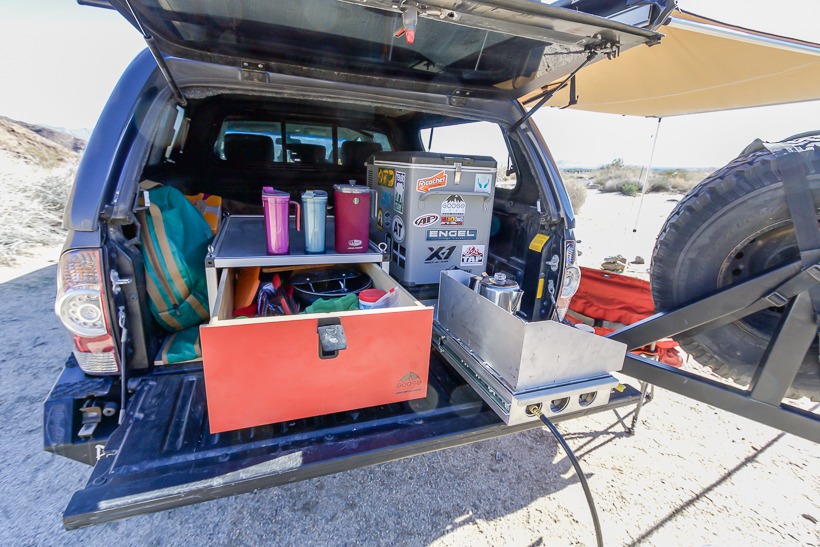 Alongside the Goose-Gear drawer and bolted into the GG plate system, is a Partner Steel stove and combo slide. On top of the slide sits our 45l Engel fridge. The slide and stove are sold exclusively through Adventure Trailers and we're impressed with the rugged build quality. Again, after several thousand miles of abusive trail conditions and copious amounts of dirt and dust, everything is still functioning like new. adventuretrailers.com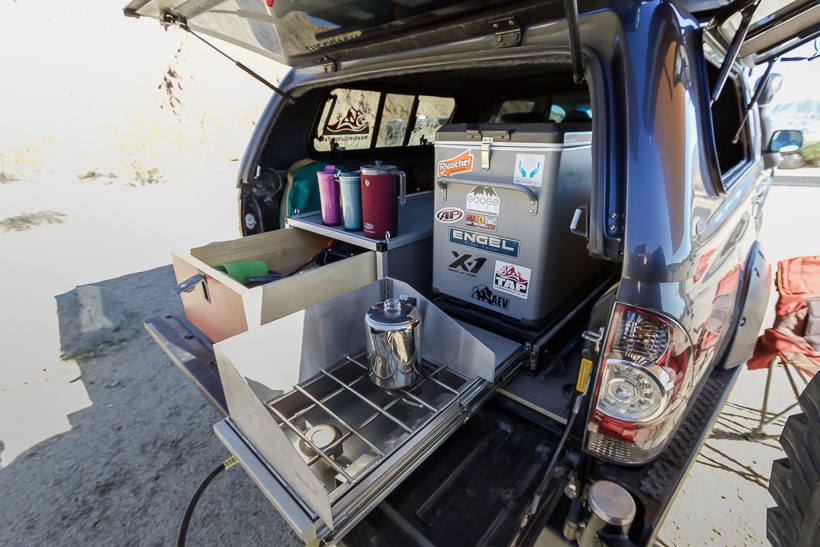 Overall, I am extremely happy with our basic, but functioning kitchen system. The only real drawback is the added weight to the rear of the truck. To cope, we're using Emu Dakar leaf springs with extra leaf and 2.5 Icon shocks that seem to easily support this weight. Initially, I was also concerned about the lack of access to the rear of the truck bed, but the topper side windows allow excellent access, so it's not been an issue.
ARB on board compressor:
Airing down is an essential part of driving on dirt, but let's be honest though, airing up at the end of the day is a PITA. We've used portable compressors for years, but they are one more piece of gear that needs to be stored in your rig and they always seem to be difficult to access, when you're tired, dirty and hungry! In 2015, we bit the bullet with both rigs and installed ARB high performance on board 12 volt compressors. They have performed flawlessly and I can quite honestly say have been one of our best up grades. Check out the write up we did on them last year. www.theadventureportal.com/arb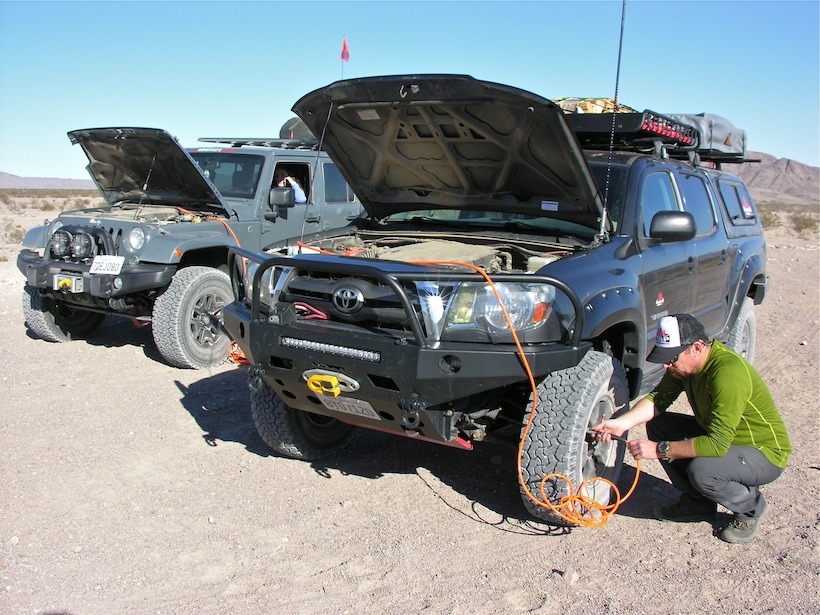 Tuff Stuff Awning: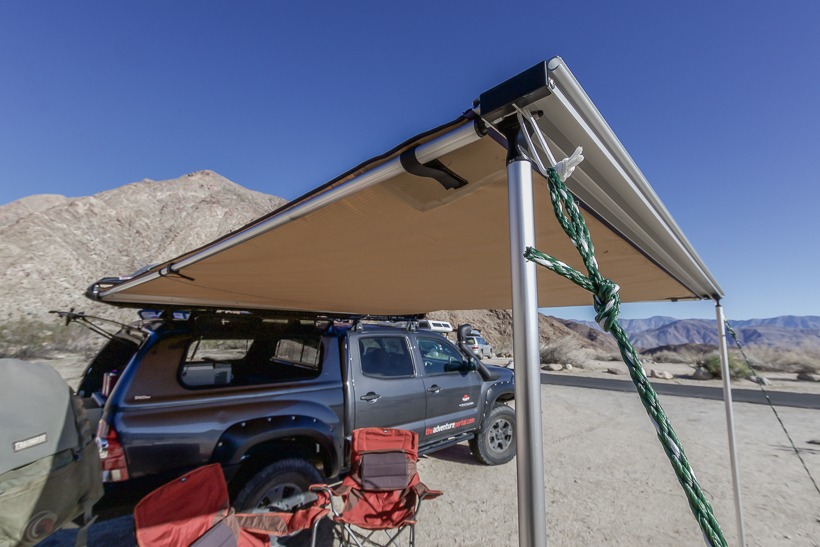 Now our rigs are an integral part of our basecamp set up and the fact we spend so much time under the sun, it was time to install an awning. We chose a 6.5′ x 8′ awning from local Californian brand Tuff Stuff. The awning is definitely made to withstand the desert or Baja wind and to date we have no complaints at all. It erects easily and importantly packs away perfectly into its material case. Zippers and case are sturdy and we expect them to hold up over time and abuse. tuffstuff4x4.com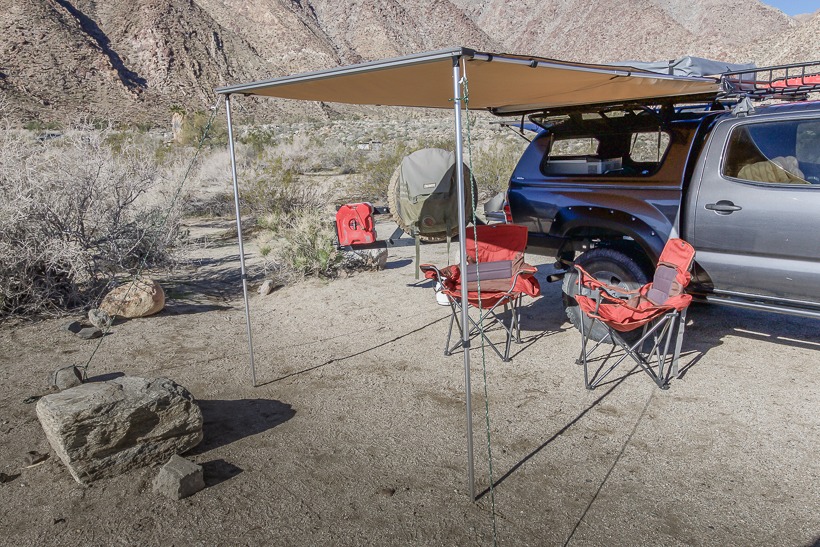 Bomber Products Awn-Lock attachment system: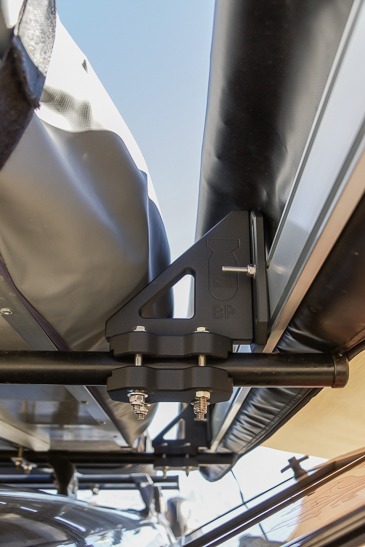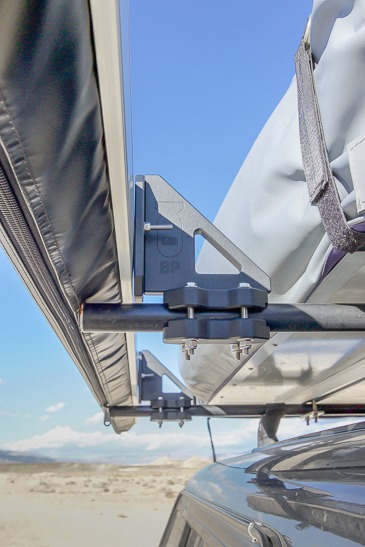 We use Yakima racks on our Tacoma and attaching an awning securely can prove difficult with the round bars. Enter stage right, Bomber Products Awn Lock attachment system. The first thing you notice when you open the box is how well this piece of gear is designed and constructed. It's design is simple and very easy to assemble and attach to the bars. Once in place, the awning is a breeze to attach too and the Awn-Lock will fit with nearly all awning brands. The attachment works with square or round bars (Yakima, Thule and Rhino for example) We've had the Awn-Lock for 5 months and it's held up very well. No slippage on the bars and no loosening of the awning. Overall, a simple and highly recommended product. bomberproducts.com
Wheels and Tires:
I've always loved black wheels and I am not a fan of shiny alloys or chrome on vehicles. However, I couldn't justify the cost of a set of new wheels, so I stayed with the factory alloys and simply coated them with Rust-oleum Flexidip. Application is very easy with a little bit of masking on the brake pads and around the rim. The complete set was cleaned, masked and painted in an hour. Sure, after a while it chips and starts looking tatty, but simply re-spray and it's back to looking great again. Would it cut it at SEMA? No of course not, but as I said this is a work horse, no catwalk model.
Our tires are still BF Goodrich AT KO's with about 30k miles on them. They're 60% worn and took a beating in the Sierra last summer. Lot's of chunking and honestly it's very nearly time to get some new shoes. Possible contenders for the title are BF Goodrich AT KO 2's, Falken Wildpeak AT 3's and Cooper Discover A/T3 or Cooper Discover S/T Maxx.
Bushwacker Fender Flares: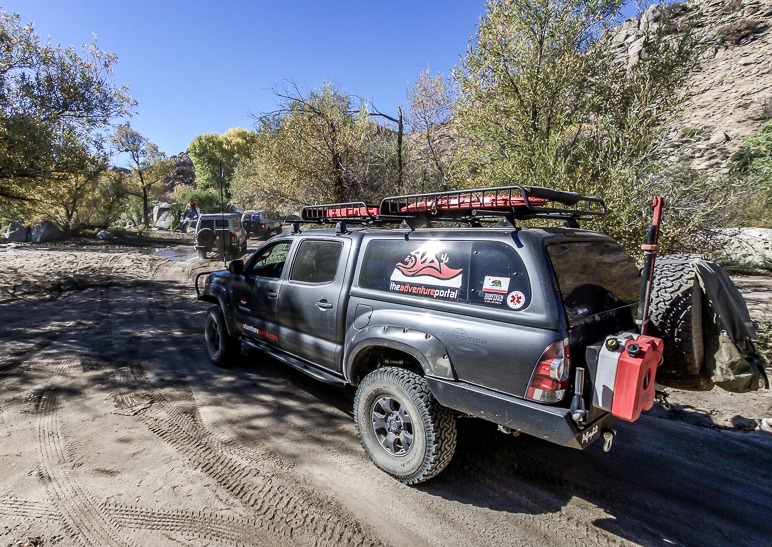 I went for the Pocket style flares that advertise that they add significant tire coverage to keep dirt and debris off the vehicle. The style looks like they are bolted on but in realty the supplied bolts are fake. On their first trip, (Baja) I lost 2 bolts and the flares rattled too much for my liking. Since then, I've actually bolted them into the rig for added stability. If you intend to use these off-road, I'd advise you bolt them into your rig from day one. The rear flares needed to be cut to fit with the high aspect Pelfreybilt bumper. I measured the cut several times before diving in and it was honestly a very easy install. I'm not going to lie or apologize, the reason I put theses on the Tacoma is simple. They just look so darn cool.
In summary, building The Beast has been a labor of love for 6 years and I've made many mistakes with gear, usually when deciding to go the inexpensive route. In full disclosure, we do receive product support from several brands, PelfreyBilt, Timbren Industries, Yakima, SnugTop, Bushwacker, Rotopax, and Maxtrax. However, whether we pay full price (which we often do) or when we're entering in a product endorsement agreement, ultimately all our gear has to work and certainly not fail when out in the backcountry! We only recommend and use products we believe in.
To see our full Tacoma build check out theadventureportal.com/toyota-tacoma
Author and Photographer: Andy Palmer
Editor: Lori Palmer
For more overland and off-road capable rigs, CHECK HERE