During this year's Easter Jeep Safari, AEV and TAP sponsored a free women's run on the Golden Spike Trail. Chris Wood, AEV Global Parts Sales Director and I4WDTA Master Trainer, was our lead. We had Jackson Ellis of Glendale Ellis Jeep Dealership, helping out, Jeff Clark of AEV as our tail gunner and me, from TAP, injecting encouragement and enthusiasm into the mix. This was not an anti-male thing. I just don't see that many women off-roading and we thought that it'd be cool to get a group together for a run during Easter Jeep Safari.
Our group was made up of women from all over the United States. We met at a the Spanish Trail Shell station at an ungodly hour, drove to the staging area, and huddled for a word from our trail leader, Chris Wood. Chris embodies all things safe when it comes to wheeling. Before leaving, he laid out seven rules of convoy travel:
1. Always travel with your headlights on.
2. The lead vehicle will announce oncoming traffic.
3. No tailgating.
4. Keep trailing vehicles in sight.
5. One vehicle at a time on steep up-hills and down-hills.
6. Advise convoy drivers of directions to final destination.
7. Last vehicle keeps others advised of problems and progress at the rear.
We hit the trail at around 7:30 a.m and completed our journey by around 8:30 p.m. (The extended amount of time had to do with traffic on the trail.)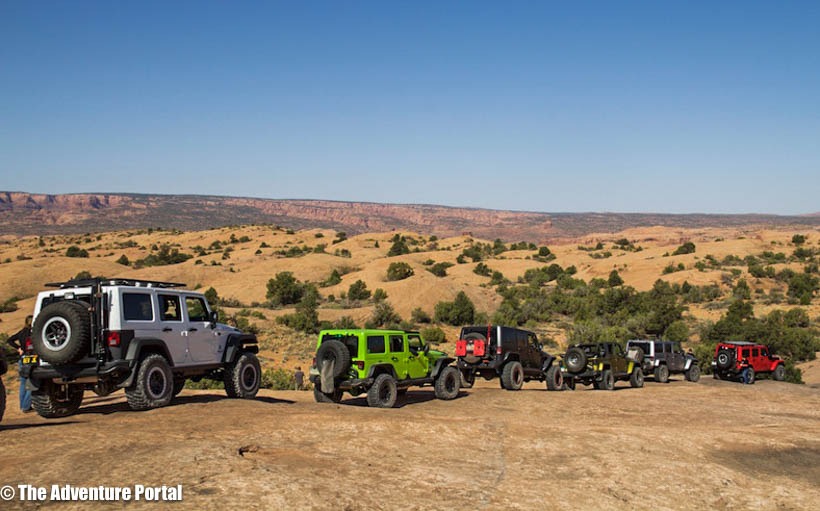 The Golden Spike Trail is challenging and amazingly beautiful. It's approximately 22 miles long and intersects two other difficult trails: Poison Spider and Gold Bar Rim. The trail skirts around the rim above the Moab valley and the panoramic views are breathtaking. We had views of the snow covered La Sal Mountains, the Colorado River, our lunch stop overlooked Arches National Park and on the way to the Golden Crack, you look out toward the west at Jeep Arch (also called Gold Bar Arch).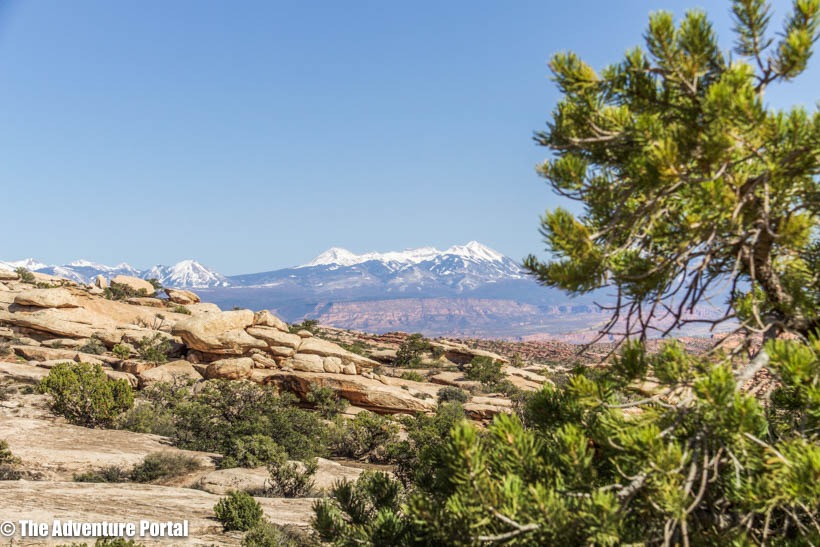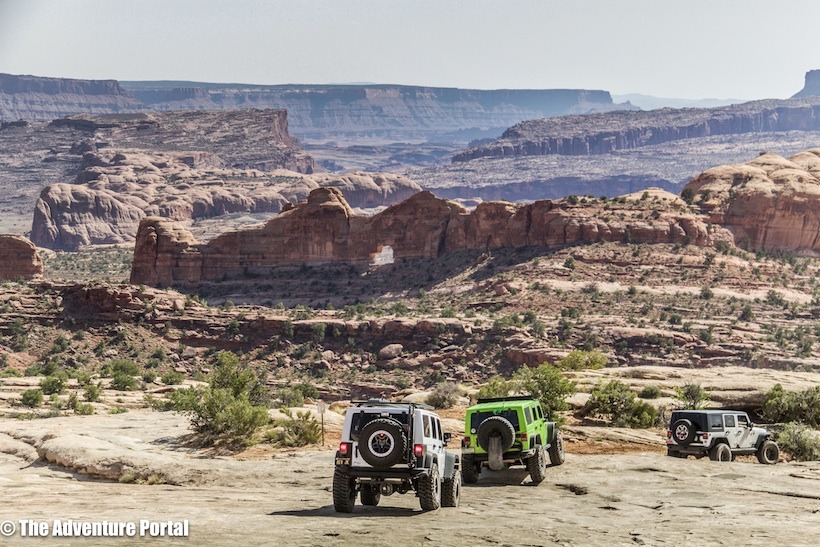 The obstacles along the Golden Spike Trail are epic. They include the Launch Pad, Skyline Drive, the Golden Crack, the Golden Stairs, The Wall and Double Whammy. To reach the trail, we had to first drive Poison Spider Mesa then join the Golden Spike and end on the Gold Bar Rim. I had heard stories of Jeeps rolling off obstacles, vehicle damage and carnage in excess. Our experience was nothing close to that. The culture of this run was based on a couple of things; respect for the environment (Tread lightly! ) and safety. We took the trail as slow and with as much spotting as needed. As I mentioned before, our group ranged in driving skill levels and we all worked together to support and encourage one another. Our trail leader and obstacle coach, Chris Wood, was well-prepared and a great communicator when leading folks easily and smoothly through obstacles. He made hard lines seem easy. Chris was able to read the needs of the group, which benefitted us greatly. There was no carnage, no damage, just lots of fun.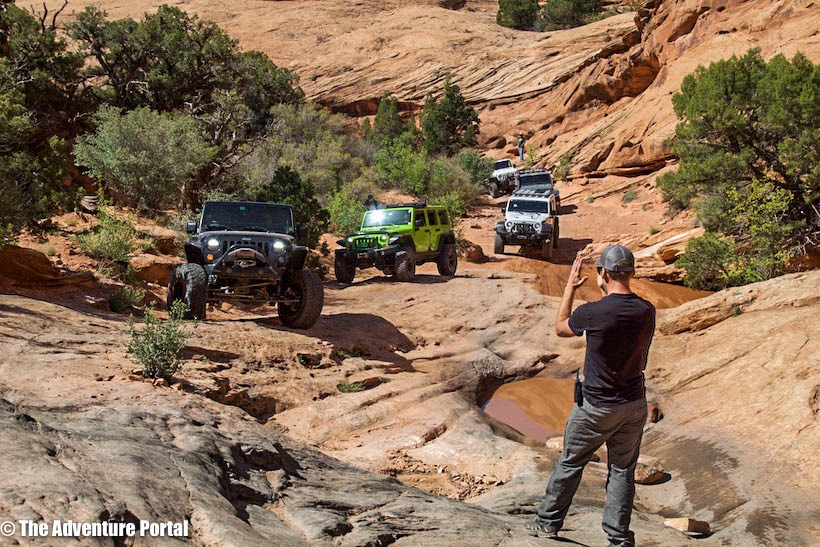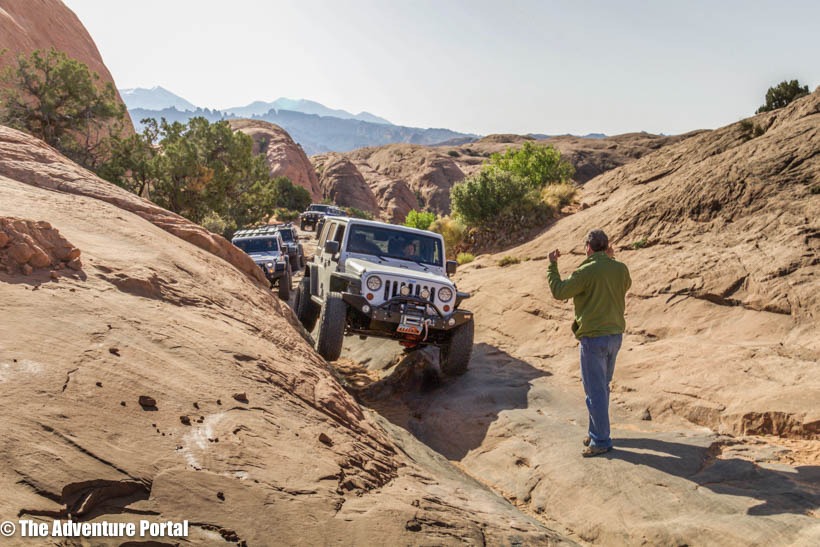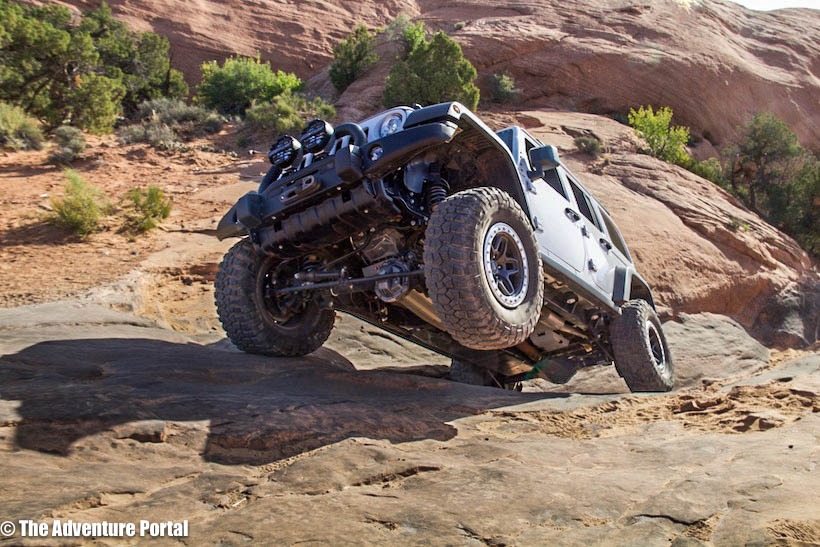 This will be more of a photo journal than an article. I want you to see how physically beautiful The Golden Spike Trail is. It covers such amazing landscapes and is filled with so many beautiful, big, rock formations… that you have to figure out how to drive over…..the experience fills all your senses. I was on full alert for 13 hours because of both the overwhelming beauty and the frequent adrenaline rushes that the obstacles inspired.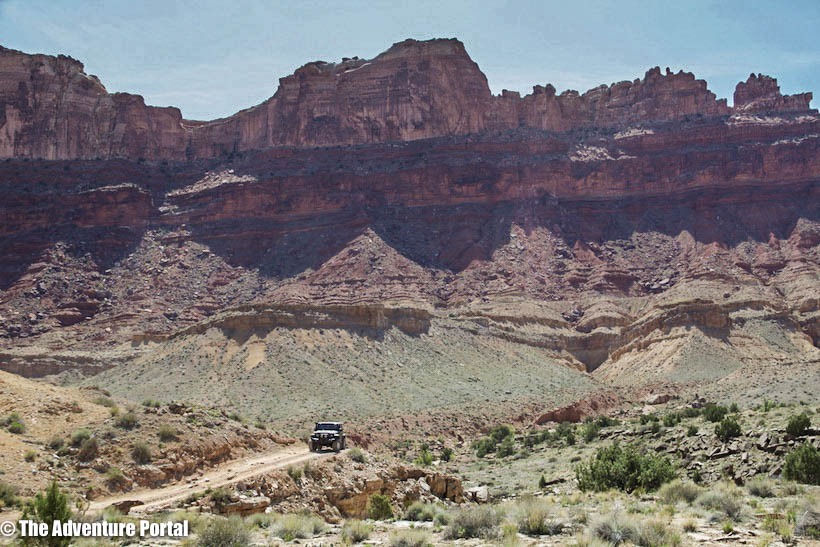 My Jeep was climbing up and descending walls and stairs that I never would have thought it could. Ah, I've given myself away. I've never gone off-roading in Moab. Here at TAP, we are primarily overlanders. The Adventure Portal was born out of our passion for going off the grid, primitive camping. Personally though, I am an adrenaline junkie and like to push it. This trail did just that. My rig is kitted out with AEV components which makes it extremely capable on-road, off-road and over challenging terrains. It handled beautifully. I have never had my Jeep as vertical as it was on some of the slickrock obstacles. It's never climbed as many stairs or nose-dived (ok, slowly crawled) off ledges that tall. Check out the pictures below and TAP into Adventure!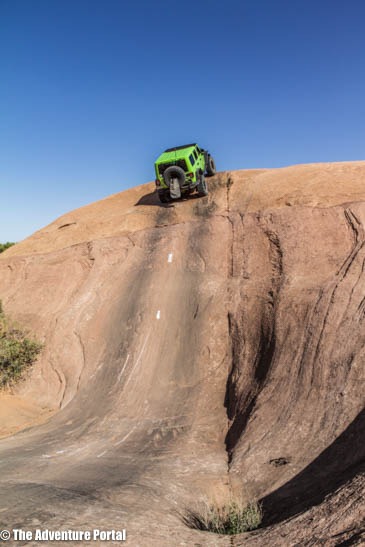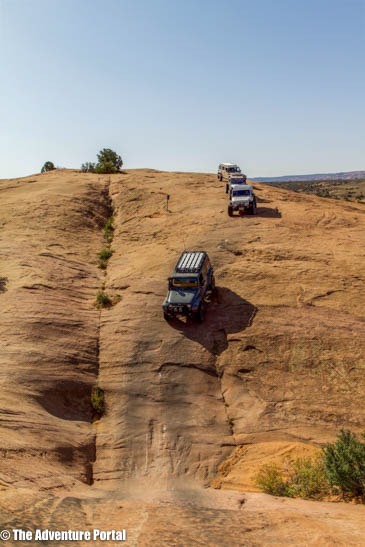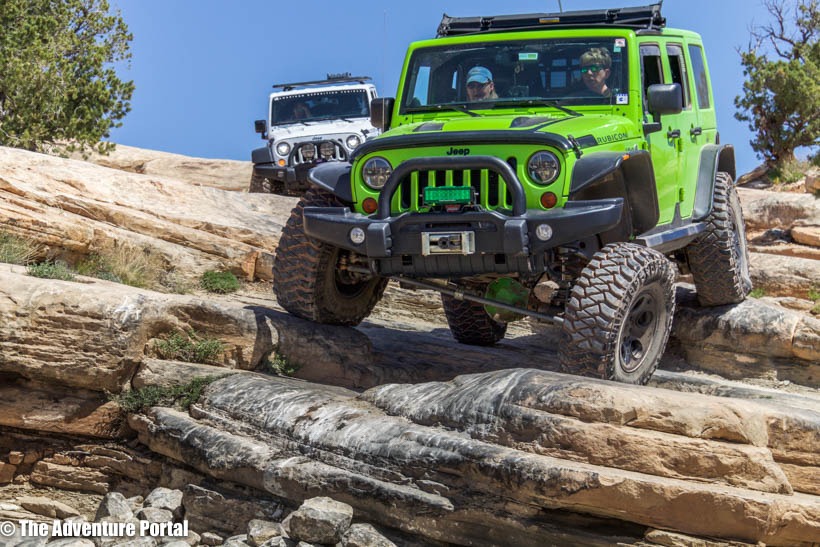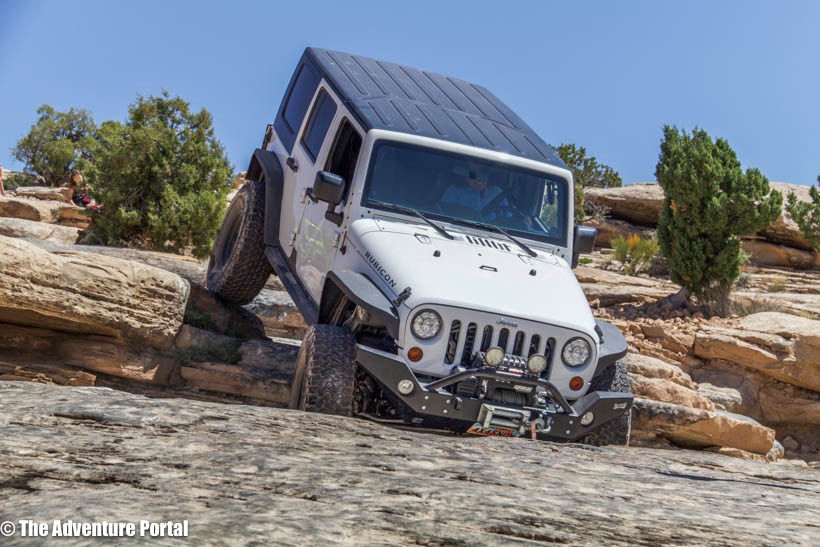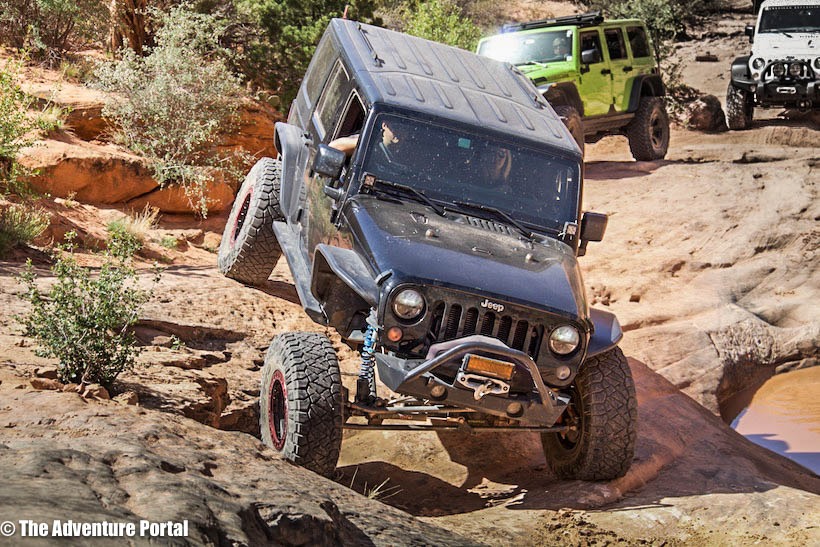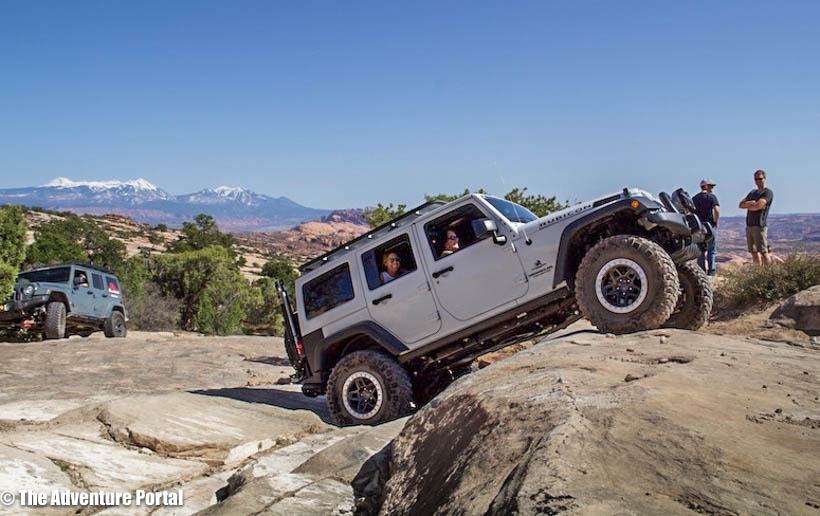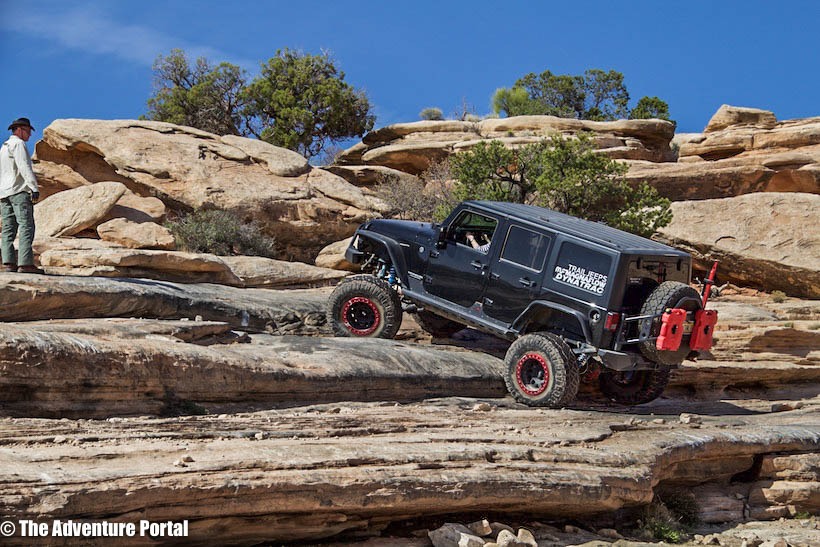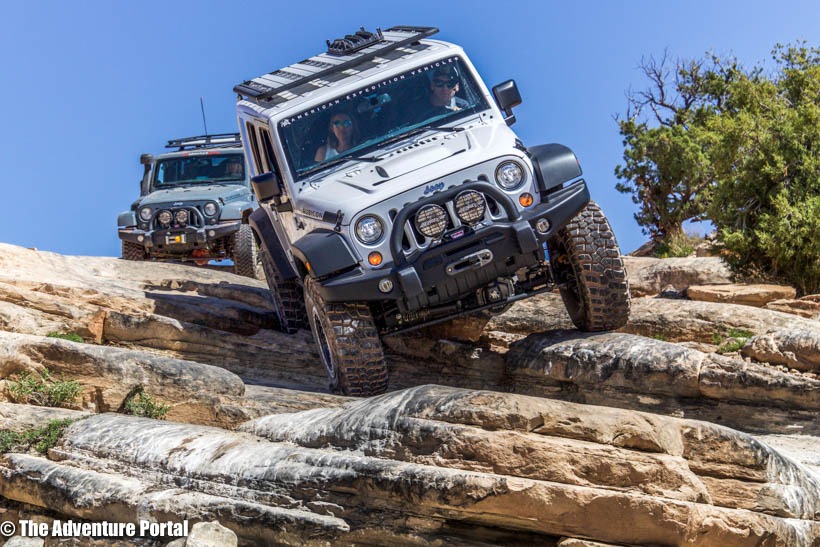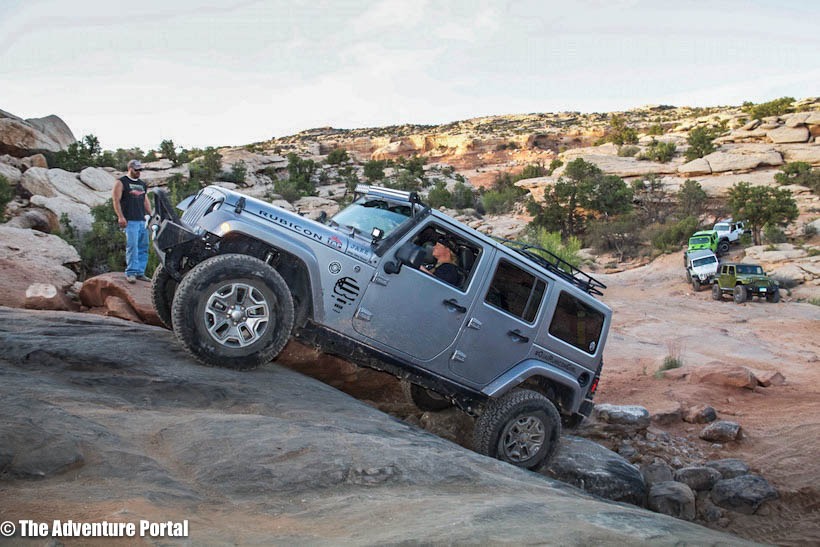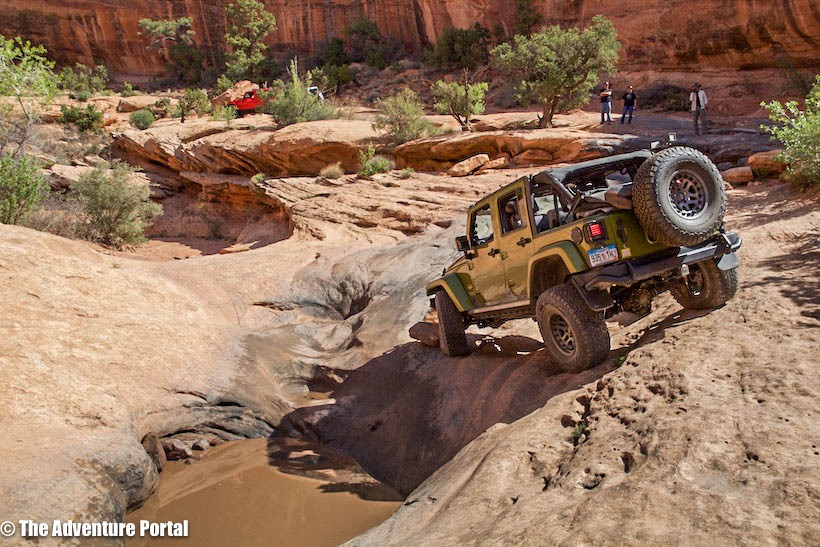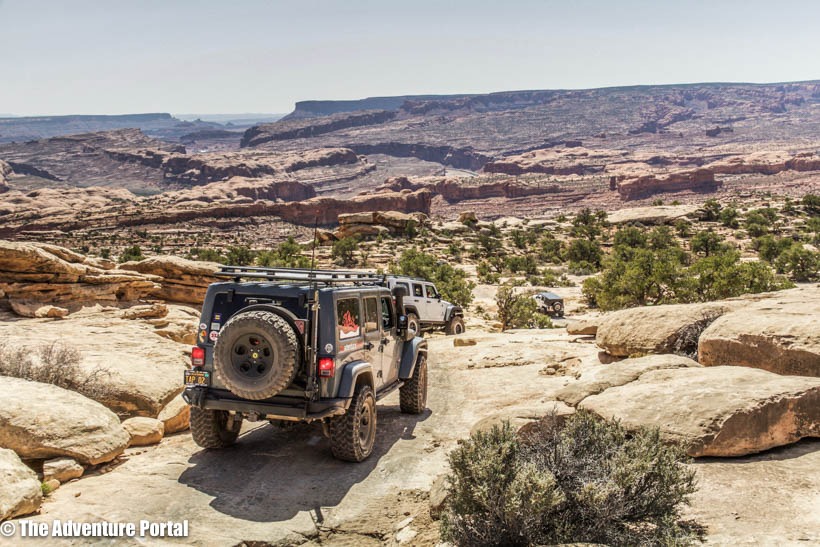 It was Epic!
Author: Lori Palmer, TAP Co-Founder and Editor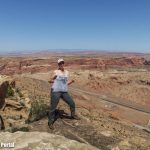 TAP would like to extend a Big Thank You to Suzanne Slifka who
graciously took over as our trip photographer.