Spring has sprung, summer will be here in a heartbeat and it's time to get out and enjoy. TAP has had the opportunity to test out the following products and would like to pass on what we have learned to you.

The Pioneer Swag Tent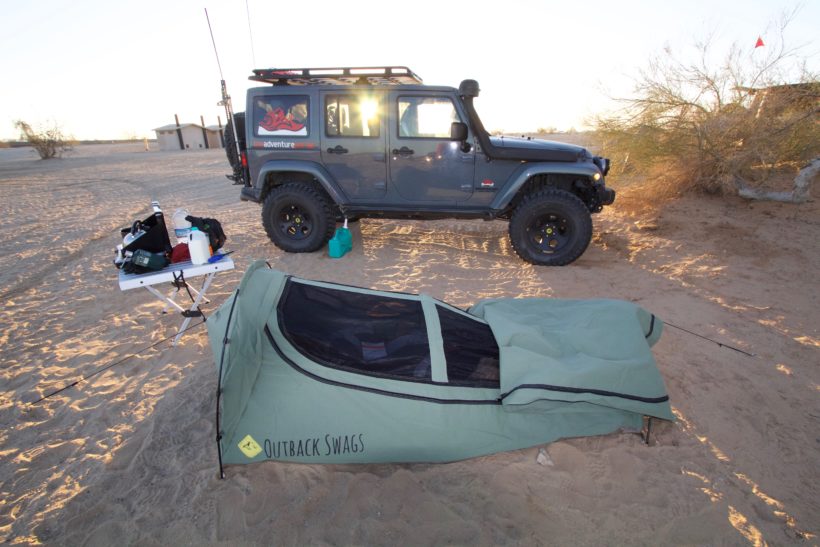 This tent originated in Australia and would be carried by men who traveled between farms and towns looking for work. It was effectively a canvas bedroll which the owner would carry with their few belongings wrapped up inside. These nomadic workers were often referred to as "Swagmen". The Outback Swag is a heavy duty, easy to pitch, one person tent that TAP endorses 100%. It's made with rip-stop canvas and a PVC base. The dimensions are 7′ x 3′ with 2.5′ head clearance. It's got 4 internal storage pockets and a loop to hang your light. The tent, including it's two inch foam matteress, weighs about twenty pounds, so it's definitely a "vehicle supported adventure" type tent. It's easy to set up, cozy, and has a fly mesh layer for warmer weather. The storage bag is roomy, so it's easy to roll and stow away. For more details check out this video. outbackswags.com
---

The Slimfold Cook Station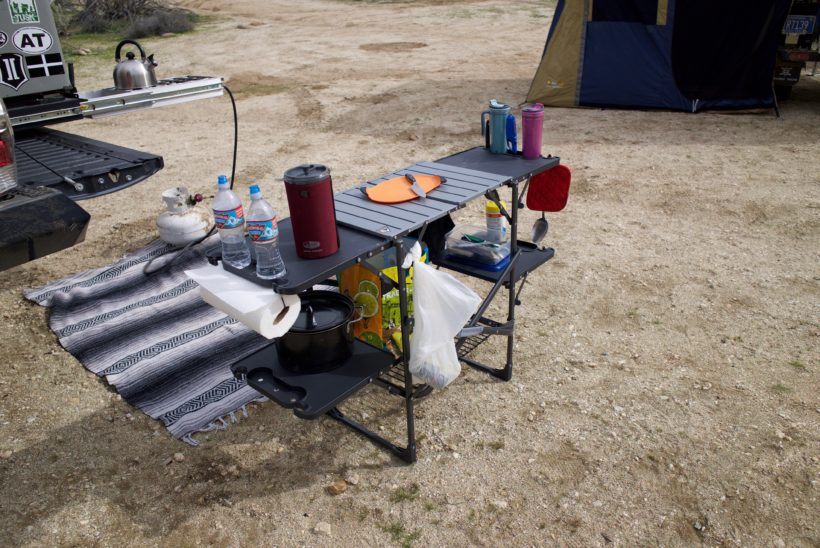 TAP had found this item to be very useful and it's now a staple item in our camp kitchen set-up. The Slimfold Cook Station is easy to set up and break down, has ample storage and shelves for supplies and folds flat for easy packing/storage. Here are some of it's features:
-Alluminum countertop
-Lower rack for storage
-Fold out side tables
-Beverage holders
-Hooks that can be used to hang utensils or a trash bag
-An elastic paper towel holder.
-Dimensions: Open- 20.9 x 52 x 32.3 in.
-Dimensions: Folded- 20.9 x 3.7 x 34.6in
-Weight: 19 lbs.
The Sunshade Easy Chair
This is a sturdy chair that offers a UPF 50 fabric adjustable shade to maximize sun protection. It comes with a totebag for easy storage and weighs approximately 12 lbs. It's dimensions folded are: 6.1 x 7.9 x 43.7 in. Open: 33.1 x 27.6 x 54.3 in. It's a good option when you don't feel like putting up your awning for shade. Consider this a chair to bring to outdoor events as well. It's comfy and nice to have the sunshade. gcioutdoor.com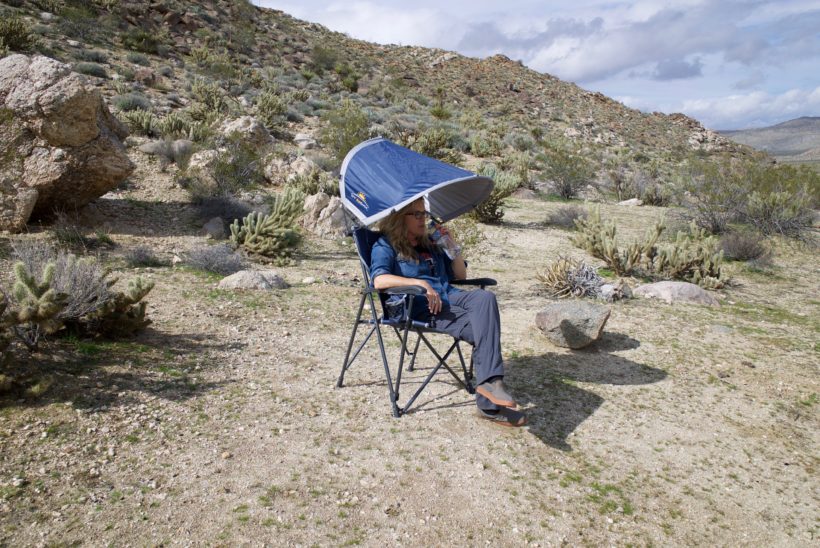 ---

Micro-Start XP-10 Jump Starter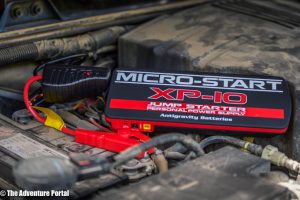 This little beauty belongs in your rig. It is the most powerful jump starter that Antigravity Batteries carries and is capable of jumpstarting a V8 up to 30 times on a single charge. It can also be used to jumpstart diesel vehicles up to 7.3 liters, motorcycles, watercraft, ATV/UTV's and snowmobiles. It's got 3 power ports to charge your electronic devices, two 5V USB ports for phones, tablets and cameras. and an led flashlight. Not to be corny, but this really is a personal power supply unit.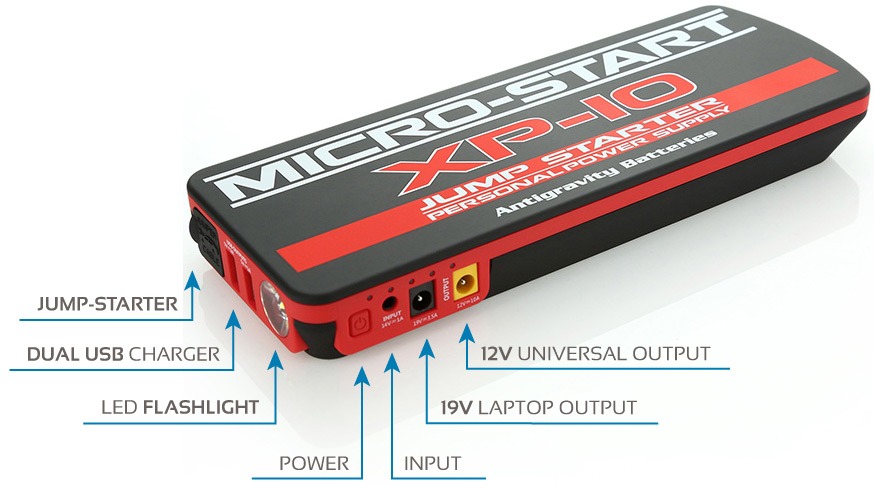 Specs:
-Size: 9″ x 3.5″ x 1.2″
-Weight: 22 oz
-Charging Time: 5 hours from full discharge
-Starting current: 300A
-Peak current: 600A
-Operating temp: -4 F ~ 140 F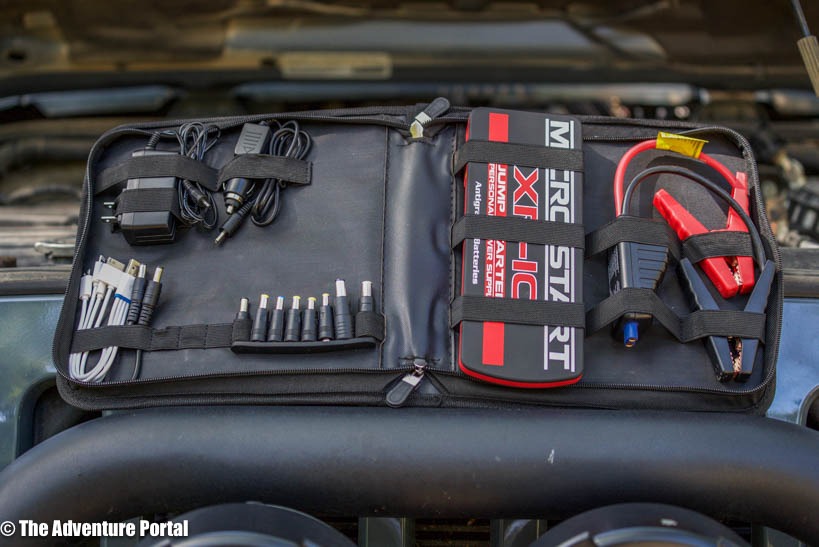 This kit contains:
-1 Leatherette Carry Case that holds all parts neatly organized.
-1 Micro-Start XP-10 PPS.
-1 Set of SMART Mini Jumper Clamps with Multiple Safety Protections built-in.
-1 universal DC Cable (black) for all 12V Accessories
-8 detachable Laptop Tips (Fits many but not every Laptop charging port. Fits: Apple, Acer, Dell, HP, Asus, and more).
-1 universal 4-into-1 USB Cable (white). (Tips: Mini USB, Micro USB, Apple 8-pin, Apple 30-pin).
-1 Mobile Charger (plugs into cigarette lighter socket).
-1 Home Charger (plugs into wall outlet).
-1 Instruction Manual.
---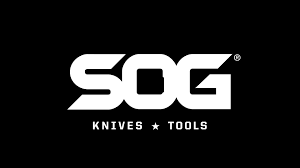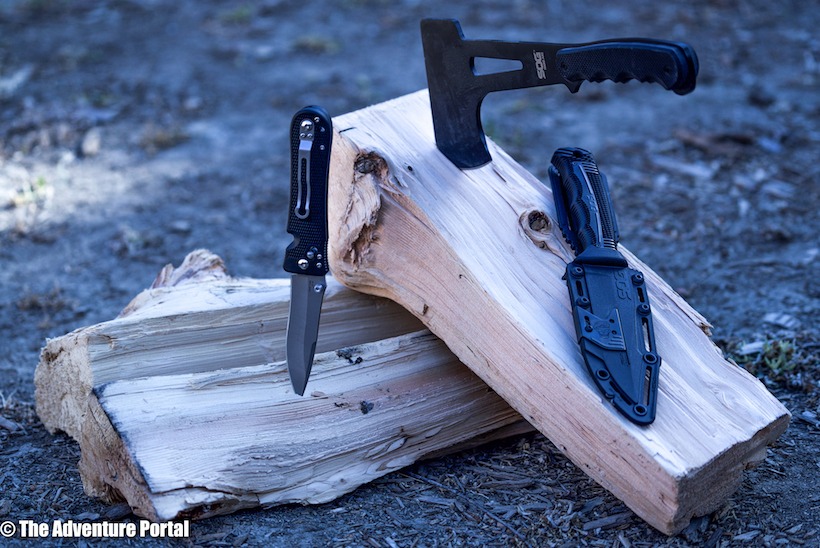 Classic, well crafted and dependable. This is probably not the first time that you have read a great review on SOG knives and tools. They are a staple camping item of ours. Below are the three tools that we have been using.

The Spec Elite I shown above on the left, employs a clip point blade, which means that the tip is moved closer to the center line for easier piercing-style cuts. It's made out of VG-10 steel for corrosion resistance durability. It's Extremely lightweight and features a hard, anodized, machined, aluminum handle. It's easily carried with its pocket clip.The Cam lock or Arc Lock mechanism uses a pivotal block to lock the blade in place. It's ambidextrous (the pocket clip can be moved to either side of the knife), and very safe to use.
The SOG Hand Axe, is sharp and durable, made of 420 stainless steel with a black oxide finish for corrosion resistance. It's lightweight and is 11″ long, making it easy to use and to pack either in your rig or backpack. The ax comes with a heavy duty, snap-on sheath for safety. We highly recommend this for all your outdoor expeditions and we've used it extensively for cutting kindling.
The Seal Strike-Black-Deluxe Sheath, is the latest creation from SOG in the SEAL fixed-blade knife line. This beauty is made of AUS-8 stainless steel and has a partially serrated blade. The deluxe sheath comes with a built in blade sharpener, a flint for sparking a fire and a line cutter. It hooks onto your pocket for easy carrying and the knife snaps securely into the sheath for safety. This is a great survivalist tool and when we're in the backcountry it's always on our belt. sogknives.com
---

Subscription box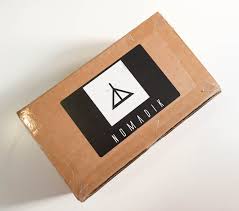 Bored of getting junk mail and bills in your mailbox? Check out this subscription box from Nomadik. Here's how it works. Create an account, then create an interest profile. Your interest profile helps Nomadik determine what your boxes will contain. Choose your plan: a one shot deal, monthly for 3 months or 6 months. Then, wait for your goodies to arrive. Box contents are valued up to $50.00. TAP has received two Nomadik boxes and here is what we found inside:
-A Wild Hedgehog Tactical- Ouch Pouch: A lightweight, small, basic first aid kit.
-A 5 oz. bottle of Gear Aid- Water repellent spray for gear, apparel and tents.
-A GSI infinity Backpacker Mug-Spill resistent, lightweight and insulated.
-A pack of Epic Wipes-Biodegradeable wet wips. Larger than normal wipes made for a full body cleanse when water is scarce.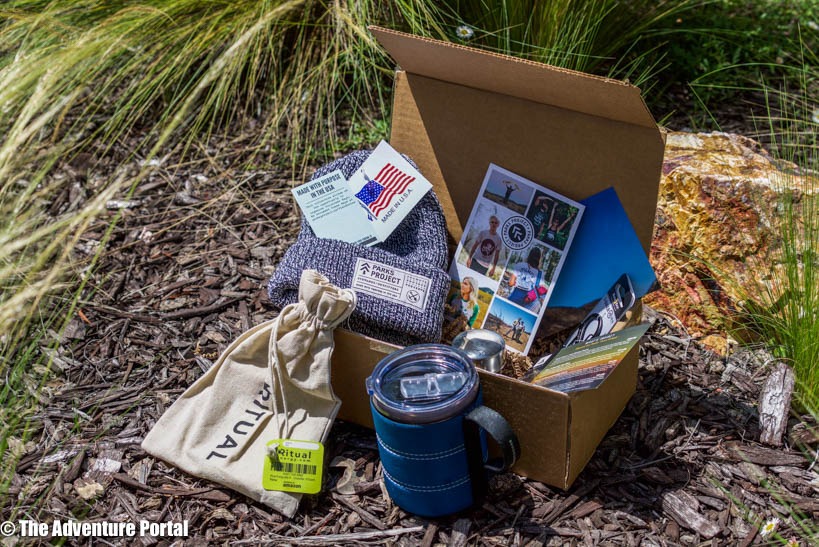 Our Next box contained:
-Parks Project-Park Watcher Beanie: proceeds from this product go to park clean-ups and trail restorations.
-Mizu-Collapsible shot glass: Tequilla? Need I say more.
-Ritual- Caffeineated Energy Snack: Small, chocolate and peanut butter squares containing 100mg of caffeine (the equivalent of a large cup of joe).
-Nitele S-Biner#3: A dual gate carabiner. Perfect for keys or to hang a light in your tent.
We found the contents in the box to be made up of good, solid quality items.
Check out Nomadik subscription gift boxes at thenomadik.com. Once you subscribe, check out the Nomadik challenge. Tag them, tag us and see what happens.
Nomadic kindly offered TAP readers this discount code: TAP2017 at checkout for 20% off all plan & gifts + FREE shipping (domestic)
---

Rugged, Weatherproof, 8000mAh dual USB Battery Pack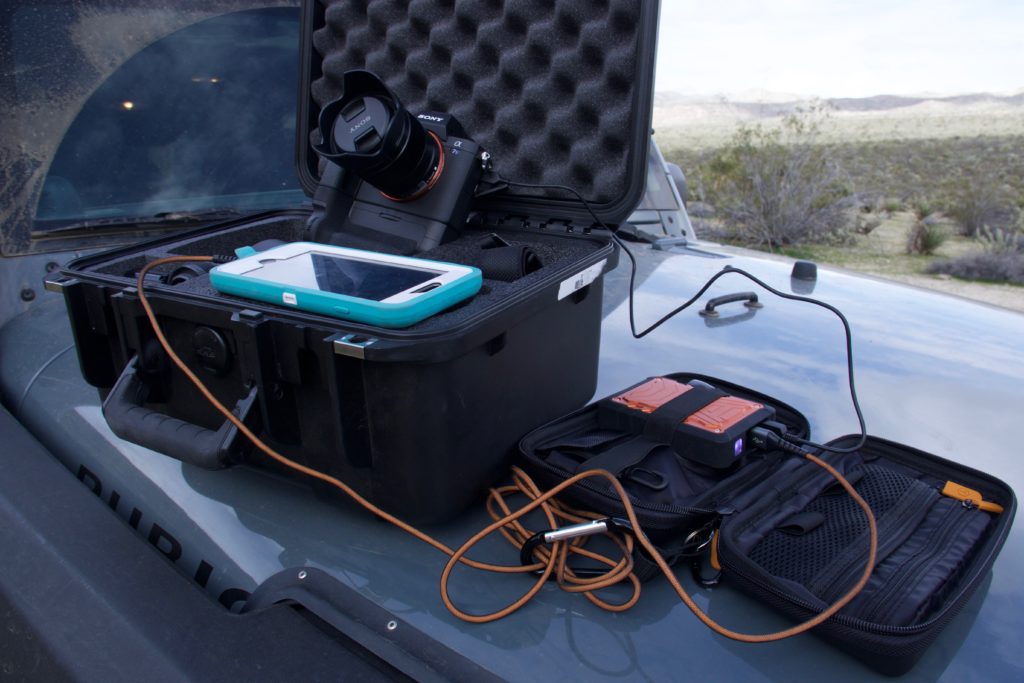 A perfect item to bring when on an extended overlanding trip. ToughTested products are just that; tough and durable. These products have taken a beating from TAP in dust, rain and mud and have held up. The photo above features the battery pack, the 8′ PRO Armor Weave Cable and the Tech Gear Bag for safe storage.
Battery info from the ToughTested site:
The ToughTested rugged battery pack has a protection rating of IP-65 meaning it's water/dust/and shock proof and the rugged casing offers added protection from drops and dings. 8,000 milliamps of power is enough to charge most smartphones up to 5 times and dual USB ports let you charge/power 2 devices simultaneously. InstaSense™ technology provides the proper power distribution and optimal charging handshake between devices to give you the fastest possible charge. Integrated LED flashlight for emergency situations. Includes Micro USB charging cable and car charger.
Battery lowdown from TAP: Handy, easy to pack (we always use their gear bag), rugged, a good addition to your camp kit. **We run our time-lapse photo shoots through an APP that seriously drains the i-Phone battery. This Tough-Tested battery has solved this frustrating issue.
---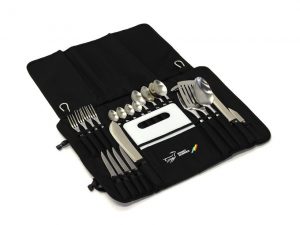 Camp Kitchen Utensil Set
The Adventure Portal had a community event recently called Run To The Sun at Trona Pinnacles. We had a raffle with items provided by many outdoor companies. When we were loading up the prizes, I came to this kitchen set and started walking away with it. I didn't want to give it away. We store our cutlery in a tupperware container in our (Goose-Gear) drawer system and our cutting knives and bottle openers, spatulas etc. in another container in the drawer. This Camp Kitchen Utensil Set keeps all of that plus a cutting board together and can be hung up wherever it works best, then packed up easily in a "tool style" roll. In the end, I gave it up to be raffled off to a lucky individual at the event. When we were at RTTS, we walked around checking out everyone's rig and set up. I saw a few of these sets and asked the owners how they liked them and if the quality was good. I got thumbs up all around, so I bought one. It just arrived and is going to be going to Overland Expo West with us next.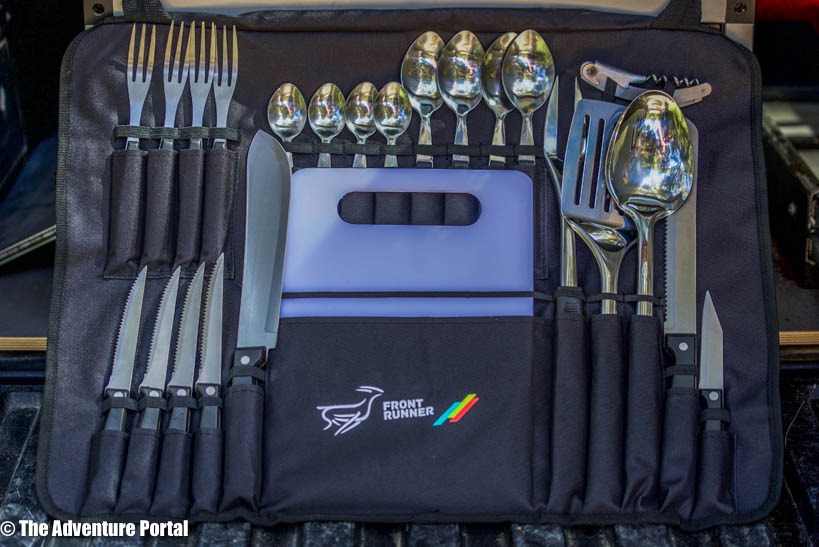 Frontrunner Expander Camping Chair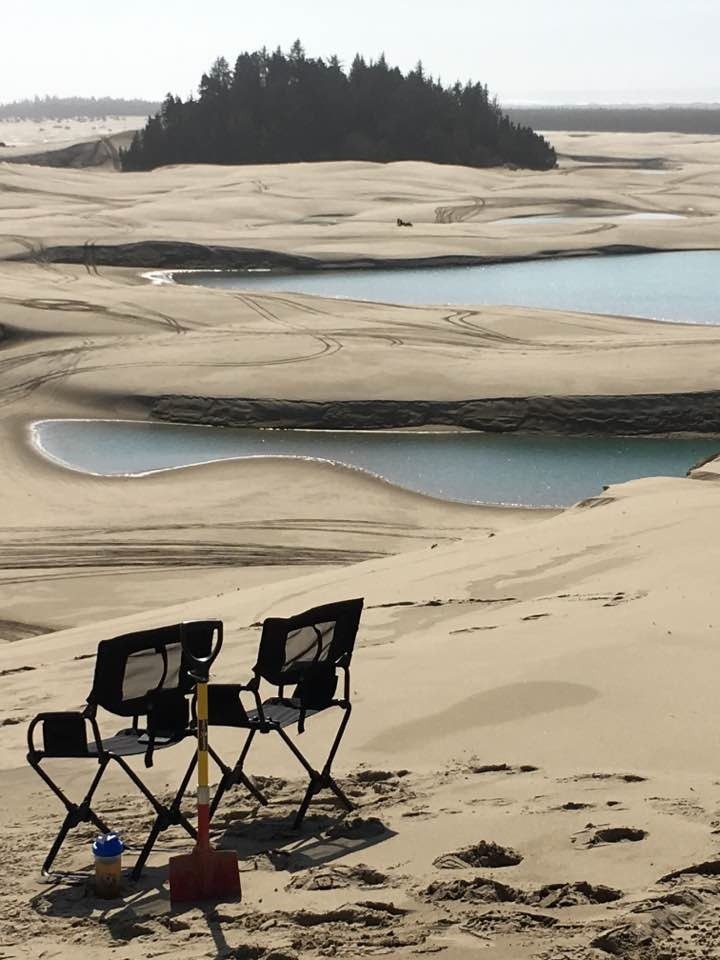 Super compact, comfortable, sturdy yet lightweight and easy to use. These chairs fold down to the size of a laptop. When folded, they have a handle at the top for easy carrying.
-Folds in 3 easy steps.
-Does not sink into sand.
-Comfortable table height.
-Constructed of rugged steel.
features include:
-A cup holder.
-A media pocket for cell phones, gps, or mp3 player.
-A carry handle.
-A utility pocket, for books, magazine, maps.A utility pocket,
for books,magazine, maps.
---


We spend a lot of time overlanding in the local deserts or in the Sierra. Sun protection is imperative. Shelta hats have built in UV protection and a "No Flop" brim that provides constant protection. These hats were designed not only for land, but for water sport use as well. Good for fishermen, sailors and waterspouts enthusiasts, as well as for those of us who travel through hot, desert and mountain environments.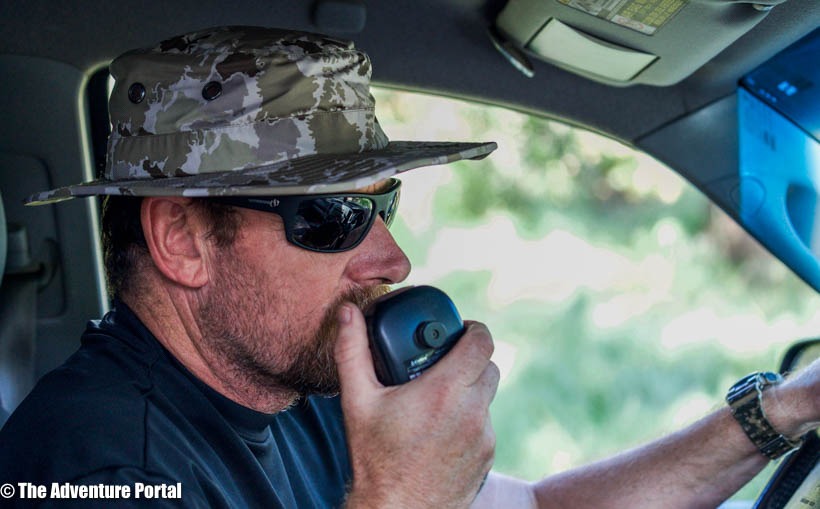 This is a hat that is specifically designed to provide heavy duty UV protection. Shelta's hats are designed for outdoor activities and sports. The Seahawk is waterproof, has a handy pocket in the crown for keys, drivers license or the convertible cord system when not in use. As stated above, it's brim is sturdy and stays in place during water sports or in high desert winds.
A few more specs:
-Shelta Sun Hat Moisture Management System – Interior mesh liner effectively wicks moisture away from your skin to evaporate quickly through breathable fabric. The headband then wicks away any remaining perspiration from your forehead.
-Breathable Sun Hat Fabric – Extremely breathable, which allows moisture and heat to escape from the inside out. DWR (water repellent) rating which repels moisture, dries quicker and floats better. Environment friendly recycled polyester.
-Shelta Sun Hat Moisture Management System – Interior mesh liner effectively wick moisture away from your skin to evaporate quickly through our breathable fabric. The headband then wicks away any remaining perspiration from your forehead.
-Shelta Sun Hat Venting – Critically placed eyelets allow heated air to escape quickly and effectively. A simple, but critical part of keeping your head cooler.
-Shelta Sun Hat Head Band – The headband is sewn to the mesh liner, which keeps it from sagging when it gets soaking wet. This makes for a no hassle experience when putting your hat back on in the water.
www.sheltahats.com
---

The Original #401 First-Aid Kit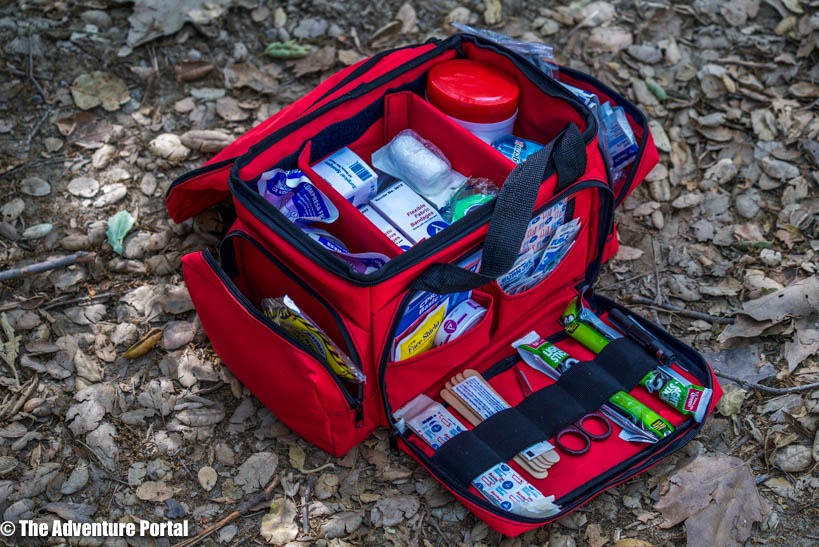 This is a solid first aid kit. The bag is sturdy with many pocket and elasticized loops. Check out the contents below. We added: aspirin, motion sickness pills and BenGay pain relieving patches (our own "special needs" items).
Contents:
1 Original EMS Bag 401-S
1 EMS Guide Book
1 Hand Sanitizer
1 9-12 Hour Light Stick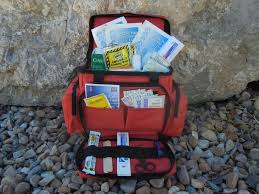 2 Instant Cold Packs
1 Tub Handy Wipes
1 Penlight
6 Latex-free Gloves
1 CPR Barrier
5 2×3 Flexible Bandage
2 2″ Roll Gauze Bandage
3 2×2 Sterile Pads
1 EMT Scissors
1 3″ Tweezers Slanted
20 Antiseptic Wipes
8 Triple Antibiotic Ointments
8 Non-Aspirin Pain Relief
50 1×3 Latex -free Bandages
5 Butterfly Bandages
2 Triangular Bandages Non-Sterile
5 Tongue Depressors-open
1 Cohesive Bandage
1 Roll 1″ Adhesive Tape
1 9×12 Zip Top bags
5 Tongue Depressors-Wrapped
Dimensions: 12 x 10 x 10 inches
Weight: 5 lbs.
* Here at TAP we are NOLS First Aid Trained and we strongly suggest you get this first aid training as a minimum.
www.race401.com
---

Krazy Beaver Shovel and KBT Bracket Mount Set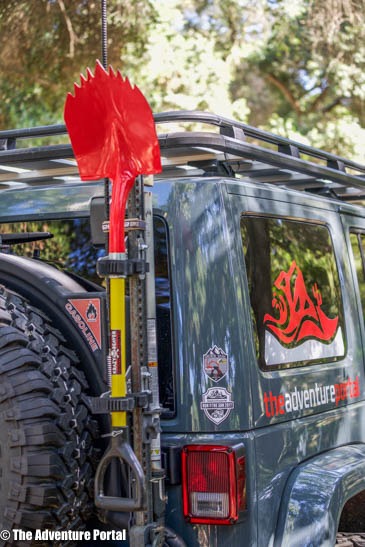 A lot of our travels take us to places with extremely packed dirt and clay. This shovel helps break through the hard stuff (including ice) when needed. Krazy Beaver is a family owned business and owner/manager Jason was a former member of FEMA's Urban Search and Rescue and was rostered as a Search Team Manager, Boat Manager and K9 handler. Jason is currently employed as a Law Enforcement Officer in the state of New Mexico. It's because of the unique situations that he has experienced over the years that compelled him to provide the public with Professional Rescue Gear.
The Krazy Beaver Shovel is made with 13 gauge heat treated tempered steel which makes it twice as thick as a normal residential shovel. It's got reinforced teeth to prevent them from bending and breaking. It's powder coated inside and out to prevent rusting. The handle is made of lightweight fiberglass. The head to handle connection has a permanently mounted solid 14″ fiberglass reinforcing core to withstand breakage. The D-Grip is made of solid polymer. No soft rubber is used as it breaks down over time and becomes sticky. The shovel has lock pins with a "tab" that makes it easy to attach or remove from the shovel. Bottom line: the teeth work extremely well when having to break through packed dirt, clay and ice. krazybeavertools.com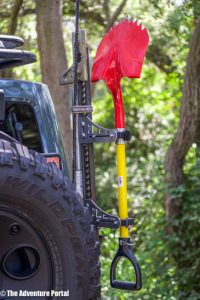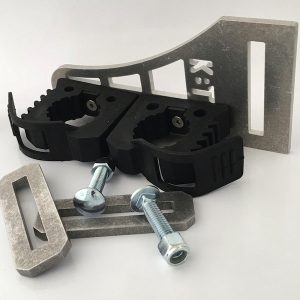 Our AEV tire carrier requires us to mount our Krazy Beaver shovel using the KBT Bracket Mount set. The shovel mounts to the Hilift jack and will not hit the tail light when the back is opened
---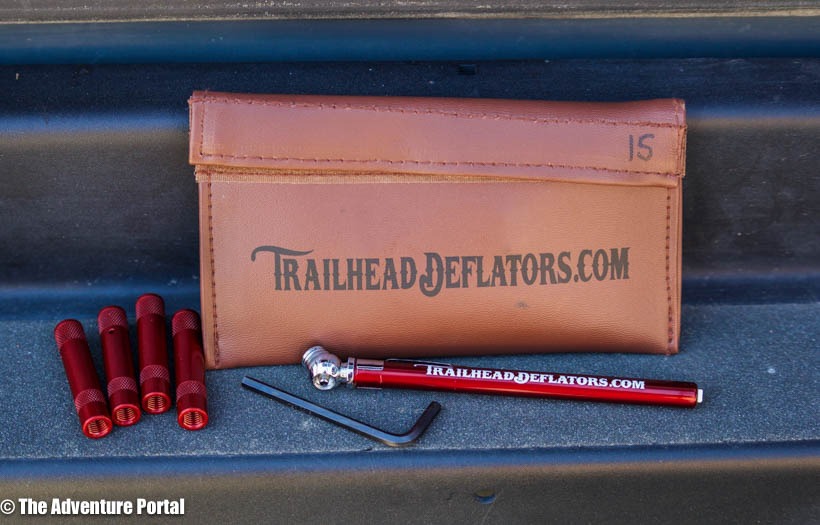 We were first introduced to Trailhead Automatic Tire Deflators by our friend and International Four Wheel Drive Trainers' Association off-road instructor and guide, Tom Severin. We've tried other pre-set tire deflators and they have not worked. These are tried and true. Adjust the PSI by turning the adjusting screw with the allen wrench ( included in the set) counter clockwise until it is even with the end of the body tube. This will set pressure at the lowest end of the adjustment range. Every complete turn clockwise will increase pressure approximately 1.5psi for the 5-20psi range, and 3psi for the 15-40psi range. trailheaddeflators.com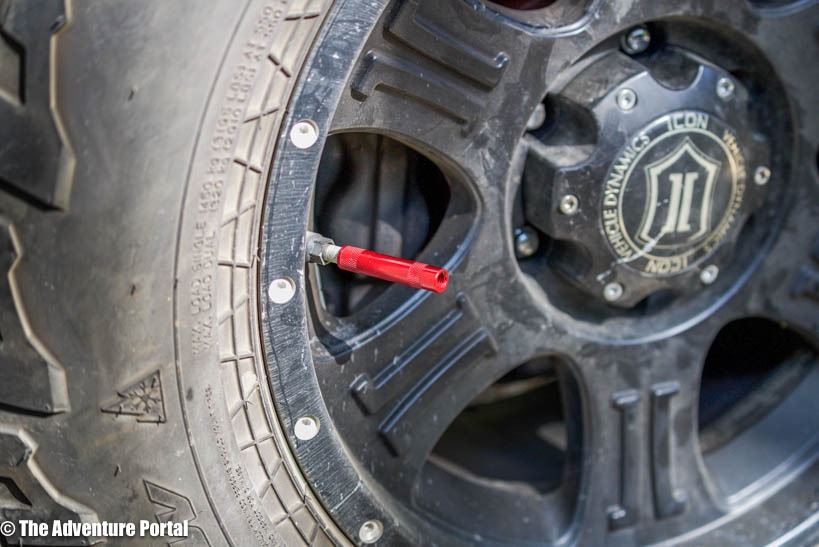 Trailhead Automatic Tire Deflators will automatically reduce the air pressure in a tire to a pre-determined level and stop, preventing any further loss of air from the tire. They will function properly whether your vehicle is stationary or traveling at speeds of 20 mph or less. The shut off pressure on your tires may vary due to several factors, especially the flow rate of your valve stems.
Check out anything here that interests you then indulge yourself and your family in some quality Vehicle Supported Adventure.
Go to our CA trail guide by clicking HERE.