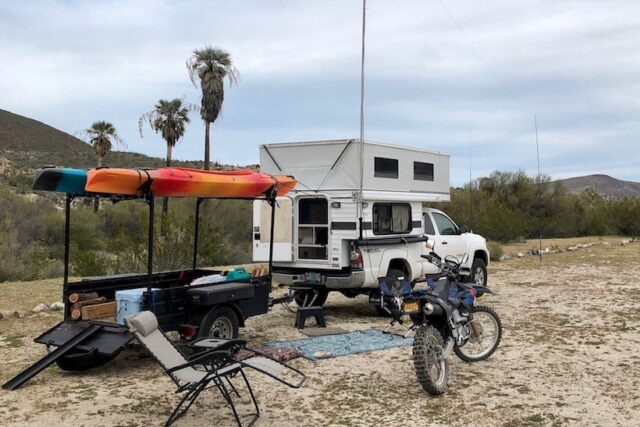 My wife once told me that there is nothing wrong with owning two motorcycles – as long as they serve different functions. That led to the purchase of a KLR650 in addition to my dirt bike. I promptly pocketed this axiom of wisdom for the future. Eventually, I decided to see if it would apply to trailers.
Background
Most of our travel is done in our truck camper – a RAM 3500 Diesel equipped with a Norweld Aluminum Tray and a FourWheelCamper (FWC) Hawk Flatbed Camper. It is our custom home on wheels and is equipped to take us just about anywhere we want to go. The under bed and dinette seat storage in the flatbed camper are game changers. Even our dog has ample lounging room among the gear packed in the second seat of the cab. For an average exploration trip, we lack little. In the event an extra box of firewood or bag of dog food is needed, we have somehow found room.
But what if we are heading out on a trip that offers opportunities for kayaking, fishing, motorcycle riding or simply an extended stay far from services – like our annual pilgrimage to remote beaches in Baja Mexico? In this scenario, the truck camper by itself is usually not enough. Let's face it; even a few extra six packs of ice cold cerveza mandates a dedicated cooler! A camping or overland trailer can be a good option if the benefits exceed the burden for you.
We discovered the need for a camping trailer a decade ago. At that time, all of our overlanding was done in a Toyota Tacoma equipped with a FWC Fleet slide-in camper. It was reliable, lightweight and very capable. But, it did lack storage – especially on longer trips where we bridged the cusps of two seasons. We eventually tired of moving duffel bags of clothes and gear to free up a little more floor and counter space. So, we built our first camping trailer. We sure learned a lot along the way. The intent of this article is to highlight some design features worth considering if you plan on adding a camping trailer to your own overland stable.
Our first Baja Buggy started out as a semi-custom 4'x7' heavy duty utility trailer with a 3500 pound rear axle. It was just the right size to hold two motorcycles without hauling any unnecessary width or length. It tucked behind our Tacoma/Fleet like a baby opossum to her mom. Over the years, we modified the camping trailer to include a built-in loading ramp, overhead kayak supports, swing up cooking tables and multiple lock boxes. We also extended the tongue length to 54" which is approximately two feet longer than most trailers.
The extra 'hitch to axle' pivot length enabled me to back the trailer into the tightest of locations with relative ease. This is an example of a simple design consideration that allowed us to 'jack knife' the trailer in tight situations without damaging the kayaks or the camper. To further aid backing up on narrow roads, we also added break-away PVC extensions (with orange tips) on the rear of the trailer.
Aside from the enhancements, we kept notes on a few obvious flaws that would continue to plague the Baja Buggy. First, the solid axle design proved tougher than the contents. On several occasions our motorcycles sprung free from their tie downs after hitting a big pothole or rock. Other times, our kayaks were precariously hanging onto their supports. The harsh ride and low axle clearance of the buggy prevented our truck from going into some off-the-beaten-path gems. On washboard roads, our friends said it danced to the 'jitter buggy'! Second, storage was limited to three pickup-style aluminum bed boxes. They worked fine for small items like shoes and helmets, and provided sufficient weatherproofing but security was suspect. A hard pull on any of the lids could easily expose the contents.
Consequently, the extra cooler and wood tote were either exposed and secured or left behind. (I also did not want to tell my wife, who previously proclaimed 'two can be better than one' that she had to leave her paddleboard and beach recliner behind!) Finally, with each modification the weight of the trailer and contents continued to climb. So, after years of faithful service, we sold our Baja Buggy to a friend. Although it had faithfully transported our motorcycles, kayaks and gear down the Baja Peninsula on more trips than it had lug nuts, the time had finally come to upgrade. We began by tabulating some of our key learnings and criteria.
Our Trailer Criteria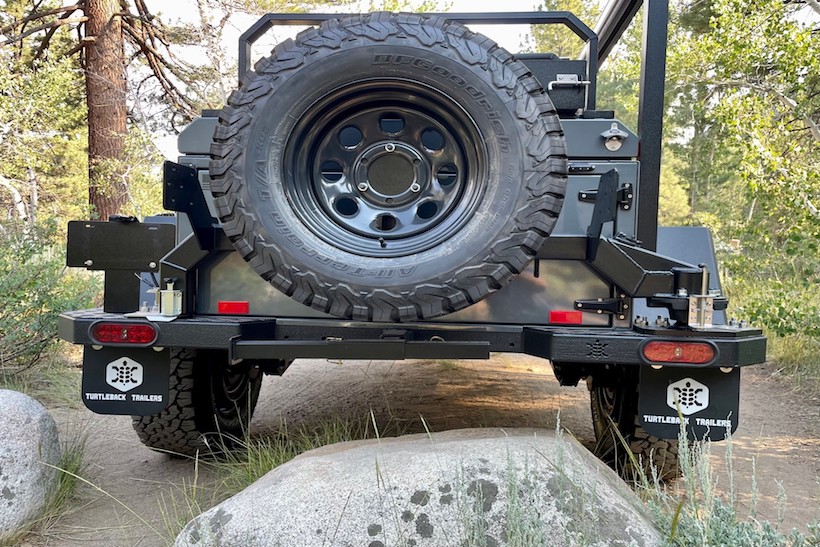 The operative word is 'Our'. There is an abundant number of overland oriented trailers available on the market. Prices can range from $40K for expedition style trailers (with roof top tents, kitchens, power inverters, slides etc.) down to $10K cargo boxes with an independent suspension. The choices reflect the many needs of the buyer and their tow vehicle. For us, the most important criteria was that our new trailer had to complement our truck camper; not be redundant. We wanted one plus one to equal three; not just two. We did not need a trailer with a mattress or galley. It did not need hundreds of watts of solar power or an inverter. Anything more than a basic solar charging system would be too much. Keeping it simple and practical was our mantra. Fewer components meant less to maintain or break over rough roads. Ultimately, we identified the following criteria:
Off-road capable independent suspension with high clearance
A large and secure weatherproof storage box with two access doors
Ability to carry a dual-sport motorcycle and two kayaks
On-board auxiliary power and exterior lighting
Easy to hitch / unhitch and backup
Spare tire and gas can storage
Finally, the trailer quality had to be rock solid from a proven manufacturer. Once we anchored on this criteria, the playing field was quickly narrowed.
Turtleback Trailers
Our first interaction with Turtleback Trailers (Chandler AZ) was in 2021 at the Overland Expo in Flagstaff Arizona. Coming off of COVID restrictions, it was an out-of-cycle year-end event and the energy was engaging. For the first time, Turtleback was showing their new Adventure trailer platform – an elongated and feature-rich version of their Expedition trailer. It was loaded with options and immediately got the gears turning between my ears. Thought: An amalgamation of the longer platform combined with the storage box simplicity of their Getaway model could get us close to what we wanted. After a few follow-up conversations with their engineering department, Turtleback agreed to build us a custom trailer. (It turns out they were exploring several similar design options for future products so this was a win-win for both of us.)
Nate and the team at Turtleback Trailers were easy to work with. Once we firmed up the feature set and made a deposit, the company placed our camping trailer in a relatively short build queue. During the early stages, we established checkpoints to validate the design. For example, the engineers had to modify the frame structure (between the nose and rear box) to accommodate the motorcycle bay and associated load. The following list identifies the feature set of our 'Baja Turtle'. .
Trailer Features
Platform and Suspension: Structural steel construction, corrosion protectant, independent swing arms
Main Storage Box: 6'x4'x2' (48 cubic feet), HD hinge locking lid with gas-shock lift assist
Front Nose Box: 2'x4'x2' (16 cubic feet), HD hinge and locking lid
Access Doors: Small passenger side and large rear; HD hinge and locking (for cooler / quick access)
Power and Lights: 12V AGM battery, 100W solar panel, charging plugs and exterior lights
Motorcycle Bay: 3'x6' which accommodates (1) mid-size motorcycle or two camp bikes.
Rear Swing Arm: Spare tire and (2) Rotopak fuel holders
Propane Holder: Fender mount, passenger side; 5 lb bottle
Kayak Rack: Tall configuration (to clear motorcycle), structural steel, powder coated
Kayak Holders: Malone SeaWing saddle style (owner supplied)
Tires: BF Goodrich K02 33"
Hitch: Max Coupler
Note: Again, it is important to keep in mind that individual requirements will vary. A feature set that worked for us may be a non-starter for someone else.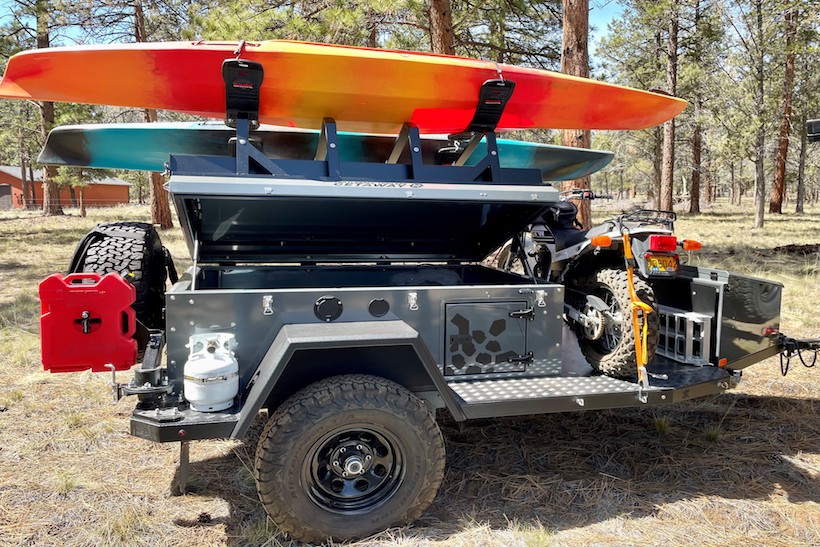 Off-road Experience
Since taking possession of the trailer last year, we have used it a half-dozen times (albeit on one occasion it hauled firewood in a pinch). In short, the performance exceeded our expectations. Certainly a big difference from our old Baja Buggy days. The gas-shock assist storage box lid is easy to lift and the inside storage is colossal. A lot of gear can be packed into a total of 64 cubic feet!
On a recent trip we loaded it with a large tent, chairs, cooking table, Yeti Cooler, Solo Stove, wood tote, paddleboard and extra water. These were just the big items – all secure and weatherproof. On the exterior, we tied down the motorcycle and affixed the aluminum motorcycle loading ramp to the back of the nose box. With the relatively low rack profile, we can easily lift the kayaks onto their support saddles. Spare fuel containers were added to the rear swing-out rack.
On the highway, the trailer tracked perfectly and was hardly noticeable behind the power of our diesel truck. Off the road, and after airing down, we were able to glide over wash boards or heavily rutted roads. Absent was the familiar trailer hop that can affect the handling of a tow vehicle. This is where the trailer independent suspension and accompanying ground clearance really shined. Potholes and rocks shrunk under the suspension keeping the motorcycle and kayaks intact. Except for one very steep trough, that challenged the 3-axis articulation of the Max Coupler, the camping trailer went where the truck could go.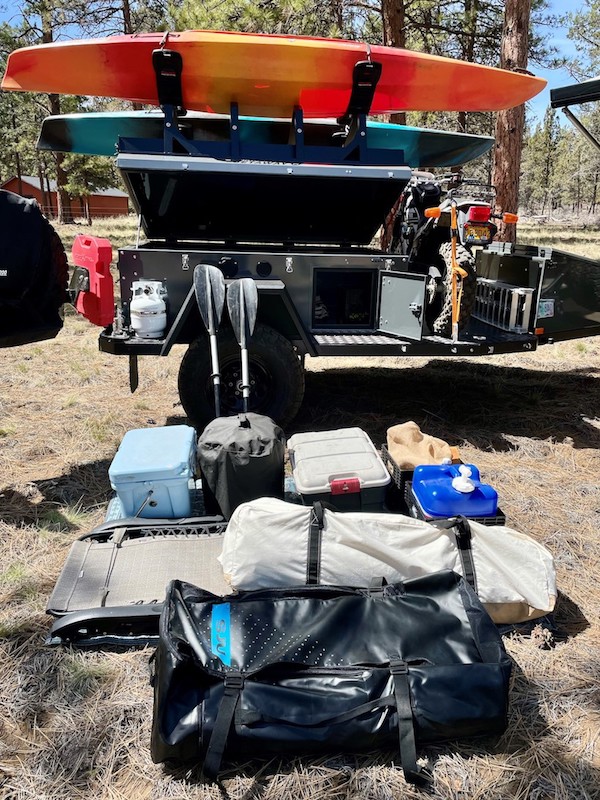 Usage Notes
Aside from the incremental cargo capacity, there are a few other advantages of a camping trailer worth noting. For example, we keep our trailer loaded and ready to roll year round (except for a few changes depending on destination). Our auxiliary camping gear is all in one place. Aside from checking water and on-board fuel levels we simply hitch up and go. Once at a campsite, we often jack-knife the trailer to form a natural patio area outside our camper. In inclement weather, the trailer can be oriented to serve as a welcomed wind break. During meals, the trailer also becomes an integral part of meal preparation, serving or an impromptu party. The large flat surfaces provide convenient access to portable grills, snacks and coolers. Add an awning and you can quickly increase your shade or rain protection.
Even the downsides of towing a camping trailer can be mitigated with a little creativity. Case in point: When we want to explore 'trailer-free' for a few days there are options. We have found RV campgrounds that will let us park our trailer for several days for a nominal fee. Combine this with laundry, water and WiFi and it quickly becomes a timely way-point. Just be sure to add a hitch and/or wheel locks to deter theft. If inside storage is desirable, ensure that the overall trailer height (including roof top tent or kayaks) will clear a standard garage door. This will significantly increase your options.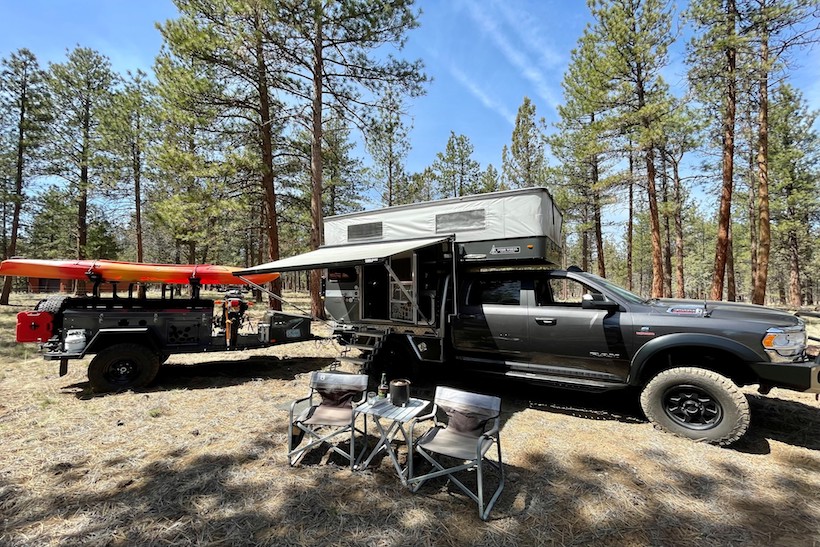 Areas for Improvement
Developing a custom camping trailer with CAD drawings, spec sheets and phone calls can be challenging but is a fairly common practice. Even with experience in design and the best of efforts I soon found areas for improvement that I had not anticipated. A few simple things that we would do differently include:
Move the axle forward by 10", shifting the center of gravity, making the trailer easier to move by hand when loaded.
Increase the rack height by 2" to allow the motorcycle mirrors to more freely clear the bottom of the kayaks.
Section the nose box so that the battery, converter, controller etc. is isolated from other gear.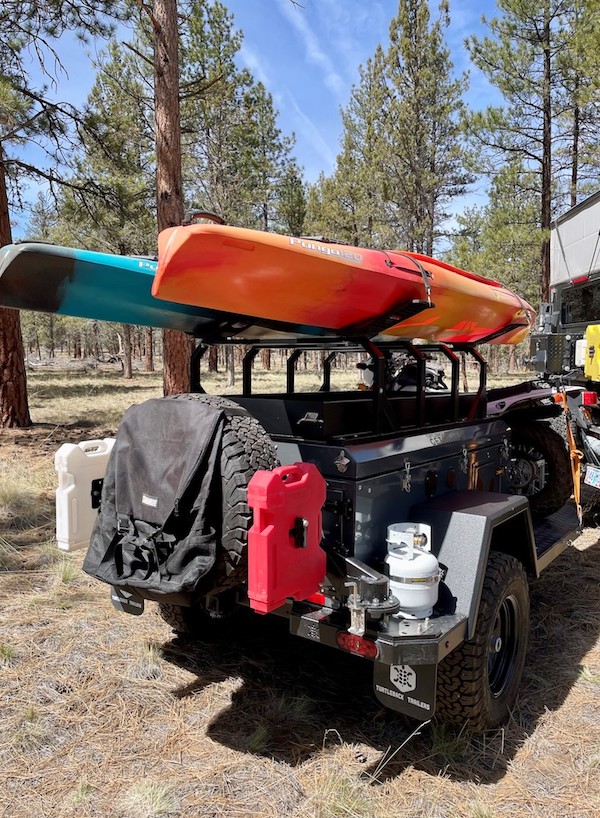 Summary
Actively participating in the build-out of your own camping trailer can be very satisfying. Besides meeting your specific needs, it will have your fingerprint on it. The fine tuning is like an FM dial. With just the right amount of knob twisting, the vision becomes clear. You are then ready for the next adventure.
We are nearing spring in Central Oregon. Snowfall is less frequent and warmer weather is tugging on us with magnetic forces. Once again, our trailer is loaded to support a longer trip with fewer stops. Maybe I will find inspiration to write another article while I enjoy a cold beer in a beach recliner. My wife will not mind. It will be my chair. Like our RamHawk and camping trailer. We get more than double the enjoyment. One plus one can equal three. I like this new math!
__________________________________________________________________________________________________________________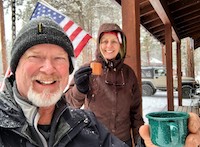 Contributor Gary Matos: After spending decades in the high tech industry, Gary and Gretchen stepped out of work and into the outdoors. They reside in Sisters Oregon and when not splitting or stacking wood they enjoy backpacking, kayaking and motorcycle riding. Over the years, they have owned several pop-up campers and have made over 30 trips to Bajaexico. Their favorite western states for overlanding are Montana, Idaho and Utah. They currently have a Ram 3500 equipped with a Four Wheel Hawk Flatbed camper which they custom built.