By Kelly Laustsen and David Somach – Gnar Wagon
We capped off with a fantastic drive home to Oregon via the Alaska Highway, Icefields Parkway, Banff-Windermere Parkway, and Yahk–Kingsgate Highway, crossing the border at Kingsgate before ultimately ending our trip in Oregon. We did the drive in ten days, driving about 200 miles on our shortest day and about 450 miles on our longest day. Our key impressions from the drive are listed below, followed by some of our favorite stops along the way.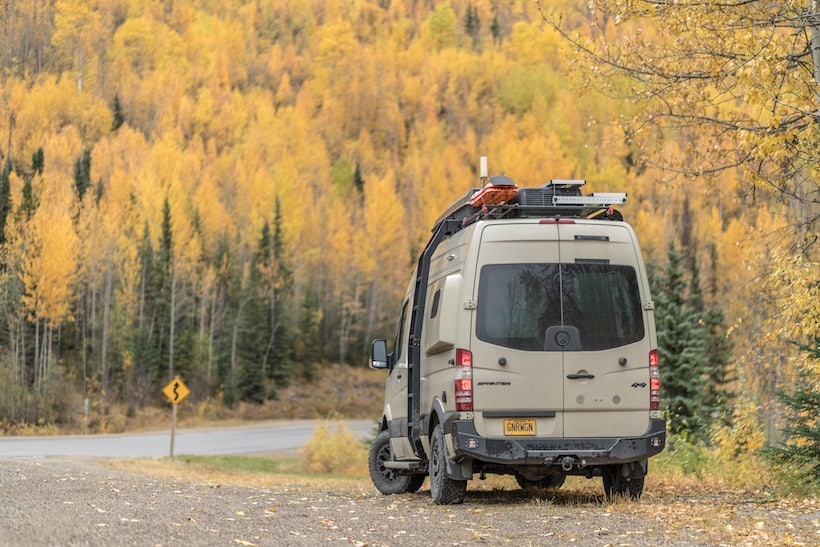 We drove the van to Alaska earlier in the summer, taking the Stewart-Cassiar Highway to the Alaska Highway. This route is supposedly a few hours faster according to Google Maps. However, much of the road quality on the Stewart-Cassiar was so poor we drove at twenty- to thirty-miles-per-hour, leading us to believe the routes are close in travel time.
Driving between the northwestern United States and Alaska is much more reasonable than expected. Before our summer trip, we thought we'd only ever drive to and from Alaska once. At first glance, the route looked long with big sections with limited destinations. However, we'd happily drive the route many more times given all we found to do and the beautiful scenery.
While fuel stations were limited on sections of the drive to Alaska, our route home had many more services and we didn't have to be as careful about running out of fuel. It was also easier to find fuel stations with ultra-low sulfur diesel on the way home, which our van requires.
We spent about a week driving from the Alaska/Canada border to the Idaho/Canada border and wouldn't suggest doing it any quicker. Our drive truly felt like a road trip, with lots of time to explore and linger at spots we especially enjoyed. It didn't feel like we had driven 1,900 miles between border crossings when we arrived in the United States, which is the true testament to a good road trip!
Tops Spots between Alaska and the Lower 48, from North to South
Kluane Lake: Kluane Lake is located about 140 miles from the Alaska/Canada border and is the largest lake in the Yukon. The views from the Alaska Highway across the lake are spectacular so you don't even have to leave the road to enjoy Kluane Lake. However, if you want to stop awhile there are a lot of hikes near the lake. The weather was cool and rainy when we stopped at the lake, so we opted for the short hike to Soldier's Summit. While we saw a lot of camping spots along the river, we weren't confident on land ownership so opted to camp a little east of the lake.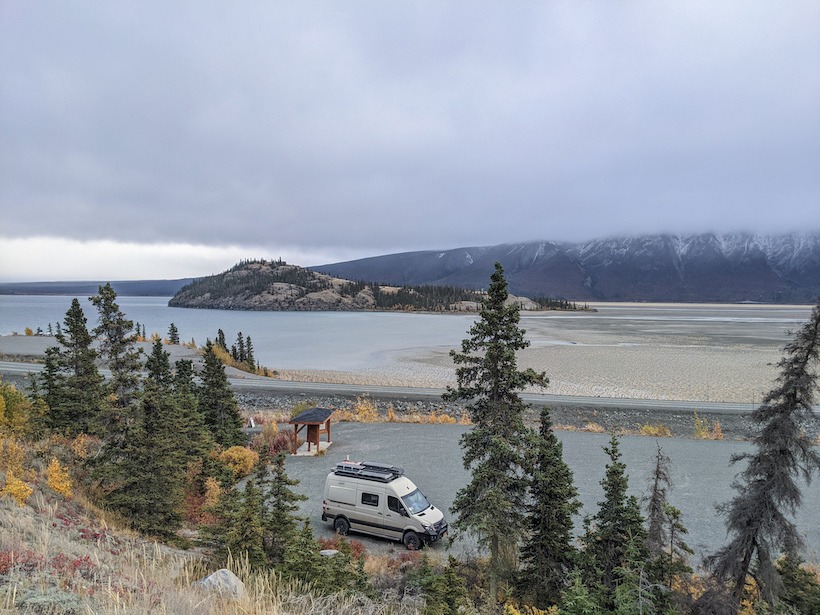 Whitehorse and Miles Canyon: Whitehorse is the only city in Yukon and home to lots of restaurants, breweries, grocery stores, hiking and biking trails, and outdoor activities galore. When we drove up to Alaska Whitehorse was closed to visitors and we hadn't realized the city had reopened, so we hadn't planned on stopping on our drive home. Therefore, we didn't spend much time in Whitehorse on this drive, but certainly plan to in the future. We did stop at Miles Canyon just south of Whitehorse for a quick walk and view of the impressive canyon. The area is rich with mountain bike trails and somewhere we could easily spend a full week.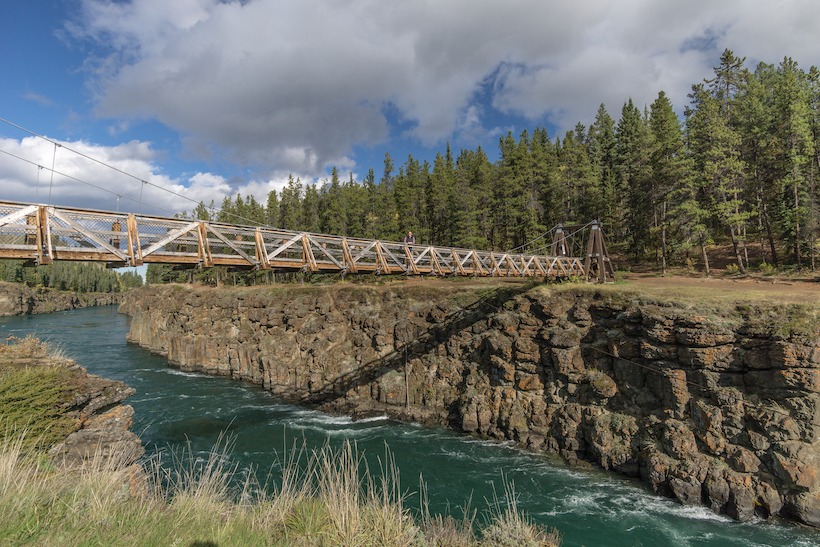 Carcross: We opted to take a small detour to see Carcross and visit the Carcross Desert. A few years ago, we saw the short documentary SHIFT about the indigenous youth working to make Carcross a mountain biking destination, so Carcross has been on our radar for a while. Again, this is somewhere we'd like to revisit when we have bikes and a little more time. Carcross Desert is an amazing little spot, an unexpected patch of sand among snowy mountains. While many articles cite it as the world's smallest desert, it is our understanding that it isn't technically a desert, but sand dunes left over from a glacial lake. Regardless of its classification, we enjoyed walking around the dunes and marveling at the juxtaposition of snow and mountains.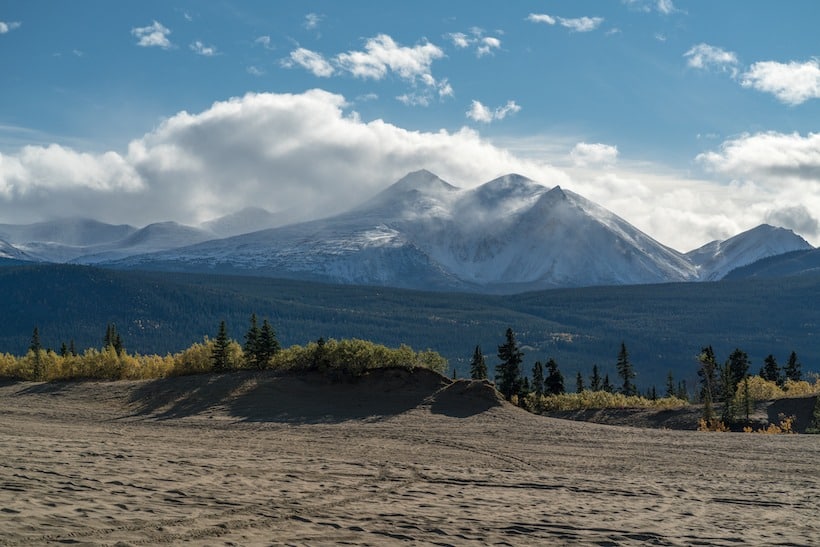 Watson Lake and the Sign Post Forest: We spent an afternoon in Watson Lake, including a workout and shower at the Watson Lake Recreation Centre, an impressive facility shared with the Visitor Information Centre. Watson Lake is a good spot to stock up on groceries and fuel. However, the highlight of the town is the huge Sign Post Forest. According to the website for the Sign Post Forest, it includes more than 80,000 signs and was started in 1942 when a US Army Engineer added a sign to a post which stated "Danville, Illinois, 2835 miles." The huge collection of eclectic signs reminded me of the gum wall in Seattle or the Pont des Arts bridge in Paris with padlocks bearing personal messages, but taken to another level. We started out reading every sign, but quickly realized that approach was impossible and settled for wandering around and occasionally stopping to read a few. While we weren't nearly as prepared as other visitors, we did manage to piece together our own small sign to leave behind!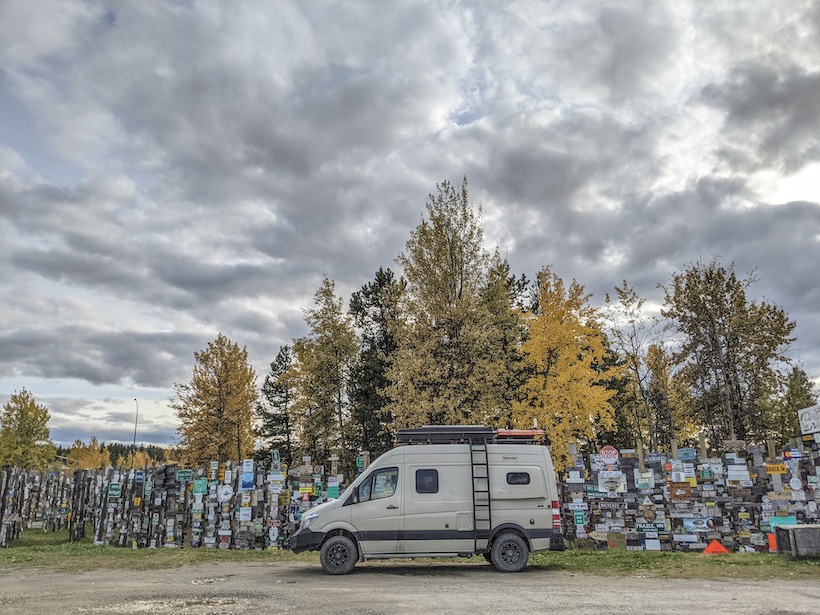 Liard River Hot Springs: We read that Liard River Hot Springs is the most visited location along the Alaska Highway, and for good reason! This hot spring is the perfect blend of a natural setting with some modern amenities, including a boardwalk to the pools, changing rooms, and pit toilets. There is a campground within walking distance to the Hot Springs which we'd choose to stay at in the future. We arrived at the springs in the morning, so we decided to stop just for a couple hours before continuing our drive. We were surprised to learn that the US Army built the first boardwalk to the pools in 1942 during the construction of the Alaska Highway.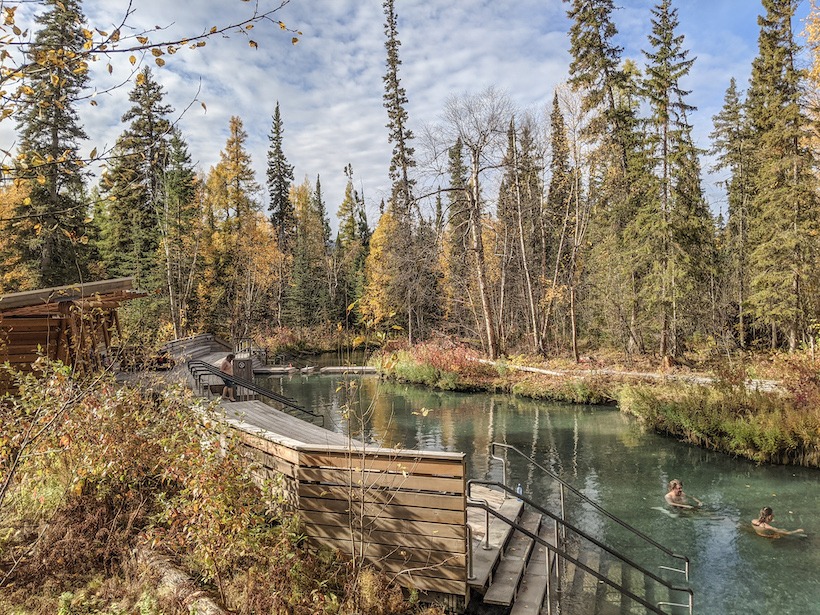 Jasper and Banff: While we spent about a week in Jasper and Banff a few summers ago, we couldn't pass up the opportunity for another stop, especially since the most direct route takes you through the Parks. We revisited a few of our favorite hikes, including Parker Ridge and Little Beehive at Lake Louise, and stopped for another hot springs experience at Radium Hot Springs. The fall colors were incredible, especially paired with a light snowfall on the mountain peaks. From our experiences, we think October is the best time to visit Jasper and Banff, given the lower crowds, fall colors, and typically dry weather.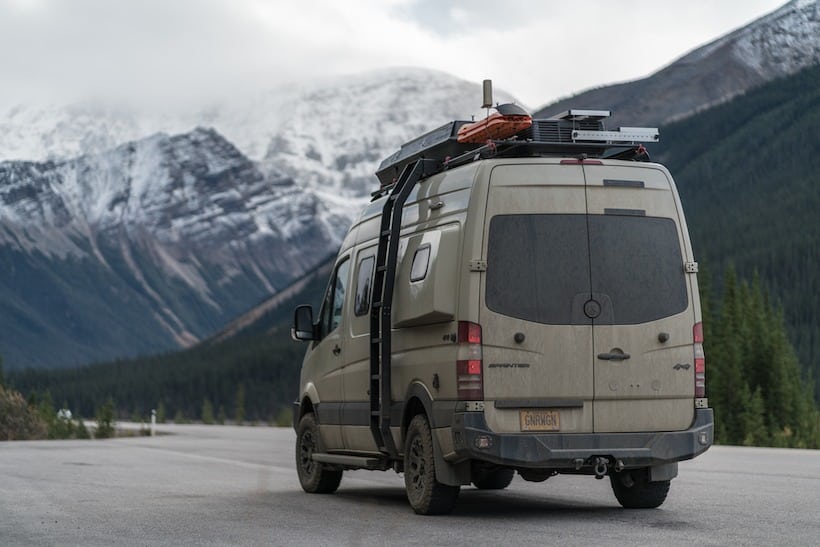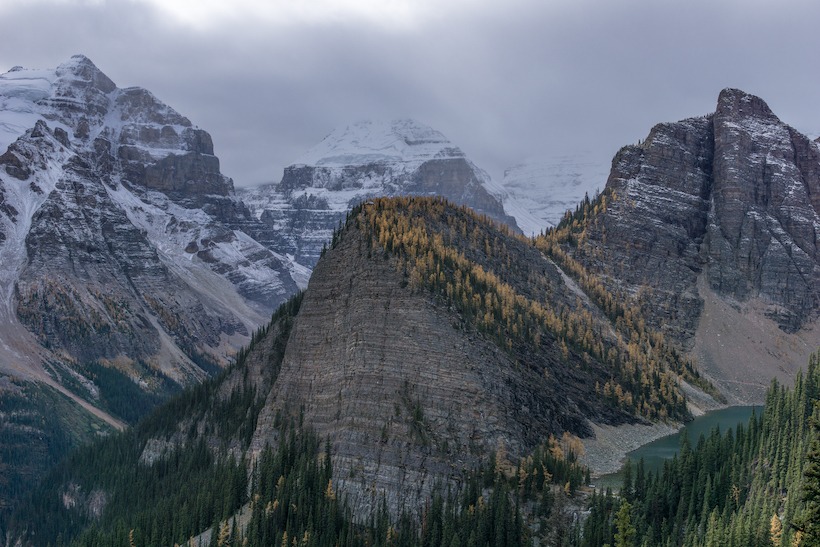 Cranbrook Community Forest: Our last stop in Canada before reaching the border was Cranbrook for a nature walk in the Cranbrook Community Forest, which offers a large network of hiking and biking trails. Cranbrook was recommended to us on a past trip through Canada and is also on our list of places to further explore. As we crossed the border back into the United States, we were already thinking about the next trip to Alaska and the places we'd like to stop along the way.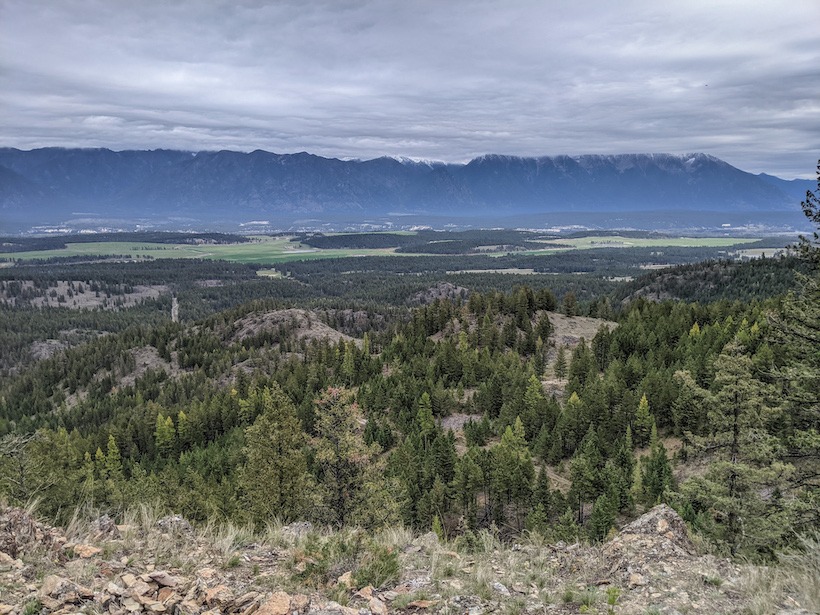 For Part 1 and 2 of Gnar Wagon's Summer in Alaska check HERE
Check out The Gnar Wagon Youtube Channel HERE
Check out The Gnar Wagon Instagram Page HERE