The Electric Vehicle (EV) market has been getting a lot of attention and todays announcement from Earthcruiser, of its new Slide in Camper specifically designed and engineered for EV integration, is a brave and cutting edge step into the world of EV Overlanding. Of course there will be the naysayers and there's still lots of questions to be answered, but we believe that Lance Gillies and the EC team are the people to head down this trail with. Obvious EV pickup choices are the Rivian R1T and the Ford F-150 Lightening and future EV platforms from Chevy and Ram. To date, EC talks of optimizing camper weight, aerodynamics and the efficient integration into the vehicles energy systems. However, details are scarce at the moment, so we plan to keep a watchful eye on this exciting initiative. As we learn more details, we'll be sure to update you.
EarthCruiser Announces Expansion Into Overlanding EV Market
Official Launch of a Pre-Order Deposit Program for a slide-in camper designed for EV trucks
EarthCruiser, a globally recognized brand behind the most accomplished 4×4 expedition vehicles available in the world, announces the expansion into overlanding products specifically for electric vehicles. This includes the official launch of a pre-order deposit program for slide-in campers engineered for the next generation of EV trucks.
EarthCruiser has a proven track record of over fifteen years of building light, aerodynamic overlanding products designed to be efficient and capable and work off-grid for extended use. This requires deep knowledge of complex energy systems, weight distribution and aerodynamics. EarthCruiser is taking this unparalleled expertise and applying it to develop new approaches and designs to pave the way for electric vehicles in the overlanding sphere.
The shift to EVs is a certainty EarthCruiser has seen coming and been talking about for years. Industry stats and new government regulations demonstrate the momentum EV has with automakers and consumers. EarthCruiser is uniquely positioned to design products that excel within EV parameters
"We have been keenly following the evolution of EV vehicles and have been waiting until the time is right and the time is now. We are a company that loves to discover, innovate, and test, over and over until we get it right. Our deep expertise in building world-renowned expedition vehicles makes it easier for us to roll into electric platforms compared to competitors," said Lance Gillies, founder of EarthCruiser.
As electric vehicles enter the overlanding space, domestic automobile manufacturers require a partner with expertise in maximizing overland vehicle efficiency, and ensuring critical systems fit within a limited footprint and usage envelope. With impressive features that offer a smooth ride, breathtaking power, and unbelievable off-road capabilities, electric vehicles open a new world of possibilities to the overlanding community.
EarthCruiser's innovation division, ECI (EarthCruiser Innovations), is currently developing products for the electrification of overlanding, including the slide-in truck camper for domestic EV trucks. EarthCruiser Innovation is currently in collaboration with key domestic automotive manufacturers and looks forward to expanding that division of the company. Further details to be announced at future dates in 2023.
"There are many similarities with our current EarthCruiser habitat and one that would be required to function with an electric platform. It's critical to maximize efficiency in order to allow vehicles to go further. Managing limited storable on-board energy capacity, operating within acceptable range envelope and staying safe and comfortable is the essence of an overlanding vehicle and we have been doing that for years. EarthCruiser is extremely good at energy efficiency and the amount of energy required to move an EC down a road is significantly less than our competitors," added Lance Gillies.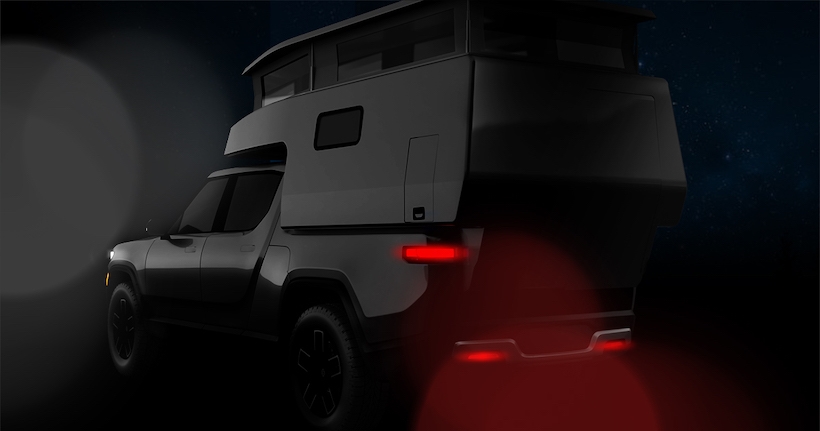 EarthCruiser EV Camper Pre-Order Program
The future is charged.
Redefine your off-road mission. Introducing a new class of lightweight slide-in campers from the go-anywhere, do-anything adventure leader. Bred for everything that comes after it, this adventure-ready slide-in takes the most advanced EV, hybrids and conventional gas-powered trucks to places others wouldn't dream.
Customers can place a fully refundable $100 deposit to reserve their exclusive EarthCruiser slide-in camper. EarthCruiser recognizes that the customer voice and travel requirements are critical to the success towards the transition to renewable energy. As part of this deposit program, EarthCruiser Innovation will gather customer platform preferences for this product as it finalizes the development.
EarthCruiser understands that consumers will adopt electric vehicles at different rates and has designed our new slide-in truck camper to transition with them. For customers that are not quite ready for an EV truck, the camper will work flawlessly with internal combustion engine vehicles. When customers are ready to transition to EV, after a few simple software updates, the camper will be ready for life on the back of an electric vehicle.
Reserve the EarthCruiser EV Camper HERE