We spend a lot of time towing trailers and here's one new suspension product that caught our eye at Overland Expo, Flagstaff last month. Hopefully we'll get to test drive it later in the year and report back with our in-field thoughts.
Off Grid Trailers has really upped-the-ante in the off road and overland trailer segment! With recent updates to the Expedition 2.0 and Pando 2.0, the popular models now have a lower curb weight and a higher build quality. In addition to these updates, Off Grid Trailers has added the all-new Switchback R&S to their capable trailer line up of off-road trailers. Taking their light weight, all metal trailer, Off Grid Trailers is now stepping up the capability factor big time. Off Grid Trailers has worked with an industry leader, Fabtech Motorsports, to design and develop an all-new independent tailing arm suspension that is sure to stand out.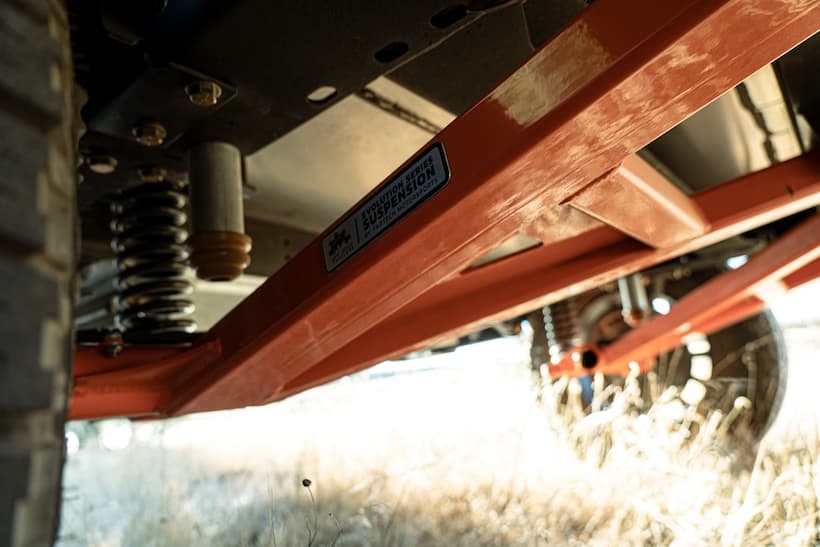 The new Off Grid Trailers Evolution Series Suspension by Fabtech Motorsports is all weather tested to -40 degrees Celsius and allows for a full 9-inches of wheel travel. Spring rates have been optimized to enhance load capability and ride height. Off Grid Trailers has used custom valving which allows the damper to control the motion of the suspension, adjusting the rebound depending on how heavily you loaded up your trailer. The suspension is made from thick wall HSS tubing as well as heavy duty bushings and materials. Every Evolution Series Suspension is precision crafted in the USA. Whether you tow your trailer down the highway, or break new trail, this new OGT Evolution Series Suspension allows for a smooth tow with increased ground clearance and will allow your trailer to truly follow you anywhere your 4×4 can go.