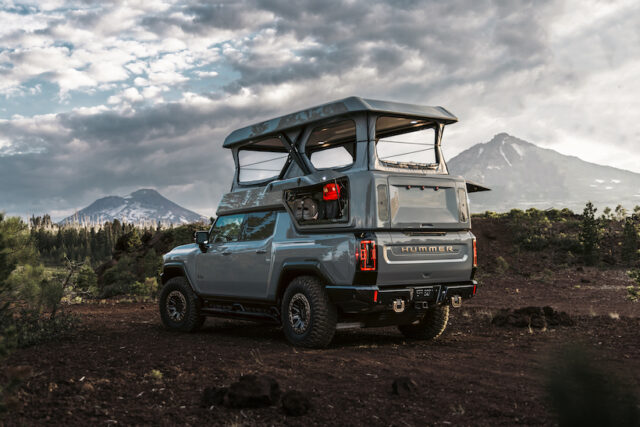 Last weekend at Overland Expo, Loveland Colorado, GMC and EarthCruiser unveiled the highly anticipated all-electric GMC HUMMER EV EarthCruiser – an overland upfit solution from EarthCruiser.
This EarthCruiser upfit sets a new standard in zero-tailpipe emission overlanding possibilities through its full integration onto the HUMMER EV Pickup chassis to offer adventurers the perfect blend of state-the-art technology, innovation and comfort to explore on- or off-road product.
It feels right, it feels like it belongs," said EarthCruiser CEO and Founder Lance Gillies. "Using our years of overlanding expertise, we have ensured nothing is out of place, unnecessary or wasted in this vehicle. This collaboration with the GMC team has provided the perfect opportunity to demonstrate the zero-tailpipe emission possibilities for overland and recreational vehicle travelers. We have produced a comfortable, capable product, built to a high caliber of excellence – one that our customers can take pride in."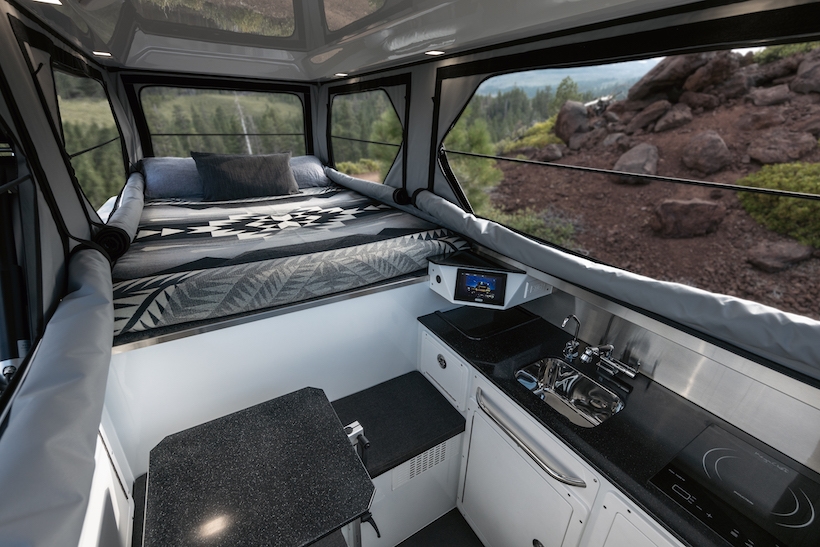 A carbon fiber EarthCruiser house fully integrated into the chassis of the GMC- HUMMER EV Pickup.
Onboard solar power with 605W along with an innovative system of 6 kilowatt hours of 12V lithium battery to provide an estimated seven days of off-grid power, such as the ability to power appliances like a refrigerator/freezer for about a week.
The freedom to explore any season with EarthCruiser's insulated tri-layered pop-up roof.
The epitome of intelligent design with EarthCruiser's exceptional interior, crafted for versatility and storage optimization. EarthCruiser's leading-edge build quality will empower users to embark on a journey that blends functionality and convenience. Amenities include a curated selection of appliances, indoor and outdoor shower, 120V and 12V outlets, purposeful storage and a flat-pack toilet.
An RV full-size bed to provide a comfortable night's sleep on all terrains. 7-inch-diagonal touchscreen system control panel designed for ease of use.
An RV full-size bed to provide a comfortable night's sleep on all terrains.
Intuitive, 7-inch-diagonal touchscreen system control panel designed for ease of use.
Charging your GMC HUMMER EV EarthCruiser overlander? No problem. Rest in your upfit until you are ready to hit the road again.
The GMC HUMMER EV EarthCruiser upfit is expected to be available to GMC HUMMER EV Pickup owners in 2024 through EarthCruiser. Additional product availability details will be released later this year. The EarthCruiser upfit is not covered by the GM New Vehicle Limited Warranty and GM is not responsible for independent-supplier alterations.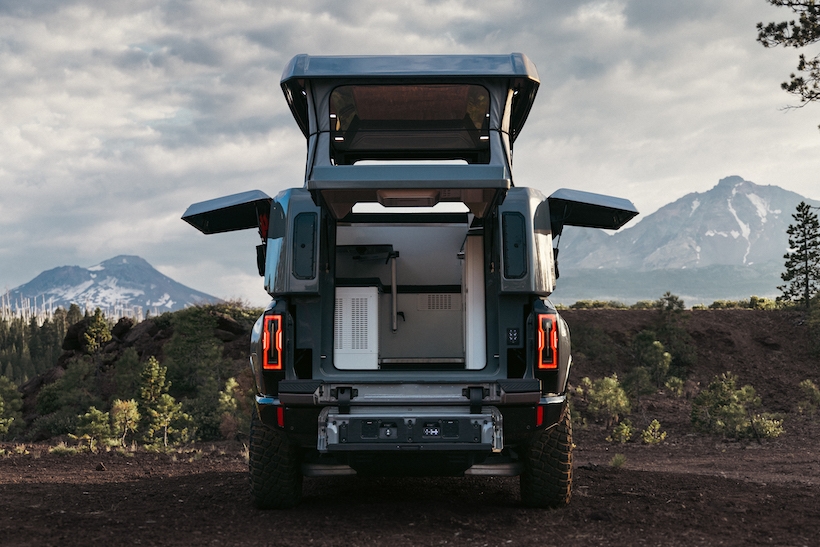 TAP's EV Thoughts:
The growing EV market and developing EV overlanding category is certainly an emotive one. Comment range from total dismissive rants to thoughtful analysis of the challenges. When TAP sat down with Lance at the Loveland show, we addressed this directly with him. His answer proved to be responsible and honest and he showed genuine excitement for the category. Lance's opinion is that the electric vehicle is here to stay and certainly we'll see explosive growth (no pun intended) in the next decade.
" Is the technology without challenges? No, and development won't be a straight line. It is however exciting times and we at Earthcruiser intend to embrace the future and alongside GMC, be one of the leaders in the EV overland category"
Honestly, we tend to agree with Lance's assessment. There are certainly problems with range and infrastructure, however Henry Ford faced all these issues back in the day and look where we are now. What I am certain of, is that somewhere, someone way smarter than all of us, is currently working out how to solve these issues and barriers.
__________________________________________________________________________