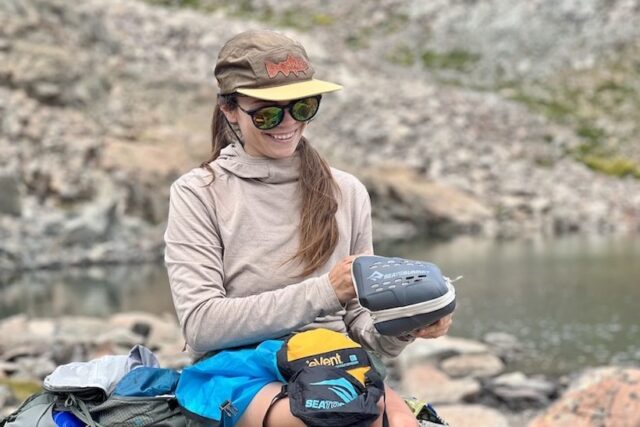 Sea to Summit as a brand within the outdoor community, has had the pleasure of working with some incredible partners along the way. Shelby, from Ground Up Adventures is one of them. Sea to Summit first started working with Shelby more closely about a year ago and as a Hiking/Backpacking Guide in Colorado, our collaborations with Shelby have been such a natural fit.
We are honored for Shelby's time in giving us insight on who she is, what she does, the lessons she's learned along the way and what Sea to Summit gear she recommends to those exploring nature's playground.
Tell us a bit about you. What do you do? What got you into it?
I operate an outfitter called Ground Up Adventures and am a Hiking/Backpacking Guide and Outdoor Educator in Buena Vista, Colorado.
I started GUA years ago when I was doing research full-time at a hospital in Denver and found myself escaping to the mountains every weekend just to get through the week. I gained an immense amount of outdoor experience solo hiking in the Rockies, and eventually saw a lot of individuals on the trails making the same mistakes I once did. I took a ton of outdoor education courses from off-trail navigation to avalanche safety, and when I decided I wanted to guide, I noticed there weren't any outfitters in Colorado specializing in Outdoor Education, so we could make the trails safer for everyone recreating on them. Thus, Ground Up Adventures began, so you can learn to climb your mountain from the ground up!
What is one of your favorite aspects of your job?
Seeing people prove themselves wrong or expand what they're capable of in real-time. It truly is one of the most rewarding experiences and I love being able to hear about all of their adventures after our trip together. I once had a client come on a 5-mile hike with me to learn more about Rocky Mountain hiking, and the next week he was conquering not one but two peaks all on his own. Those stories never get old.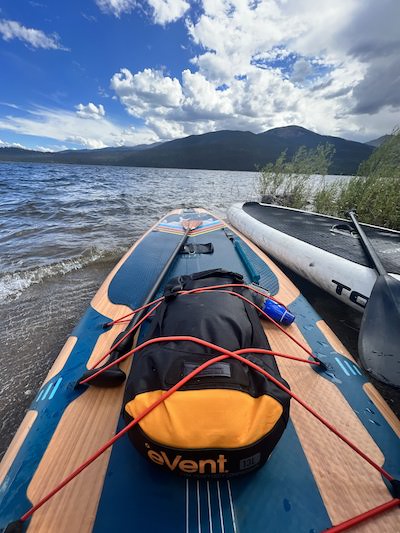 How do you educate yourself with safety / gear / etc.? Do you research, is it lessons learned on the field? Chatting with other professionals? A mix of all?
Genuinely a mix of everything! As a previous researcher, I'm a firm believer that the more sources you have, the better. I typically start with online research and chatting with other professionals in the field, and then once I get a base opinion, I go out into the field and test it myself. As it relates to gear, I think one of the best ways to test it is to do it at home or close to home, in as close of conditions as you can to your intended use for it. If I'm testing a new sleeping bag for example, I won't immediately go backpacking miles into the backcountry to test it, I'll try it out dispersed camping closer to home first.
What are some essentials that you always have with you on your adventures? Are there some products that are "universal" that you have on ALL excursions?
I always have the 10 essentials (navigation, headlamp, first aid, fire starter, sun protection, multitool such as a Swiss Army Knife, extra food, layers, and water, as well as an emergency bivy or shelter), and I keep some of these items such as clothing and headlamps, in dry bags to make sure they stay protected from any moisture.
I almost always bring tuna and crackers as my extra food, so I also like bringing a long spork (biased to the Sea to Summit Alpha Light Spork)
Lastly, I ALWAYS have a rain jacket and small towel with me. You never know when weather can come in and it's always smart to be prepared!
How did you first hear about Sea to Summit? What was your first Sea to Summit product?
I first heard about Sea to Summit on a snow-cave backcountry camping trip when my friend was using a STS liner in his sleeping bag for extra warmth. Shortly after, I heard of them again at a local outdoor store in Colorado. I was looking for a small dry bag. I had always seen the big bulky heavy duty dry bags for kayaking and bringing on the boat, but never a lightweight one.
The Ultra-Sil dry bag was actually my first Sea to Summit product; I remember picking it up and asking the employee: THIS is going to keep my gear dry?!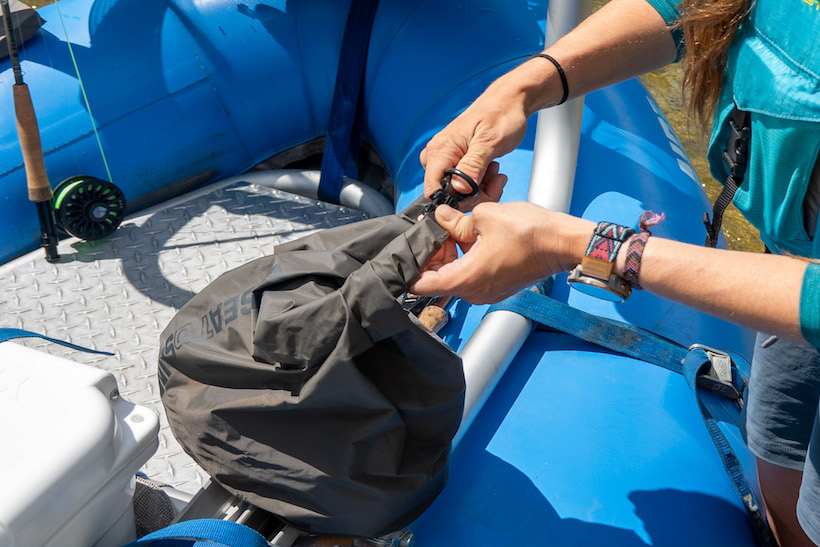 What product of Sea to Summit's is your favorite right now?
That's a hard pick but I would have to say my Telos TR2 tent. I've used it on essentially every backpacking trip, including personal and guided trips for the past year, and it still amazes me. It's very lightweight yet still has a durable tent frame, and is incredibly spacious for a two-person tent. It keeps me dry even in the gnarliest alpine storms, and I love that I can easily pack the different pieces (body, poles, and rainfly) separately. I spend a lot of nights in a tent each year, and this is by far my favorite and most versatile tent.
We sent you an Evac Dry Bag. What's your first impression?
Instant gratitude! You guys have solved a problem of mine that I've had for some time: dry bags that are hard to get the extra air out! Not to mention, they're very light for how durable they are. It also packs easier due to its oval base shape, which is really nice for backpacking. Sea to Summit really paid attention to the details of these bags, including the white interior to make it easier to see your gear inside the bag.
How would you use it for your adventures? Specific gear protection? Specific trips? For organization?
Dry bags really help me organize my gear, and usually use different colored bags for separate gear items to know what they are. I use the Evac dry bags specifically for my sleeping bag, clothing, and even to store our snacks for raft days on the river! I use a down sleeping bag, so it's essential it stays dry, and the Evac bag ensures this. I recently took it on a very wavy paddle boarding trip and was amazed at how dry even the exterior of the bag stayed.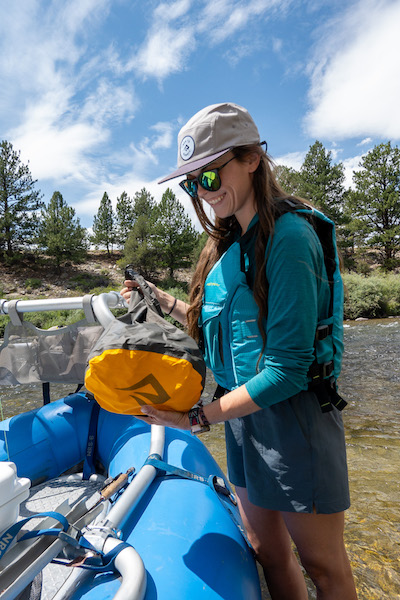 Would you recommend this bag for other users? If so, why? If not, why not?
Oh absolutely! I think most people getting outdoors could find a use for dry bags, and if you're going anywhere with water or potential for storms, I know you won't regret adding it to your gear collection.
Anything else to add about Sea to Summit and/or their gear/Evac?
Sea to Summit is an incredible company and they make extremely high-quality, durable gear. Their customer service is amazing and they're a brand I've trusted on all of my outdoor adventures for years. I have my clients use Sea to Summit gear as well because its proven so reliable for me. I can honestly say I've never been steered wrong from a Sea to Summit product.
Last question: what's next on your list of adventures?
I'll be wrapping up my season here in Colorado shortly, this summer flew by! Right about the time that the snow will be starting to hit on the high peaks here I'll be heading to Patagonia, Argentina to lead a trip of hikers on an 8-day mountain adventure! I can't wait to see spring in Patagonia. After that it's time for winter adventures!
To follow Shelby or read more about her educational tips for outdoor recreation, we recommend following her on social media and checking out her website.
Instagram: @groundupadventures
Website: https://groundupadventuresco.com/
Photo Credits: Ground Up Adventures