When you produce one of the most recognized Roof Top Tents on the market, it makes sense to add an Ultimate Sleep System to your offering. That's exactly what iKamper has done, with the release of their new collection of sleeping bags, blankets and air mattresses.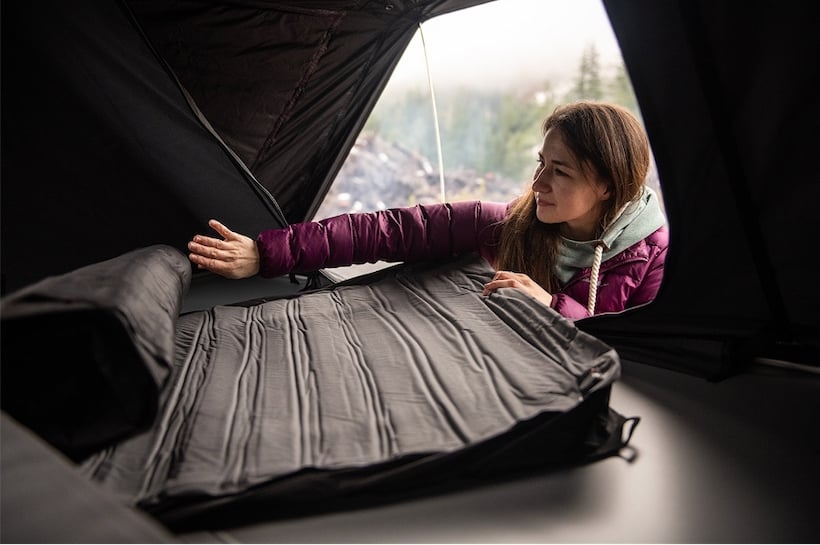 The RTT Comfort is a self-inflating mattress for any time of year. The mattress inflates to 4" thick, utilizing both air and open-cell foam for a 7.8 R-value, keeping you warm and comfortable on those chilly nights out in the wild. Thoughtfully placed vents on the top and sides of the mattress make it easy to use the optional air pump from inside the tent if you'd like to speed up the inflate/deflate process. By pulling all the air out of the mattress before packing up, it creates more space inside the tent's shell than with a standard foam mattress, allowing more sleeping gear to stay in place for the next night.
There are 5 sizes available – though these are designed to perfectly fit any iKamper rooftop tent, they are completely compatible with other rooftop tents, ground tents, trailers, or any other place you find yourself holed up on your adventures.
The AirDown air pump (arriving in June) is compatible with the RTT Comfort to inflate/deflate in as little as one minute.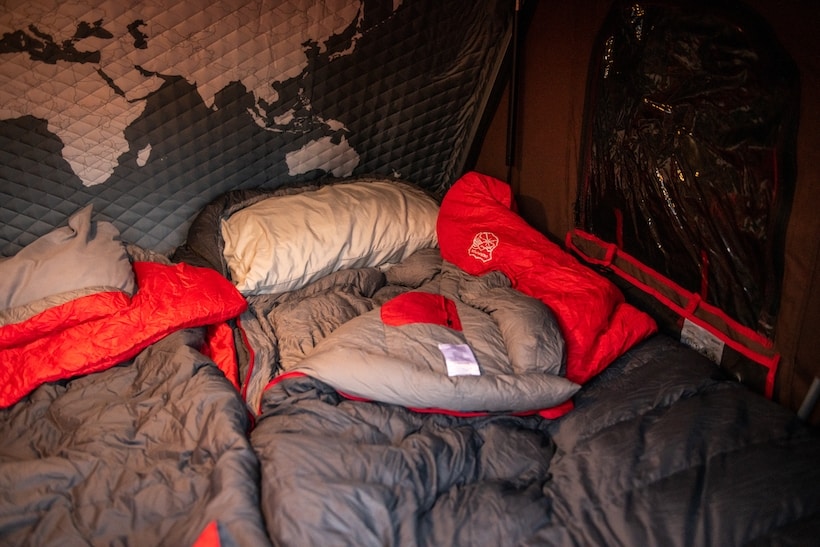 The RTT Sleeper and RTT Sleeper DPL are solid options for any rooftop tent user. The RTT Sleeper is packed with 1000g of 100% Responsible Down Standard (RDS) certified 90/10 white duck down, good for a 14°F temperature rating. Its 2-person counterpart (the RTT Sleeper DPL) employs Primaloft Bio insulation – a synthetic insulation made from 100% recycled, biodegradable fibers – to keep you insulated even when wet with a 26°F temperature rating. About 60% of the insulation fill is placed on the top and 40% on the bottom of these sleeping bags, making them more effective when used in rooftop tents where the floor is usually warmer. Convenient inner pockets stow your phone and other small goods for easy access. By tightening the strap on the bottom of the sleeping bags, they turn from rectangular to mummy type sleeping bags – an awesome feature when you want to spread out and get comfortable or bundle up when temperatures drop.
When temps really drop, pair the sleeping bag with the RTT Blanket (packed with 300g of RDS 90/10 white duck down) for a cumulative 0° temperature rating. Similar to the sleeping bags, the 2-person RTT Blanket DPL employs Primaloft Bio for added warmth and increased capabilities in rainy conditions. These blankets are water resistant and machine washable, so they're totally good to use outside the tent as well.
Check out the Ultimate Sleep System HERE
____________________________________________________________________