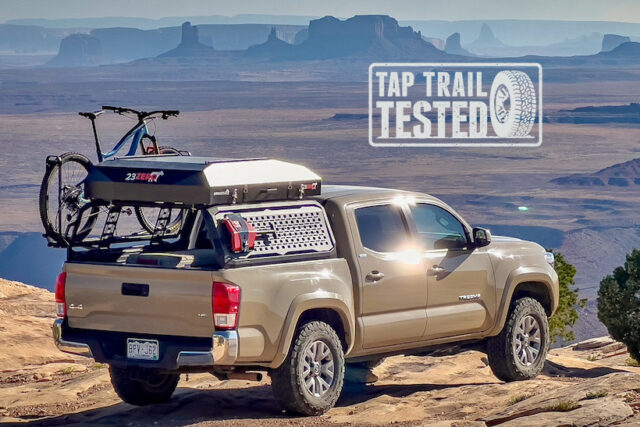 For many of us engineering has been a fascination since we were young, and the Kuat Ibex Bed Rack allows us to connect with that aspect of our interests. I may be giving away my age here, but many of us built models, spent hours with erector sets, and let our imaginations run wild with Legos and the like. It inspired problem solving and the interest matured with each digit added on our birthdays. Fast forward many years and we're building homes, trucks, and motorcycles, solving problems that rise from those projects.
With the growth of vehicle supported adventuring, some very creative minds have been busy solving the problem of how to maximize our gear space in style. I've been a passionate cyclist and outdoorsman for decades and Kuat has always had a reputation for designing functional, durable, and beautiful bicycle racks. Well, now they've dipped their toes into the overlanding waters with the new Ibex truck bed rack and they have lived up to their reputation with this unique and modern design.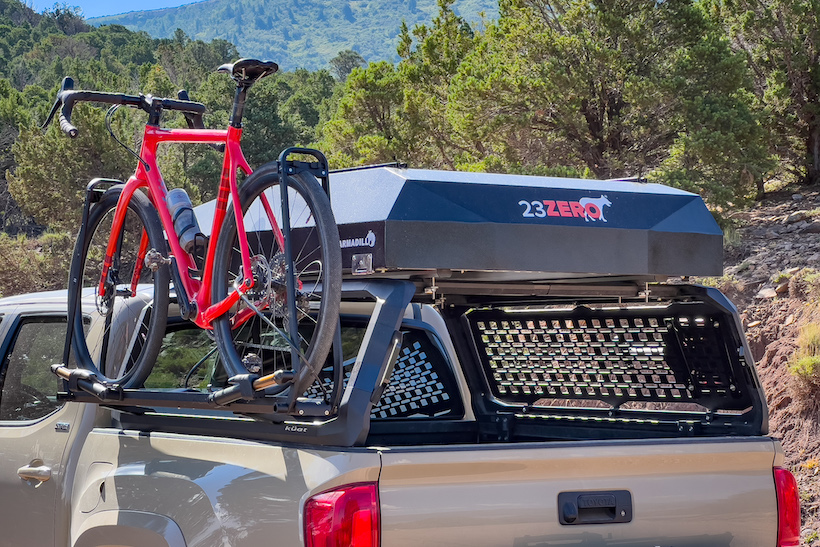 Kuat offers the Ibex bed rack in 7 sizes from mid-size truck beds to full-size long beds, as well as the Jeep Gladiator. With its substantial aluminum structure, the Ibex offers a very impressive 1,200 pounds static weight, 600 pounds dynamic weight, and 300 pounds off-road. I'm running a stock Tacoma with 31's and a 195 pound RTT and the Ibex has been sturdy on and off the highway. With very little flex, the Ibex offers confidence and stability we all need from our rigs. The Ibex can be set up to cab-height or mid-height by removing the center struts between the upper and lower frame elements. I opted for the full height, leaving more space for cargo under the RTT and keeping a clear view out the back window, but the lower setting is a good option to lower the center of gravity and for better aerodynamics on the highway. The curved edges and very refined look separate the Kuat Ibex Bed Rack from other industrial-style racks, and the ballistic black powder coat will augment the appearance of any rig.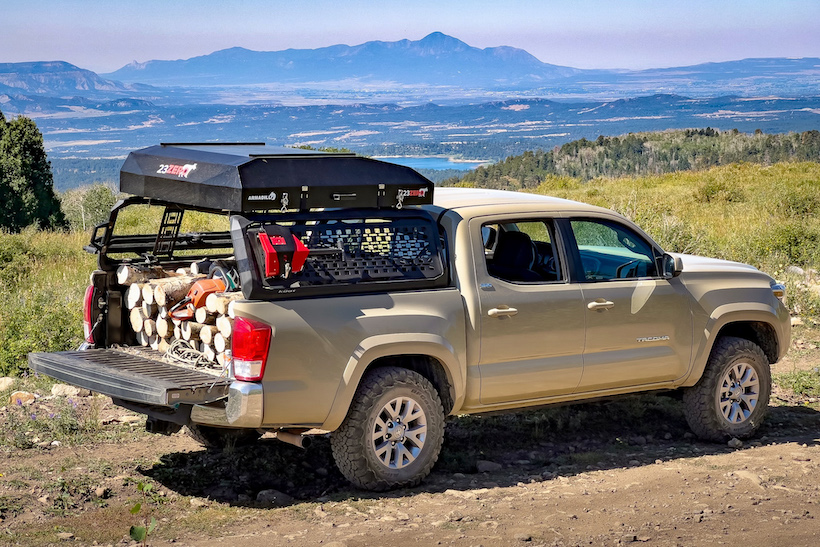 The Ibex shipped from Kuat in very protective packaging with not a scratch on the products. Even the design of the packaging reflected the design cues Kuat is known for. The first thing you see when you open the box is a QR code for instructions and it takes you right to some comprehensive videos to guide you through the process. Specialty tools are provided along with all the necessary hardware, although the tools seem rather delicate and a few t-nuts wanted to cross-thread. Once assembled, be sure to have another person around to help you lift it on the truck bed. At approximately 80 lbs, it could be a handful getting it up there. Saying that, the heft offers some serious muscle when it comes to loading it up with gear, and Kuat backs up their design with a No Worries Limited Warranty.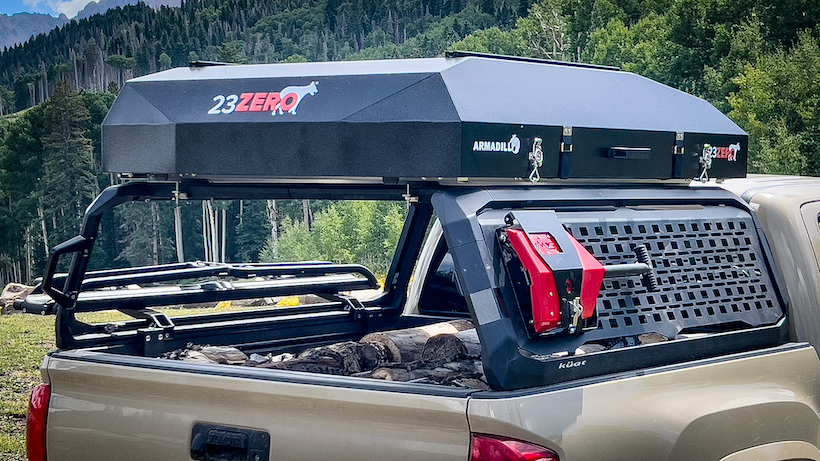 Kuat knows their market and offers an array of options for the Ibex. Full and half Molle panels that are compatible with products from DMOS Shovels, Rotopax and Maxtrax, a bottle opener, a grab handle, an antenna mount, an ax/shovel holder, an additional cross-bar, a Hi-Lift jack mount, and an adjustable height cross-bar kit. Kuat took their successful bike rack design and applied it to the Piston SR mount, which sits alongside the bed rack. With its CNC'd mounts and heavy duty hardware, the Piston SR holds today's valuable bikes with security and protection. It even has an integrated lock that stows away when not in use, and the Kashima coated pistons are enough to make any bike geek swoon. Just be careful of RTT clearance with a bike on the rack. I found it necessary to remove my IBIS bike before deploying my 23Zero Armadillo A2 clamshell RTT but wedge style tents should clear it.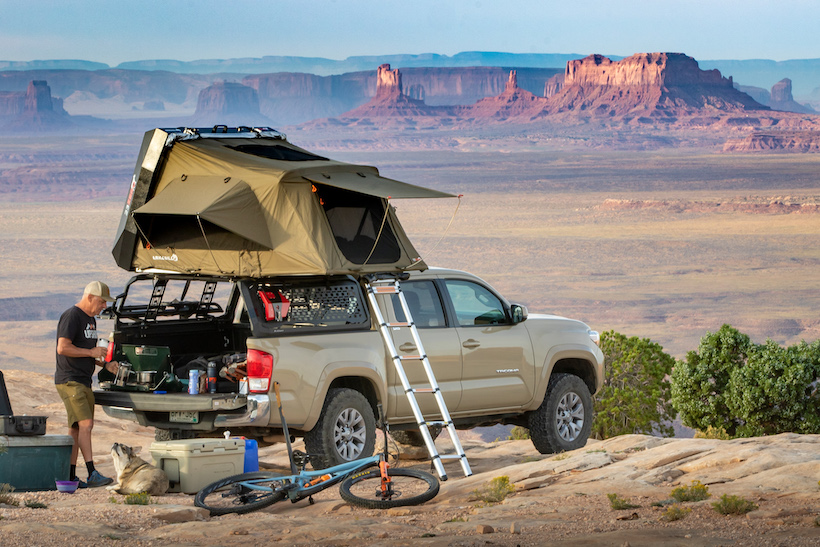 After installing the Ibex frame, my imagination ran away with aftermarket ideas. Looking at the empty frame, the first thing I thought of was a soft canvas shell to stretch over the frame (think Softopper). The option to mount Rotopax, etc. could remain on the inside of the cover but the canvas would keep the contents of the bed out of the sun. Perhaps a screen rear door so the dogs could safely have a good time on the trail. Then I installed the Molle panels and thought of a matching hinged Molle panel as a rear lift gate would be an incredible addition. Again, dogs would be safe and happy romping around the bed, and it could lock to protect the contents of the bed. Perhaps a stamped aluminum 'roof' to top it all off.
Bravo, Kuat, for another product of brilliant design. I have had several people comment about the system while on the road and it certainly turns heads at the trailhead. If you plan to add a RTT in the high position, you might look into some bed struts to support the weight a little better. There's very little flex in the truck bed, but it could add up with off-road miles. One thing I like about the Kuat Ibex Bed Rack is it allows me to still use my truck as a truck.
The Ibex is relatively easy to assemble, offers tons of versatility, and it is strong as an ox. Now, about that canvas…
To Learn More About The KUAT Ibex Bed Rack CLICK HERE
To Learn More About The 23Zero Armadillo A2 RTT Shown CLICK HERE
___________________________________________________________________
In-Field Contributor: Bill Freeman – 2017 SR5 Tacoma 4×4
Bill is a native Californian and has been shooting outdoor activities for over 30 years. Spending most weekends climbing in Joshua Tree in the 80's, he began his photo career shooting the classic environment that only J-Tree has to offer. Expanding his subject matter into skiing and mountain biking, the camera was brought on most every adventure. Bill and his dog, Leica, now live in Southwest Colorado to take advantage of the epic outdoor adventures… on two wheels or four.