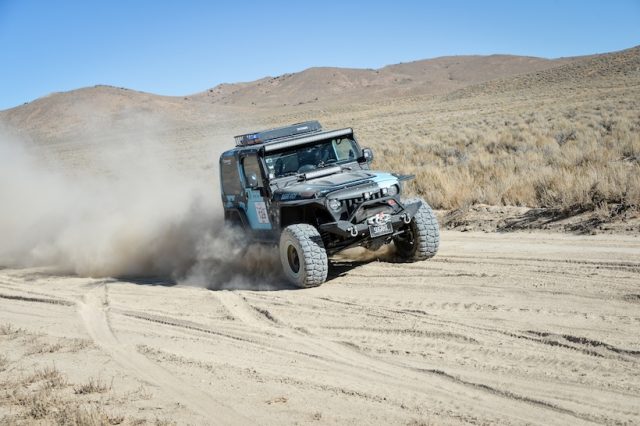 Rebelle Rally Feature: As you know, our tag line is "TAP into Adventure". We do, and we encourage you to do the same. Check out this article about a team whose dynamic changed dramatically once they decided to embark on a "Bucket List" adventure together. We encourage you to get out there, take some chances, check off your bucket list items…do it safely, and TAP into Adventure!
After a very serious health issue, my wife of 22 years decided to wander out of her comfort zone and into the realm of adventure. She signed up for the Rebelle Rally 2016, which meant we needed to rebuild our Jeep TJ. We decided to do it together. Little did we know that from there our lives and our relationship would be changed forever.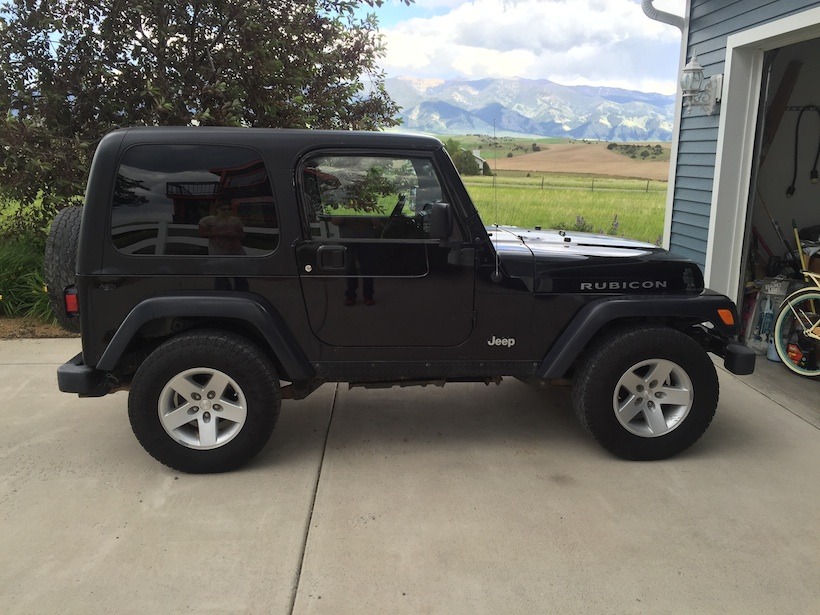 All the work involved in getting ready for the rally was not only harrowing, but transformative. We had never done anything like this together before. Michelle and I needed to completely rebuild our Jeep TJ in 7 weeks. Michelle also needed to hone in on her rally skills by attending trainings. Then, immediately after the rally, we were to attend SEMA with our Jeep slotted as a featured rig on the Whistler Group's booth. No pressures there! The process of getting ready to do all of this together became a metaphor for the changes we went through both individually and within our relationship. From tear down and repair, to replacing parts with new and improved ones, we changed and improved our Jeep, and did the same within our marriage and ourselves. We not only ended up with a badass vehicle, but we grew in ways we never expected.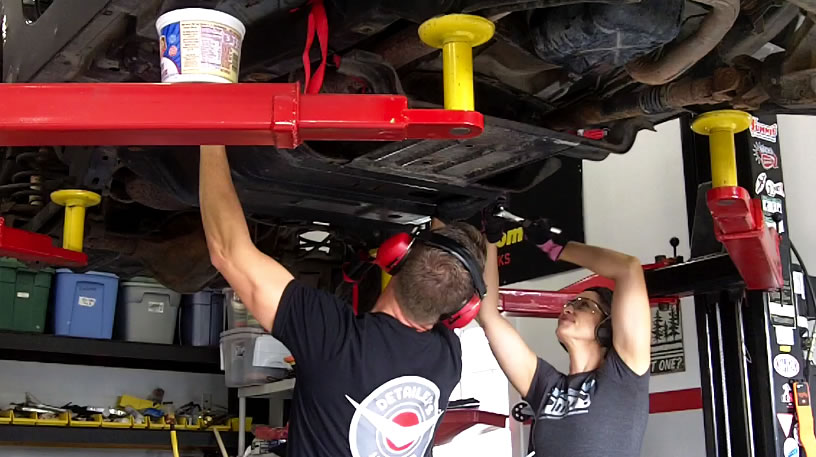 Michelle has devoted most of her adult life to being a stay-at-home mom, while also pursuing her passion for baking and cake decorating. This passion is what led to the name "Sugar High" for the Jeep. In 2014, Michelle was hit by chronic back pain which grew so severe that it seriously impacted her ability to engage in regular daily activities. She spent over a year trying to get help for the pain, to no avail. In September 2015, she had an adult stem cell procedure. With hope and prayer, the procedure was a success and Michelle eventually found relief and began to live life again. This experience gave her a whole new appreciation for her physical abilities and she decided to pursue activities that would take her out of her comfort zone. We heard about the Rebelle Rally (a grueling 7 day, 1200 mile rally for women) sometime in early 2016 from our friend Rhonda Cahill, who had already competed in the Rallye-Aicha-des-Gazelles in Morocco. Michelle put the rally on her bucket list. Throughout the year, we heard more and more about it and she began to really want to do it. After being blessed with a great teammate (Andrea Shaffer), it was a done deal and transforming our TJ into the off-road capable "Sugar High" began. The race to the rally was on. So was the transformation of my relationship with my wife.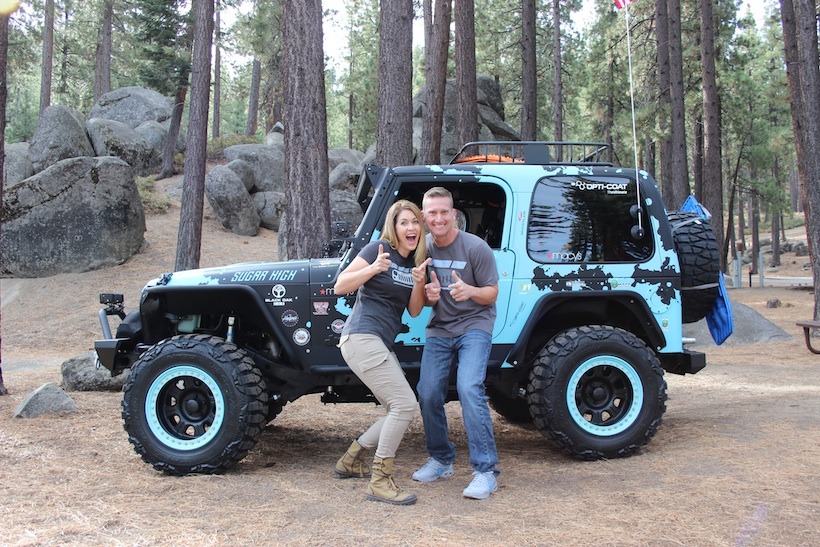 I've been a car guy for most of my life. I built my first hot rod when I was 14, and have owned and built many over the last 30 years. My latest build is a 1965 Factory Five Racing Shelby Cobra, which took 6-years. My first new vehicle was a 1990 Jeep Wrangler, and this is the third Jeep we've owned as a family. I've always loved Jeeps, but until this build, had never ventured very far into building 4×4's. Michelle's entering the Rebelle Rally gave gave me the perfect opportunity to get working on our TJ. Michelle, with her decision to live life differently; out of her comfort zone, wanted to be a part of that. We have shared many hobbies and interests over the years. The automotive hobby is something she's been interested in, but never to the point of digging in and getting her hands dirty. She soon became my able and enthusiastic partner. From the very first day of the tear down, I knew it was going to be a special project for us, and one that formed a connection that we'd both been looking for in the shop. This was a new experience for both of us, but in different ways.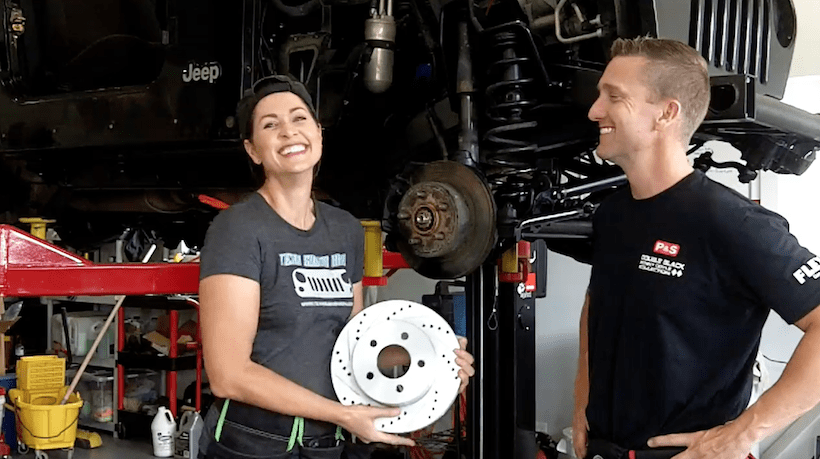 When you're used to having the shop to yourself and just barreling through a punch list, inserting a newbie into the mix takes some getting used to. That meant that the Sugar High project was not only a growth opportunity and learning experience for Michelle, but for me as well. I had to learn to instruct, then step back and let her have at it, no matter what the task was. Michelle had to overcome her own fear of "screwing up," and to trust her abilities to be able to competently perform each new task. Of course,this process went perfectly and we never had any stress or tension, right? No…but, all and all, we did pretty well and with each new task, things got easier for both of us and we found a rhythm that worked very well.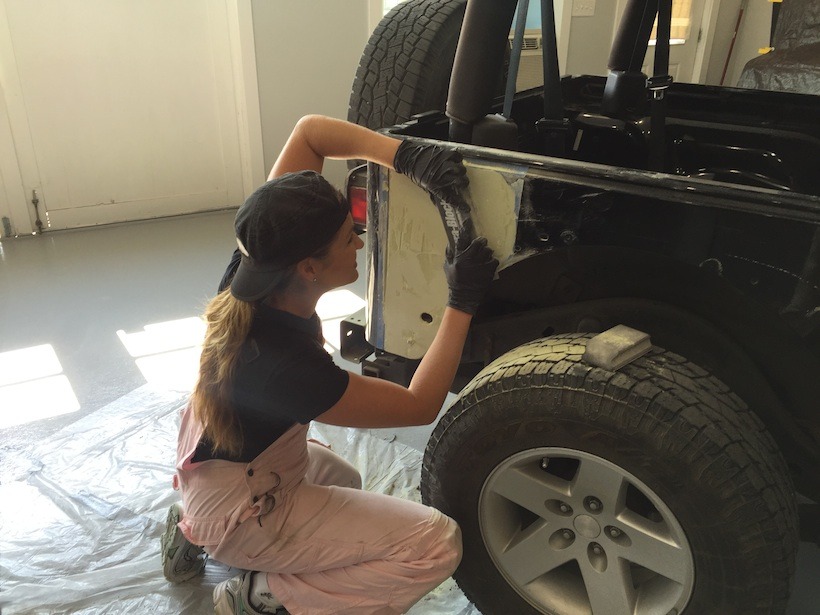 As I said, we transformed the Jeep together and she had her hands on every part of the build, so she had to learn on the fly. Here's an example: Sugar High has true bead lock wheels. There are 33 bolts to each wheel to be torqued to spec, 165 total. I showed Michelle how to do a handful of the bolts on the first wheel, then left her to finish the rest without any intervention. Because we had multiple issues with the wheels, they had to come off 2x and go on 3x, so she touched those bolts 825 times! She did this with expert precision, without a scratch and with a smile on her face. From torquing those bolts to cutting holes in the body of the Jeep. It was impressive to see her go from being afraid to use a screwdriver in the wrong way to grabbing an impact wrench attacking body bolts.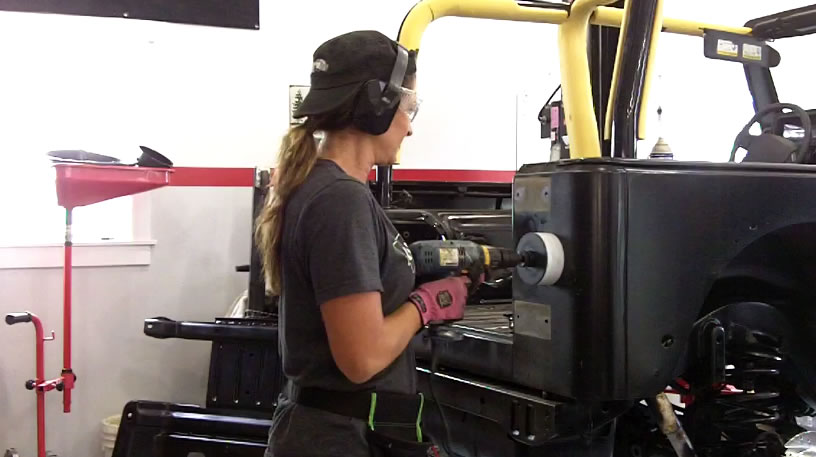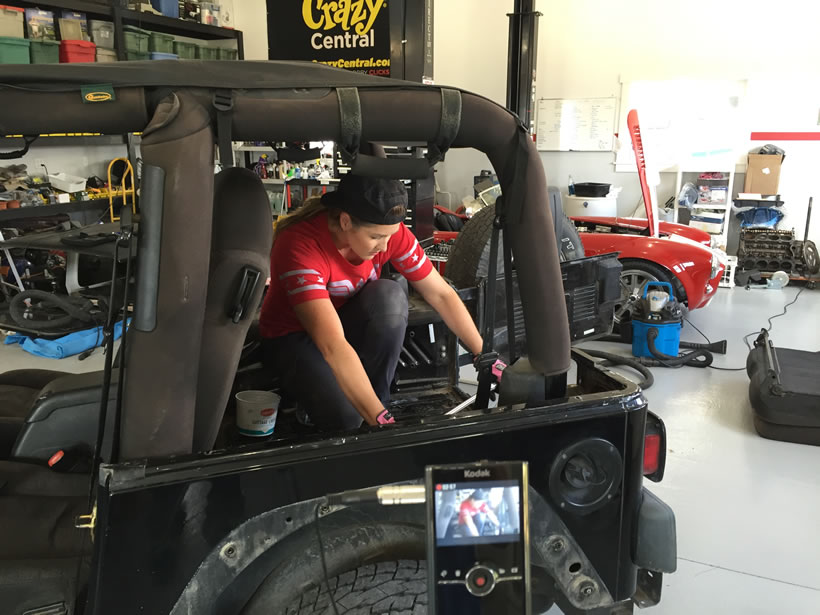 As I mentioned earlier, we were given the opportunity to put Sugar High into SEMA, which took the whole experience to a new level and added to the pressure of meeting the timeline. We were not only building a capable rally vehicle, but also a show truck. The timeframe for all of this was daunting. We had about 12 weeks to prepare for the rally, and thanks to parts delivery, we had roughly 7 weeks to build the Jeep. From the time we got back from the rally to leaving for SEMA, we had 4 days. Did I say daunting? I mean completely insane.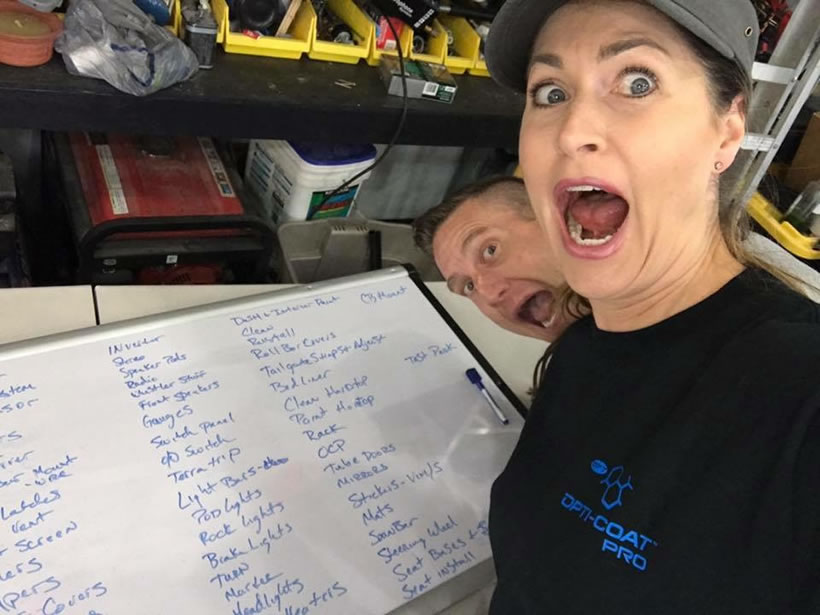 To say that Michelle stepped out of her comfort zone is an understatement. Before we started this process, she had never done any old-school navigation, had relatively limited off-road experience, had never driven in dunes, and couldn't tell you the difference between an impact wrench and a torque wrench. I was incredibly impressed both with her ability to learn and absorb information. Her drive and determination was inspiring. She attended Rod Hall Drive to learn more about off-road driving, took local classes on navigation, and took the Rebelle's online courses to educate herself as much as possible.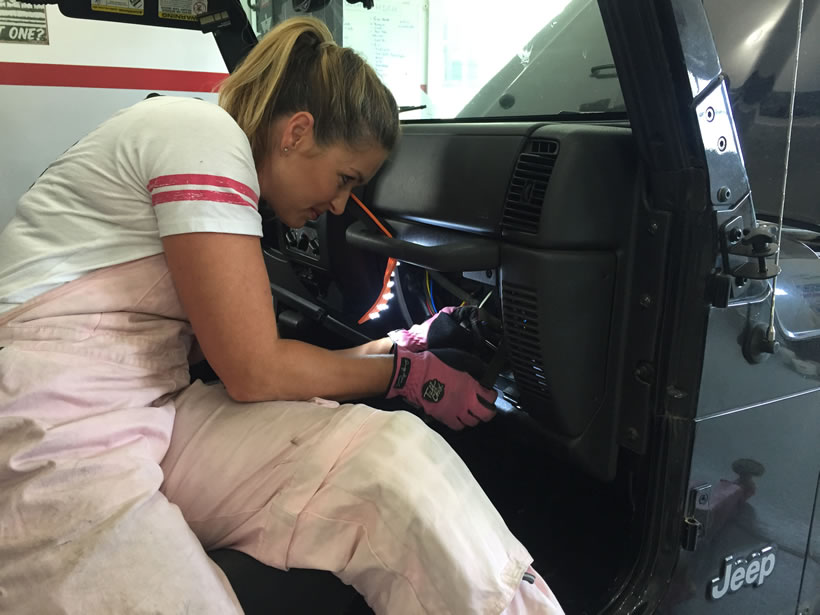 The Rebelle Rally itself was also life changing for Michelle. An early crash in the dunes threatened to end the event for the girls just as they were getting the hang of it. This crash changed the entire rally experience for Michelle and Andrea. Not only did they receive an enormous amount of support from fellow rally drivers, their positive, "never give up" attitude inspired others in the Rebelle.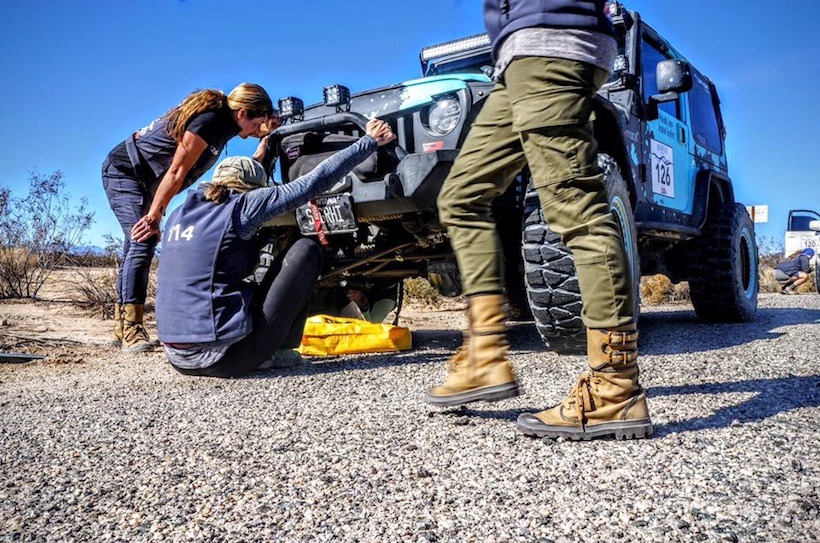 Thanks to a bent front axle, they spent some long and sleepless nights with the mechanics as they worked tirelessly to keep Sugar High on the course so the team could complete the week. Persevering through it all, they proved that if you don't give up and keep a positive attitude, anything is possible.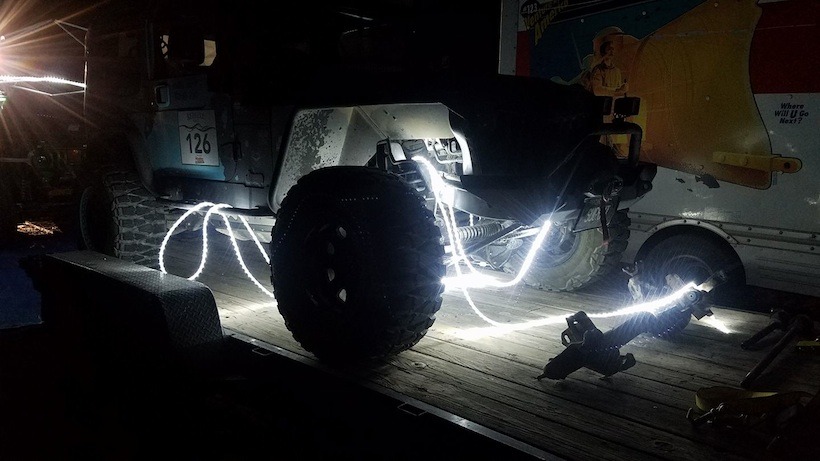 What many people probably don't realize is just how challenging the Rebelle is, not only for the participants, but for those who are on the sidelines and completely cut off from the event. I dropped Michelle off in Lake Tahoe, then traveled by motorhome down to San Diego to meet her at the finale. As a husband of 22 years, I am used to walking through life hand in hand with my bride, doing battle with its challenges together. With the Rebelle, I had no contact with her, other than watching a little square on a computer screen with "126" (their team number) on it, showing their progression along the daily course. After the accident, the event officials let me know that they were okay, but I had very little information about what had actually happened. Every time that little "126" stopped moving I worried, wondering if they were broken down (which they were at times), or if they had stopped to plot their course. As you might imagine, I had to cut down on the caffeine for fear of having a stroke! One thing I hadn't considered before Michelle began the rally, was the emotional challenge of missing out on such a significant experience in my spouse's life. For the first time in 22 years, I was not able to be a part of this very important experience for Michelle. This was probably the hardest part of the entire process for me.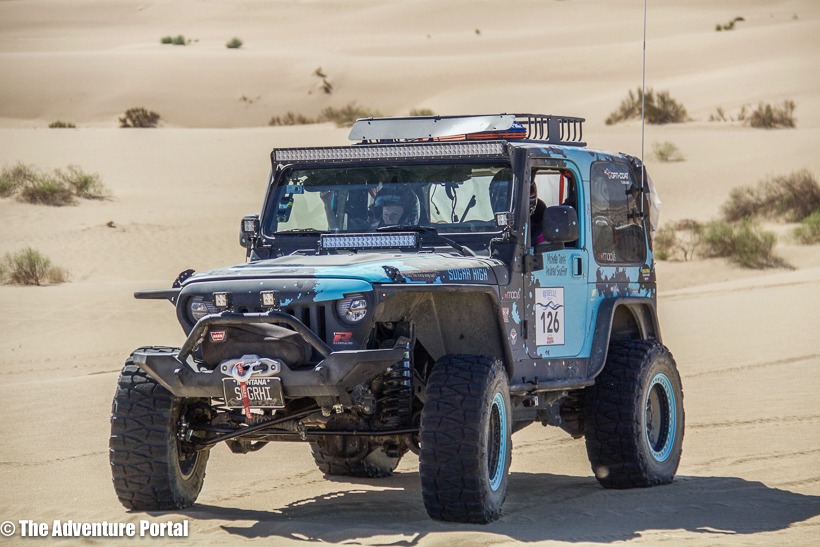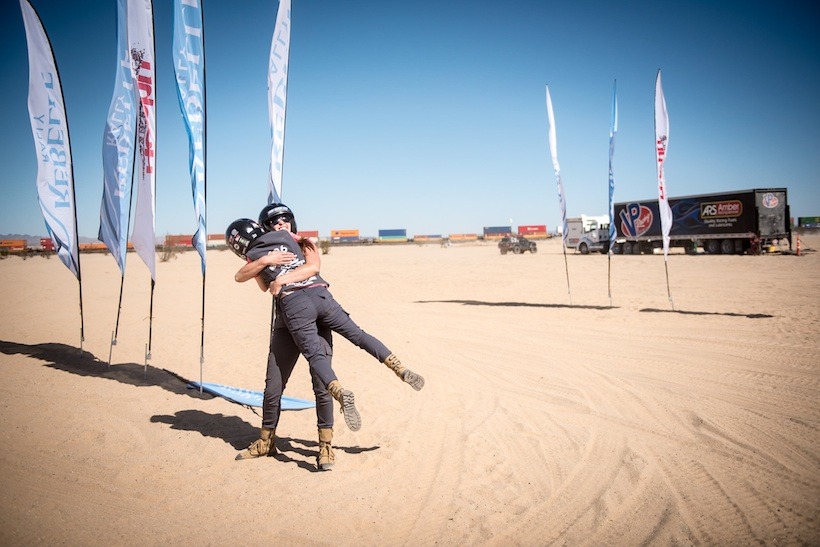 The aftermath of the rally was a bit different for us than it was for other teams. With a long drive back to Montana, we were able to discuss everything that had happened (in between 4-5 hour naps for Michelle), and digest the experience. But, the challenge wasn't over for us…SEMA was 4 days away, and we had a broken Jeep. The accident ripped the rear bumper and tire carrier off, broke the back window (which allowed 1200 miles of dust into the interior), and bent the front axle. The masterful mechanics managed to install a Dana 30 axle donated by Crawlur Offroad (Indio, CA) in place of the Dana 44, so the Jeep was drivable in 2WD to finish the rally.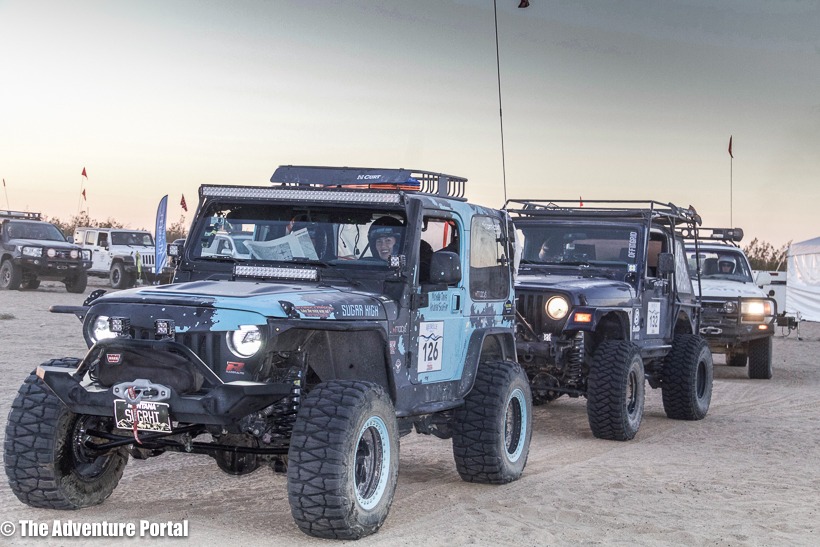 Based on a quick description of the damage during the week, I was able to have parts waiting when we got home and we quickly replaced the rear bumper and carrier, and had to rewire the interior in preparation for the booth. We weren't using the hard top, so we left it and the broken window at home. I put my professional detailing skills to work, and managed to get Sugar High spotless for SEMA. In case you're wondering, yes, we did try to get them to put it on the floor as it was, but they declined due to the type of display they wanted.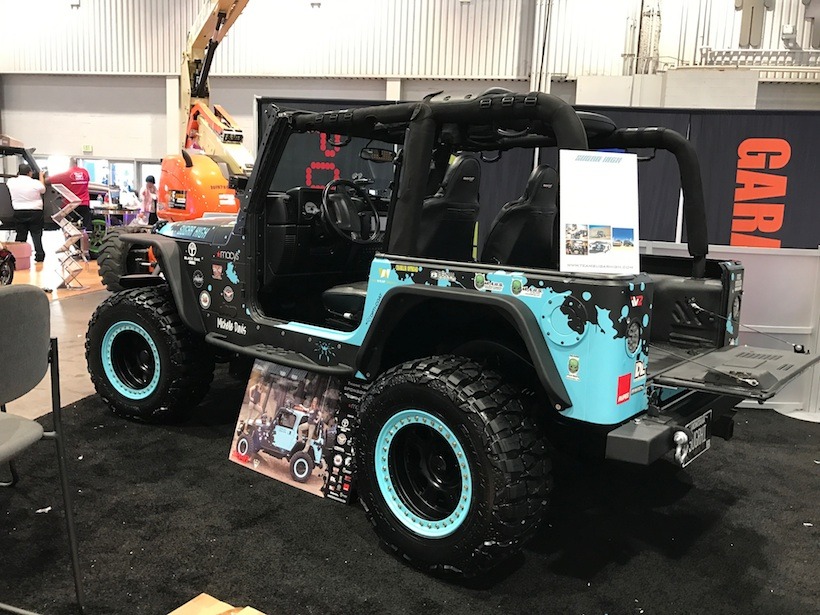 This entire experience has created a new path for us to explore as a couple. While we will continue to run our other businesses, we have added Sugar High Motorsports to the list and we are very excited about pursuing all aspects of the motorsports world; off-road, on road, and with additional builds. Michelle has been given an opportunity to participate in another SEMA build for 2017. She will be joining a group of women led by Bogi of All Girls Garage to build a '57 Chevy pickup. Michelle went from watching the show on Saturday mornings, trying to pick up some tips about auto mechanics, to actually working along side Bogi and other professionals on this very high profile project.
Michelle and I are looking forward to more dune training (she's attending the AEV/TAP Women's Only In-Field Training in Florence OR), rock crawling, and joining other Jeep enthusiasts at the 20th Annual Rubicon Trail with Jeep Jamboree USA. Being a part of the Rebelle Rally and completing Sugar High has been a life-altering experience. Through the challenges of the build, the preparation, the rally, and SEMA, we took our awesome marriage up a notch. So often, couples find themselves doing battle with each other, but for Michelle and I, this meant doing battle side by side and back to back. It's easy to spend a lifetime together and only share a moment here and there without really ever accomplishing a shared triumph. We were fortunate to share this experience, which opened up a new aspect of our relationship, not only for this project, but for many more. It doesn't really matter where you go, as long as you do it together, so don't be afraid to invite your significant other into your "shop", whatever that looks like. We have a saying on our business cards: "The Road of Life is an Adventure…Bring Someone to Help Push!" I love this ….even if I'm the one pushing and she's the one behind the wheel.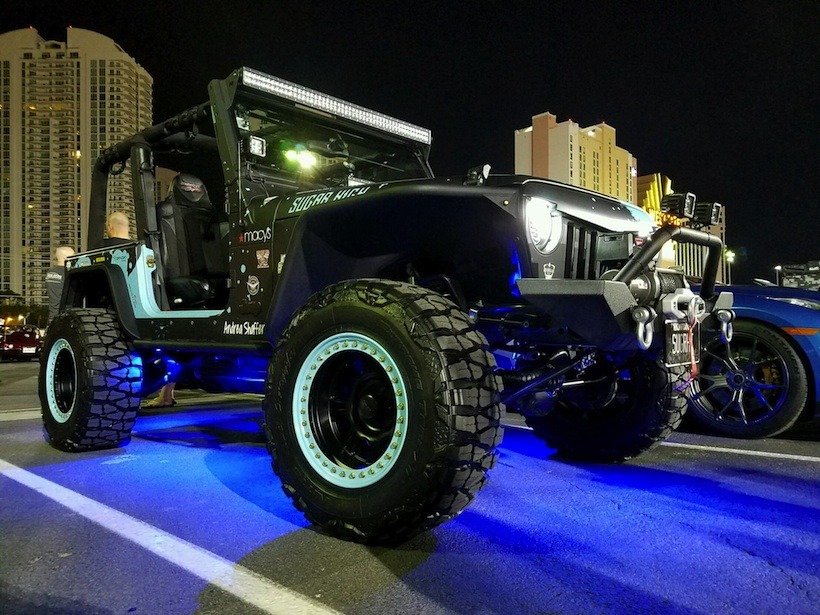 Kevin and Michelle Davis live in Montana and own The Helper Brands and Sugar High Motorsports.
Check out Sugar High Motorsports' Youtube Channel to see what they are up to and get a play by play of their TJ's transformation for the Rebelle and for SEMA
Article and photos by Kevin Davis
Edited by Lori Palmer