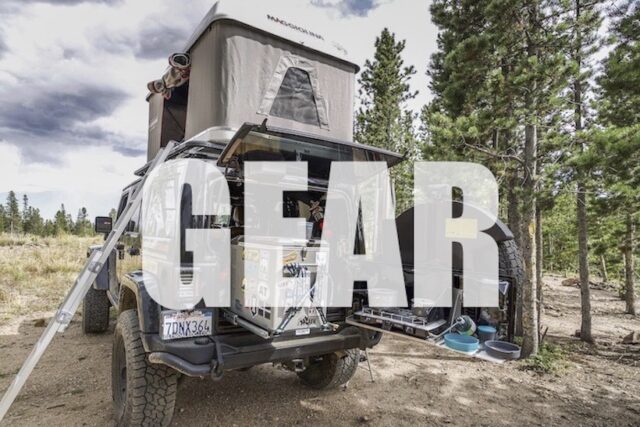 We test and review a lot of Overland Adventure Gear and every now and then something finds it's way into our personal gear and becomes a go to. Here's a few that made it last year.
Helinox Sunset Chair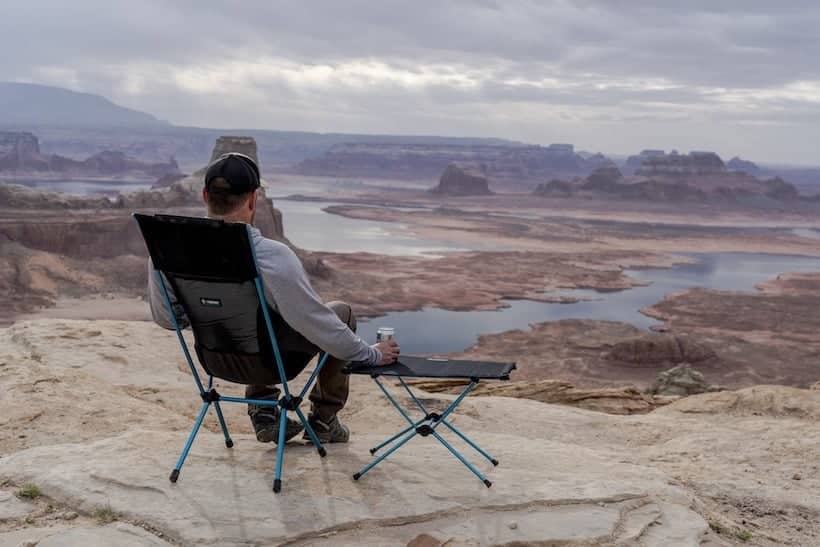 We used the Helinox Sunset Chairs on all of our content creation trips last year. They probably traveled with us over 10k miles and saw cold, wet, warm and windy conditions. They've absolutely been put through their paces and have held up to everything we've thrown at them.
Pros:
Lightweight and packs down very small (important when space is a premium and weight limits are an issue).
Comfortable and well made.
Cons:
Price.
Will blow around easily in windy conditions.
Specs:
Packed Length – 18.5″
Capacity – 320 lbs
Packed Weight – 3.04 lbs
____________________________________________________________________
iKamper RTT Sleeper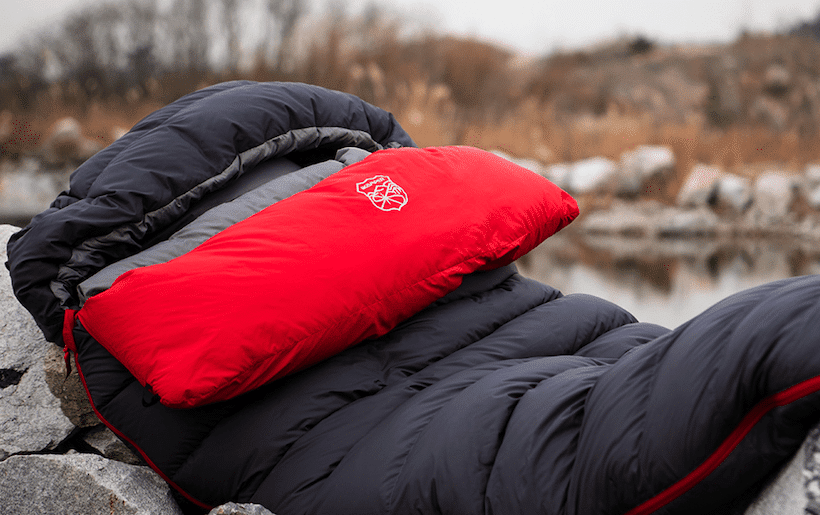 iKamper are obviously known for their RTT's and there are a lot of sleeping bag brands on the market, so I never expected to be impressed by another entry into this crowded category. Since receiving the bag in Spring of 2022, it's been my go to on many trips. I was skeptical that a non mummy style could keep me warm in the backcountry, but it truly has. Overall, i's a very well made warm and comfortable bag for those that like a little more wiggly room.
Pros:
Warmth and comfort
Relaxed and roomy fit
Padded neck warmer
Non stick pull YKK zippers
Cons:
Price
Weights makes this purely a car camping bag
Specs:
Fill – 1000g RDS Down
Shell – DWR coated 30D Ripstop Nylon
Compressed Dimensions – 10″x9″x18″
Open Dimensions – 37″ x 82″
Weight – 3.9lbs
Temp rating – Comfort 25 F
__________________________________________________________________
Pelican Air Case 1535 carry – on size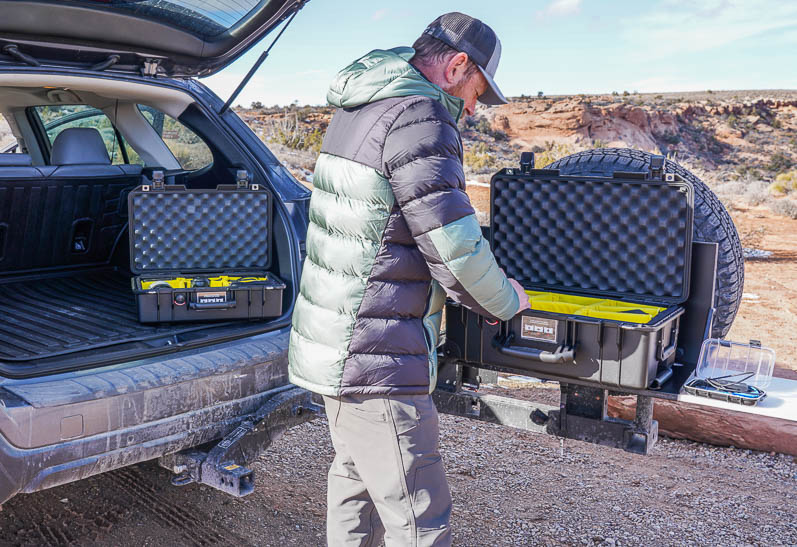 We received these Pelican Cases at the end of 2022 just in time for a week in Moab, Utah. Conditions were wet and muddy and our camera gear is very expensive, so I was stoked to be able to carry my cameras/lenses in air/water tight and very robust storage cases. We've obviously not used them for any length of time yet, but I was impressed with their quality and design and am certain they'll be utilized all this coming year.
Pros:
Dust/water tight and crushproof.
Solid and sturdy construction
Internal adjustable padded dividers
Wheeled and carry-on size
Lightweight
Lockable
Cons:
Price (camera gear is expensive, now I need expensive cases to protect it all) LOL
Highlights expensive camera equipment to potential thieves.
Specs:
Exterior Domensions – 20.39 x 11.20 x 7.21″
Weight with foam – 9.98lbs
Wheels and pull handle
Min Temp – -60F
Max Temp – 160F
Automatic pressure equalization valve
______________________________________________________________
Truma Fridge – 44L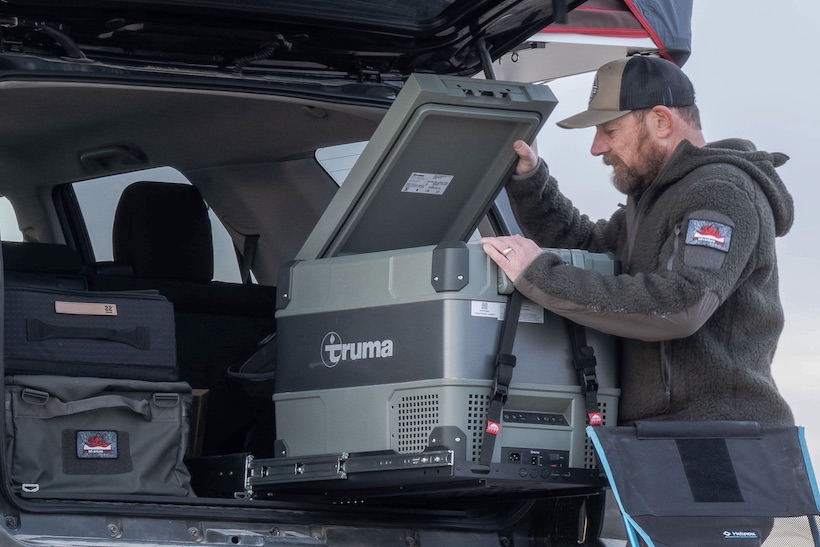 We started using the Truma 44l fridge at the beginning of 2022 and it has stayed in our 4Runner ever since. It's definitely seen some heavy action and has worked flawlessly from day one. In really cold weather camping, I often turn the fridge off over night and then forget to turn it back on when I hit the trail. That's when the Truma APP comes in, as I can turn it on/off or adjust the temp from the cab. Love this convenient feature.
Pros:
Robust construction and quality product
Perfect size for average size overlanding rig
Bluetooth APP control
Bottle opener and 3A USB port and charger
Cons:
Price at $1196
Only single zone
Specs:
Dimensions: 26″x16″x19 (L,W,H)
Weight: 53 LBS
Temp Range: -8F to 50F
Average HR amp draw 0.6
Digital display for cooler zone
Bluetooth App compatible
3A Port and Charger
LED interior light
Stepped dual compartments
Powered by 12/24 V DC compressor
______________________________________________________
MSR PocketRocket Deluxe Stove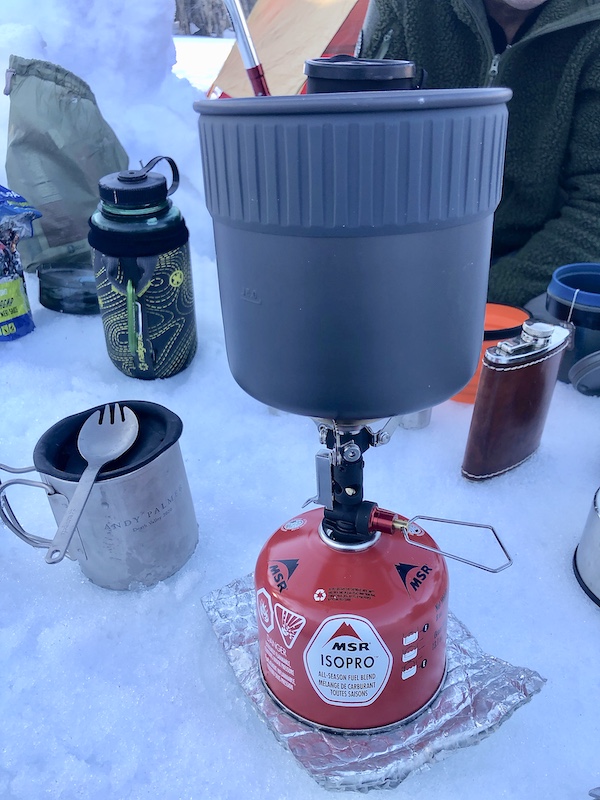 The MSR Pocket Rocket Stove first came with us on a Snoverland Trip in the High Sierra back in 2021. Since then, it's been on every trip we've taken. It's our early morning coffee making stove, when we don't want to set up our main two burner. It's also the stove we use when it's blowing a gale and we want to cook something quickly in the back of the rig. TAP can't recommend this little stove enough!
Pros:
Ultralight and small.
Easy to use push start ignition.
Boils water extremely fast even in cold weather. In our in-field test, it easily beat out it's competition.
Wind blocking burner lip.
Cons:
Only suitable for limited cooking, so is an additional stove to the main camp stove.
It's so efficient, it can easily burn food in cooking pot.
Specs:
Weight: 2.9 oz
Height: 3.3″
Boil time 1 liter 3.3 mins
Water boiled per 1 oz of fuel 2.1 litres
Burn time per 8 oz canister 60 mins
_____________________________________________________________
Planetary Design – Basecamp French Press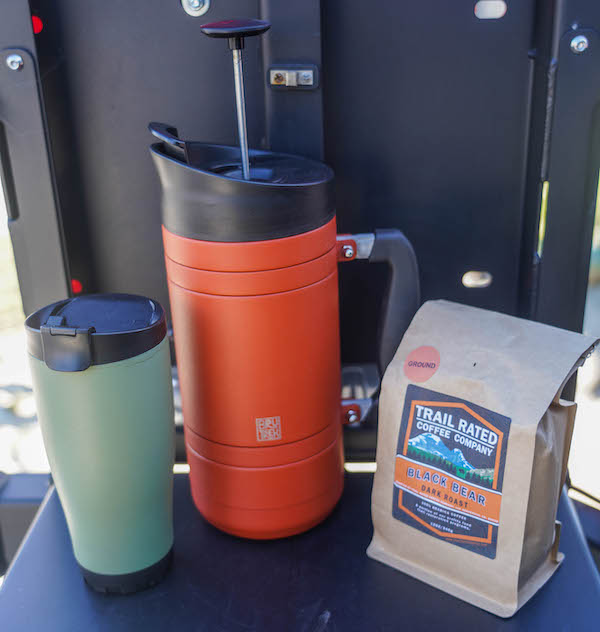 If you're anything like us, you drink a lot of coffee around camp in the mornings. We're often shooting astro shots at 2am, so a good coffee set up is essential. The Planetary Design 48oz Basecamp French Press has become our go to for outdoor brewing. Large enough to accommodate two mugs each and built to take a heavy beating on the trail.
Pros:
Robust design
32 and 48 fl oz sizes
Easy to operate and retains heat well
Great looking product
Cons:
Price at $60-70 (good coffee gear doesn't come cheap!)
Tight screw thread to lid
Can be hard to align top with spout when fully closed
Specs:
32 – 48 fl oz sizes
Spill proof spout
Leak proof lid
Double walled vacuum sealed
Rubber bottom
MSRP: $190 BUY HERE (COFFEE KIT)
_______________________________________________________
Support us! TAP may earn a small commission from some affiliate links in this article.