When you're in the backcountry as much as we are you need good gear, so I was eager to try out one of our favorite hiking shoe/boot brands – Salomon. I received them in November 2021 and have worn them almost everyday since, so have really put them through their paces in some heavy conditions. Below is a summary of my thoughts on the X Ultra 3 Wide Mid Gore-Tex hiking boot.
In -Field Conditions:
Average 15 miles of off-road hiking per week across 8 months.
Some rock scrambling and also general camping use in the desert and mountains.
Weather: Sunny and generally dry with temps ranging from 18 – 85 F degrees.
1000's of miles working the peddles of the TAP rig both on and off road.
Used with Superfeet Trailblazer in-soles (I always replace the OEM insoles of every shoe I use).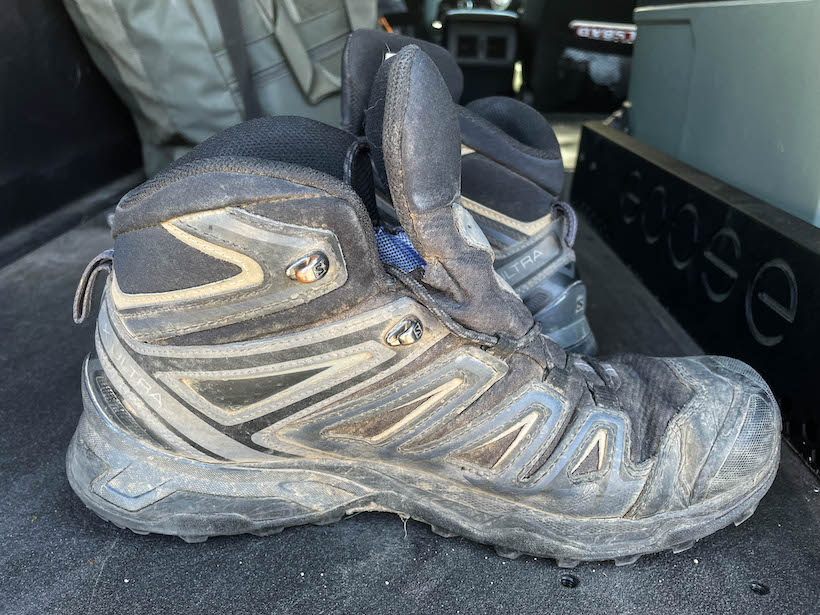 Pros:
Sizing is true (10.5 mens) and they never gave me any hot spots despite long hikes on rough terrain.
Relatively lightweight and definitely warm.
Gore-Tex worked as described (dry from inside and out).
Excellent traction on loose and uneven surfaces.
Good ankle support when rock scrambling in the desert. A confidence inspiring shoe.
After 8 solid months, both shoes are still in good condition.
Cons:
I personally love the Salomon Quicklace lacing system (Getting out of the RTT and being able to quickly lace up is a real bonus), but unfortunately these came with standard laces. IMHO I think all their shoes should come with the Quicklace system.
These shoes were not comfortable straight out of the box. They gave me slight pain across the top of my foot, however this disappeared completely, once the shoes were worn in (about a month).
Tread lugs have worn down, especially on the heel. I believe my 8 months of really hard use probably pertain to 12+ for the average consumer, so realistically this should be expected.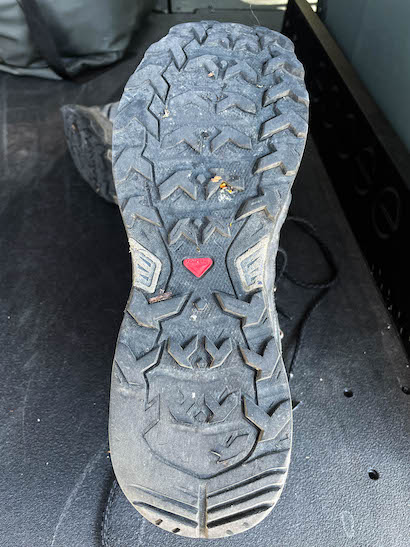 Conclusion:
I'm giving these boots a 4 out of 5 star rating and definitely recommend them. As described, they could have been more comfortable straight out of the box and also the standard lacing system, hence the drop of a star. Overall a solid, well designed and constructed hiking boot, that has stood up well to heavy use and is worth the premium cost.
Salomon description: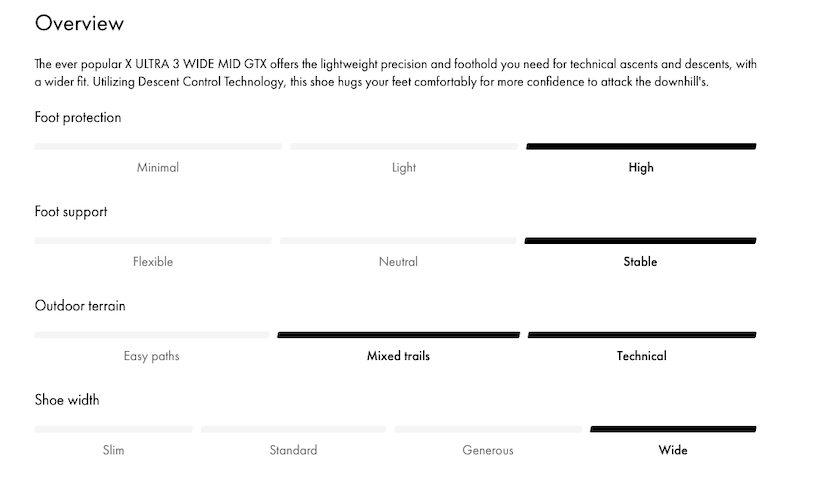 ___________________________________________________________________________