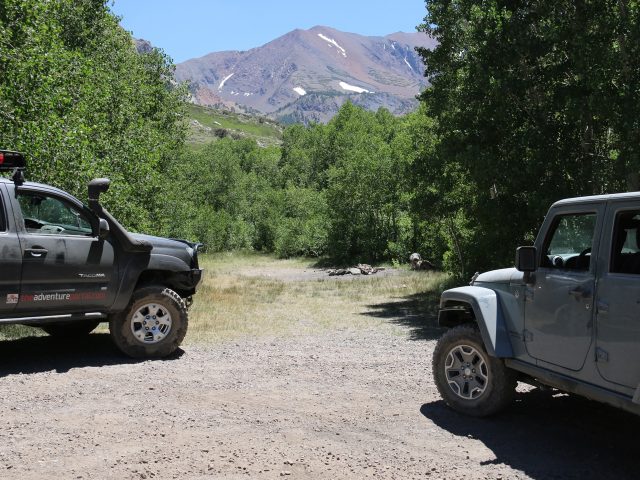 This is by no means supposed to be a technical review, more a personal opinion based on driving both vehicles on and off road over an initial 9 months. The two vehicles have similar lifts and tire sizes, front and rear bumpers, roof racks, 4×4 components etc. I also tried to write the review with an open mind without pre-determined emotions..honest!
Tacoma TRD 2010 Double Cab: "T-Norris"
Our very capable Tacoma is 4.5 years old and has 65K miles on the clock. Synthetic oil changed every 5K and all fluids regularly changed. This truck has been used but not beaten.
– Rear locker, Traction Control, Hill descent control.
– OME 2.75″ heavy-duty lift with Dakar extra leaf in rear. CS047R in rear and OME 60091 Nitrocharger rear sport shock (N182)
– Timbren Rear Suspension Enhancement System
– Tires: BF Goodrich AT 285x70Rx16
– Aluminess front bumper
– Pefreybilt rear swing out bumper
– All-Pro – Rock Guards/T-Case Skid Plate/Rock sliders
– Ricochet Heavy Duty Front Bash and Engine skid plate and Lower control arm skid plates
– Airflow America snorkel
– TJM Stealth 9000 winch, synthetic rope
– National Luna Dual Battery and Intelligent Split Charging kit with 2x PC1400/G25: Odyssey
batteries
– Tempo Tusk slide
– Engel Fridge 45L
– Yakima mega warrior rear basket and Load Warrior front basket on Yakima racks.
– Snug top Sport Topper
Jeep Wrangler Rubicon Unlimited 2014: "Rubi Loves Rocks"
The test Jeep Wrangler Rubicon is 9 months old and has 10K miles on the clock. So far only pinstripes!
– Rear locker and front sway bar disconnect.
– AEV 2.5″ Dualsport lift
– AEV Snorkel
– AEV Front and Rear bumpers
– Jeep tow hitch and electrics
– AEV Roof Rack
– AEV Fuel Caddy
– Tires: BF Goodrich MT 255x75Rx17
– Warn 9000 winch.
The Shoot-Out
(1) Performance on road:
Acceleration: From stop or low speeds the Taco is better, with the Rubi making excess engine noise and feeling under powered when trying to join the freeway. Something I was surprised with because of the new Pentastar V6 engine. Also, the Taco seems to cruise more comfortably at 80 than the Rubi.
Noise: The Rubi is significantly noisier than the Taco, especially on the freeway. Obviously a combination of overall shape and BFG MT's are the culprits. I am not saying the Taco is quiet.
Comfort: Again, the Taco wins out here, as the ride is definitely less bumpy at speed. Seats in both are similar and regarding visibility, there is no real winner.
Overall: In general, if I had to drive on a long freeway road trip I'd choose the Taco. Of course though, both are not built as commuters. If this is why you're buying a car, get a sedan.
Taco: 3 out of 5
Rubi: 2 out of 5.
(2) Performance off-road:
Traction: The Rubi has easily won this test time and time again. I've been in 4-low in the Taco with Rubi laughing in 4-high. Of course tires have something to do with this, but simply put, the Rubi just performs outstandingly off road.
Visibility: Again the Rubi wins here. The up right seating position and all round visibility is better than the Taco.
Approach angles: Again, the Rubi scores first and takes the game. She just seems built for the job. The long wheelbase of the DC Taco certainly has put me in some touchdown positions and in general makes driving off-road more difficult.
Overall: The Rubi is simply built for the job and is a joy to drive off-road. On many occasions we've looked at certain obstacles with trepidation, only to overcome them with ease. Regarding the Taco, don't get me wrong, this truck is very capable off-road and can certainly go all the places we want to go. The simple fact though, is that the Rubi does it better.
Rubi: 4 out of 5
Taco: 3 out of 5
(3) Towing a 1500lb off-road trailer:
We have towed our Turtleback Trailer fully loaded with both vehicles on and off-road. Both vehicles have handled the task in most situations. There is no real winner for freeway use. Both trucks cruise fairly easily at 70 miles per hour on the flat and both suffer with lack of power going up steep hills, especially at altitude. This is the main time I wish I had a V8, however 95% of the time I don't want a bigger rig, so it's a compromise I can handle. Off-road, again both rigs handle the trailer well. The Rubi wins out simply because she has a shorter wheelbase and better off-road traction in general.
Overall: The winner (just) is the Rubi and we always tow the Turtleback with her when we're taking two rigs on a trip.
Rubi: 4 out of 5
Taco: 3 out of 5
(4) Glamping practicality:
Obviously the Taco offers greater practicality with much more useable space due to the pick-up bed, something that's all-important when camping backcountry. The Rubi without a trailer would be too small for us on a camping mission on it's own (we're three and a dog), but with the trailer it works fine. The Taco, on the other hand, can accommodate all our "glamping" needs without using the trailer. We also tend to overpack!
Overall: The winner is the Taco.
Taco: 4 out of 5
Rubi: 3 out of 5
(5) "Nice Rig Dude"……..
Both rigs turn heads and definitely get comments all the time. However, overall the Taco wins out here. It seems to give more "wow" factor, probably because it's more unusual and truly looks like an expedition truck. People are fairly used to built-up Jeeps, however Tacomas are less commonplace.
Overall: So, apologies Jeepsters, the Taco wins on the looks and wide-eyed truck-porn lust….:)
Taco: 4 out of 5
Rubi: 3 out of 5

(6) Miscellaneous:
MPG – Taco 16, Rubi 15……don't buy either if these numbers concern you. Obviously putting on lifts, skids, bumpers, roof racks etc. don't help the environment.
Interior: Both are on par with each other in quality, although I prefer the interior look of the Rubi.
Build quality: Over 5 years, I haven't had anything major go wrong with the Taco. I've been religious about changing fluids and general maintenance. Nothing yet with the Rubi apart from one oil change.
Aftermarket components: The Jeep has a massive array of aftermarket parts. This is fantastic, but honestly a little overwhelming sometimes. The Taco has fewer parts available but so far everything we have purchased has worked well. The AEV and the OME seem excellent and perform to their specs. Only gripe on AEV is that it's expensive gear….but I suppose you get what you pay for.
Gripes: With the Taco, it's that I've had a few little niggly things go wrong after fitting aftermarket components (Alignment, Differential making noise, lights working loose. Nothing major, but still annoying!) So far with the Rubi, all aftermarket parts seem to work really well. However, I am super disappointed with the life of the tires. After 10k miles I've gone through 30-40% of tread. This is terrible!
Overall: No real winner on this one as it's too early to really compare.
Rubi: 3 out of 5
Taco: 3 out of 5
Conclusion:
I love our Taco, however I have to admit when we first bought the Rubi, I wanted to drive it all the time. I even considered selling the Taco and having a family of Jeeps instead. Now 9 months on and several trips later, the honeymoon period is over and I'm back enjoying the Taco and Jeep equally. Both are highly capable vehicles and have their own pros and cons. IMHO the Rubi wins for pure off-road experience, but for our "glamping" needs overall, the TACO takes the WIN….just! TAP Update 2015: The Rubi now has an AEV 4.5″ Dual Sport SC lift with 315 tires and is even more capable off-road. The Taco has a new stage 5 Icon Dynamics suspension system and PelfreyBilt armor front, back and belly. We'll update this review in the coming months.
TACO: 20 POINTS OUT OF 30

RUBI: 19 POINTS OUT OF 30.