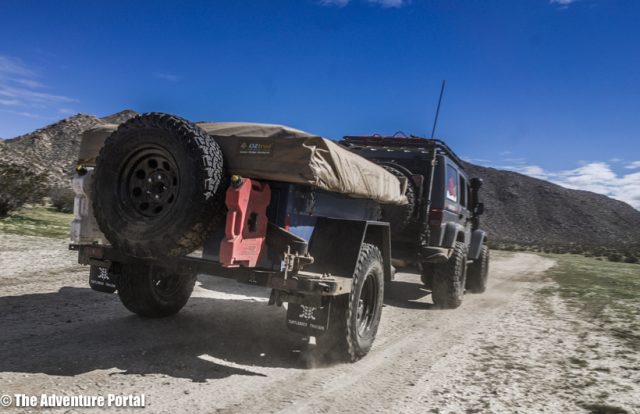 We've said it before, here at TAP we have a love hate relationship with off-road trailers. We've both owned and tested quite a few great products over the years but everything so far, always seems to fall a little short of our wants and needs. Recently, TAP was given the opportunity to give Turtleback's newest tent-trailer, The Getaway Trail, a trial run.

We took it out for a couple of days to Trona Pinnacles, CA then another few days to Anza Borrego State Park. We encountered rain, temperatures down to 28 degrees and strong winds. This camper trailer kept us dry, withstood the wind, provided ample storage with easy access and its light weight made it a breeze to tow. One important caveat to this first look, is that we didn't get an opportunity to test it on moderate to difficult terrain, something we hope to remedy shortly. This being said, this article concentrates mainly on the pure camping practicalities of the trailer, not it's potential trail prowess.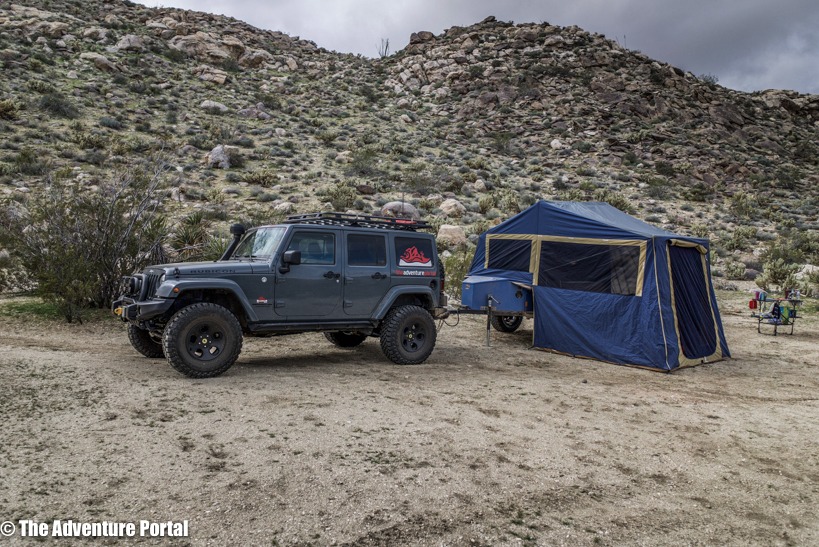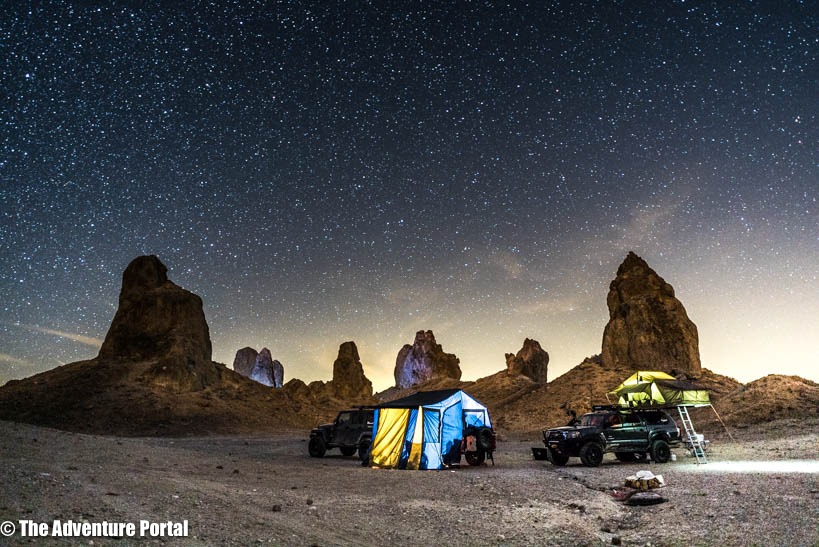 Weight: The Getaway Trail tent-trailer weighs a total of 1160 lbs. (dry weight) and can carry up to 840 lb (payload capacity). We towed it on both trips with the Rubicon without any difficulty and on the freeway it's easy to forget it's there. On the trails we took it on, it felt light and was easy to maneuver.
Trail Rated: Turtleback has rated this trailer capable of going on difficult off-road trails. This makes sense as it has the same chassis as the Turtleback Expedition, which we have previously tested on difficult rock garden terrain in the Sierra and Death Valley, without incident or damage.
Chassis: It's got a 14 gauge 2×3 formed steel box frame, hot dipped zinc coated for rust inhibition, a bedliner that's, powder coated for added protection. The Getaway Trail has got 2000 lb U.S. made UCF Flexride Rubber Torsion axles. There are forward and aft receiver hitches, and recovery points on all 4 corners; again, solid and lightweight.
Storage: This is when we experience the love side of using trailers. Here at TAP we carry a lot of camera gear and always have large and small products to review. Even with two rigs, we often feel very loaded up. Our carrying requirements probably match a Family of 4, so the extra storage space of a trailer is a huge advantage when going on an adventure with more than two people. The Getaway Trail's trailer storage capacity is 50.25 cubic feet or 1423 cubic liters. As previously mentioned, it's got a payload capacity of 840lb. Its lid utilizes heavy-duty gas struts, which makes opening the storage box door a breeze, even with the additional weight of the tent. One negative point though on the struts, is that closing the lid was more difficult than desired. In addition to being able to obtain gear by lifting the lid, you can also access the storage box with the tent fully open from under the bed (see pictures below). This is a clever addition. Finally, the third access point is through the tailgate door.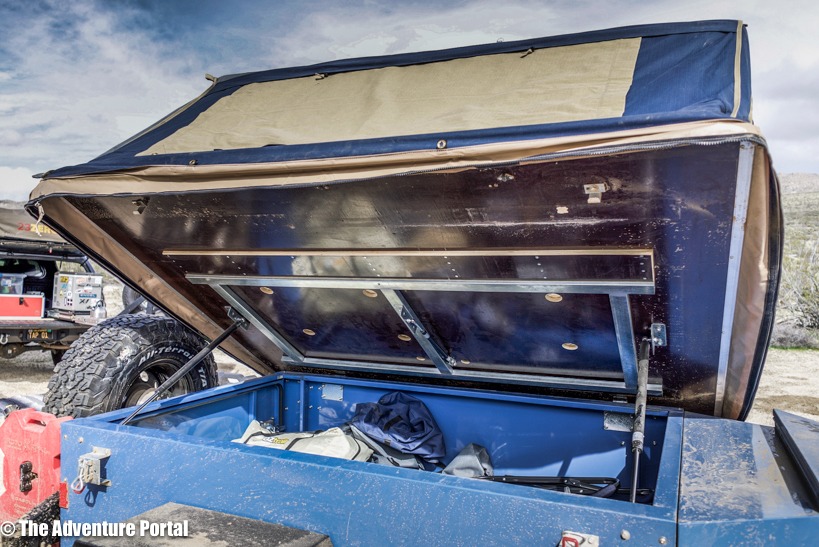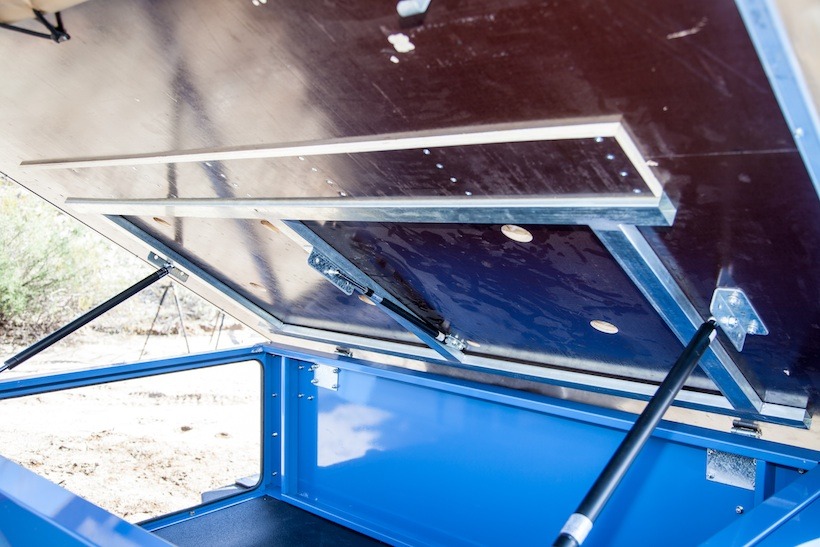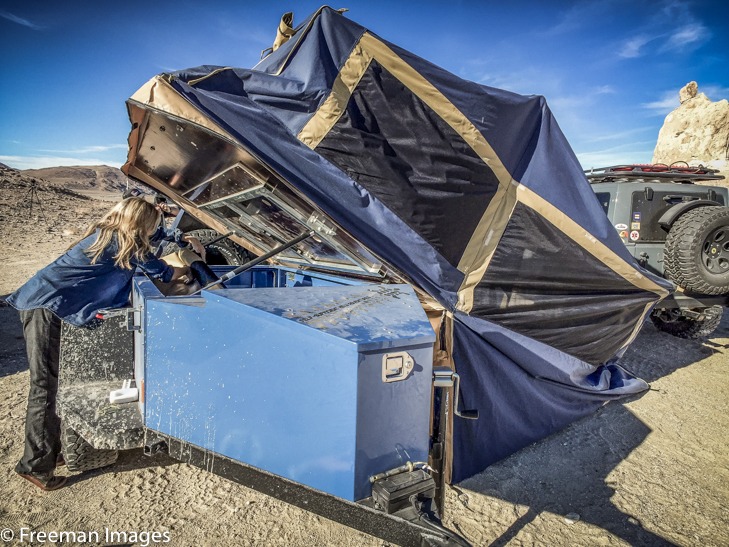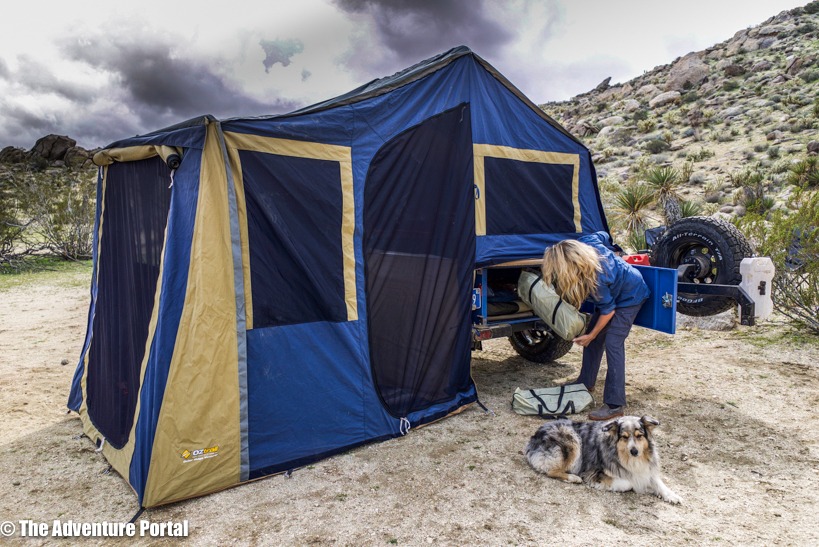 Included Options: The trailer nose-box became our place to put everything small that we didn't want to lose. Perhaps not really it's main purpose, but hey. It is also lockable. Of course its main purpose is to house the shore battery and power system. As photographers we used the USB system constantly throughout our two trips as an additional means of powering our cameras/drone/POV devices.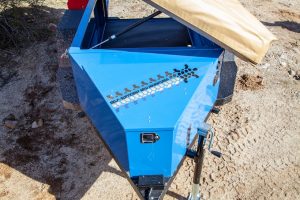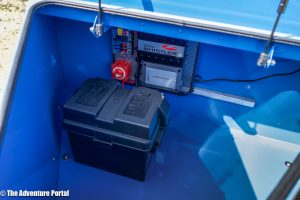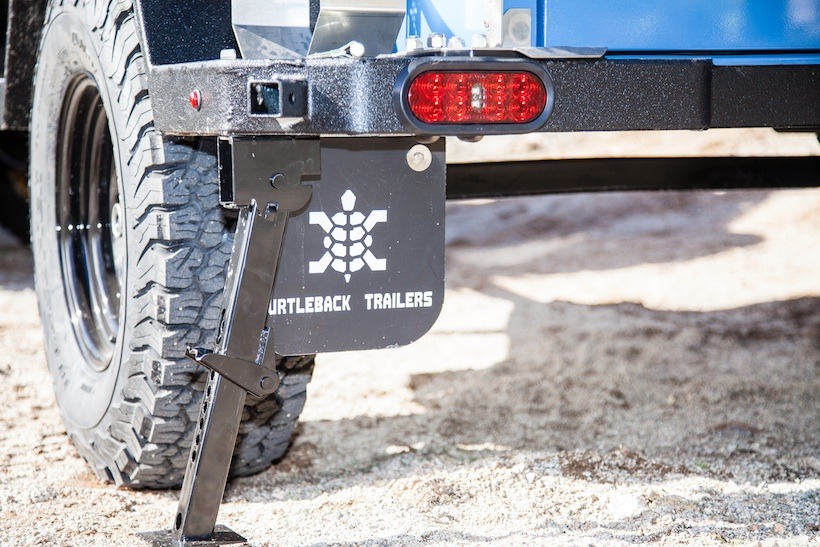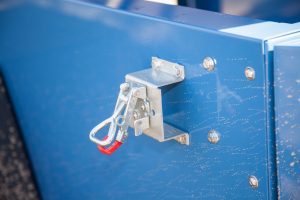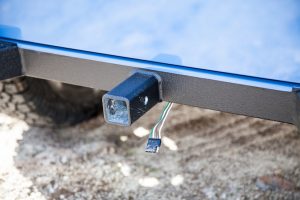 Tent set up speed, size: The tent that comes with the Getaway Trail camper/trailer is an Oztrail Outer Ridge Venturer. The main tent is remarkably easy to set up. Pull up on the sides and it unfolds, then adjust two inner support bars and it's up. Peg it down outside and you are done. It's got a raised double bed with a two-inch foam, covered mattress that as previously stated, can lift for additional access to the trailer box. The "room" is large enough to sleep an additional 2 people comfortably on cots. Literature quotes an additional 4 people, which although possible, in our opinion would be a tight squeeze. This is perhaps when the annex would be used. For us, it was a perfect place for BlueDog, our duffels, a Buddy Heater and a Restop Porta Potty with ample space to spare.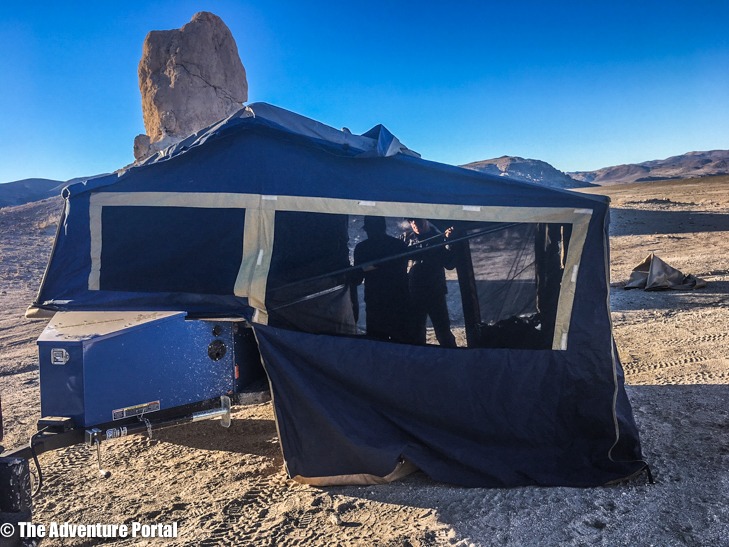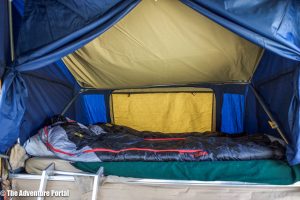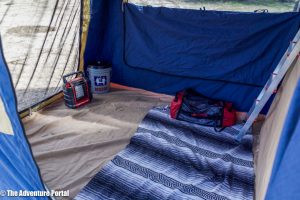 Quality of tent: The trailers Oztrail Outer Ridge Venturer is made of heavy duty, waterproof canvas: SatProof™ 600+ Ripstop Canvas walls and SatProof™ 800+ silver impregnated canvas roof for waterproofing (this creaked annoyingly in the wind, although didn't stop us sleeping), anti-mold and UV protection. It has an Insulcell triple layer insulated roof for weatherproofing and a rolled edge design to protect from driving rain. It's also got a PVC floor. Because of the insulation, this tent holds heat well, far better than any RTT's we've used. While in Trona the temp dropped to 28 degrees, so we took shelter inside with our little buddy heater later in the evening. The tent heated up quickly and stayed warm even when the heater was turned off. In Anza Borrego it rained heavily with probably 20-30 mph winds. The inside of the tent remained dry and the structure withstood the wind without issue. Finally, the Outer Ridge Venturer tent has two windoors that are DuoDoor, meaning that you can open canvas and mesh doors independently but operate a single zip to get in or out. It also has windows on all other panels, giving excellent ventilation and protection from insects.
The dimensions of the tent are:
Floor area: 6.9 ft x 13.5 ft
Head height: 8.5 ft
Mattress size: 6.5 ft x 5ft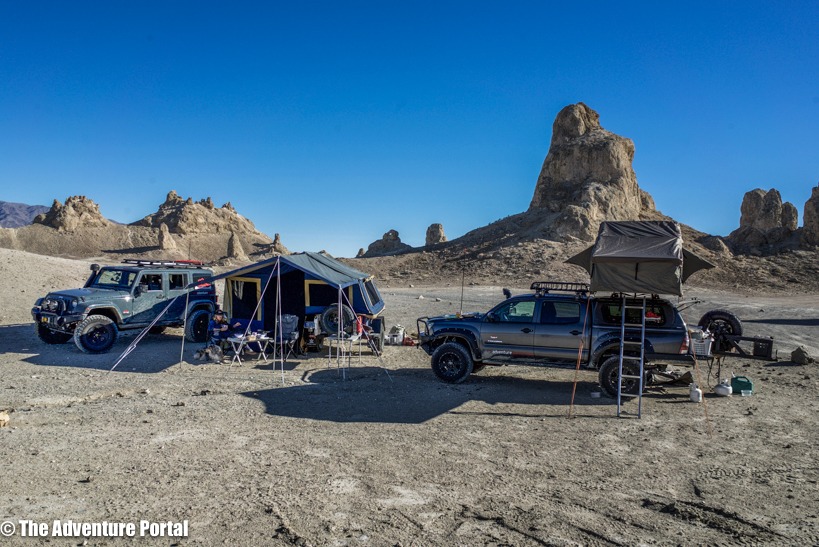 Annex or Sunroom: Frankly, we personally wouldn't use the annex/sunroom and didn't like it. The pole structure reminded us of large family tents of 20 years ago and was difficult to erect, even for the two of us (This was completely opposite for the main tent).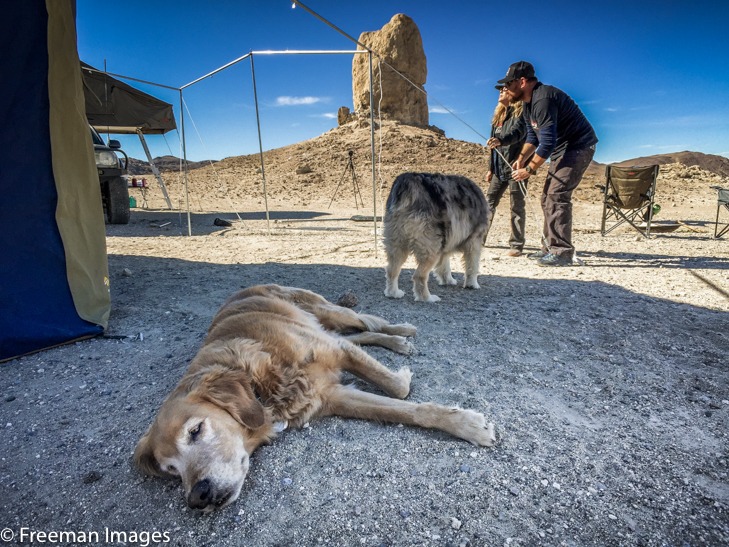 After 30 minutes + we did finally put the annex up without the sides and floor and it made for a great shaded area to eat and relax out of the sun. With walls and annex floor in place (area is 7.8 ft x 11 ft) it would make a good extra room, if you were traveling with a good-sized family or perhaps for a hunter with lots of gear. For us, it was simply too heavy and cumbersome, and our style of camping is to move on daily.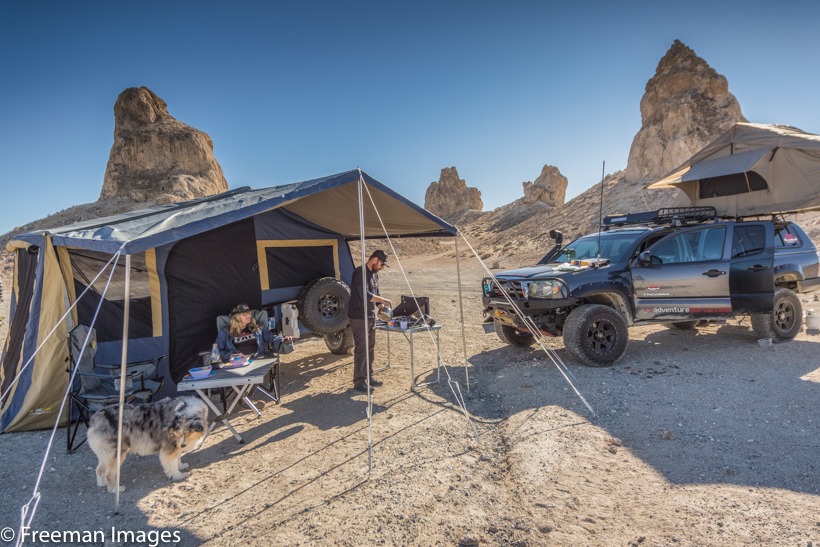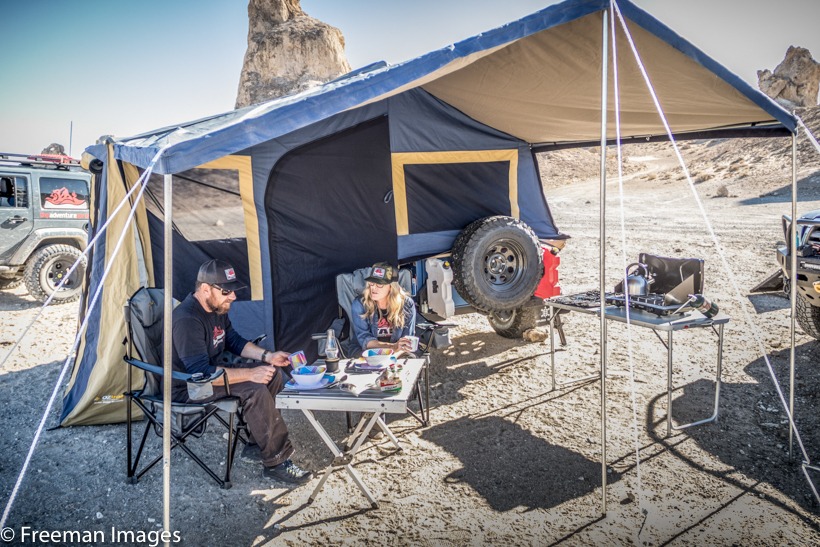 The Getaway Trail Specs:
Towing
7 way round trailer plug
GVWR
2000lb US made UCF Flexiride axle
Dry Weight
1160
Payload Capacity
840
Storage Capacity
50.25 cubic ft.
Storage Box Door
Aluminum rear door
Tires and Wheels
16″ Steel Wheels, 265/75-R16 BFG KO2 Tires
All Included Options
Nose Box, Tailgate, Electrical/Battery, Propane tank and brackets
OZtrail Outer Ridge Venturer, sunroom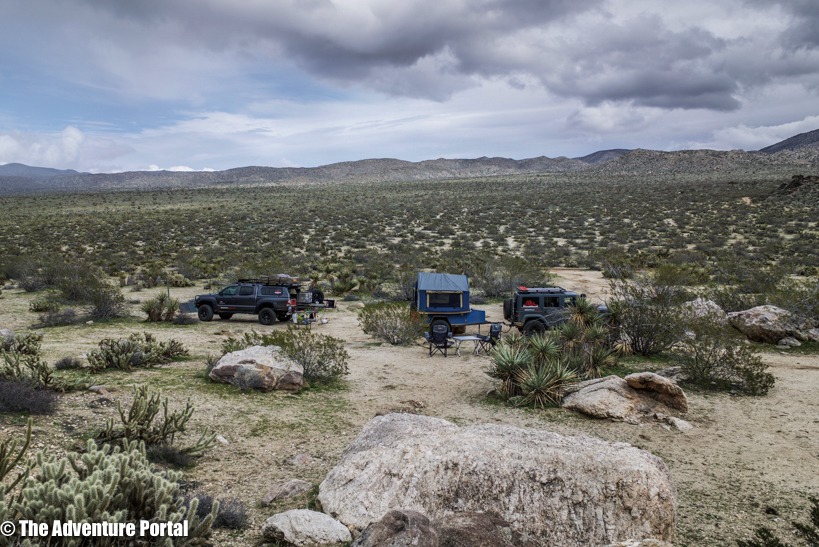 First-Look Conclusions: The Getaway Trail is lightweight and easy to tow and maneuver on and off road. It appears very solid and well built on a proven chassis. However, as previously stated, we didn't test it on difficult terrain ourselves, so are reluctant at this stage to comment further on this. Hopefully we will get a chance to give further input. The main tent system is excellent and setting up camp was easy and fast. We love the ability to have an extra room while still maintaining a low profile trailer. Overall, we were impressed and would highly recommend the Getaway for people who want a very practical, lightweight and solid off-road ready trailer that is extremely easy to set up. With standard features, its well equipped and moderately priced at $12,995.00 Check it out at turtlebacktrailers.com. For rental information go to: turtlebackrentals.com
The release date of the Getaway Trail is Wednesday February 22, 2017.
For additional specs for the Outer Ridge Venturer Tent, click here.
Social Media Links:
FB- Turtleback Trailers
Instagram- turtlebacktrail
Twitter- @turtlebacktrail
Written by: Andy and Lori Palmer, Co-Founders TAP
Photos: TAP, Bill Freeman Photography, Travis Buchmann
Video: Travis Buchmann