This is an initial look at the Primus Tupike stove after having tested it for 4 days in Death Valley this month. Right out of the box this is a beautiful piece of gear and in some ways it almost seems too nice to beat up on the trail. Our initial impression is that this two burner camp stove has a great design aesthetic and is solidly built, giving the impression it will last. Obviously time will tell and we'll give a longer term (6 month) update in 2021. In general, a camp stove will last us approximately a year before failure, so we have high hopes for this one.
Pros:
Light weight and slim build
Burners are powerful and heat up liquid and food quickly
Solidly built and great design aesthetic
Built in ignition
Easy to clean design
Doesn't rattle
Cons:
Side wind screens need to be bigger for windy conditions
Price
A this price it should come with carrying case as standard
Cooks fast and hot, so food has to be watched (notable, but not necessarily a con)
FEATURES
Dual burners allow you to cook multiple pots at different temperatures
Piezo ignition, no lighter required
The lid and side windscreens ensure steady heat for cooking, even in windy conditions
A stainless-steel body, oak laths and brass details provide extra strength and ages beautifully
Designed to be carried, the wood-trimmed handle locks the stove closed
Removable pot support and drip tray for easy cleaning
Included non-stick griddle plate grills, toasts, melts cheese, and is easy to clean
Invented in Sweden, made in Europe
Gas NOT included
SPECS
weight: 9.5lb | dimensions: 18.7" x 11.6" x 3.2" | output: 10,200 BTU; 3000W (x2) | feeds: 1-10
DESCRIPTION
This elegant Swedish design-inspired, 2 burner stove is the choice of aspiring chefs who enjoy practicing their trade in the great outdoors. This gas stove has the capacity to cook five-star meals, but is light and compact to easily take anywhere.
The foldable legs provide valuable additional table space while cooking, or opt for the lower ultra-stable option. Easily fire up either burner with the push button Piezo igniter. Each burner runs independently, allowing outdoor chefs to cook multiple pots at a wide range of temperatures, keeping the sauce slowly simmering and the water at a rolling boil from the 10,200 BTU (3000W) flame.In windy conditions, the lid and side windscreens ensure steady cooking.
The sleek stainless steel body, die-cast aluminum sides, oak laths and brass details upgrade the look of any campsite, and will hold up to many years of use. The internal pot supports and drip tray are removable for easy cleaning. When storing, simply lock closed – this slim-profile stove can be stashed almost anywhere.
Comes with a non-stick griddle plate that grills, toasts, melts cheese, then can easily be cleaned.
Also available, the Primus Tupike Stove Kit with a custom carry case that holds the stove, the gas, and all the accessories needed to prepare a gourmet meal.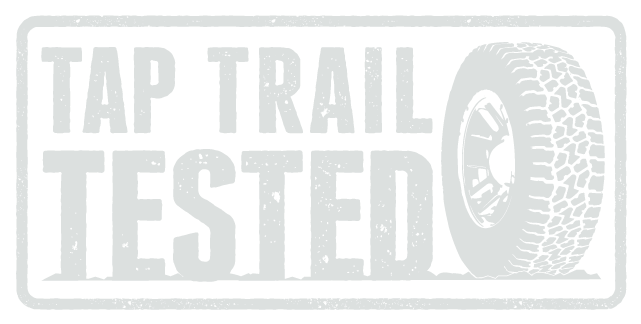 For other TAP Trail Tested reviews check HERE
_________________________________________________________________