Veteran four-wheelers and other outdoors enthusiasts know that the weather can change in an instant. You may leave your home in shorts and a t-shirt, but three hours later find yourself in need of a parka, long johns and pack boots.
You can't fight the weather, but you can manage it – that is, account for it – through proper planning. Sadly, too many outdoors enthusiasts rely solely on the forecast from their television. That doesn't provide the detailed information you need for your trip. That's what we'll cover here. You need to dig deeper to find comprehensive and useful weather forecasts.
Finding accurate weather forecasts for your destination
The problem with most offline and online weather forecasting is that it is limited to cities and other population centers. Let's say you want to know what the forecast will be at your campsite near Needles, Calif. You haven't decided whether to leave in a few days or wait a month two. Either way, you'd like some forecast data. What do you do?
Like many people, I start with www.weather.com (from the menu on top select Weather; and then local; enter a city) Once your city's weather comes up, you can click Weekend or 10 Day for a current trip. (I like to save the 10 Day link in my favorites file folder along with several other cities that might be representative of the weather along the route.)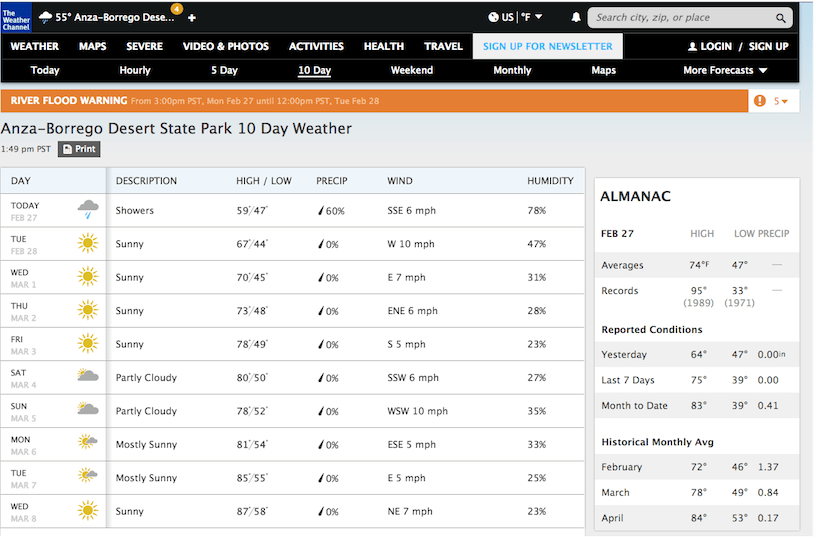 But what we are really after is long range intelligence using historical data. Click "Monthly" along the left side. The chart on the next page provides forecasted highs and lows for the current 10 days, along with historical data for the remainder of the month.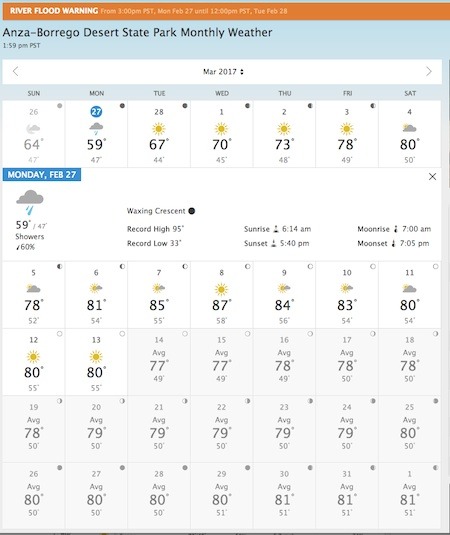 Clicking on the "Averages" button brings up a graphic representation of the highs and lows for that area for the entire year.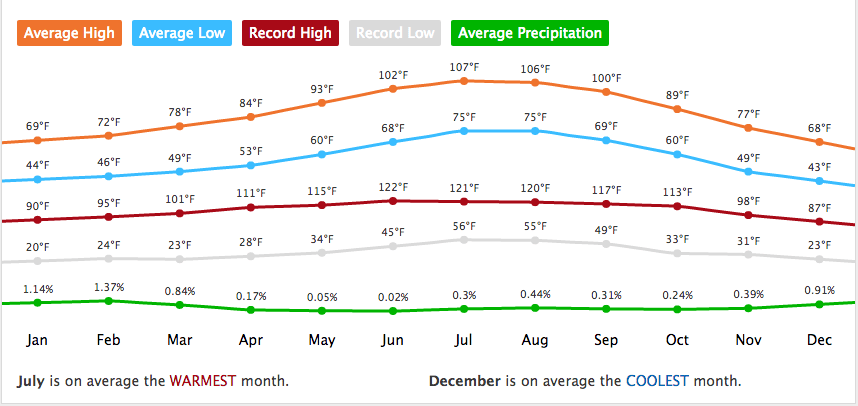 If you want historical averages for future months, select "Daily Averages" from the drop down menu just above and left of the annual chart of highs and lows, then select the month you want in the blue banner.
This general information is fine, but I want precise information on what the weather is going to be like exactly where I am camping. I now turn to www.weather.gov. This is the National Weather Service's weather forecasting service. The really cool part about this site is that it gives you "Point" weather forecasts; that is, the forecasts for a specific area, that take into consideration the elevation at that location.
At www.weather.gov, click on the "Local" on the drop down menu under Forecasts. Here is where it gets a little challenging. The next page lists the National Weather Service's offices. You need to know which one is closest to your destination. If you're not sure, scroll down to the map. For this example click on CA, then zoom in or out to find the nearest city (Borrego Springs).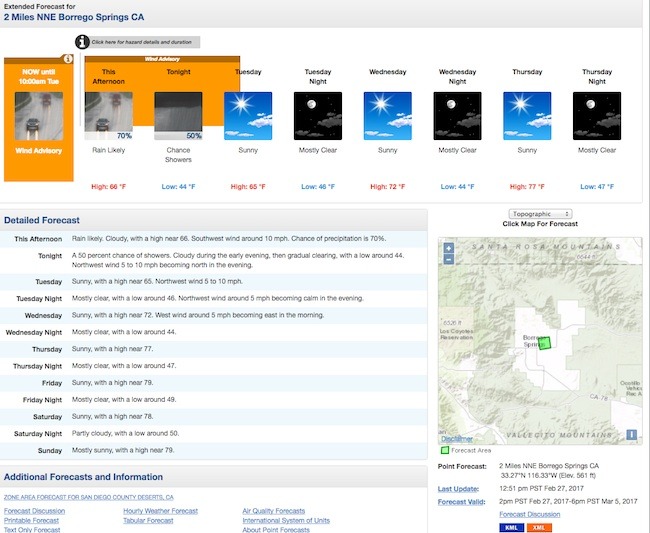 Here is where you get the point forecasts. The green square represents the target area of the forecast. (See how specific it is?). Scroll down this page to the Additional Forecasts & Information section and the Additional Resources section. You will see a whole host of information for that area for the coming week.
Now, click on another spot on the map. The forecast area moves to that spot. Another cool thing here is that if you look under the map, to where it says Point Forecast, you'll see that the latitudinal, longitudinal figures and the elevation are given. If you know the coordinates for your camping area, type those in the URL. (You need to covert to decimal format, however.) Now you'll see the temperature forecast for your precise destination. How cool is that? (example of what the URL bar will look like: [ https://forecast.weather.gov/MapClick.php?lon=-116.55717998046875&lat=33.269499999999994#.WLStGyMrJPM]
The down side to the point forecast is you can only get a 7 day forecast. You need to look at it just a few days prior to your trip.
Stay in Touch with the Weather on the Road
Officially known as NWR (for NOAA Weather Radio All Hazards), this nationwide system broadcasts Weather Service alerts, forecasts, and hazards 24 hours a day, 7 days a week.
According to their website, NWR employs 1000 transmitters covering all 50 states, adjacent coastal waters, U.S. territories, and other areas. Click here for the transmitters in the state you are interested in. You might find it useful to print out the list of repeaters to take on the trip. NWR uses seven VHF channels for these broadcasts: 162.400, 162.425, 162.450, 162.475, 162.500, 162.525 and 162.550 MHz. Output power varies among the stations. That, along with terrain, affects reception.
Even though NOAA has all those channels to work with, you won't find all available in a given area. In fact, a remote area may be served by only one transmitter. Program the frequencies used in your area, and let the radio pickup whichever signals it can.
Gear you need for weather and temperature forecasts
A radio that receives National Weather Service weather broadcasts is a must when you're going off road.
FRS/GMRS and CB radios often come with one or more Weather Service frequencies built in. Ham radio operators can program their VHF rigs accordingly. Due to their external antennas, the CB & ham radios have an advantage in receiving one of the weather stations in remote areas. (Hams note: you need only memorize one frequency – 162.400 – if your radio is not programed. Each of the other stations are only 25 MHz higher.) If there's a major storm coming through, a Weather Service radio will tip you off.
You can find apps for this service that work on iphones, Droids, and tablets. Those are fine, as long as the area has cell or internet coverage.
Never take the weather for granted. Always get forecasts for the precise area(s) you will be visiting, and pack a radio equipped with NOAA weather channels. Make it a habit to tune in NOAA weather radio every day in the outdoors. That second step, especially, could be a life saver.
"Whether the weather be fine, whether the weather be not, whether the weather be cold, whether the weather be hot, we'll weather the weather, whatever the weather, whether we like it or not"
Unknown
I hope to see you on the trails!
Article by: Tom Severin, President of Badlands Off Road Adventures, Inc. Tom provides an array of 4-Wheel Drive training classes as well as leading 3-4 day adventures . Tom is an International 4-Wheel Drive Trainers Association© certified professional 4WD Trainer and a Wilderness First Responder (WFR). He is an instructor for the United Four Wheel Drive Associations (UFWDA) and the California Association of 4WD Clubs. Check out his trainings and adventures at 4x4training.com