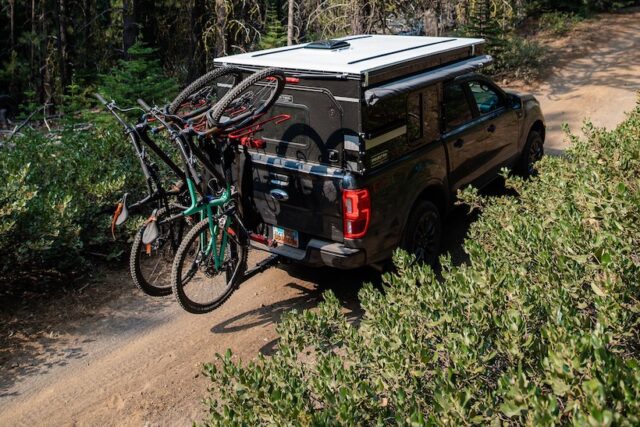 My partner Chris and I, along with our friends Kari and Chase, headed out on a 10 day mountain bike road trip through the Pacific Northwest. Our very first adventure in our new Project M Four Wheel Camper! The grand plan you might ask?…starting in Salt Lake, then making our way to Bend, and then through Hood River, Sandy Ridge, Portland, Bellingham, Leavenworth, Boise, and back home. Cruising our way from one rad mountain biking town to the next in our camper and we couldn't be more stoked. We got the off-road camper installed about a month and a half ago, so with this being our first big trip in it, I must say it did not disappoint!!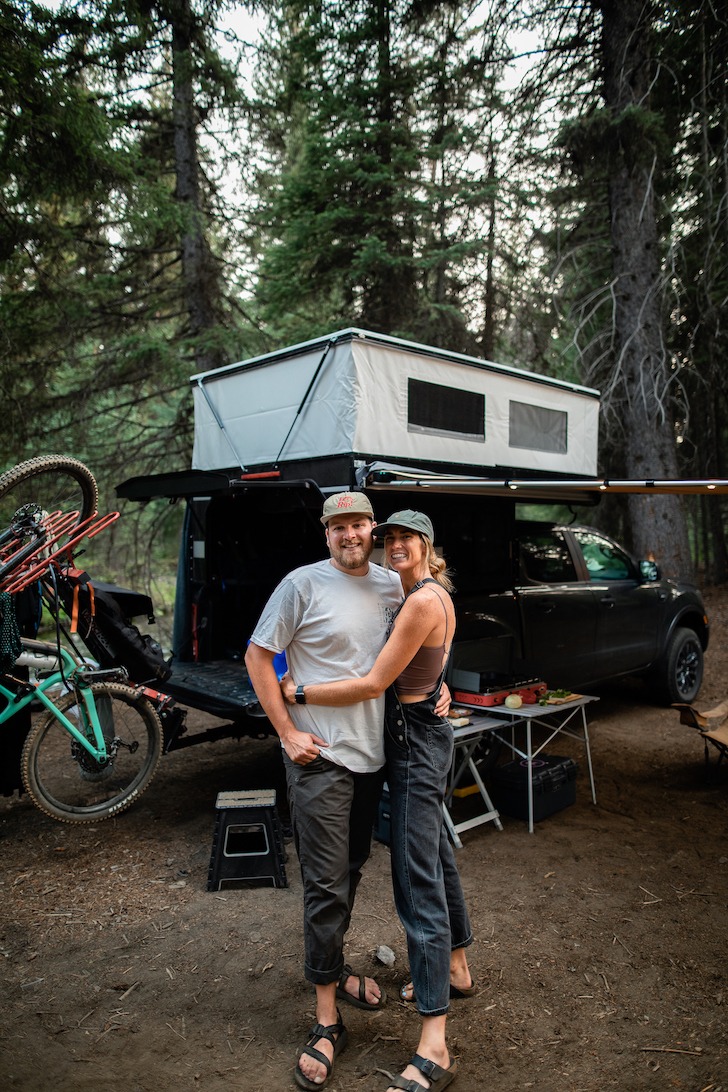 Out first stop, Bend, Oregon. Our friend sent us coordinates of a cool campsite right by the river, and when we drove up we were stoked to say the least! It was so nice being right on the river so that we could take morning and evening dips(even though it was freezing cold)… so more of a polar plunge or an ice bath you could say. It was the perfect little spot for us though, we cooked up some yummy veggie tacos on the grill and set up camp.
Before we dive deep into this adventure, I first need to explain to y'all how nice it was having the Project M on this trip because it was a GAME CHANGER to say the least. It made traveling through the Pacific Northwest so comfortable and easy. The pop up tent itself was a breeze, it sets up in a matter of seconds, no joke. We also loved the locking back door so that we could put our gear in the bed of the truck and not have to stress about it. And of course, can't forget about the queen size bed because it was a dream and we got the best nights sleep!!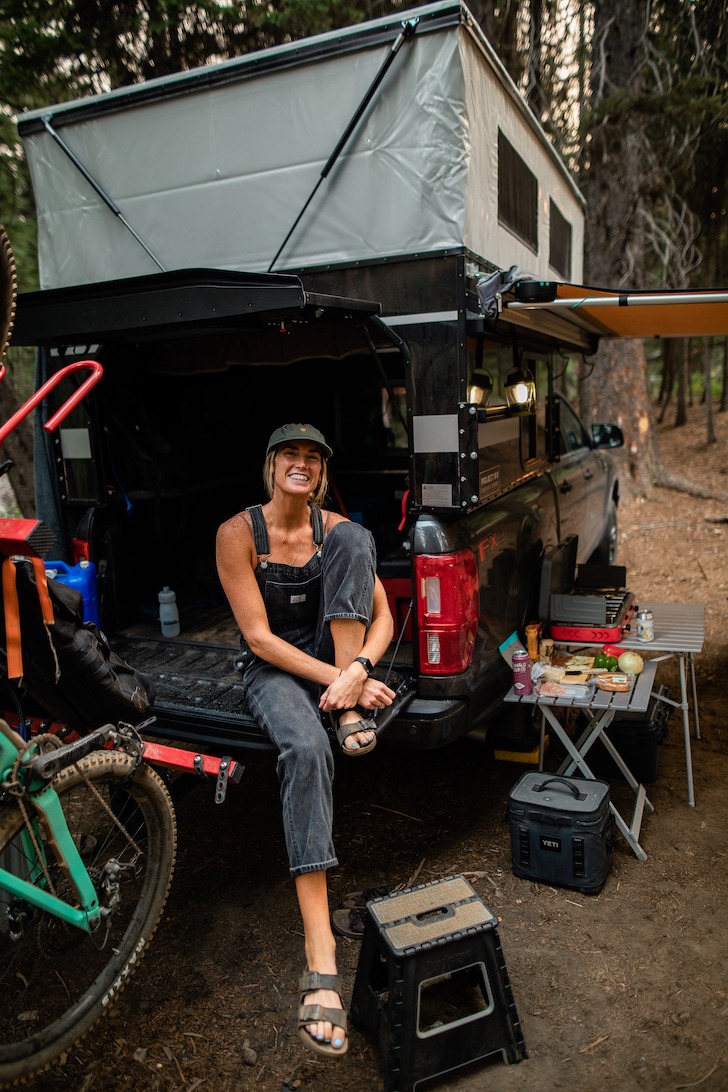 After enjoying a night at camp and taking a morning dip in the river we headed over to Phil's Trailhead to ride Upper + Lower Whoops. It felt so nice to get the legs moving and get a sweat on especially after sitting in a car for eleven hours driving the day before. It's always fun switching it up and riding in a different place rather than your trails at home that you're really familiar with. Upper + Lower Whoops was a good first ride of the trip, nothing too crazy but a really fun ride. For our second ride we sent it out on Tiddlywinks trail which unfortunately didn't last long because a little over the bars action happened and we had to send it back into town to get a new brake lever. Which thank goodness we were able to find one or else that would have made the trip a loooonnggg one without it!! We were so grateful for helpful, willing people that stayed after hours to fix the bike!! Hallelujah and shoutout to Pine Mountain Sports. We were bummed that we didn't get to ride as much as we would have liked to in Bend, but you know, sometimes that's just the way it goes, and life happens. We knew we had a lot of biking ahead of us since we were only at the beginning of our trip. So we counted it and moved on to our next stop.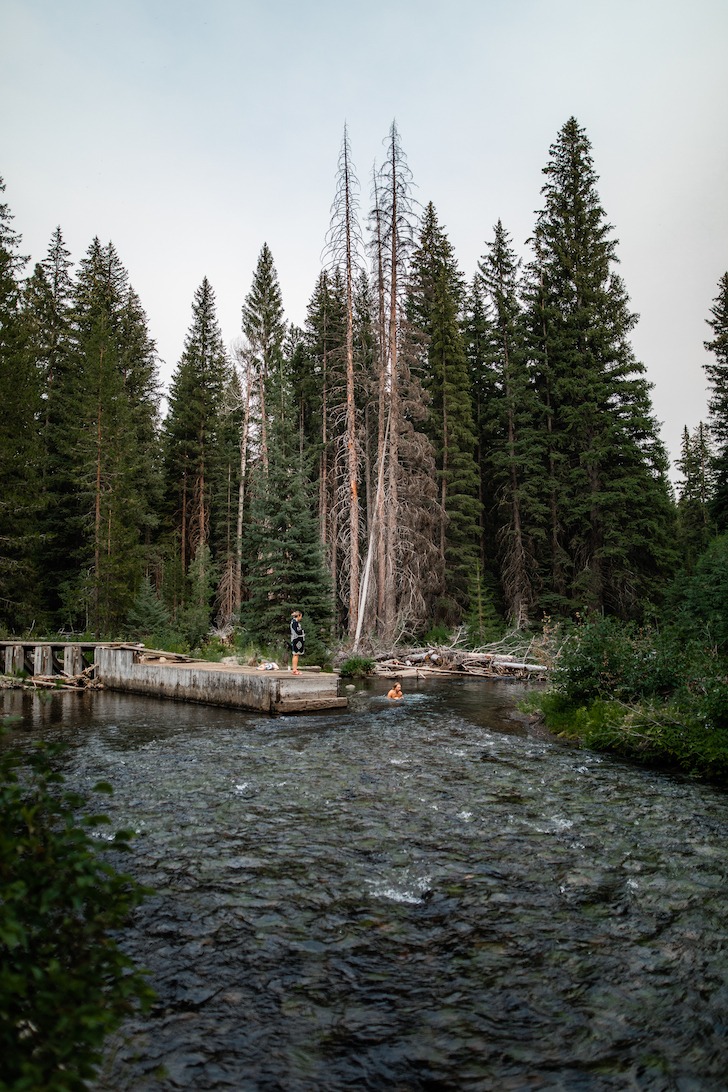 We headed north to Hood River. The drive from Bend to Hood River was insane with huge pine trees and windy roads and you can see Mount Hood while you're driving so it's beautiful. As far as mountain biking in Hood River, we rode in Post Canyon and man oh man it was such a good time!! To get up to the trailheads you wind through multiple neighborhoods and orchards which apparently, Hood River is known for their orchards. A local told us that 80% of pears in America come from Hood River, kind of crazy! We rode the trails Bad Motor Scooter to Grand Prix. Both are flowy jump trails and such a blast. Step ups, doubles, berms, you name it, these trails had it!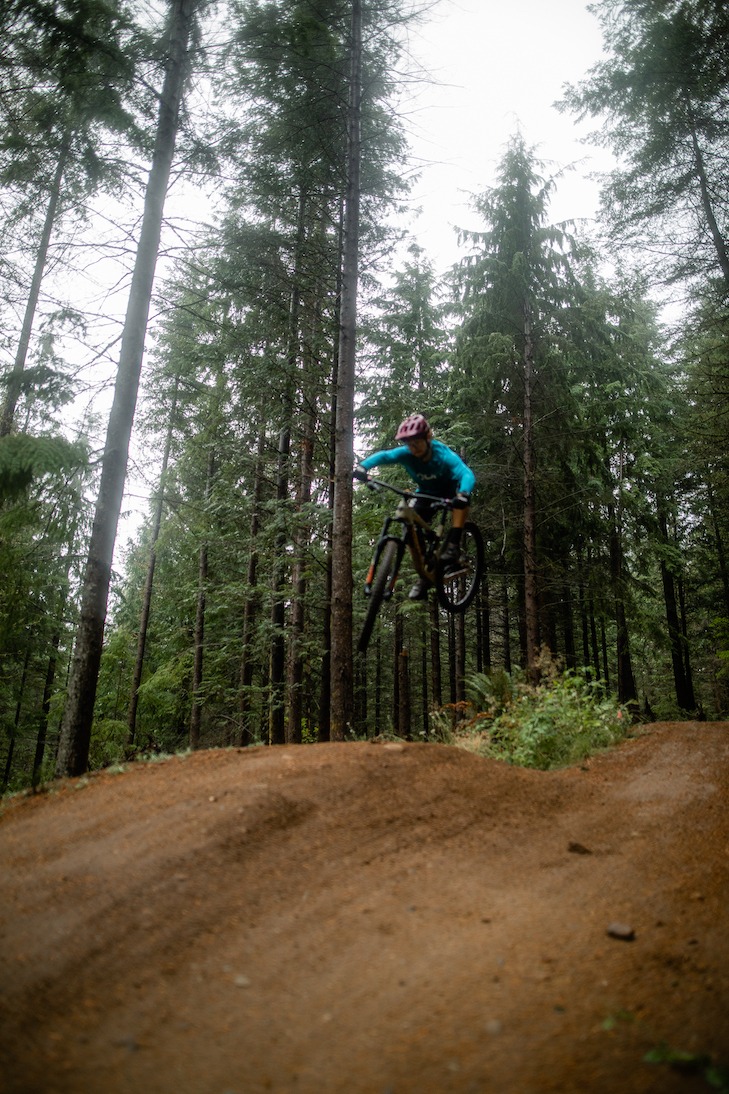 We tried to fit in as much biking as possible this trip, so we were only in each place for a couple nights sometimes only one night. After staying in Hood River one night we made a pit stop at Sandy Ridge on our way to Portland. Sandy Ridge is a mountain bike specific pit stop. The mountain biking there was unique in that you take the service road up as your climbing trail, and then you can lap things multiple times. The first trail we did was Flow Motion which was a proper flow trail with some tech. I LOVED this trail! I wish we had done it again because I honestly had the time of my life! Then we rode back up the service road all the way to the top to get a longer ride in. We dropped in at the top and did Rockdrop which honestly wasn't our favorite. It's a small loop that kind of takes you around and then back to the top and it's not really worth it in my opinion. We then dropped into Upper Hide & Seek and oh my goodness….SO much fun!!! It's traversy tech riding which keeps you on your toes and you always have to be choosing a line and staying engaged with the trail. When you get in the flow on one of these trails, it feels so damn good!! From Upper Hide & Seek we went into Lower Hide & Seek which was a blue flow trail – pretty mellow and fun! We finished off with TNT and Little Monkey – both are jump trails. TNT is a big jump trail that is only for advanced/experts and Little Monkey is a smaller jump trail which Kari and I took and it was a blast.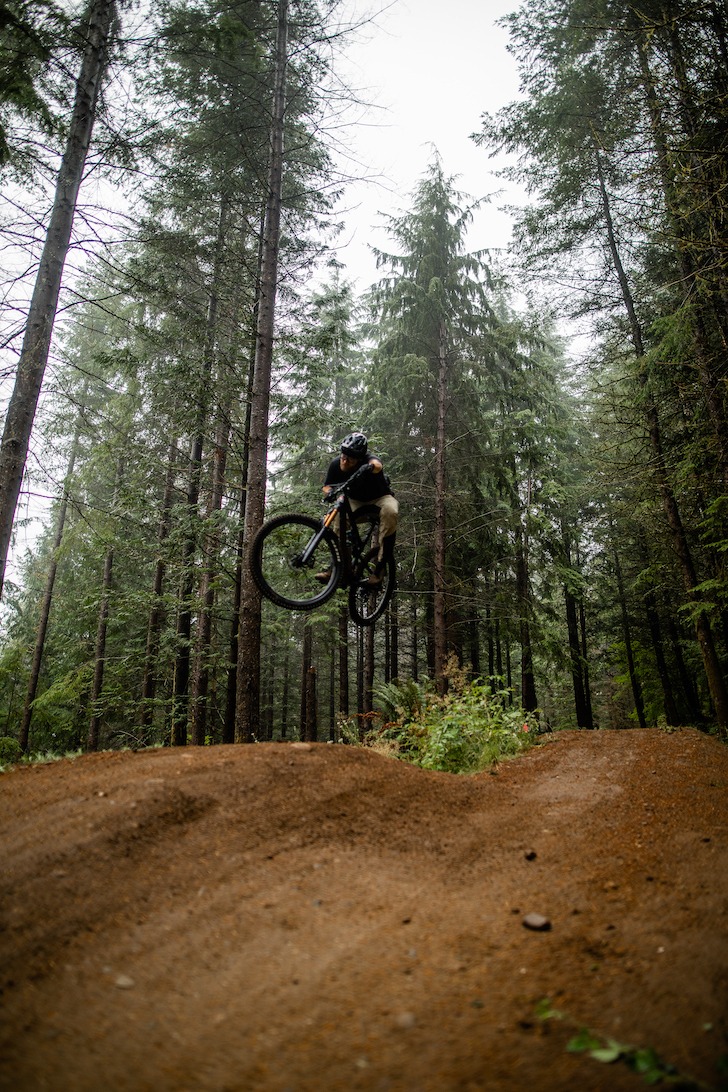 We then stayed in Portland that night with some family. We ate at this insanely yummy restaurant called The Bye and Bye which I would highly recommend if you're in the area! The food was amazing and the drinks were so good!! We only stayed in Portland for a night and then went up to Port Townsend to take a ferry over to Whidbey Island. It was a little switch up from the biking which was nice to take a day off and experience taking our Four Wheel Camper on this massive ferry! I love that the Project M is big enough for our needs and feels spacious, but yet it's not this HUGE camper that we're towing or anything like that. With seeing so many different setups and campers on the road and on the ferry, it was a good realization for us that the Project M Four Wheel Camper was the way to go and that it's the perfect size for what we need/want out of a camping setup. It's minimal in a good way and doesn't have all the extra froufrou… you know what I mean? We just wanted a comfortable space for camping and a place where we can put our gear, and the Project M does just that!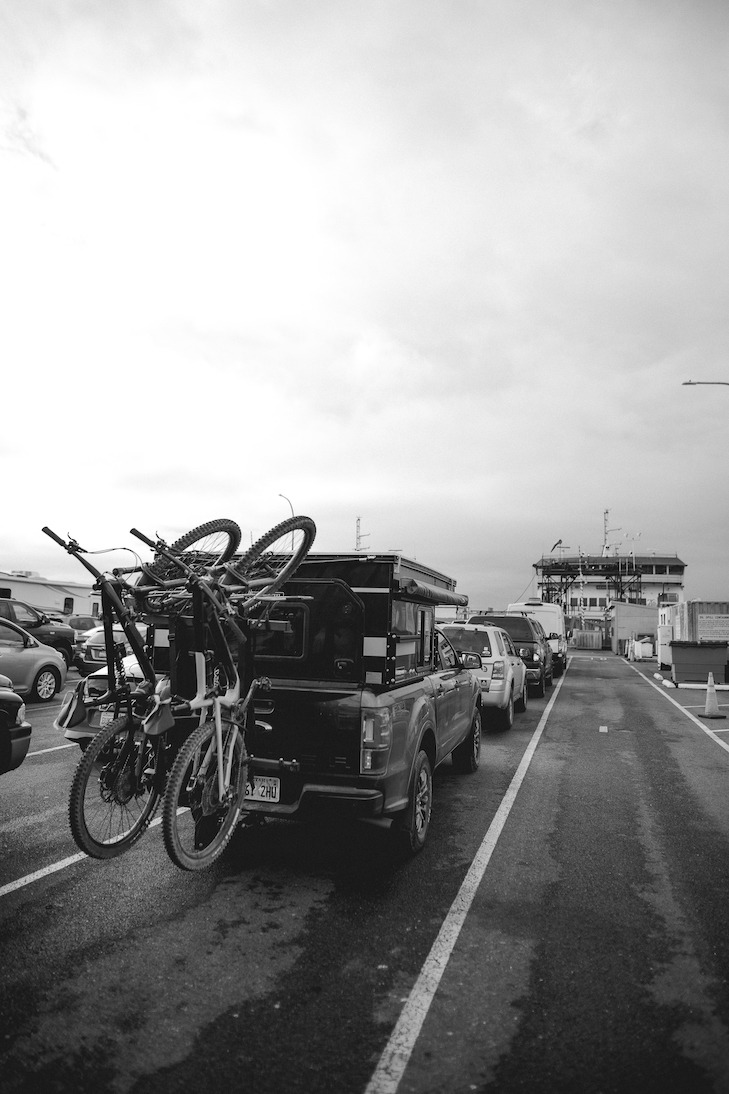 Onto Bellingham which was by far our favorite spot! The Pacific Northwest just brings such a different vibe than Salt Lake City. To start…it rains which sadly is few and far between for Summer's in Salt Lake. And the mountain biking trails hold that rain so you get hero dirt which is just unreal to ride in! When we arrived in Bellingham it was misty and the clouds were low, your typical Pacific Northwest vibe you know!? We stayed in Bellingham for three days and rode our little hearts out. There was lots of hootin' and hollerin' to be had because the trails were just SO GOOD!!! There were a bunch of different trails in the Galbraith trail system, so I'm going to list them out so it's easier for y'all to follow. Evolution – This trail had some really fun wood features, jumps, and doubles. It was by far one of our favorites and we did this one multiple times.Unemployment Line(or as we found out, as the locals like to call it…U line) – Big berms, jumps, good dirt! What more could you ask for!! We lapped this one multiple times as well. Mohawk – This is a big jump trail for advanced/experts! There are some big doubles so just make sure you scope before sending! Radical Dragon – Tech rocky rollers and some doubles Atomic Dog – A techy blue trail and Wonderland – Chill blue warmup trail.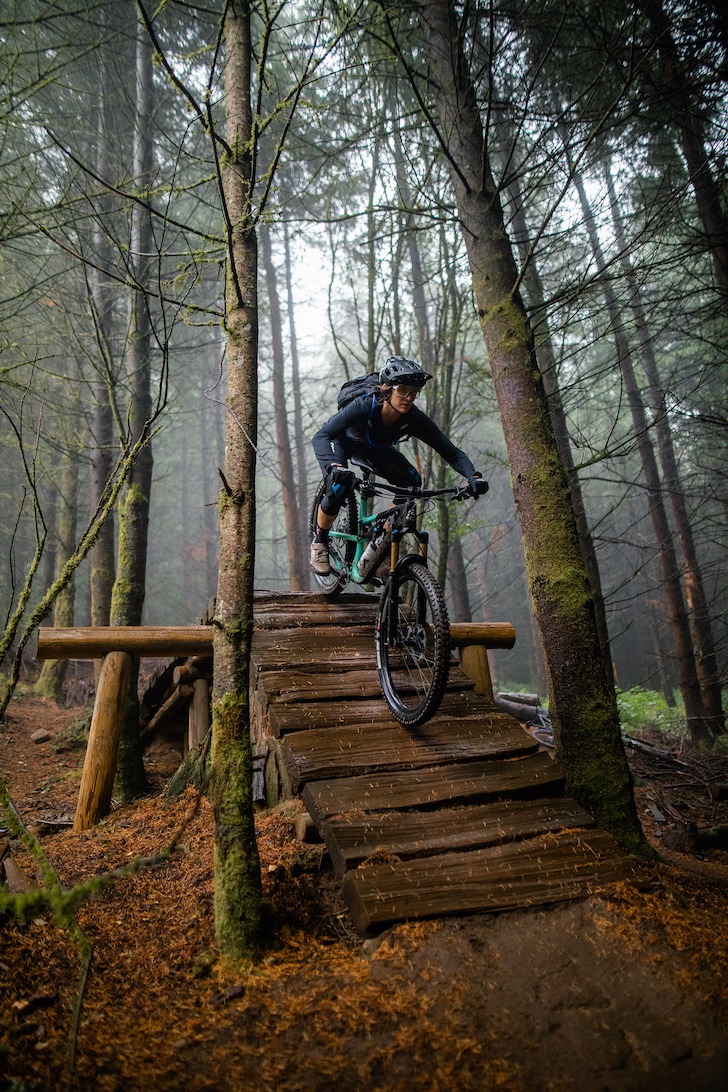 The first day in Galbraith was just misty and then the second and third day it was full on raining and it was honestly pure bliss!! The stoke was HIGH! It was nice to be able to come back to the trailhead and hang our wet clothes in our Four Wheel Camper so that we weren't just sopping wet. The Project M comes stock with one window, but we had the other window put in which was nice to open up and get some air flow. Especially while we were drying our clothes in the back it helped make it no so musty back there. Galbraith Trails and Bellingham were a dream and I can't wait to get back there! But sadly, our time there came to an end and we headed to Leavenworth.


Leavenworth is a themed town which made it so fun. We were not expecting that, but it's a full on Bavarian village. We stopped through here for a night making our way back to Salt Lake. We rode Rosie Boa which was some ridge line riding – a little bit of flow, a little bit of tech.

It was nice to be able to stop wherever and pop up the Project M if we needed to and the fact that we could still off road into some campsites and not be worried about it was really clutch. I can't say enough good things about it!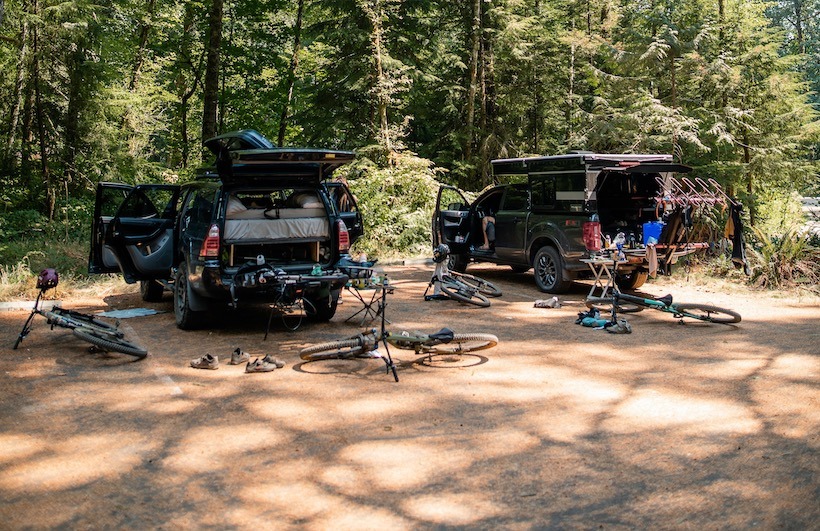 Our last stop before heading home was Bogus Basin Bike Park in Boise, Idaho. We actually ended up just camping in the parking lot and popping up the camper and then waking up and riding for a few hours before heading back. This was my first time at Bogus Basin and it was so much fun. They have a good variety of trails there – tech, flow, advanced, beginner! Whatever you're looking for, they've got it! G19 is their black tech trail to definitely hit up when you're there.

All in all our trip was so memorable and amazing! I wish we had more time in each spot, but that just makes for a great excuse to get back to those places, right? We feel lucky to have been able to do it with our Project M because it made our camping seamless. Like I said, we've only had it for a month or so, so we haven't had time to build out any portion of it yet, but we're excited to make it our own as time goes on. We would love to create some sort of shelving system under the benches and maybe a folding table of sorts, but nothing too fancy, we like the minimalist vibe. We still did all of our cooking and camp chilling outside, we would just sleep inside which made it so that we could get a good nights rest. And we all know how much a good nights rest is needed while you're biking that much!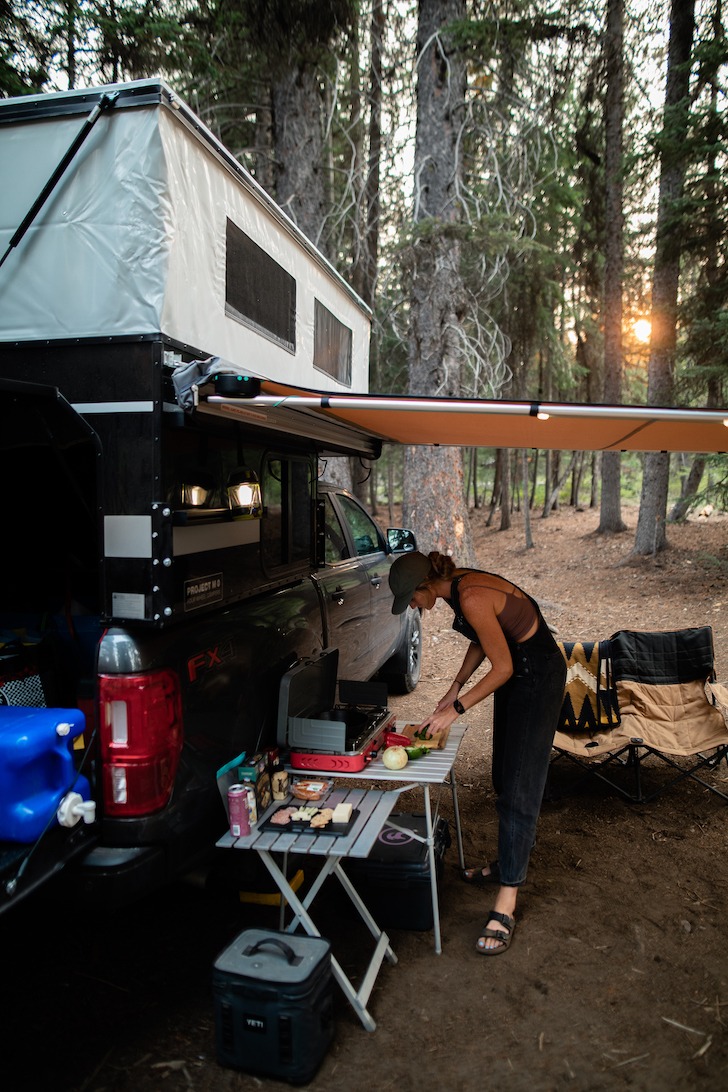 Until next time folks! Sending all the good vibes and nature love:)
Check out more travels from Kait and Chris @Kaitvanhoff
________________________________________________________________
For more Four Wheel Camper road stories, check HERE