In 2015, planning a world tour was not on our agenda. I am French/Italian and grew up in Asia and Africa. I currently travel through Europe opening international markets for a French tech start-up. Mathilde grew up in France and at the age of 20, left to live in the Americas and the Middle East. She currently works for the United Nations and travels to Africa on a regular basis.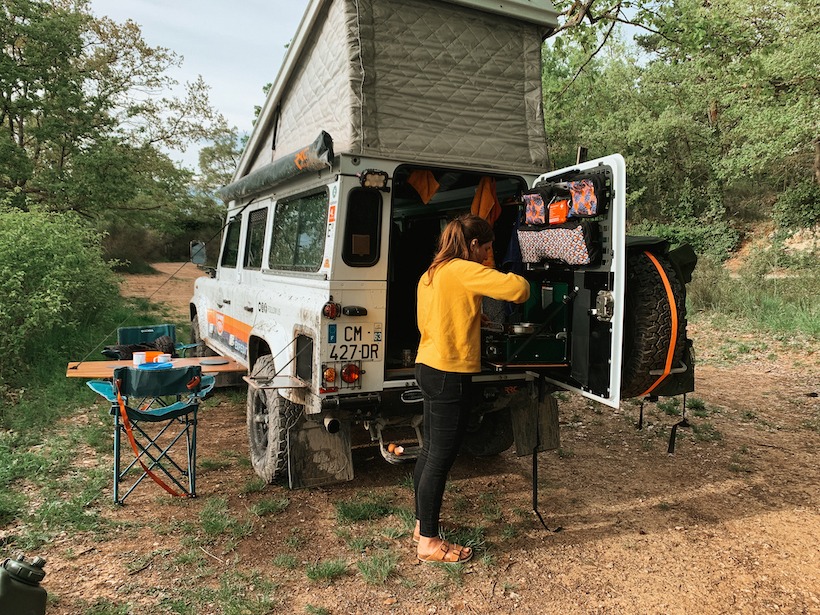 BIRTH OF THE ULTIMATE JOURNEY
In 2015, Mathilde and I decided to take a weekend road trip through Belgium. It was fantastic. It really wet our appetites for more vehicle based travel. As a matter of fact, from that fated week-end, we never stopped travelling. Holidays and weekends provided opportunities for more adventures. We travelled up the west coast of the United States sleeping in a rented SUV, crossed Sri Lanka driving a Tuk Tuk, and drove along the Loire River in France by motorcycle…no free time was left unexploited.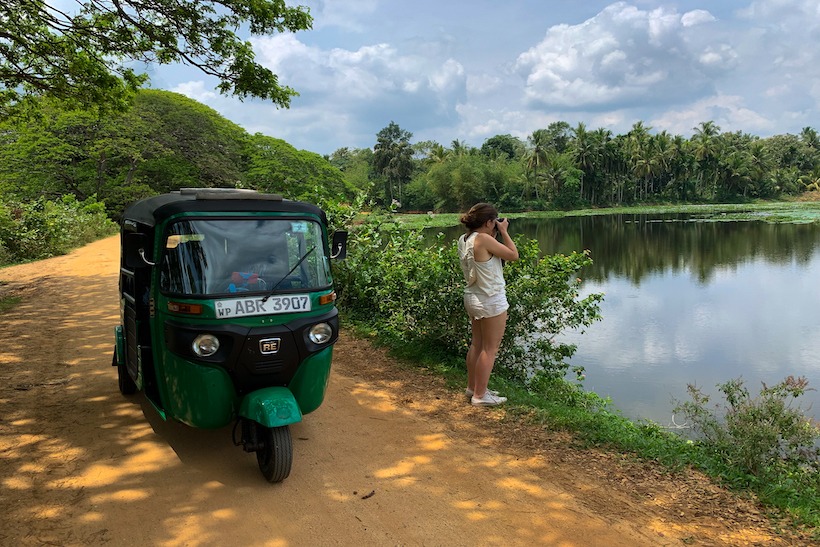 Some of our other trips include: Southeast Europe from Paris to Montenegro, Corsica, Northern Italy, Sweden, Denmark, Spain, Iceland, Faroe Island, the Alps, Cabo Verde, and Peru. The years passed and many new places were explored, but that was still not enough for us. We longed for a trip that would take us farther. A trip that would eclipse everything we had done up to that point. We wanted to go on a worldwide overlanding tour.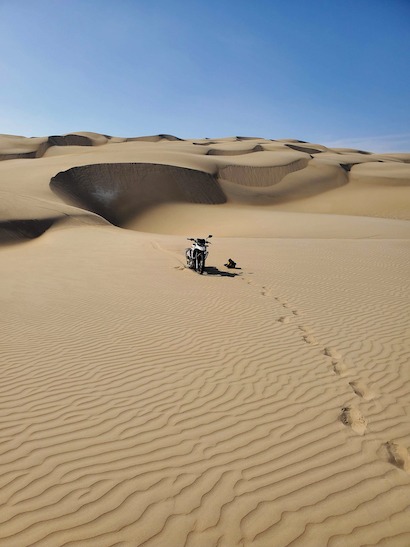 In March 2020, we raced a 1100 Renault 4L in the '4L Trophy', a French race in Morocco. After multiple months of finding sponsors and equipping the car, we started our 5-day race in the eastern desert of Morocco and came in 9th place.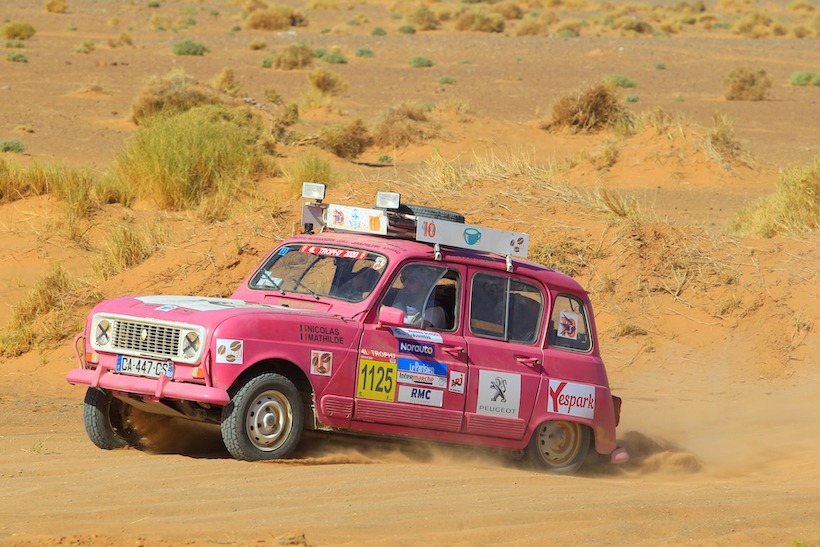 This achievement along with our extensive love of travel were the catalysts that led us to realize the adventure of a lifetime: A three year world tour spanning 88 countries and all seven continents in our 2012, fully modified Land Rover Defender, which we christened "Albatross". We would call this 186,411 mile journey, "The Next Meridian Expedition". And all this began with that fated week-end trip through Belgium in 2015!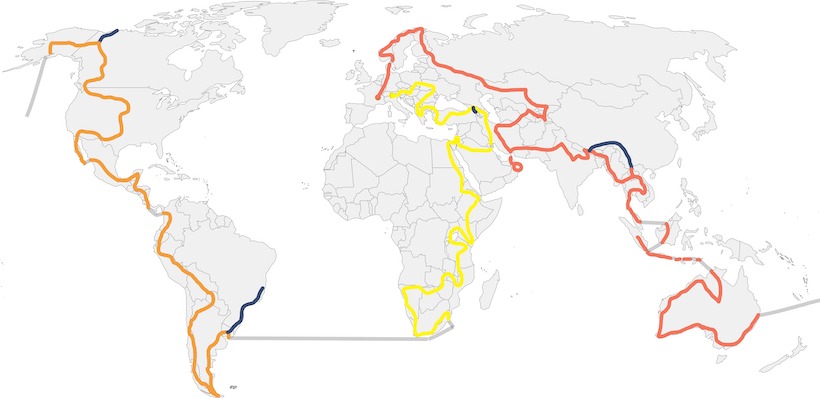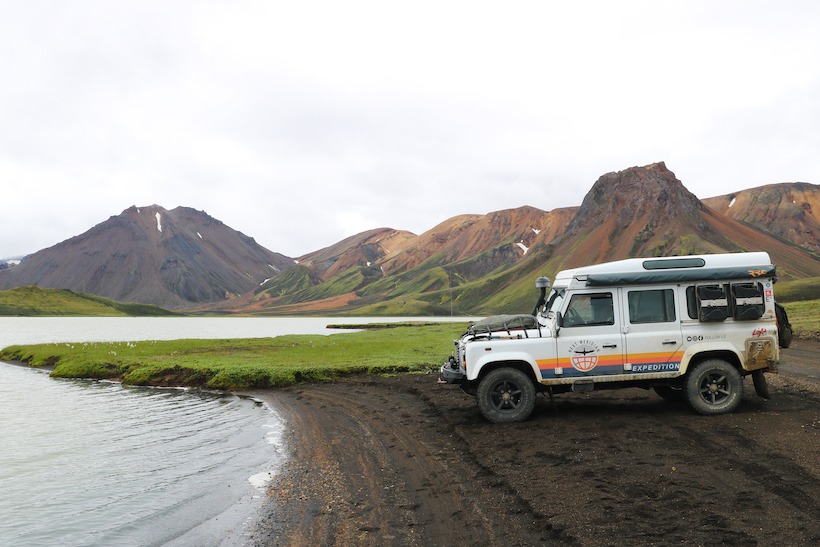 Many people talk about travelling around the world, while few actually do it. There were many questions from friends, family and frankly from ourselves such as, "Aren't you scared to leave your stable jobs? When will you start a family? Aren't you afraid of spending all of your savings? What does your family think about this?". These questions plagued us, but ultimately we decided that we needed to do this. We decided that this kind of experience could not wait for retirement. Mathilda and I strongly believe that life is meant to be lived to the fullest and that, with hard work and planning, dreams can be realized. The Covid-19 pandemic strengthened these feelings and we knew that we had to get busy and start making some concrete plans.
FINDING THE MONEY
The decision had been made. Now reality began knocking at our door. We needed to find money and a car in order to begin to plan our project. Deciding how you will realize your dream does not come easily. Over a series of Sunday brunches, we put together a savings plan. Strict and fair, we decided we would put all our money that was not allocated for necessities (rent, insurance, etc.) into a specific and untouchable bank account. A year before departure, we started selling anything we were not using on a regular basis. We sold our car, some of our clothing and electronics. Every Euro counted in order to turn our dream into reality. After estimating a rough figure of how much money we would need for three years of world travel, we calculated how long it would take to save that amount and established our departure date: 18th April, 2022. Not the 19th or the 17th… it would be the 18th , right after Easter weekend.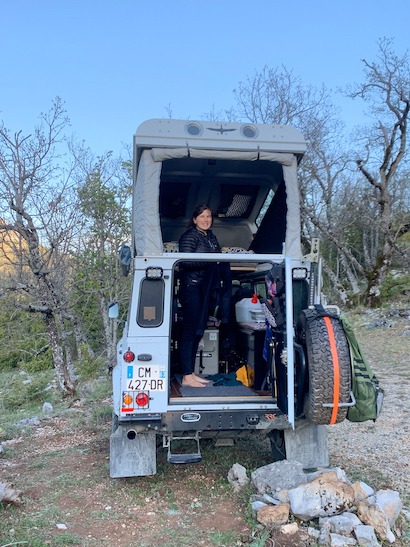 PROJECT NAME AND LOGO
Our next step was to come up a project name and logo. We decided to brainstorm all the words that would illustrate our project. We came up with the likes of: Tropics, Meridians, Travel, Journey, Adventure, Odyssey, Expedition, Horizon, Road Trip, and Continent. After long hours of playing with words, we found it. Our project name would be: Next Meridian Expedition or NME. It meant, "The ongoing motion of driving from one meridian to another.". After a couple more evenings of work and with the help of my brother's photoshop skills, we had a logo. The project was becoming a reality.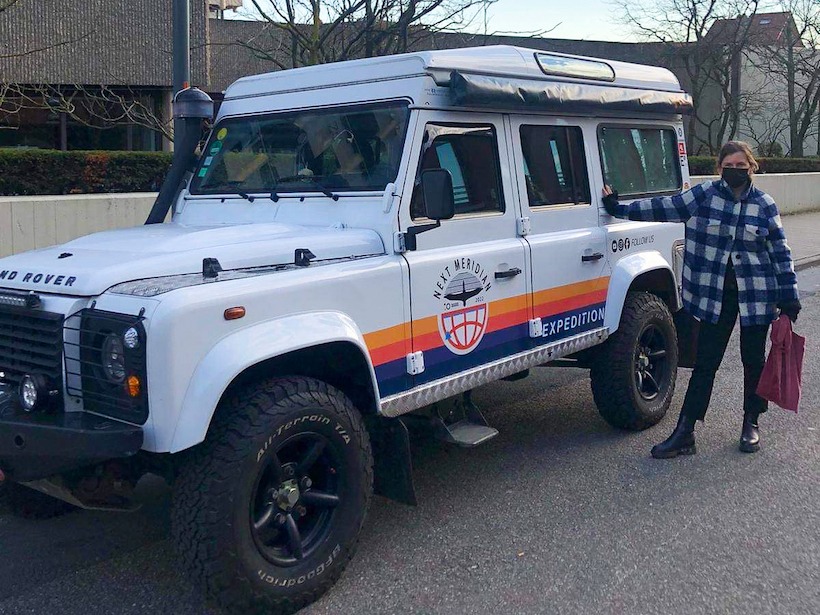 CHOOSING THE ULTIMATE VEHICLE
Choosing the perfect vehicle took us longer than we had thought. For me, no questions asked, it had to be a 4X4. Gravel roads are nice for a weekend jaunt, but for a world tour we needed a 4×4 capable of travelling on all types of roads and under all types of conditions.
Although Mathilde agreed with me that a 4×4 was the best choice, she highlighted the need to have some sort of livable space within the vehicle. This led us on a quest for a pop up style roof top tent. I talked to dozens of car sellers, analyzed all purchasing options in Europe and North America, compared taxes in different countries and test drove a variety of models. Our final choice was between either the Toyota Troopy 70 series or the Defender. The Troopy was too expensive and hard to find in Europe, so we decided on the original Land Rover Defender. It was within our budget and could be fitted with a pop-up tent. That was it, I went online and knocked at every door trying to find one. In less than a month, we ended up driving nine hours from Belgium to the center of France to pick up our 2012 TD4 Land Rover Defender already partly equipped for Overlanding with a pop-up rooftop tent!
Meet Albatross, (Albo) our 2012 Land Rover Defender
Originally from the United Kingdom
TRAVEL HISTORY: The Americas, Morocco, France, Belgium, Sweden, Faroe island, Iceland.

SPECS: Land Rover Defender, TD4 2.2L Turbo Diesel Puma, 2012 model. Ex-Tec interior and pop-up roof, 16″ BFG tires, VisionX lighting, T-Max winch, Engel Fridge, Coleman stove, MaMousse mattress and tons of other custom made furniture and utility parts. It's time for the BIG trip.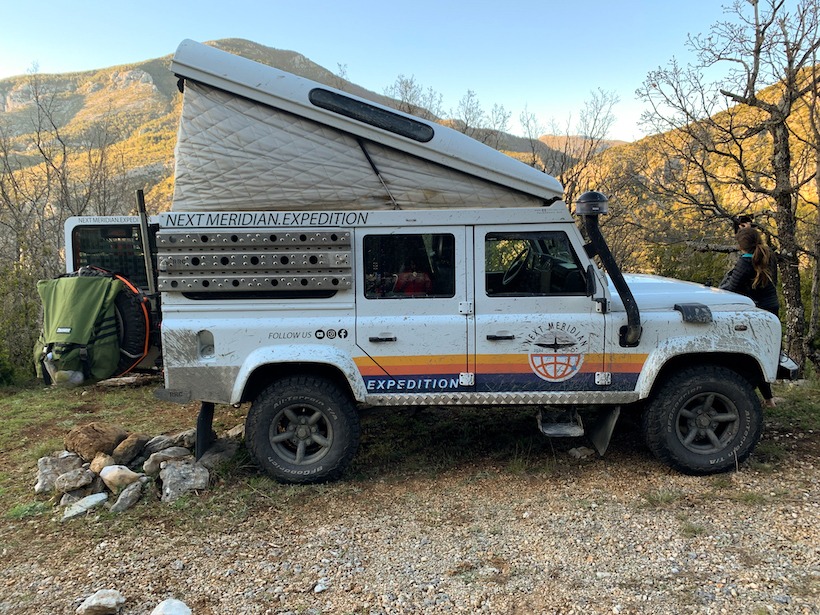 PREPARING FOR A WORLD TOUR
Savings, a car, and a name was not enough to enable us to leave on our expedition. Planning the routes, figuring out the administrative requirements for each country, finding partnerships, launching social media pages and developing a website and preparing Albatross for the long journey ahead were the next orders of business. Our professional backgrounds made completing the administrative tasks relatively easy, but knowledge of travel requirements for crossing borders and continents, navigation, business, and social media does not make two young office workers into mechanics; experience and training do. We really had to step up our game to be able to prepare both ourselves and the vehicle for our World tour.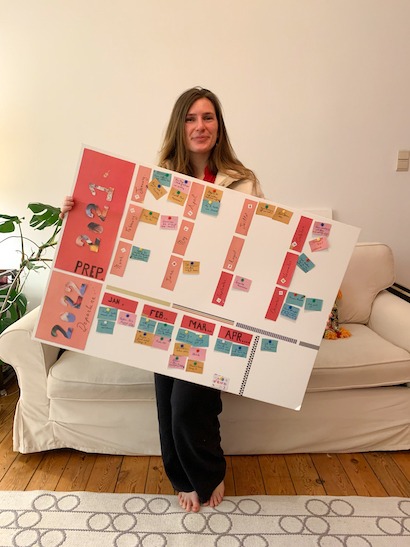 We received a helping hand from a few sponsors to equip the car:
In Exchange we will act as ambassadors for the brands. If you need anything or have questions, don't hesitate to contact them directly.
GETTING OUR DEFENDER "WORLD TOUR READY"
Although our vehicle was already decently equipped, some work was left for us to do. We really had to sharpen our mechanical skills…. and we did. Here are some of the fixes and upgrades that we made. We changed the intercooler, shock absorbers, axels, injectors and the breaks. In addition, we had to replace the existing water tank with a new 65L version, which required us to completely unmount all the interior set-up.
New installations included a set-up of better lights, a new air compressor, solar panels and a water heater system for the shower. We pierced holes in the side of the Defender to set up the rack mounts for the jerrycans and we got some help from Mathilde's father to custom-build a drawer in place of the back passenger seat for us to store our electronics. In order to make sure that the entire vehicle was comfy enough for a multi-year expedition, we ordered a new mattress, I installed LED lights inside for a cozier feel and Mathilde hand-sewed couch cushions and matching pouches to style the rest. The result? A tiny house on wheels!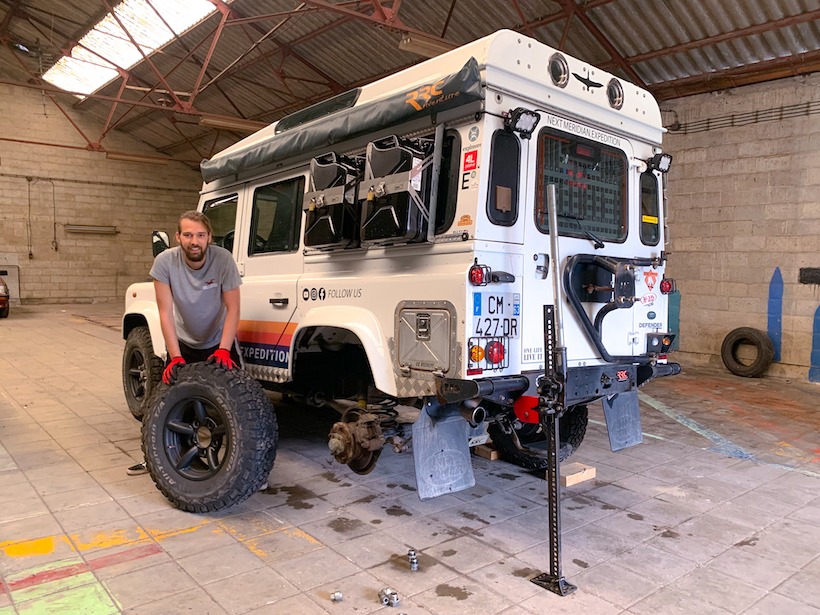 NEXT STEPS
We are impatient to leave but before our departure on April 18th, 2022 we have a lot to do. We will be quitting our jobs, finalizing the last few installations and administrative documentation for the trip and making sure we've got everything ready for D-Day.
If you wish to follow our adventure or get in touch with us, you can find us here:
Website: https://nextmeridianexpedition.live/
Instagram: https://www.instagram.com/nextmeridian.expedition/
YouTube: https://www.youtube.com/c/nextmeridianexpedition
Facebook: https://facebook.com/NextMeridian.Expedition/
If you'd like to see our set-up, watch the video below. A new Video will be coming out soon as we've already made other major changes to the build.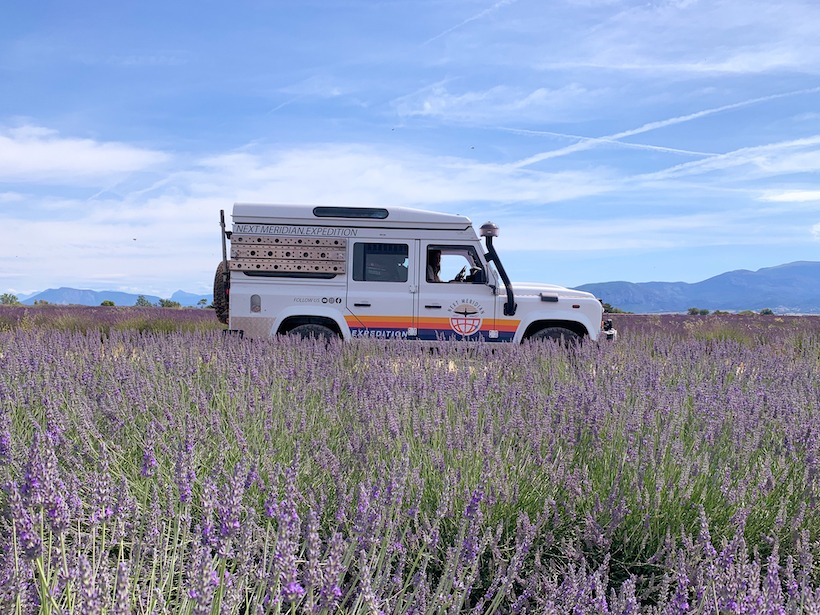 To check out other awesome trips click HERE