We miss our Tacoma – AKA "The Beast", but we're stoked to know that after it went to live in Colorado, it became "The Alpha Beast". If TAP built the foundation, well, the house has certainly been finished by new owner, Justin Pascarella. Read on to learn what mods Justin has undertaken to build The Ultimate Tacoma!
Buying The Tacoma:

It's been three years since I went to SoCal and bought TAP's, renowned, overlanding equipped Tacoma, better known as "The Beast". Since then, with a laundry list of mods over the years, it's evolved into "The Alpha Beast". Here's how it happened.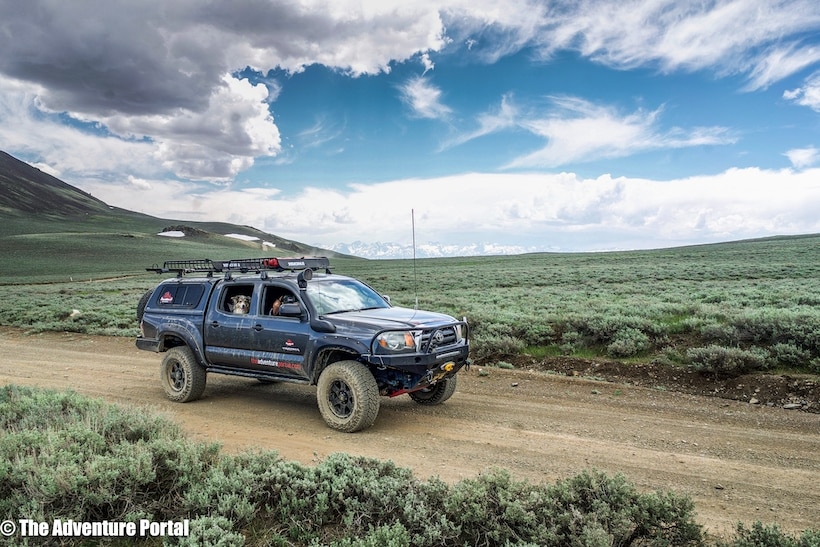 In 2018 I purchased The Adventure Portal's 2010 Tacoma. I had seen it featured on both their website and social media feeds and when I saw it posted for sale, I knew I had to have it. I contacted TAP, made an offer,headed to SoCal and made the purchase. I was ecstatic! Leaving California, I decided to take a scenic route through Utah to my home state of Colorado. I was really excited about taking this 1000 plus mile "maiden voyage". While driving the vehicle home I dreamt of all the future adventures I would take.…I swear, I felt like a kid at Christmas. I had a two day window in which to make it home, and knew I had to hit Zion and Moab. Taking a quick off-road detour in Moab gave me the opportunity to bond and get familiar with a totally different animal of a vehicle than I had before. It did not disappoint!
After a few summer camping trips to Leadville and Rollins Pass in Colorado with a group of friends, I began to contemplate the Tacoma build trajectory. Summer was coming to an end and it was time to get to work.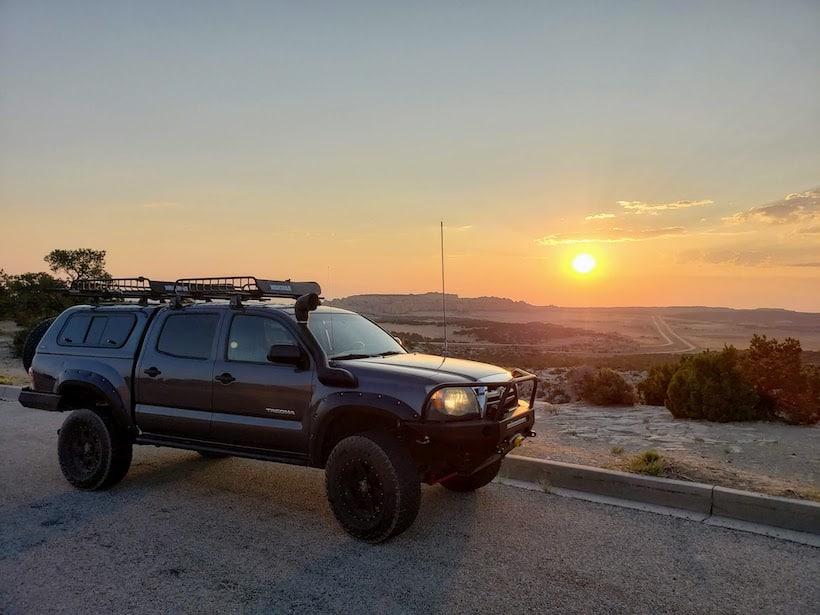 First Tacoma Mods:
Rotors, Exhaust System and a Rear Differential Breather:
Some of the first few modifications I made were to upgrade the brakes and rotors, the exhaust and to purchase a rear differential breather. With the current and anticipated added weight as well as oversized tires, I wanted to ensure I had adequate stopping power without potentially overheating the rotors. I went for PowerStop Extreme Truck and Tow Rotors, since I had a good experience with them on my prior build. For the exhaust I went with MagnaFlow Off Road Pro Series Cat-Back Performance Exhaust System, since it was short (It ends before the rear diff.) and could be tucked high up under the truck to avoid any trail damage. It also provided a more aggressive sound, which I liked. For the rear diff breather, I went with the ARB 4×4 Accessories Differential Axle Breather Kit. Even though deep river crossings or desert-like regions aren't very frequent in Colorado, my ultimate goal was to be prepared no matter where I went. Especially in places where weather can be extreme and unpredictable.

Sleeping, Kitchen, Roof Rack and Battery Management System
Adding a Roof Top Tent:
Next, I focused on my sleeping area, kitchen and battery management systems. I had been ground tenting for nearly a year when I decided that I wanted to install a roof top tent. After spending some time researching, I found a barely used ARB Simpson III with an annex. The main reasons for purchasing the roof top tent and annex were to get off the ground and to have an enclosed room to change, sit, cook and to get out of the weather when needed. It was definitely an exciting change to finally have an RTT for the first time! Another bonus was that it was spacious enough to accommodate two adults and two dogs fairly comfortably.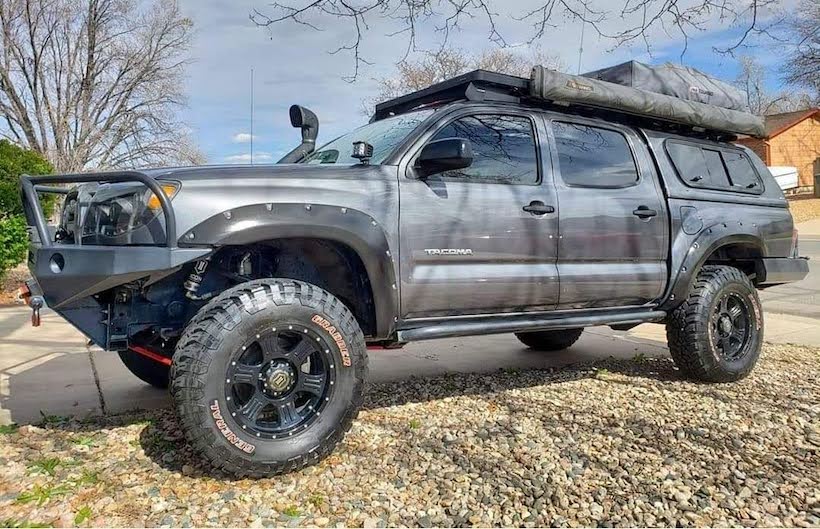 The ARB Simpson III's maiden voyage was traversing The Mojave Road. A weeklong trip touring through the Mojave will reveal most weak points of any camping gear or overland build. With the high winds incessantly flapping the tent fabric in the wind and the less than desirable factory RTT mattress, it was clear what needed to be improved upon. I swapped out the mattress with an Exped Megamat Duo Sleeping Pad, which was a vastly more comfortable. The noise made by the tent fabric was nothing I was driven to change. I knew that this was the norm for soft top RTTs. I had a great experience with the ARB Simpson III tent for about two years. My biggest complaint was with the breakdown of this tent. On cold or damp mornings, it became very frustrating to fold up the tent and zip on the cover with freezing cold hands. Cursing and busted knuckles were a common occurrence. Overall though, the ARB Simpson III was a good tent for its time.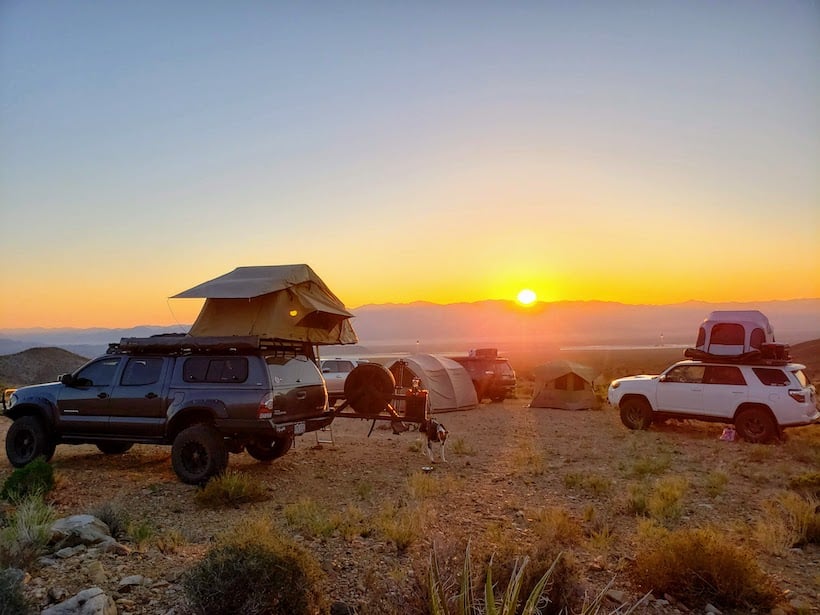 Kitchen:
I already had a great off-roading fridge but was in need of a new slide. I found a product by DFG Off-road that was affordable, slimline and lightweight. It works really well with my Dometic CFX-50. For a water storage solution, I went with the WaterPort 3.8G self-pressurizing tank to assist in cleaning dishes etc. Thus far, I've used a classic Coleman dual burner stove and it's lived up to its reputation, although I began using an 11 lb propane tank and adapter to connect to the Coleman stove instead of the disposable 1 lb tanks that I'd been using. These additions have proven be a game changer on longer journeys.
New Roof Racks:
My next goal was to install a more suitable roof rack on the Tacoma. I needed to replace the basket-style Yakima Rack with a streamlined mounting platform for mounting accessories and the RTT. Enter Front Runner roof racks. What drew me to Front Runner was the modularity, reputation and functionality. I loved the fact that FR offered an array of mounting accessories to accommodate almost any overlanding gear you could want and that I could order directly from their site. I ordered a rack for the SnugTop Topper and front cab. I also ordered a shovel mount, quick dismounts for the RTT, as well as Rotopack and awning mounts. The lights I had wired up previously were easily transitioned to the Front Runner rack channels as well. For the awning, I used my existing Batwing Awning from Rhino Rack.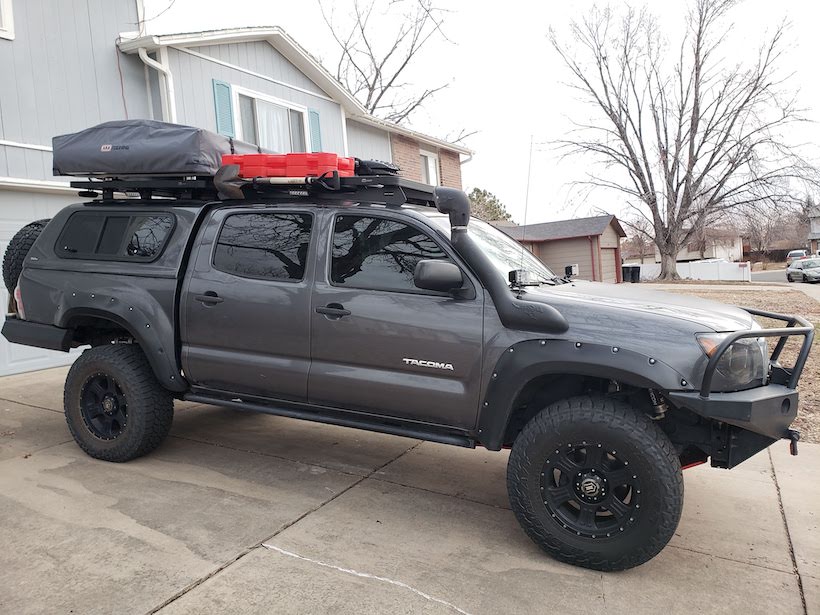 Adding a more Powerful Battery Management System:
The Tacoma already had a basic National Luna Dual battery system, but I wanted a more robust, flexible and intelligent BMS. I was looking for a system that would allow me to incorporate solar for charging the aux battery. I decided on the REDARC BCDC 1240 and had it installed by Off-Grid Engineering in Colorado. To mount the REDARC neatly, (and to support local businesses) I went with PowerTray's Engine Bay Tray Mount, a great product which seemed to accommodate the REDARC perfectly with room to spare. I had the primary starting battery moved to the opposite side of the engine and had the Windy Nation 100Ah Deep Cycle AGM battery installed in its place. This entirely new system powered up the auxiliary lights, fridge and accessories. It has also protected the primary start battery reliably for over two years.
Tires, Air Compressor, Distributed Air System & Snorkel Upgrade
Tires:
The Falken Wildpeak AT3's that the Tacoma came with are an incredible tire. They stood up to the abuse of every kind of terrain imaginable without ever getting a flat. But the AT3's had a good amount of mileage on them and I wanted to try a different brand and look while keeping the 285/70/17's size. After some inspiration from watching Expedition Overland, I was convinced that the General Grabber X3 Mud terrain tires would be a worthy alternative. The Generals have yet to let me down after numerous trips on varied terrains throughout Colorado, Utah, Arizona and New Mexico.
Air Compressors:
I've been through quite the evolution of air compressors: Ryobi, Smittybuilt, PowerTank, single ARB and more. I really felt that I needed a more reliable and permanent on-board air compressor solution. The obvious choice for me was the ARB Twin Compressor. I mounted it vertically in the engine bay close to the battery, using Slee Off-Road's awesome ARB mount. Then I ran a wire loom to the aux battery and wired it into the existing sPOD switch.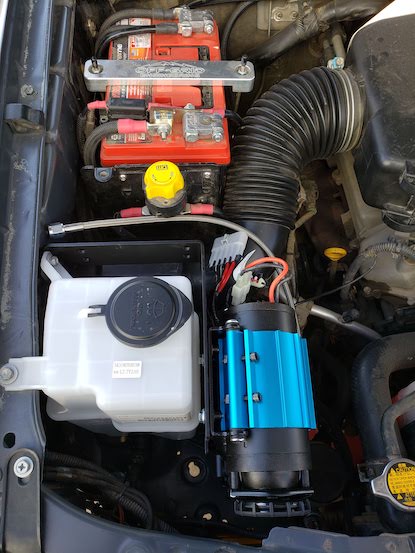 Tire air Up/Down System:
To air-up more quickly and efficiently, I ended up getting the Indeflate Two Hose Unit. Indeflate is a device used to inflate or deflate two tires simultaneously. Once connected, the Indeflate equalizes both tires automatically. Manufactured in South Africa, it has been tried and tested to withstand harsh conditions. Between the ARB Twin Compressor and the Indeflate two hose unit, the airing up process was significantly faster. But as we all know, overland builds are never really finished and after running this configuration for some time, I decided that I wanted to improve upon this system even further. I decided to go with Boulder Tools Tire Deflator Kit and it has suited me very well. For the airing up process, on the other hand, I was looking for a more efficient system. My search lead me to a universal 4-tire air distribution system from UpDownAir. By running most of the hose alongside or through the frame rails, this neat system is able to equalize the pressure between all four tires automatically and is compatible with my twin ARB compressor. It can be mounted in multiple places on the Tacoma, but after confirming some measurements, I decided to mount the unit next to the REDARC on the PowerTray.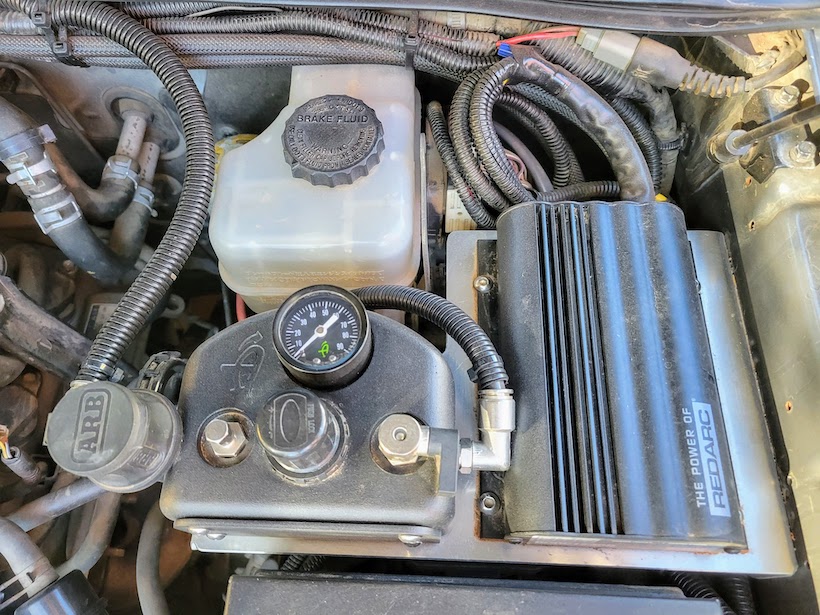 After multiple uses, I found that the air whips from the UpDownAir kit were inadequate for my needs, so I made four of my own using some Flexzilla hose and AstroAI closed flow air chucks. Once all four whips were connected to the tires, all I had to do was switch on the ARB compressor, sit back in my vehicle and wait. The system automatically fills my tires to the pressure set by the main unit using the regulator adjuster. I also mounted the ARB air hose coupling off of the main unit in case I wanted to use that as well.
Snorkel Upgrade:
My next upgrade for the Tacoma was to find a better pre-filter for my snorkel. The harsh weather in Colorado means that snow and hail can inadvertently get sucked into the snorkel, so I added a Precleaner from Snorkel Upgrade. This turned out to be the perfect solution to eliminate my paranoia around snorkel debris ingestion. You can read more about the technology and how it works here:
https://snorkelupgrade.com/pages/how-it-works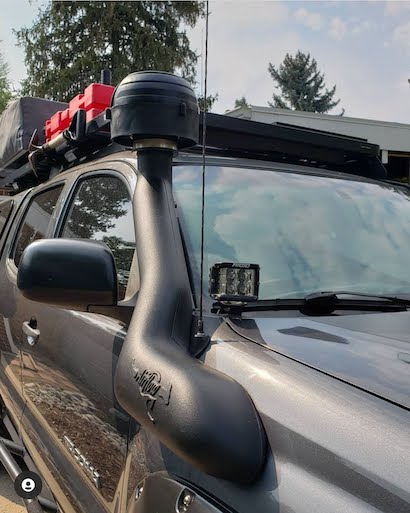 The Ultimate Mods: The Alu-Cab Canopy Camper & Re-Gear
The Camper:
Fast forward about a year, I was at the point where if I wanted to make any further modifications to the Tacoma, it would mean I would have to spend a good chunk of money. None the less, I wanted more comfort and ease in terms of functionality, so I sought out something that would check all the boxes in terms of reliability, durability and something that would allow me to streamline all of my systems. Initially I was thinking of getting a hard shell RTT, but that really didn't fit the bill. I also explored the idea of a full slide-in camper, but most were way too heavy, not off-road rugged enough and didn't provide all the creature comforts I was looking for.
I spent a few weeks making cost and feature comparisons across various camper styles. I was already familiar with Alu-cab's hard shell tents and soon discovered their other products. I was very intrigued by Alu-Cab's Khaya Camper, which seemed like a really cool option and included all the amenities, but it was a little too heavy for what I was looking for. I wanted to retain as much off-road capability as possible. The perfect alternative was Alu-Cab's other offering, the Canopy Camper. It's much lighter and offered me the ability to customize as much as I wanted both inside and out. The further I researched the Canopy Camper, the more I was convinced that I had found the perfect combination of innovation and ruggedness. I contacted a local Colorado vendor, Juniper Overland Adventure Vehicle Outfitters to finalize my Alu-Cab Canopy Camper order along with all the accessories I wanted. I decided on the Goose-Gear drawer build, a dual control National Luna fridge/freezer, Alu-Cab exterior molle plates, slide-in table, shadow awning, and shower cube. I also added a New Port Dickinson Marine Propane fireplace for my fall and winter travels. Now I needed a roof rack that was compatible with my new camper. My Front Runner rack didn't fit, so I replaced it with a Prinsu Roof Rack since it was low-profile enough to fit under the Alu-Cab's overhang.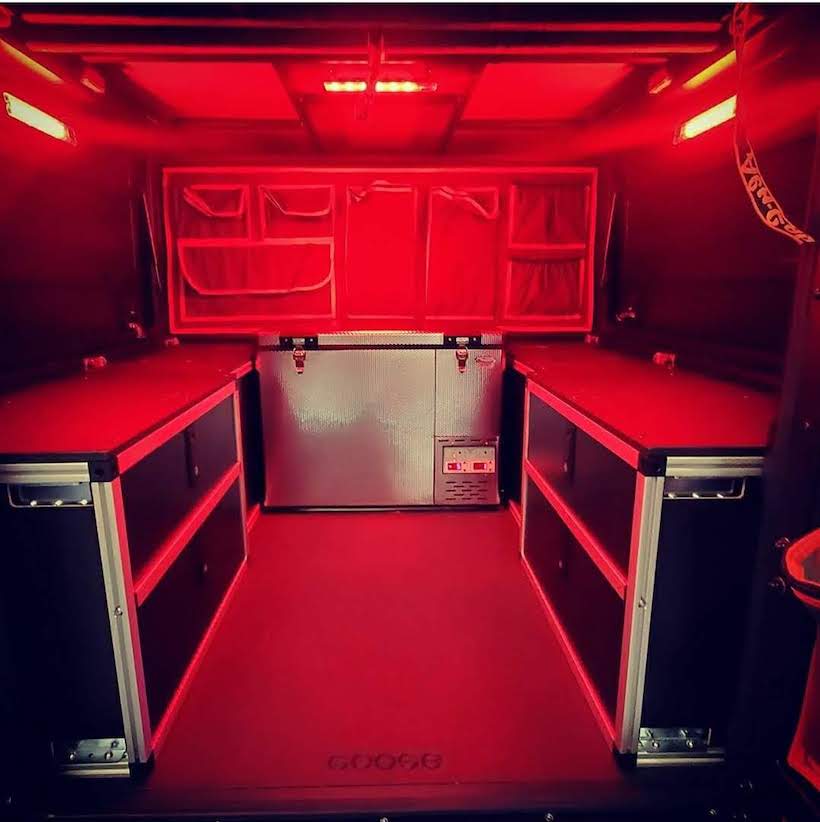 Re-Gearing:
I knew that the Alu-Cab was going to add quite a bit of weight to the rig so I pulled the trigger on perhaps my most significant upgrade, a Nitro 4.88 Re-Gear. Getting a referral to a local and reputable Colorado shop, Colorado Axle and Gear, I quickly made an appointment and had the new gears installed. I was amazed at the difference in my first drive after the install! There was so much more low-end torque and I was really impressed by how much better each gear responded. After the break-in period, I took a couple of quick off-roading trips around Colorado and I felt like I was driving a whole new truck. I wondered why I hadn't done a re-gear much sooner.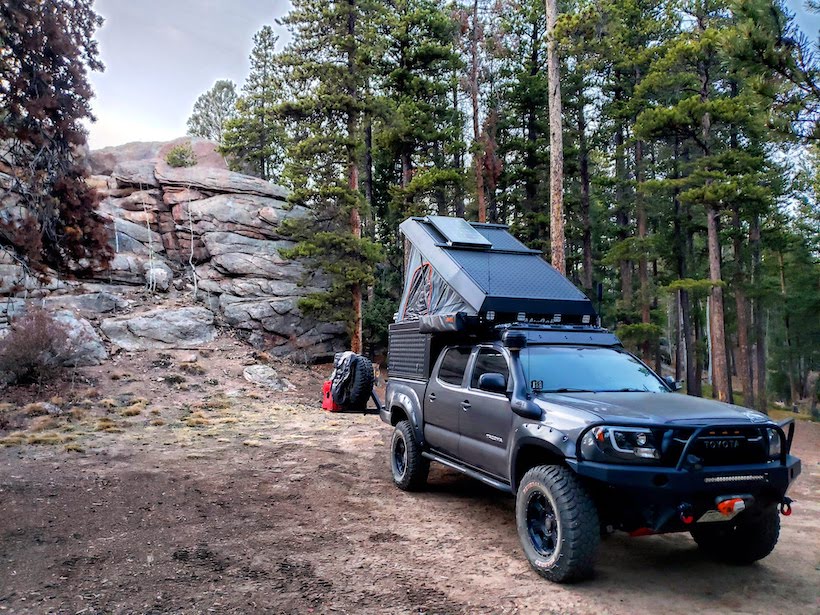 By the time this article is published, I will have owned the Alu-Cab Canopy Camper for exactly a year. It's been such an awesome balance of functionality, ruggedness and quality. It also just looks badass. Of course, I have made many other customizations to the Alu-Cab in the past year and have gone on some amazing trips, venturing into many of our incredible National Monuments, Forests, Parks, BDR's as well as the vast mountain landscapes of Colorado, Utah, New Mexico and Arizona.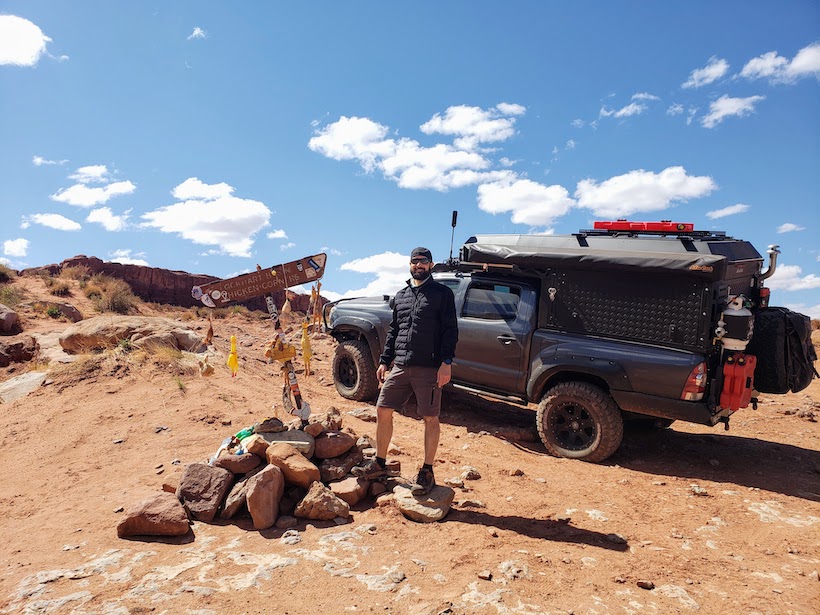 The Alpha Beast has always gotten me home and has proven to be the ultimate overland machine. Where does the Tacoma go from here, you'll just have to see…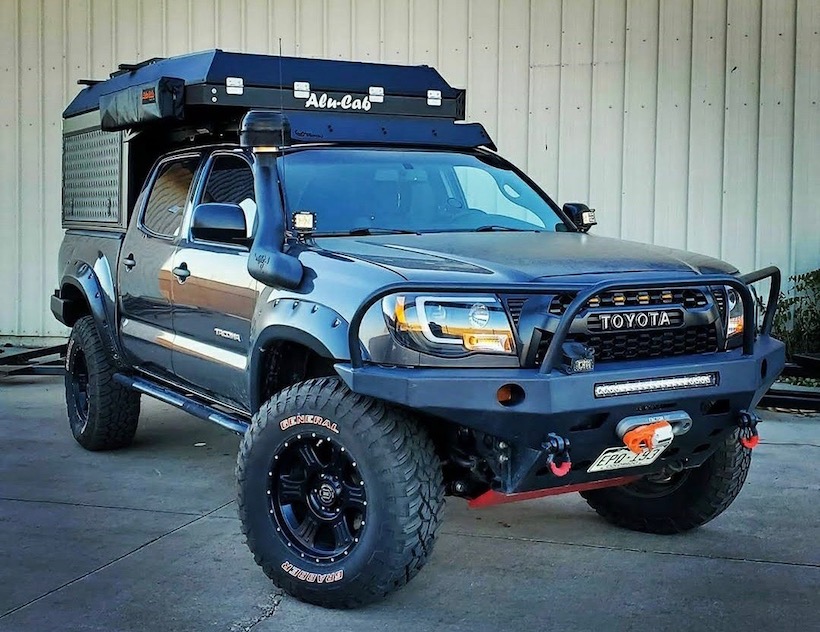 Author- Justin Pascarella: An IT Engineer from Southeast Florida, now residing in Colorado. Justin found his passion for exploring the outdoors in Colorado. Aside from overlanding, Justin loves music, coffee, craft beer, writing and creating content for his adventure YouTube channel, SubDivo Overland. He is also a council member for Rocky Mountain Overland, where he leads overland group trips.
You can follow more of SubDivo Overland's adventures on these social media channels:
Instagram: @subdivo_overland
YouTube: SubDivo Overland
For more overland and off-road capable rigs, CHECK HERE