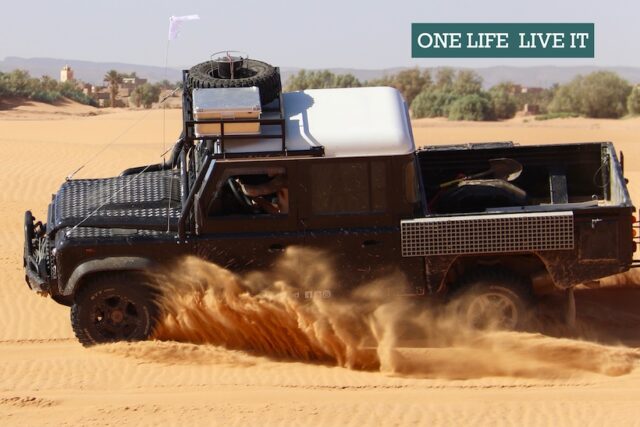 One Life, Live it: A Land Rover Defender, a Four-Wheel camper, an Australian driver, a French co-pilot, lost and bogged in the Sahara Desert Morocco, a head on collision in Portugal, snapped axles in the mountains of Kyrgyzstan, frozen river crossing disasters in Mongolia, arrested on suspicion of being spies in Azerbaijan and tours of Afghanistan.
All that and much more in 5 years of full-time international overland adventure.
We are Steph and Leigh, and we are on a mission to drive our Defender camper around the world with no set time limit or plans. An open road and the entire world in our sights.
In 2016 after recently completing an 18-month rock climbing journey that took us across Europe, Eastern Europe crossing into the Asian continent Turkey in our 2004 Land Rover Defender 90, we had a taste for off-road adventure.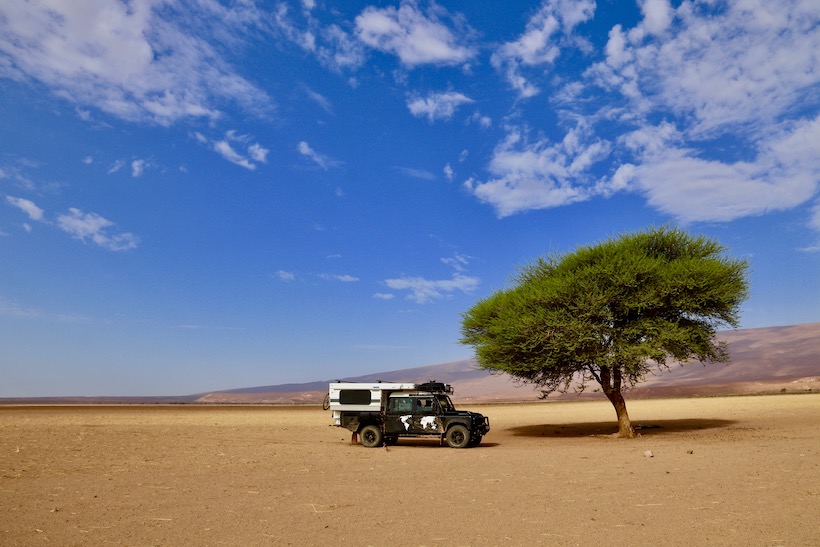 We concluded that a conventional life was not for us. For the next endeavor it was decided that a Defender 90 was too small. A little extra comfort was required if we were to commit to this long-term global overland and circumnavigation.
After months of research, we purchased a 2012 Land Rover Defender 130 in Germany along with a Four-Wheel Camper Grizzly model truck camper. Our decision on what rig to travel the world in had a few prerequisites. We needed to be able to fit inside a standard shipping container, be off road capable, have a comfortable interior living space and allow us to separate our living area and our vehicle without towing. A FWC proved to be the perfect choice and a Land Rover Defender because, well it's a Land Rover Defender.
For those familiar with the FWC truck campers the Grizzly model is most likely one you'll not recognize. The Grizzly is built for the European market and consists of the lower half being a Fleet and upper a Hawk model.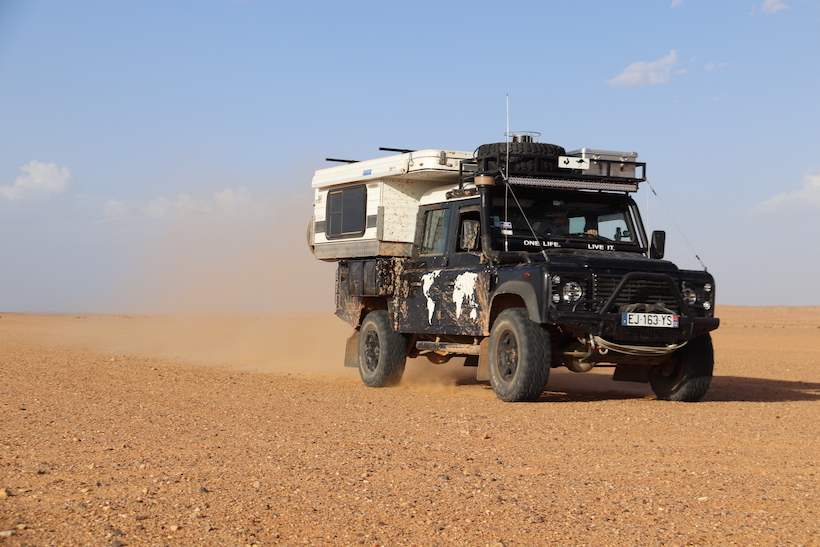 In Annonay, France we modified our Defender to the requirements we thought necessary to undertake this international overlanding adventure at a specialist Land Rover garage. Jobs were quit, possessions stored and sold. We kept only the essentials that could fit in our new full-time home on wheels.
Departing Paris in July of 2017 our route took us south through Spain to the port city of Algeciras where we boarded a ferry to Morocco. Arriving in the city of Tanger Med, we were on the road in Africa.
Making our way into the High Atlas Mountains traversing the incredible overland trails that make their way through this truly remarkable part of the world. Daily we were overwhelmed by the hospitality of the Moroccan people, the constant invitations to join them for chai (tea) and offers of assistance were humbling.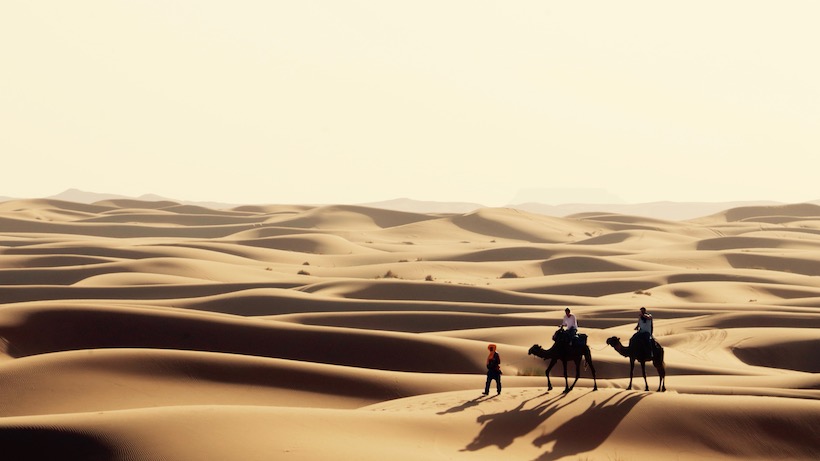 We visited the remote Taghia Gorge for an alpine rock-climbing adventure that required us to leave the camper behind and travel 6 hours by foot using local assistance and donkeys to reach this magnificent place.
From Taghia it was time to test our Land Rover and FWCs off road capabilities, what better way to accomplish this than crossing the Moroccan Sahara from West to East. Starting from Foum-Zguid we embarked upon this daunting overland and offroad adventure following vaguely visible tracks and trails over 4 days and passing only a few other vehicles.
Day 3 of this journey saw us become in no uncertain terms, absolutely lost in the desert. Our free app we were using had taken us far from the track and into unforgiving muddy lowlands that very quickly had us bogged to the axles.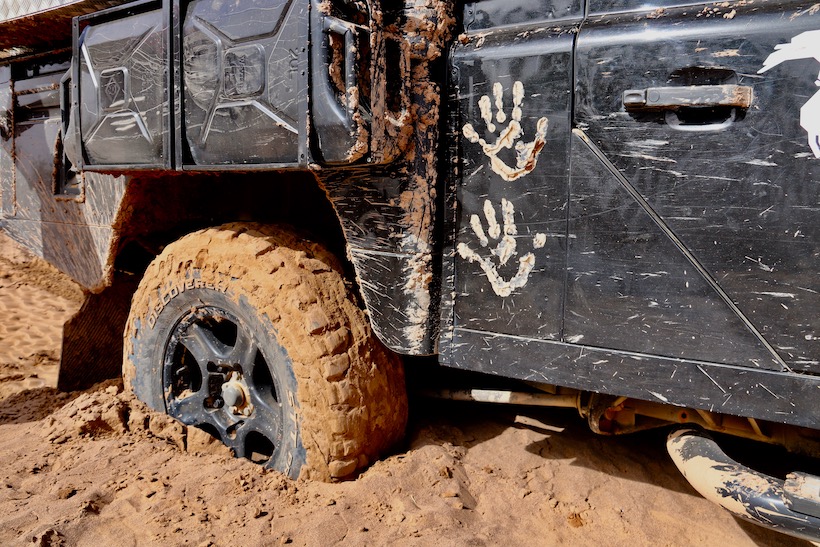 With what looked to be a massive storm brewing on the horizon and 37C heat we worked nervously to free ourselves and again find the trail.
Using a hand winch attached to a small scrubby tree that miraculously held along with several hours of digging we performed a self-recovery and beelined in the direction we had surmised the main track to be located. The rest of the crossing went without incident, and we could thoroughly enjoy the wild beauty of the Sahara Desert.
In 4 weeks of Moroccan exploration, we travelled all over the country. Traversing the northern reaches of the Sahara Desert, narrowly surviving a flash flood whilst rock climbing in the Todra Gorge, driving the High Atlas Mountains, eating fantastic food, exploring ancient history and meeting countless amazing people we experienced why many consider this beautiful country to be one of the best overland and adventure destinations in the world.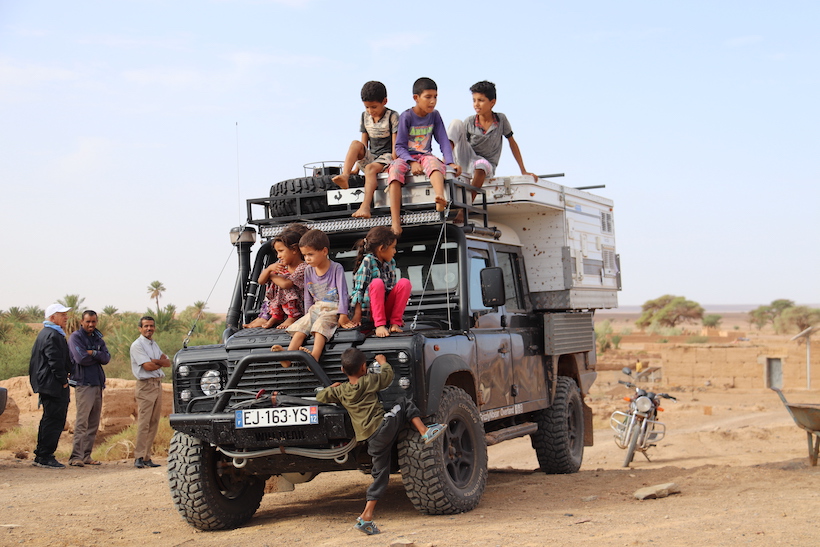 From Morocco we made the decision to take our Land Rover next to Portugal, unknowingly this choice would change our lives and the future of our journey in ways we could never have imagined.
You can follow our adventures on YouTube GrizzlyNbear and Instagram at GrizzlyNbear Overland.
For further GrizzlyNbear Adventures CHECK HERE
Looking for an Overland adventure in California, then check out these TRAILS