We all started somewhere. For me, it was in Saudi Arabia in the back of a Kia Sportage. Then onto a Kelty Palisades 4, then an Rei Kingdom 4 and a smaller 3 person tent for backpacking. But you know what? Tents suck. You may be all like, "I've been tent camping for years!" Sure you have. But did you tent camp, have a downpour, pack it up, then move 100 miles, unpack and sleep in it again? Yeah, if you did, you know how crappy it is. If you haven't, then this article really isn't for you.
Tent camping has its place. Base camps, Family camping, weekend at the lake, etc. Some of us need portability. For that there is the Roof top tent and trailers. Roof top tents are cool. You can pack em up wet, and open them back up with a dry inside. But once it's up and deployed, it's out. No moving. Part of the issue I had with mine (I have a Teupi Kukenam Sky, which I still do love for certain things) was getting set up and wanting to go somewhere, only to have to pack it all up and make the run if you forget something.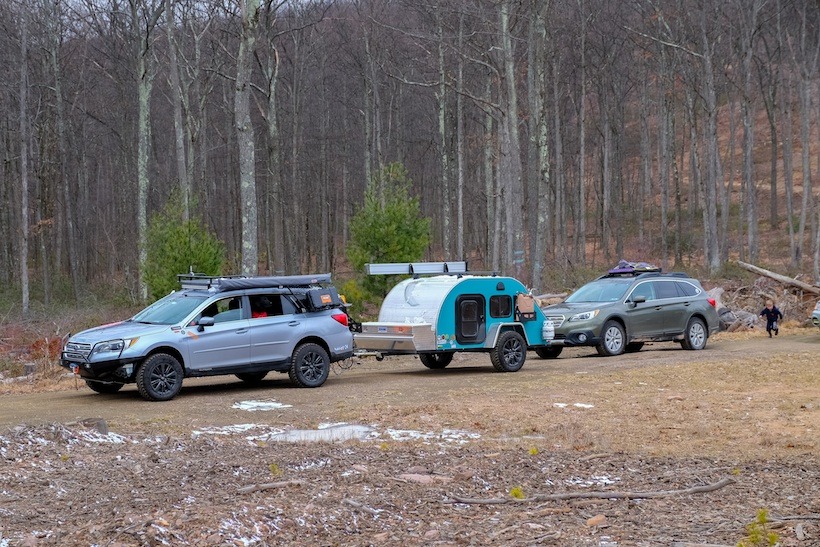 So in the end, after going through all the stages of gear preferences, I finally broke down and got a trailer. After checking a number of options, I settled on a TCTeardrop 5×9 trailer with the ground clearance option in order to match the ride height of my car with matching wheels and tires. During the build, Todd at TCTeardrops was more than accommodating with taking care of a few additions that I wanted such as extra wiring, extra items installed, a galley that wasn't finished so I could customize it, among a number of other small things.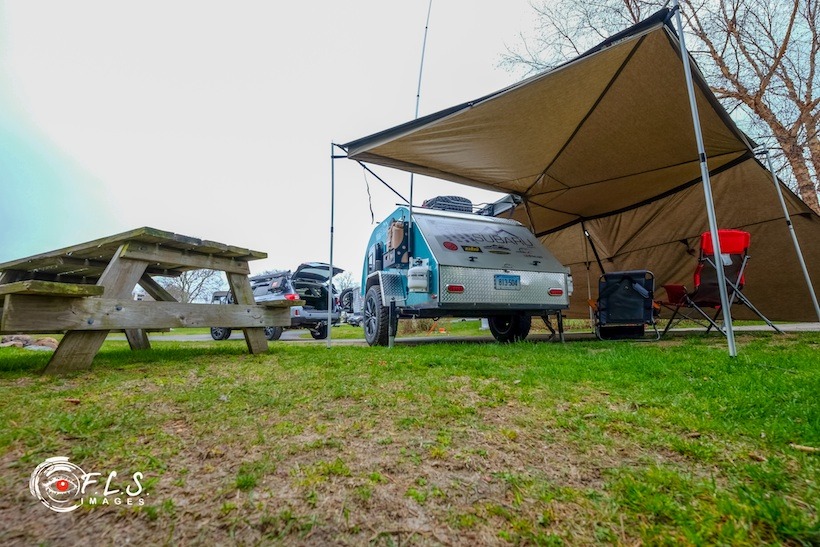 I opted for the Yakima roof rack, rhino rack foxwing with four tapered walls, a basket to put the trailer spare in, and used Bomber Products awning mounts for the ARB awning that is used as a changing room. There is also a misting system installed using the onboard water tank and pump to keep you cool on those warm days.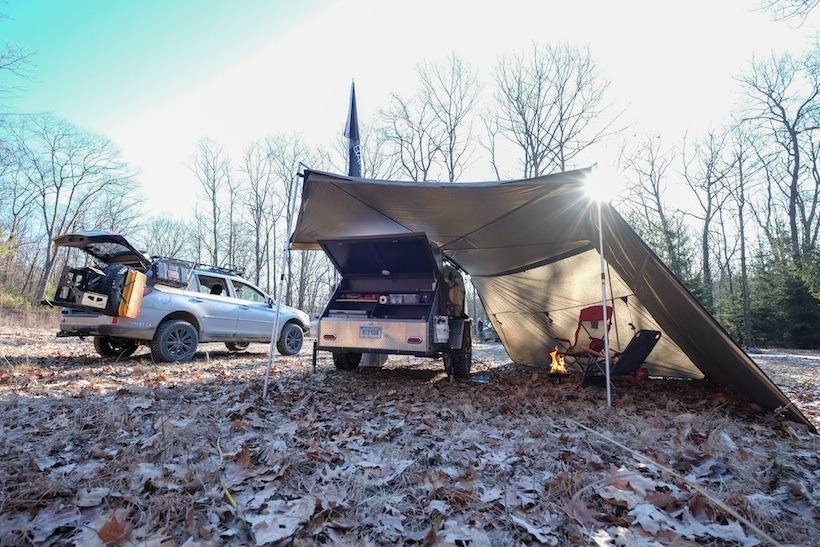 For those hot or cold nights, a climate right 2500 air conditioner/heater unit can be mounted and used to regulate the teardrop temperature very quickly. We had 70 degree temps in 97 degree heat and 68 degree temps in 28 degree cold. No matter what, you can be comfortable, which is important for the other half!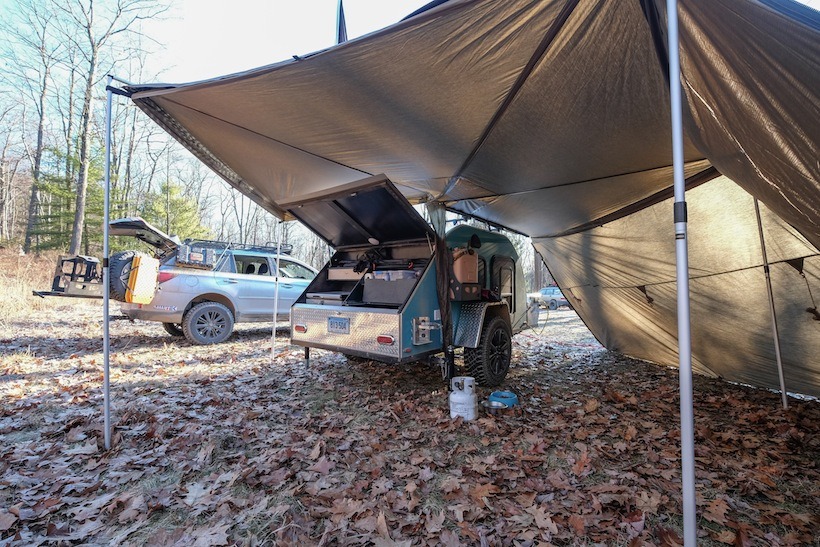 The trailer has been all over with me. The entire northeast, east coast and now settled in florida. I have over 30 nights in the trailer so far, all with a greats night rest. It goes anywhere the Outback can go and has served me well over the past year. It was a lot of hard work to get it where I have it now, but in the end it was worth it. It's the perfect campsite basecamp and mobile platform, as well as the best beach trailer ever!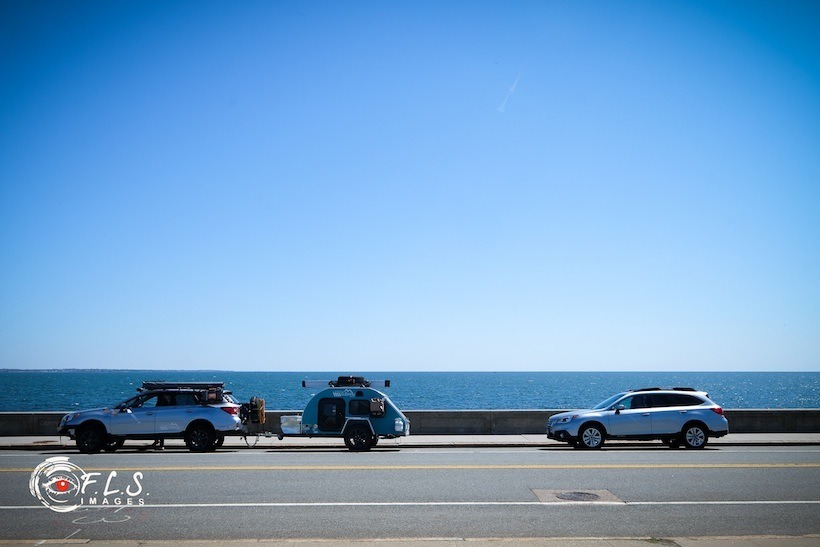 TCTeardrops 5×9 Ground Clearance Model- Specs
Front Box:
Better Built 60" Tool box
Blue Sea Battery Switch
Blue Sea 4 switch panel
110V Input plug
Onboard Battery Charger
110amp hour AGM battery and battery box
Blue Sea 10 circuit Distribution Block
Climate Right 2500 AC Unit
Honda EU2000I Generator
Camp Chef Triton L5 hot water heater
Two extension cords
Water hose
Misc fittings
Interior:
4 LED room lights
2 Dimmable LED reading lights
Storage net
Curtains
Memory Foam Bed
12v Ceiling Fan
12v/USB/voltmeter module
Galley:
15 Gallon water tank
12v Water Pump
Custom built cabinetry
Camp Chef Stove
12v and voltmeter
Edgestar 43t refrigerator
Misc supplies
Check out author Grant Wilson's 2015 Subaru Outback conversion here and for everything Subaru, check his website offroadsubaru.com
What's the best part of your overlanding kit? Tell us about it on our forum and TAP into Adventure!
photos: Grant Wilson