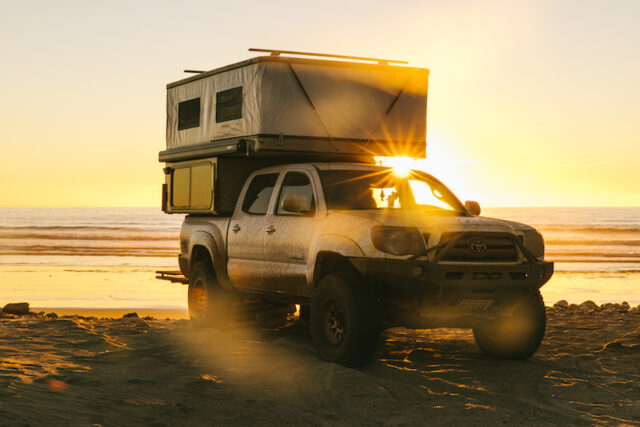 Camping has been an activity within my entire family for as long as I remember. My families style of camping has continued evolving over the years, but I have consistently been out and about since being a toddler waddling through the pine needles – to now, a firefighter on days off searching for the next campsite. Set-ups have ranged anywhere from tent camping with my parents as a baby to spending Christmas in a campground nestled away in a travel trailer. Through these decades of ramblin' about with all of them, I have found my own groove and continued searching and exploring for the next best tradition with and without them to this very day. I have spent many nights under the stars side by side my Grandpa and Dad on cots, and I have stood on a motorhome for hundreds of laps in the middle of a NASCAR track rooting on 20 years of attendance along side my family. I wasn't kidding when I said there was some evolving – and a wide range of it.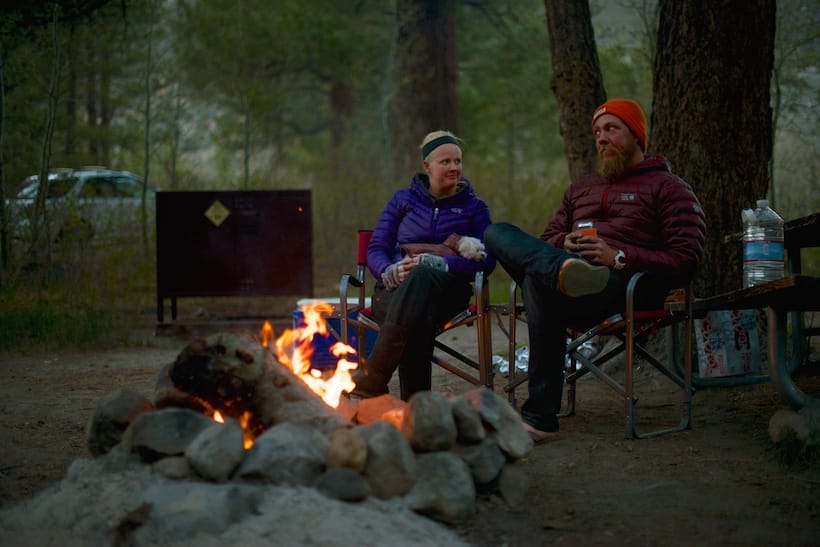 My desire to overland camp got to the point where I even chased a career that involved camping while working and just being outside in general. You're telling me I can go clock in at a job that I pack a sleeping pad, Jetboil, and puffy jacket? From different warehouse jobs to some tech savvy stuff early on, I ended up changing paths and found myself on a Hotshot Crew for the United States Forest Service. With this job, I would end up sleeping on the ground for nearly six months out of the year, in the woods and deserts anywhere across the United Sates. For weeks at a time. You might wonder what I would do when I got back from a two week fire assignment in the back country sleeping on a therm-a-rest… and you guessed it, I would go camping. It was my form of R & R. Even if I didn't camp on every single day off, I moved us to a place where I at least can be on a dirt road 90 seconds from leaving my driveway.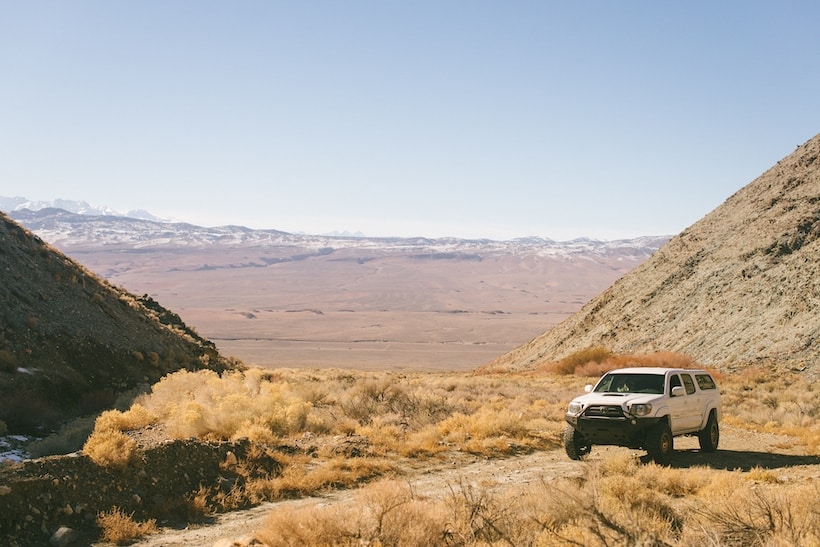 Long story short, I have spent a lot of time camping and as I have adjusted into my own style, it has always been pretty simple and fairly basic. Really, just a cooking set up, sleeping pad, sleeping bag, ice chest, and some firewood. There was never a fancy build out for the truck, no fancy gear, really just the basics to get me outside doing what I enjoy. I just made sure I was comfortable doing it, had what I needed, those around me had what they needed, and I was prepared for what may happen while out and about. That's it.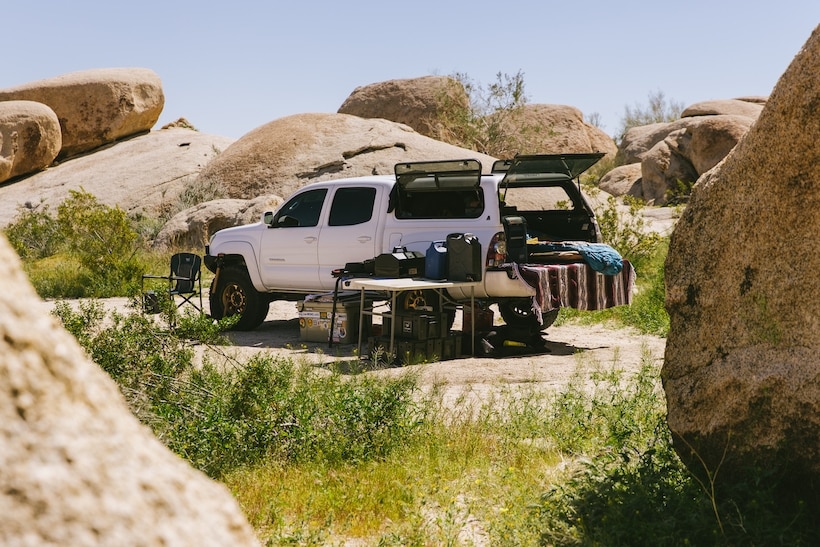 Although I have not really decked out any one vehicle specifically for camping, my vehicles have evolved over the years to make my hobby easier and more enjoyable. From living out of the back of a Volkswagen for my first fire season all summer in various campgrounds, to the typical mountain town living Subaru, to what we have seemed to settle down with now – the Toyota Tacoma. While growing up in the realm of camping with the family, I was also raised down off-road dirt roads, going on various off-roading trips, camping out in the boonies, watching off-road racing, and the list goes on. So with that being said, it is safe to say I like the dirt.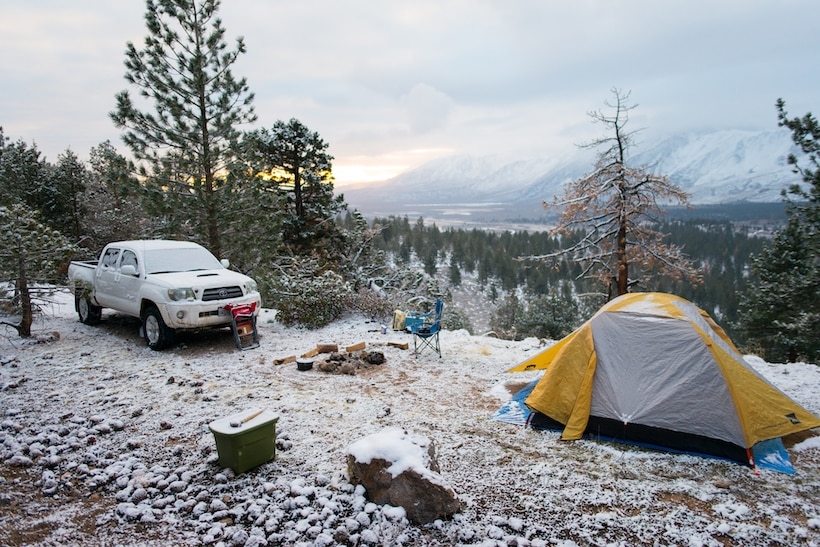 So as my vehicles evolved over the years, it makes sense I have settled with a four wheel drive pick-up truck. I have been camping out of the bed of this truck now for around six or so years. We seem to have the same conversation on every trip, "What should we do to take that next step and make this better for us." The options went round and round as there seems to never be a perfect set up for every specific thing we are getting into.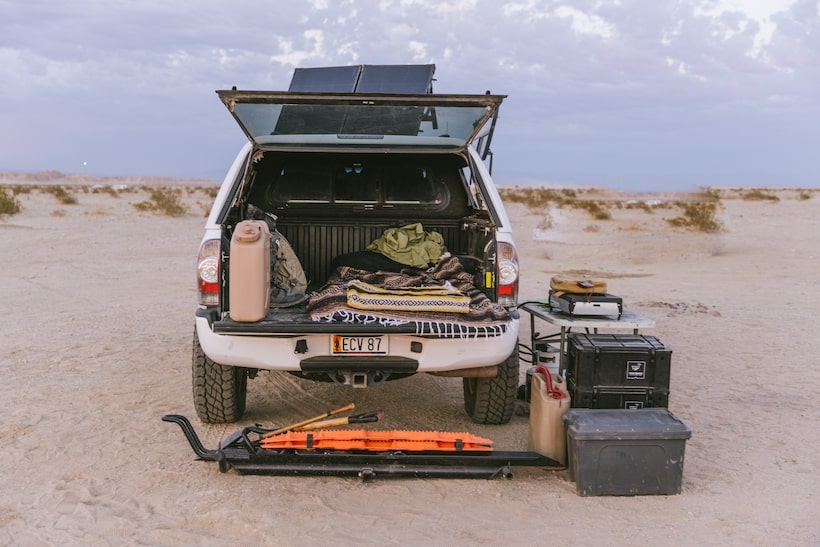 The Tacoma's set up has also evolved over the handful of years of ownership. We decided to put a little money into the truck itself. For one, we wanted a smoother ride when out in the boonies down dirt roads in search of the next best spot. We also wanted all the equipment and gear to not get rattled beyond all belief. So we did some suspension work, went with a smaller wheel size and larger tires in hopes for a smoother and more dependable ride. With the previous vehicle totaled due to a deer on the Tioga Pass, we also decided a bumper was a good idea.
Nothing special, just chasing after some comfort, safety, and longevity for all things involved. Now that the vehicle was set to our liking it was time to continue to dial in the camping set up. Still simple, but always trying to make things a little more comfortable and enjoyable.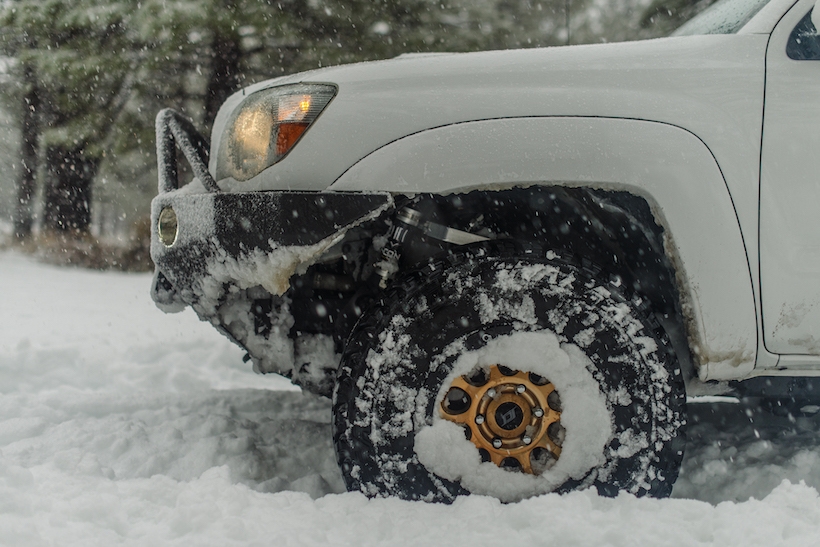 Over time we added better ice chests, better camp stoves, lighting, organization, a fridge, solar, but it still wasn't perfect. We continued to have those conversations around the campfire… "What is the dream set up? Is there a perfect set up for what we do?" Well, I still don't have that answer and I am sitting here writing this from the bed of my truck, only now – while sitting inside a Four Wheel Camper. This was a very long decision process and something I feel like I have put in the time to deserve. We took some of the things with our current set up that we knew needed adjusting. What are the things we would change first? What makes the current camping trips undesirable or harder than we would like? What do we want to keep? What works? After bouncing around all these types of questions and conversations, we felt the Four Wheel Camper was our best solution. I am excited to have a slide in camper, a shelter, keep a low profile for travel, a place out of the elements, somewhere to stand and change, and a secure storage area when on the road. The pros and cons list was an easy one and the process has been smooth, easy, and enjoyable so far. The team over at Four Wheel Campers has been so supportive and have taken the time to help us through the entire process.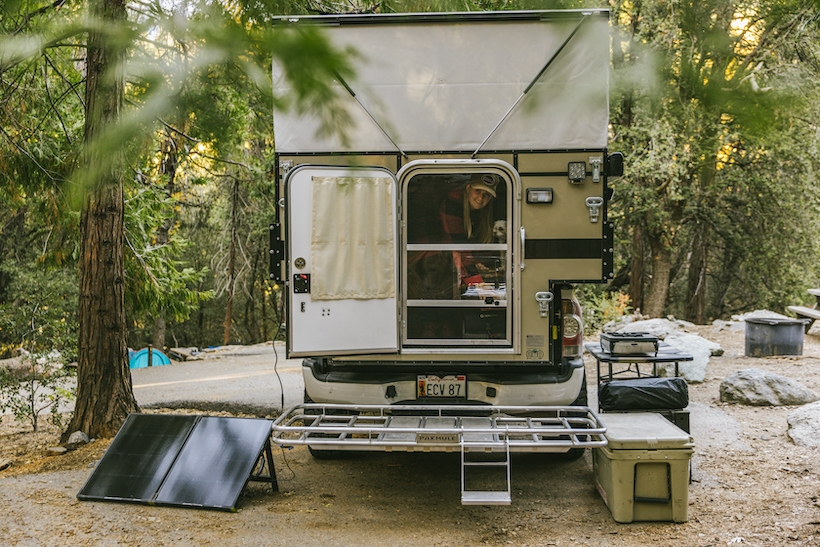 With the new and evolving camper set up, there are a couple things to figure out still. In general, we were able to ditch a lot of items previously carried like: sleeping pads, bags, tents, and most things shelter related really. We also got rid of some of the storage bins and containers as the camper is able to house some of these things now. It has been nice to keep those things in place and not have to load and unload every single item. Not to mention more of a set up that allows a last minute decision to head out with minimal prep time – always ready to rip!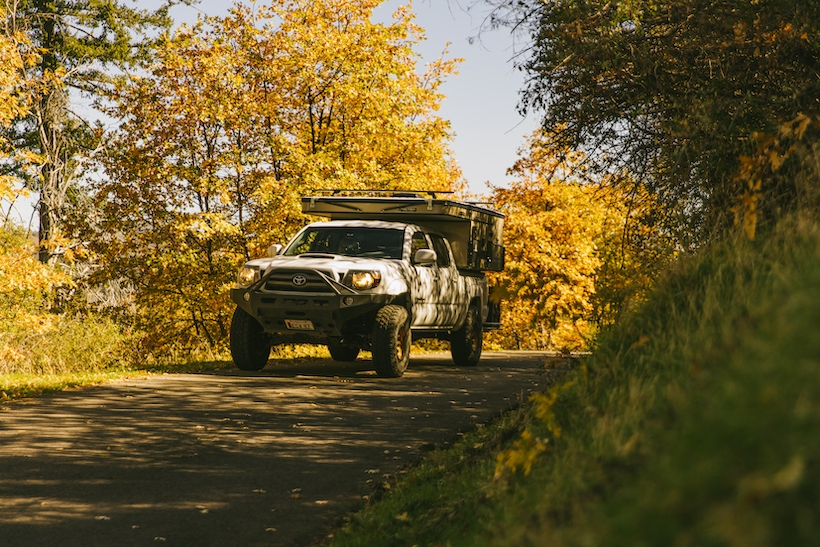 It is absolutely an adjustment, but no doubt – an upgrade. I have spent so many nights on the ground with a balled up jacket for pillow it almost makes me feel guilty to have a sink, heater, and carpet inside aluminum framed walls. I mean I have literally wrapped my Grandpa in a tarp on the cot next to me in the desert winter and have woke up in the bed of the truck to a layer of Eastern Sierra snow caked on my bag. I'm no stranger to roughing it, but a full bed always made, and a hot water heater all in the bed of my dream truck, is something that I can't help but smile about.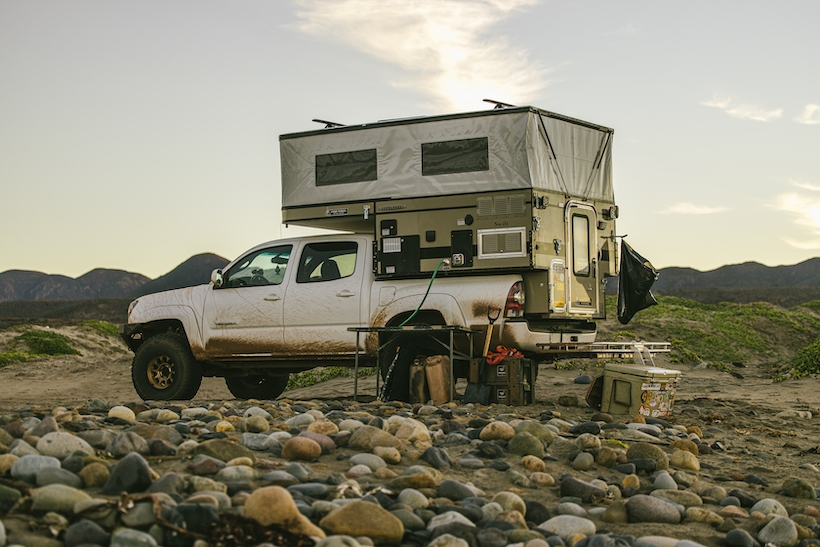 The camper set up is no different than before and is also still evolving, but the decisions are a little different now. Does the bocce ball set go in the back seat now? Do you want the fan on tonight? Should we change spots today since we can go from coffee time to on the road in 10 minutes? Fine tuning the set up will come easy but the set up will never be done and this one isn't perfect either. There is no perfect set up for all scenarios. That's what makes the process so fun. It's always evolving to keep up with you as you camp your way through the years. Let's sit around a campfire sometime and talk about that same ol' topic, "What would you change and what's the perfect set up for you?"
See ya out there, friends!
Cheers,
Gregg
Gregg Boydston, a professional photographer, firefighter, and former wildfire Hotshot. He spent six years as a Hotshot—double the typical timeline—putting out forest fires and honing his photography skills along the way. Gregg works to improve the lives of others by fighting fires, keeping families in their homes, and protecting our wild spaces for future generations. Huckberry and Coors Banquet are proud to present part 1 of The Golden Hour Series, a collection of stories about the inspiring folks who work day in and day out to make adventure more accessible to everyone. For more about The Huckberry x Coors Banquet Golden Hour Series and Gregg Boydston: https://bit.ly/3b5acTU
________________________________________________________________
Editors Note: This article is sponsored content
For more Pop Up Camper Articles, CHECK HERE