What happens when the most capable Van Life rigs on the road need somewhere to ride out a pandemic?
By AARON ANDERSON
Highs in the 60s, perfect skies, a slight breeze and Kate Field was taking it all in from her rooftop roof rack deck as Levi LaLonde held court below – explaining every over-the-top detail of their custom Mercedes Sprinter 4×4 and the Van Life they were living.
Adventure rigs littered the horizon and they could finally exhale. For months, the pair had been in Colorado as TouRig, a van upfitter, put the finishing touches on their hulking green rig, aptly named Bruce Banner. The timeline was tight, but the van was ready just in time to debut at the FourWheeler Adventure Expo on March 7 in Costa Mesa, CA.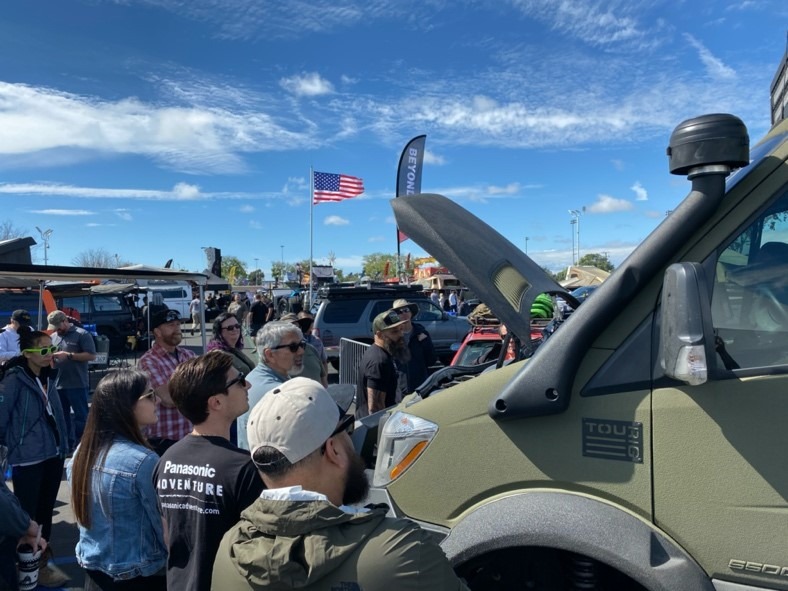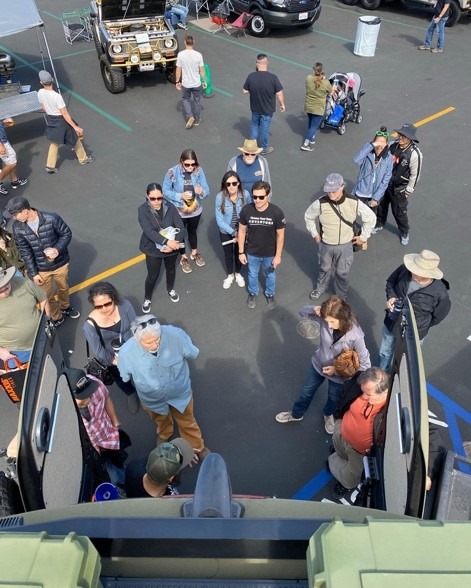 These self-contained, ridiculously capable rigs enable their inhabitants to explore anywhere, jump back in and hit the road to do it all over again. But when home is literally where you park it and those areas start to shutter, things get complicated.
We Roll With It
For Kate and Levi, who chronicle their adventures on Instagram with @werollwithit and manage a rolling creative agency, the change came swift and hard. This was to be the first of five stops in the Golden State to showcase the rig and host small rallies featuring cooking demonstrations, van component demos and group rides. But less than two weeks after the Adventure Expo, as COVID-19 cases began to rise in the state, stay-at-home orders were put in place, shutting down gatherings, parks, dine-in restaurants, bars and gyms. They quickly realized that no matter how complete and capable the rig, if there's nowhere to park, they'd have to roll out. Bruce's tour would be indefinitely postponed after only one performance.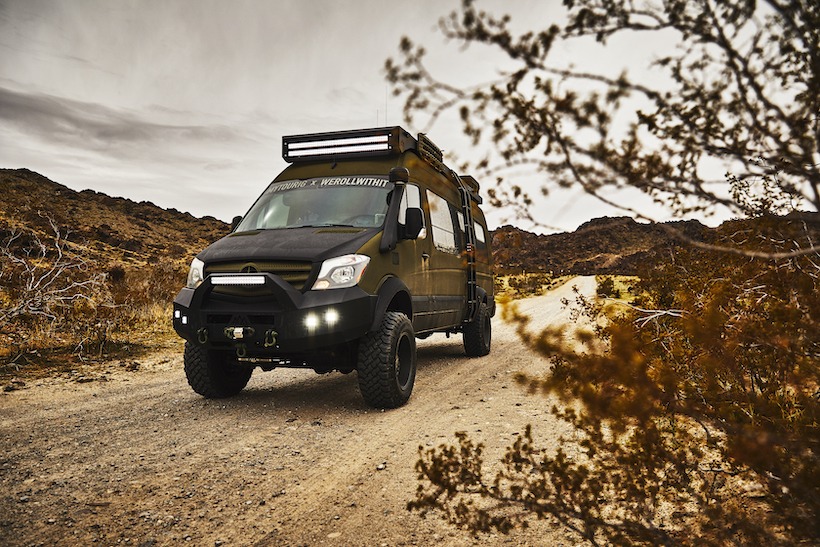 "When COVID began, we were in California for some 4×4 events. We could see that public locations were shutting down and knew that the places we usually camped in would soon be shut down too," Kate said. "We chose to make a fast track across country to Michigan and park up on family-owned property. This way we could stay long-term without having any problems.
"We stocked up in LA and are fortunate to have a fridge and freezer onboard and plenty of storage for non-perishables. We have changed our shopping habits — normally we shop small amounts frequently and like to buy local fresh produce. To avoid going to stores we have done more of a household style shop and chose things that can last longer."
"We are still living our van life; a van has been our full-time home for two years now, but before the van, we were living in Brooklyn, New York so we are very glad to not be based there during this time," said Kate. "Normally, we stay in locations no more than four days before moving on. This is the longest time we have stayed still since adopting the van life.
"It was certainly nice to be able to switch locations, literally cross country, at the drop of a hat. Being able to be where we choose during this time is somewhat of a luxury. I wouldn't say we are doomsday preppers but we certainly have our rig prepared for most scenarios. It's been good to put it to the test and we are happy with how it's performed."
Gnar Wagon
For Kelly and David Somach, who run @gnrwgn on Instagram, they were enjoying fresh powder in British Columbia through the first half of March. But as news continued to worsen, they quickly changed plans and headed to Oregon to hunker down with family. By March 23, Oregon had prohibited nonessential social and recreational gatherings regardless of size. The state also closed campgrounds and fitness centers; two places vital to van lifers' ability to crisscross the country.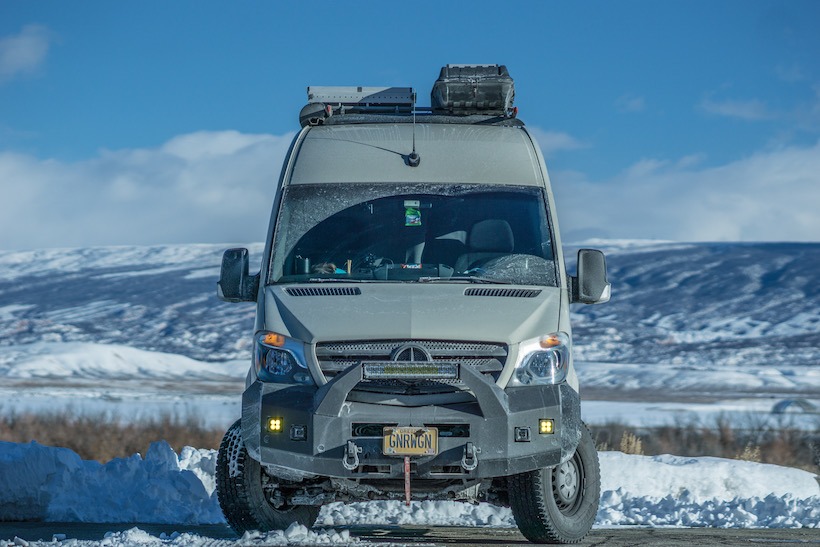 "Kelly and I decided to put a pause on our travels as the pandemic continued to spread. In addition to the logistical challenges as cities moved to shelter-in-place and businesses closed, we thought it would be irresponsible to travel through small towns with the possibility of picking up and spreading the virus in areas that don't have medical facilities with the capacity to handle a large number of sick patients," said David.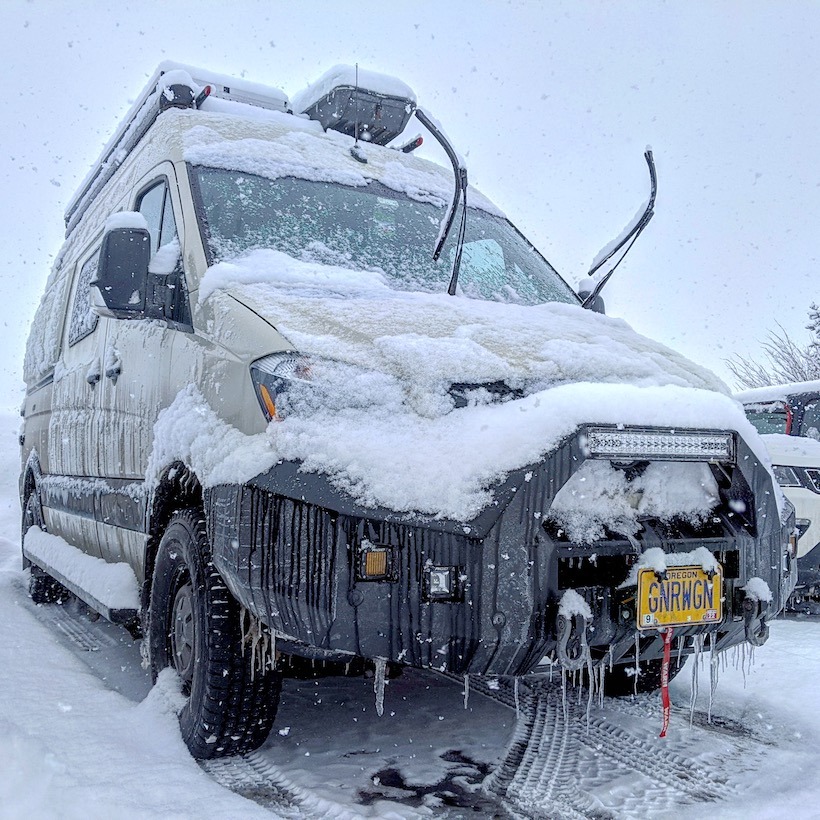 "We're currently holed up in Bend with Kelly's parents. We've been here since mid-March, and since then we've been mixing in a fair amount of van work along with working on the house and yard with her parents. We're very lucky that we were so close to family when we decided to pause our trip and we're living in a house now, so our food shopping experience has been the same as what everyone else is experiencing."
Bart Miller
While his recreation travel ground to a halt, Maryland's Bart Miller and his rig have still been on the move … and noticed.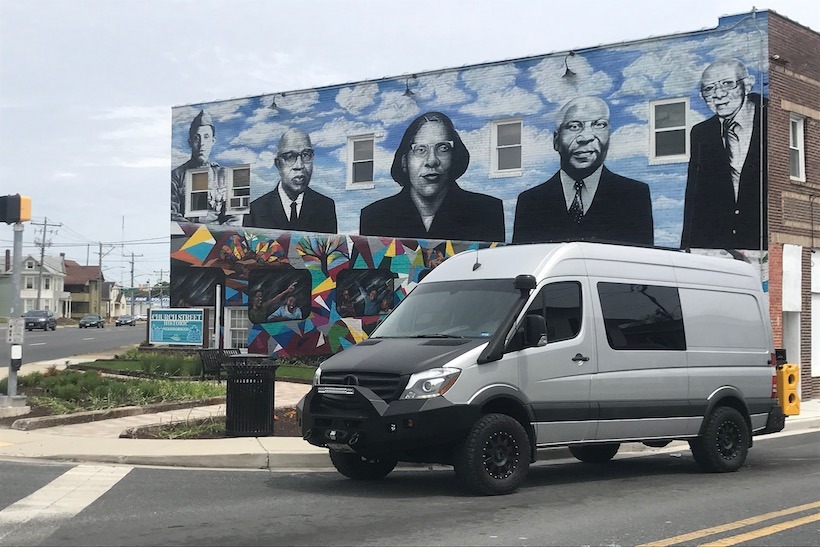 "My van is a daily driver so it's getting used more in these tough times than ever before. I am a commercial property manager and handle a three-state area. Due to the COVID-19 essential travel restrictions, a lot of the tenants had closed their doors and I am having to physically inspect the properties once a week for any forced entry or sign of break-ins. The comments I get are 'Is that a SWAT van? Are you with the National Guard?'"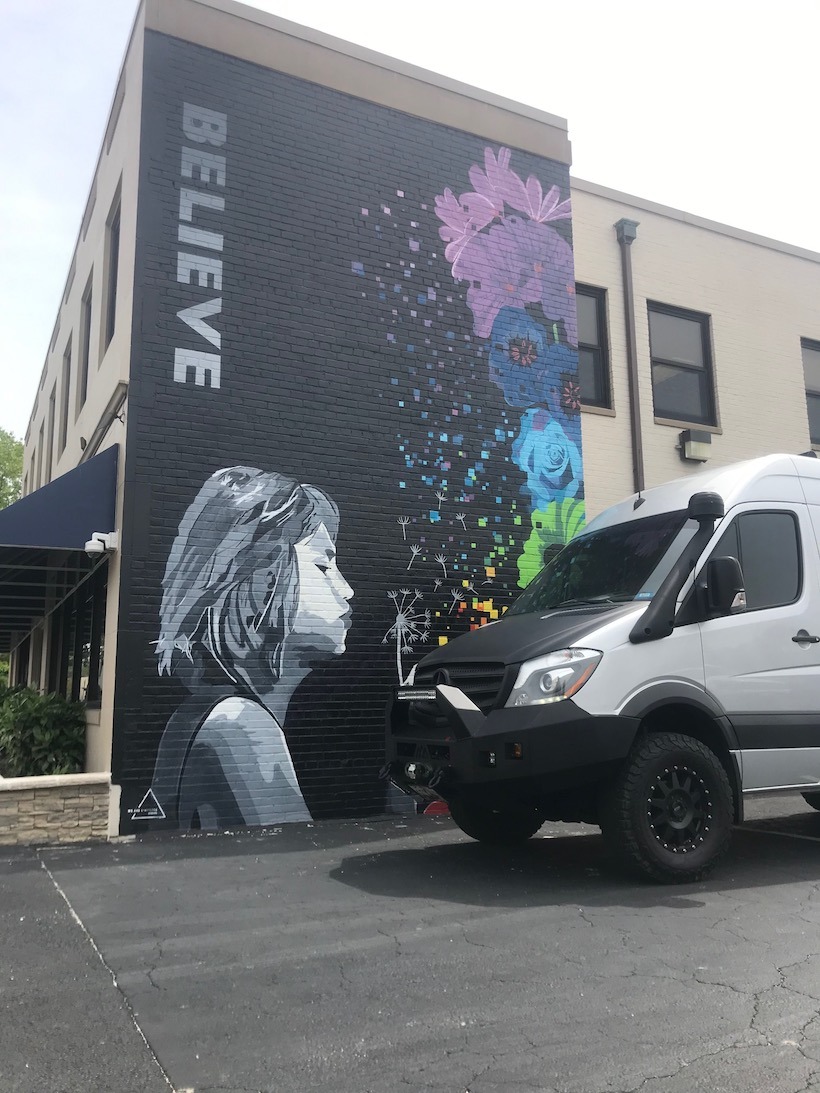 Van Life goes on – Just differently
Just as it is for Miller's tenants, what's next is a bit of an unknown. However, shades of optimism are starting to emerge for van lifers. As areas begin to reopen, state parks are often first on the list because social distancing practices can be achieved in open spaces and self-contained recreation vehicles provide safe overnight stays. In Arkansas, where Overland outfitter Backwoods Adventure Mods is headquartered, the state has announced campsites at state parks are reopening this month. In a phased plan, certain amenities and shared spaces will be limited and only those in self-contained units will be allowed to camp.
"We're happy that our friends and family can safely enjoy the outdoors at our beautiful state parks," said Chris Chandler, Backwoods owner. "We hope to set an example for other states on how social distancing and outdoor recreation can go hand-in-hand and help people through this difficult time. Time outdoors is good for the soul, that's the whole reason we exist."
While van life proponents wait to see how lifting restrictions such as these impact travel nationwide, the travel pause has given them some unplanned productivity.
"I did finally have time to archive a lot of photography and footage. I've had time to sit down and edit videos too, so keep an eye out on our YouTube for some new content!" shared Kate.
"I've added an under-sink filtration system, a trickle charger from our house batteries to chassis battery, some extra lighting inside, and a few other odds and ends," said David. "I'm in the process of adding another 90W of solar to the roof as well – that will certainly show up on our Instagram when it's finished! If we still have time after the other projects are done, I'm going to look at adding onboard air."
But still, the van life community is a social bunch and not striking up conversations on the latest adventure or van modification can be tough.
"People are normally very excited and happy to see our rig, they smile, wave, flash their lights or come and say 'hi' if we are stopped," said Kate. "We still received some waves travelling cross country but less than normal. A few people approached with questions but kindly kept their distance. One especially sweet lady asked us if we needed anything and offered help knowing we may need a place."
"It's painful to think about it, but our van has actually primarily sat in the driveway here in Bend since a month ago," said David. "It's probably for the best though – I'm naturally very friendly and excited when someone expresses interest in the van, so it would be a challenge to resist the temptation to invite them over for a van tour!"
When it's safe again to roll out, David and Kelly are heading north to Alaska, hiking some backcountry trails and then exploring the Canadian Rockies. Kate and Levi are ready to see new and old friends at their rallies, hit the trails for group rides, and explore Moab. Bart is itching to escape the east coast for the open spaces of New Mexico, Arizona, Utah and Colorado.
"I am in love with exploring the western United States," he shared.
No one knows when, but there will be a time out west when Bart can meet up with Kate and Levi; they can climb up and take in that rooftop view.
More:
WeRollWithIt:
Gnar Wagon:
Bart Miller:
Bart Miller 'Wheels And Overlands In A 2017 Mercedes-Benz Sprinter Van
https://www.fourwheeler.com/overland-adventure/2019/1912-bart-miller-wheels-overlands-2017-mercedes-benz-sprinter-van/
Backwoods Adventure Mods:
www.backwoodsadventuremods.com
TouRig: