It's 5am and we've already hit the road! I'm good with early mornings, my partners in crime (Lori and BlueDog), not so much. It's early June and the plan for the TAP crew is to spend 3 days camping at the base of the eastern Sierra and exploring the Inyo National Forest.
First stop however is Alabama Hills/Movie Flats on the eastern Sierra side. It's an iconic and dramatic location with amazing views of Mount Whitney and the eastern Sierra. Being located just a couple miles off the main road, it gets busy with adventurers and climbers, hence the early start to ensure we snag a good primitive site. The roads are graded and 4 wheel drive isn't necessary unless it's been raining or snowing heavily. In fact you'll see plenty of RV's that have taken the plunge and limped their way slowly along the dirt trails. Don't let this put you off as we've always managed to find quiet primitive locations that provide the spirit (if not the reality) of backcountry adventure.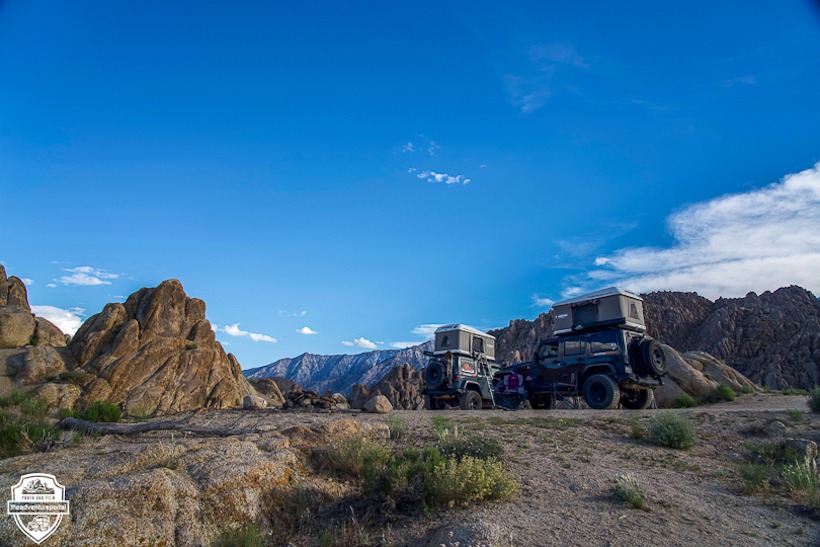 5 hours later, after battling the craziness of southern Californian traffic we pull off the I-395 at Lone Pine and make our way into the Alabama Hills area. Immediately the stress of modern day life melts away and we start scouting for that perfect camp site amongst the starkly beautiful rock formations the area is famous for. 20 minutes later we've found a perfect elevated flat campsite by a little ravine with room for 2 rigs, that looks not only directly at Mount Whitney, but also has a view east across the Alabama Hills. That evening we are rewarded handsomely with a dramatic sunset across the eastern Sierra and the echo's of coyote calls bounce off the rocks as we drift soundly into sleep.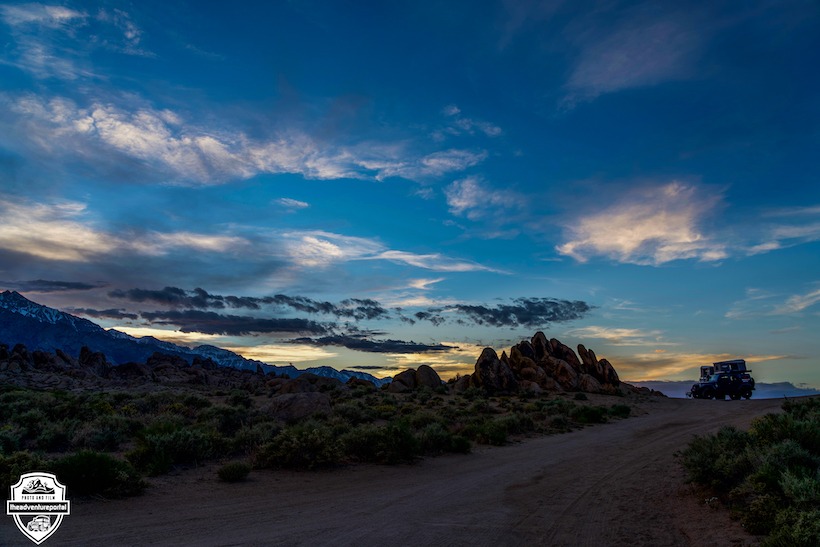 Leaving the eastern Sierra, heading east
The following morning we head up to Independence, where we turn directly east into the Inyo National Forest. We'd done the Mazourka Peak Trail a few years back towing our Turtleback Trailer and had camped at Badger Flats. This time without the restrictions of a trailer, we intend to travel deeper into the backcountry along the fairly rugged Papoose Flats Trail. The trail up the Mazourka Canyon is easy and honestly fairly average, however when you reach Badger Flats it starts to feel more remote. I highly recommend driving to the top of the Mazourka Peak at 9410ft, where you have amazing views to Owen's valley below and the eastern Sierra in all it's snow capped glory!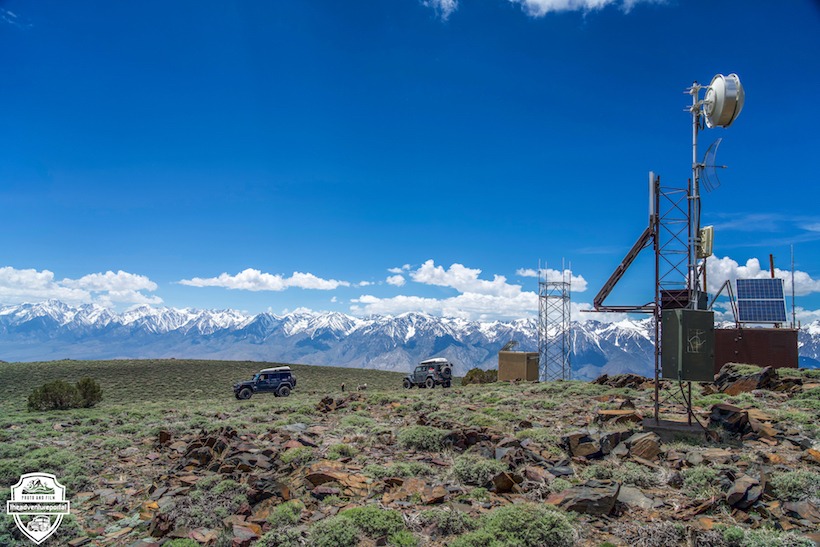 After hanging out at the peak, we turn east towards Papoose Flats and make our way along the moderately challenging trail (insert trail info). The trail is super fun and slow going as we encounter plenty of off camber, loose rocky sections and tight turns. I personally wouldn't take a trailer on this trail and I think a full-size rig would struggle with some of the tight turns and overhanging trees. I've now done the trail in both a Tacoma and a JKU and both rigs handled it really well.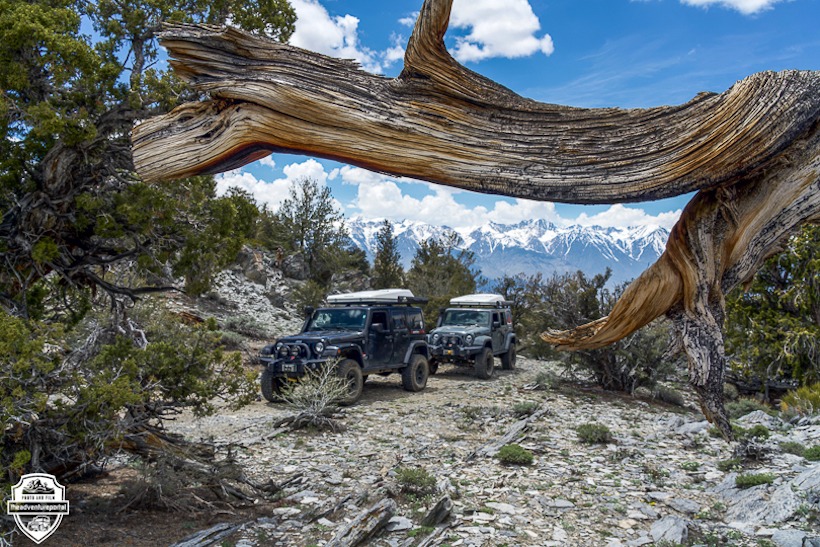 Eventually we arrive at Papoose Flats, a flat and treeless, granite strewn high desert area. It feels and is remote. With room for several rigs amongst the granite outcroppings, in our opinion it's one of the best primitive campsites in the region. That being said, if you camp there, please treat it with respect. Leave no trace and keep the area beautiful!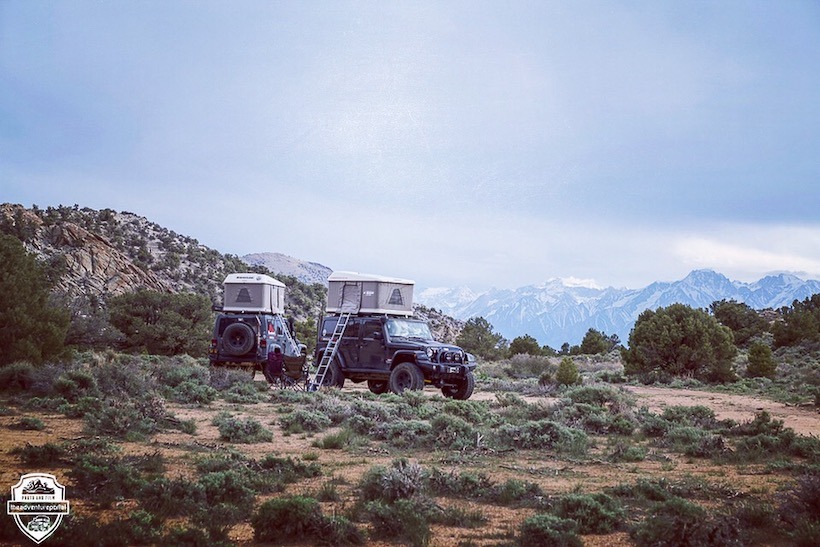 It's mid-afternoon and we set up camp as storm clouds gather around us. It's hysterical to see our "Head of Security" run for cover on the first clap of thunder. After a little rain, the clouds part and by early evening Mother Nature rewards us again with an adventure photographer's dream sunset! That evening we sit quietly around the fire pit and watch the stars. Paradise found!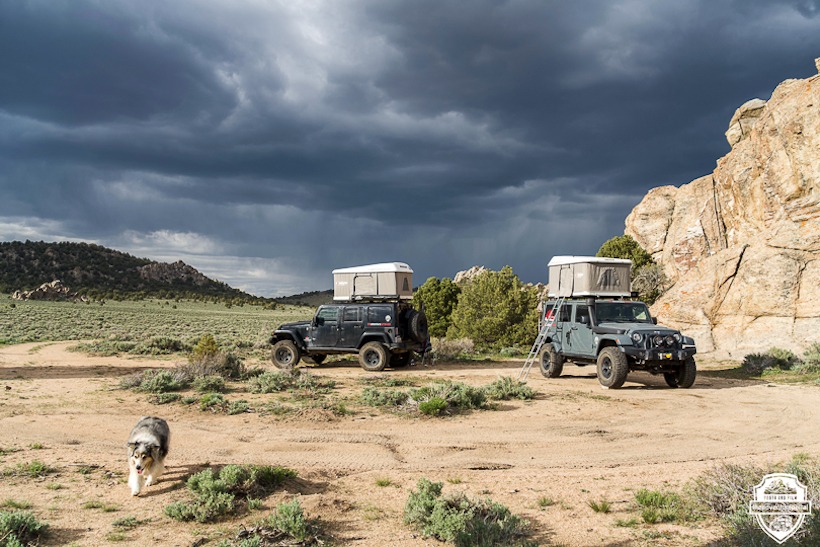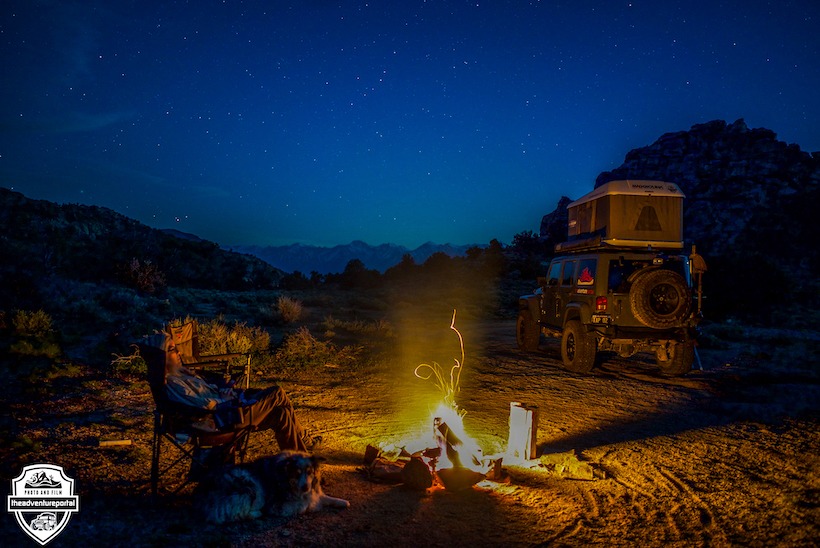 Off to the White Mountains
We awake early, break camp and set out to finish the Papoose Flats Trail that eventually links up with (road to Death Valley). This section of the trail is relatively easy going until you reach a steep rocky downhill section with multiple off camber tight switchbacks. Nothing our Jeeps can't easily handle, but tricky enough for us to be carefully attentive of the edge of the trail. Our plan is to head north to the White Mountains, but if you want to continue to explore the region, take Harken Flats and …… to loop back to Papoose Flats Trail.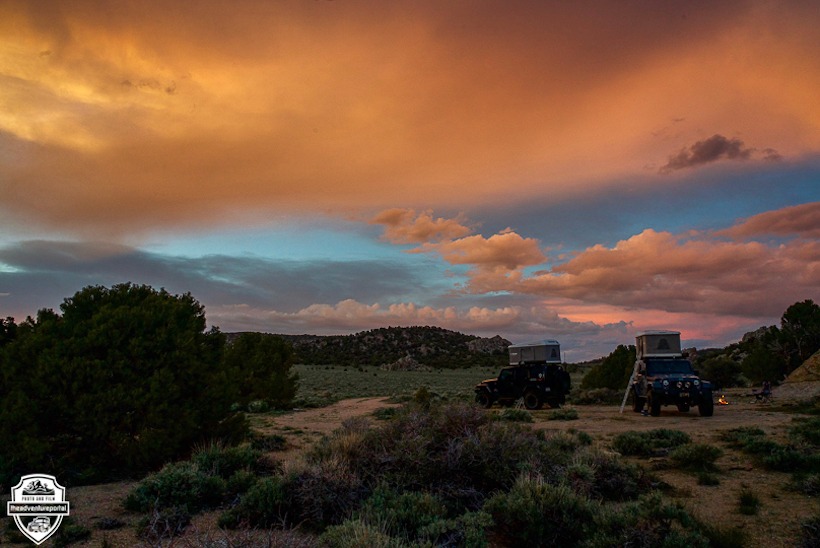 Eventually we hit pavement and head down towards Big Pine and then Bishop. We plan on a quick detour into Bishop to eat lunch at Schatts Bakery! A touristy place but with amazing food and worth the visit. Tonight we'll camp at Grand View campsite, so we'll have easy access to capture the Milky Way above the Ancient Bristlecones. It's an iconic image that I've been wanting to capture for a while. The plan on leaving Bishop is to head up the very steep Silver Canyon Trail to 11k feet in the White Mountains We'll be camping at 8500ft.
SKUNKED!
The winter snow pack has been excessive this season and unfortunately we discover that all trails above 10k are still blocked. I make a mental note to remember next time to call the ranger station ahead of time. Not only are we unable to reach the White Mountain plateau via Silver Canyon, but we're also unable to reach the Ancient Bristlecone forest. We still decide to camp at Grand View however my astrophotography plans are put on hold. The Bristle cones have been here 2000 years so I can wait for another day I suppose.
One thing we've learnt over the years of exploring in the backcountry is don't expect things to go to plan. All in all a great few days of adventure in the backcountry and the I-395 Owen's Valley corridor has so much to offer.
Click here for more CA off-road, Overlanding trails…..and TAP into Adventure!