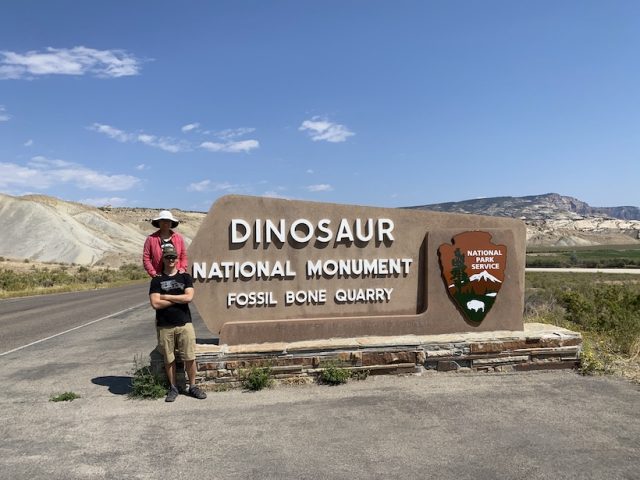 One of the best parts about vehicle supported adventure travel is discovering amazing places we never knew existed. These hidden gems often become some of our favorite destinations, as is the case with Dinosaur National Monument. Straddling the border between Utah and Colorado, there's an incredible mix of natural and human history on display here. From the moment we drove in, we knew it was going to be a special place and it did not disappoint.
Entering at Canyon Visitor Center
We entered Dinosaur National Monument at Canyon Visitor Center where we picked up a map and talked to the park rangers to get tips on what to do. When one of the rangers took notice of our 4×4 pop-up truck camper https://weretherussos.com/four-wheel-campers/, he enthusiastically recommended driving the unpaved road to Steamboat Rock and staying overnight at Echo Park Campground. Kait being the inquisitive one asked the ranger a slew of questions about height clearance, road conditions, weather forecast, campground availability and cell service, before we got on the road.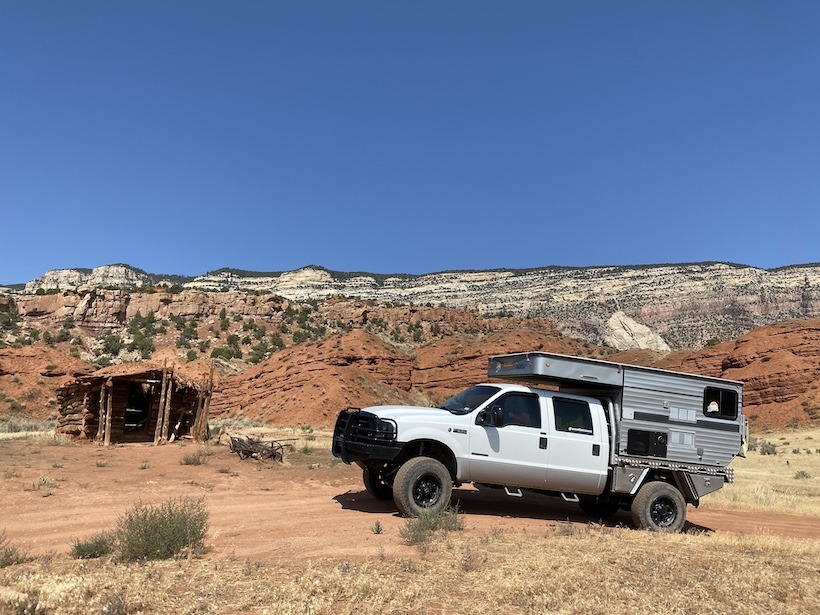 From Canyon Visitor Center, we set out on Harpers Corner Drive, a 32 mile paved road that leads to the heart of the canyons. With overlooks and state border crossings along the drive, we made several stops to check out the vistas and learn about the history of the place. As Kait and I took in the scenic views at Echo Park Overlook, it only added to our excitement for the journey to Steamboat Rock.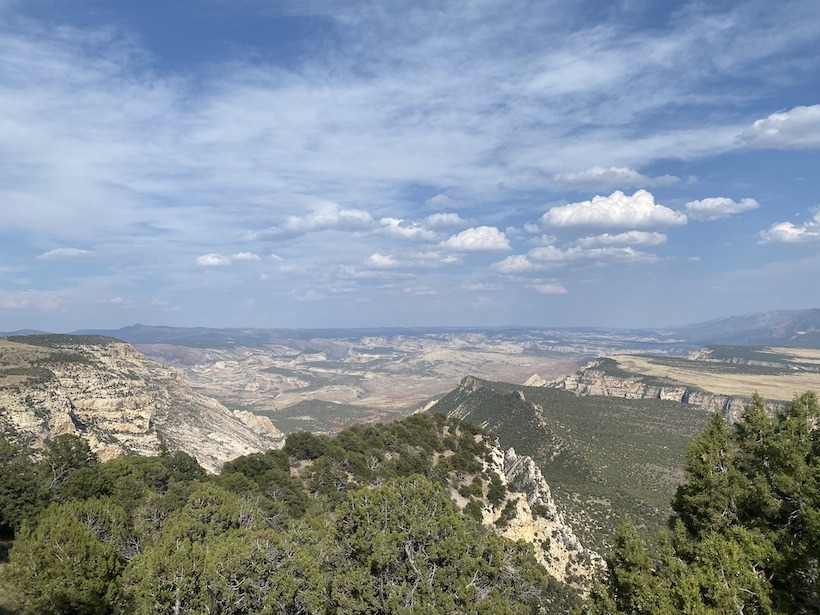 Driving the Road to Echo Park and Steamboat Rock
Along Harpers Corner Drive is the turnoff for Echo Park Road, a 12 mile, unpaved overland road leading to Echo Park Campground and Steamboat Rock. After we turned on to Echo Park Road, we pulled over on the shoulder and aired down the tires to make the ride in and out a bit smoother. After the road turns into graded gravel, there is a large caution sign that states "No Trailers. Passenger Cars Not Advised. Impassable When Wet." With the recent off-road condition information that Kait gathered from the park ranger and our capable off-road truck camper, we continued the decent towards our destination with confidence.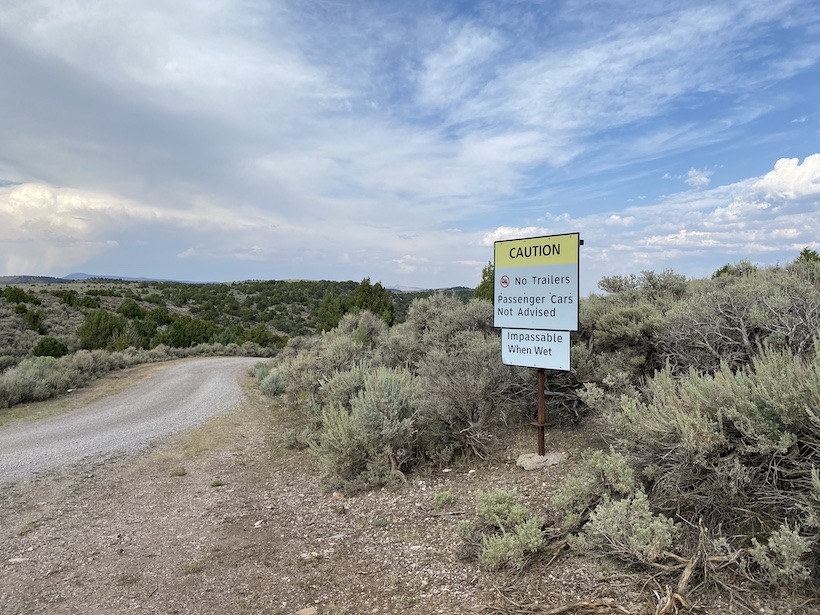 Within a few minutes of the drive, we were greeted with breath taking views of the canyons and the road ahead. With the sun shining and miles of unpaved road ahead, we continued at a leisurely pace to the turn off towards Echo Park Campground. Along this stretch of the drive, there are several points of interest, including ancient petroglyphs, whispering cave, and Chew Ranch, a well-preserved look at the area's homesteading and ranching history.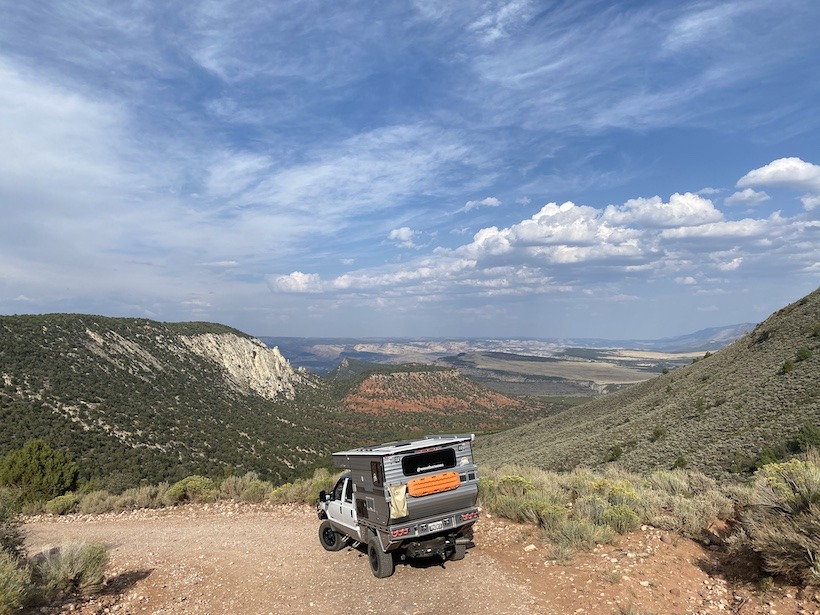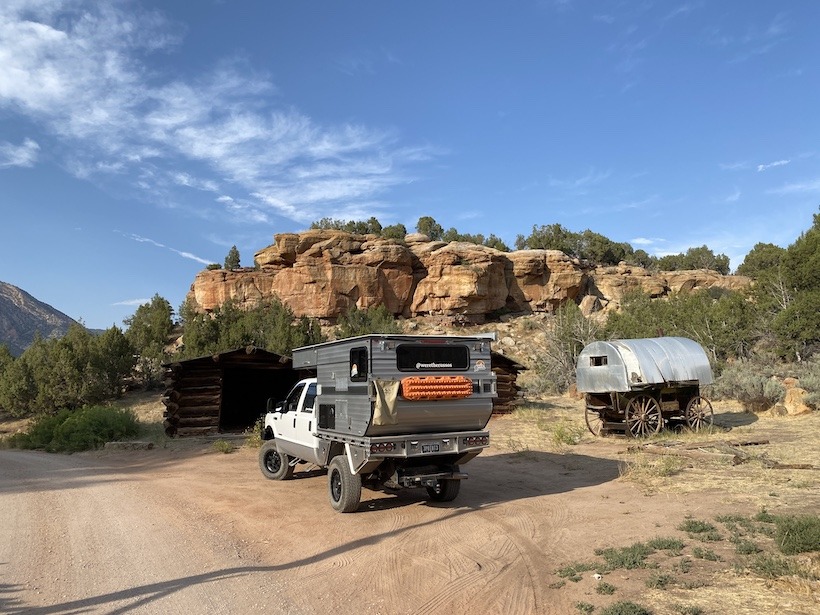 Being the middle of August with a high in the mid-90s, and having descended about 2,500 feet, the whispering cave was a welcomed stop on the journey to Steamboat Rock. The cool air flowing from the cave provided natural air conditioning and as we later found out, is also a popular lunch spot for the researchers to cool off that visit this part of the monument. We could even feel the cool air flowing into the truck cab as we opened the doors to get back inside.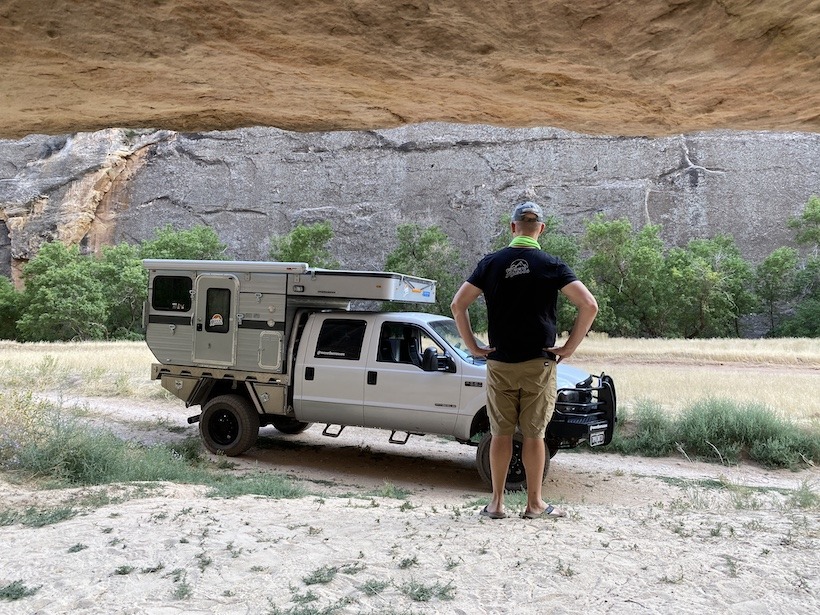 Staying at Echo Park Campground
At the leisurely pace we were driving and adding in all the stops along the way, it took us 75 minutes to drive the 12 miles to Echo Park Campground. The view of Steamboat Rock and the canyons that greeted us made us wish we could spend more than one night. This first come first served campground has 17 sites, one of which is handicapped-accessible. There is one group site that can be reserved that can accommodate up to 25 people. The campsites are basic, each with a picnic table and a fire ring. Water is available for a limited time during season. There are several vault toilets but no trash service, so you'll need to pack out what you pack in.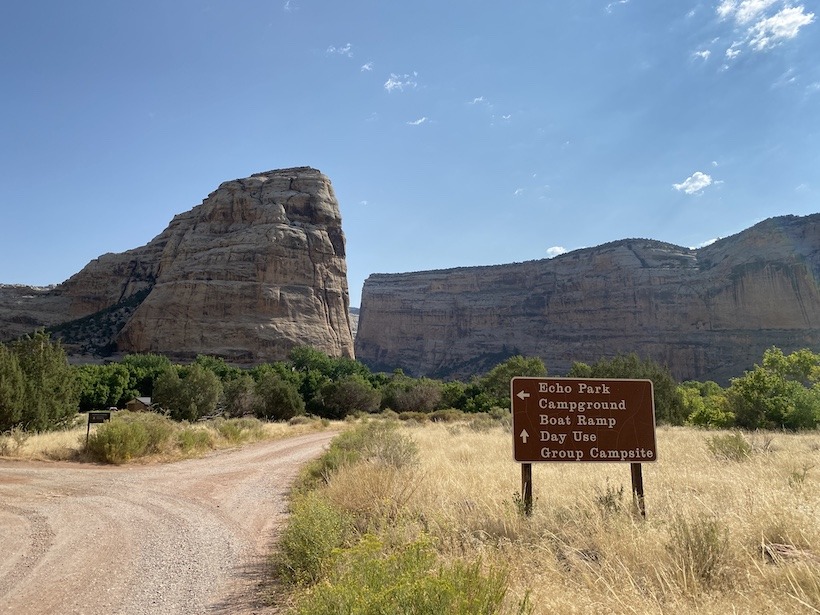 The campground was less than half-full giving us a fair number of sites to choose from. We ended up in a great spot flanked by large rock cliffs with petroglyphs visible from the ground. It only took us a few minutes to pop the top on our camper and put out the camping chairs. Kait grabbed the watermelon chilling in our fridge and we dug in while taking in the views and enjoying the tranquil surroundings.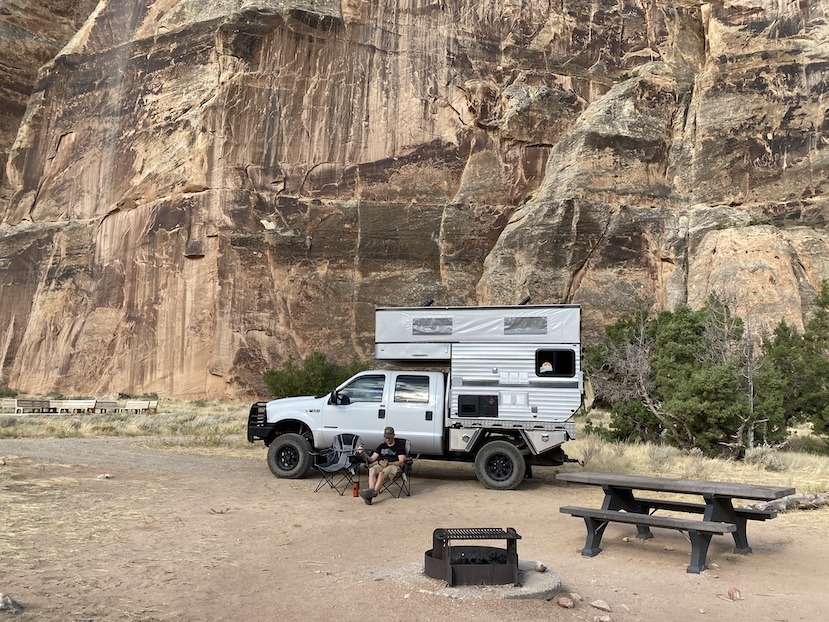 The campground host was a wealth of knowledge and provided enough recommendations to keep us busy for a few days. From hiking trails, "hidden" petroglyphs and bighorn sheep to stargazing (Dinosaur National Monument is designated as an International Dark Sky Park), there is no shortage of things to do once you make it out to Echo Park. If it wasn't for our reservation to visit the Dinosaur Quarry Exhibit Hall the next day, we would have gladly extended our stay.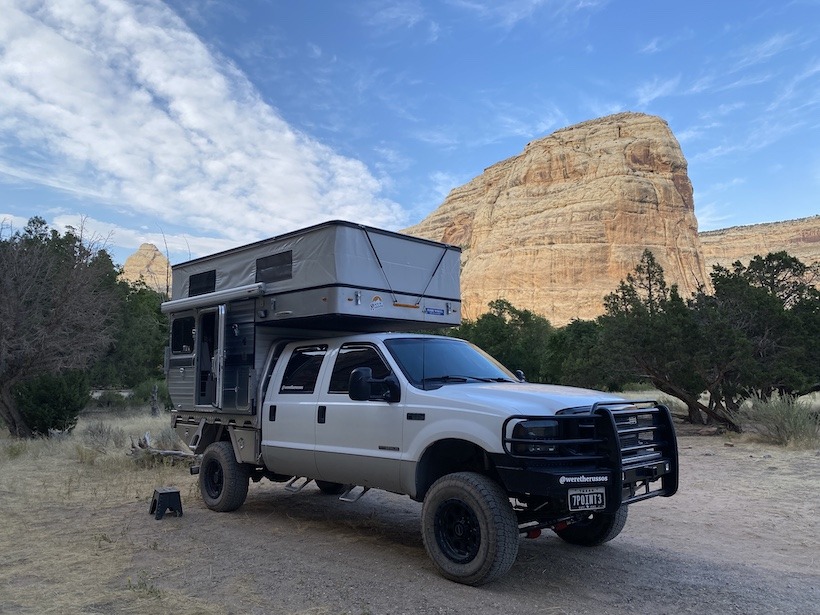 Exploring the Quarry Side of Dinosaur National Monument
The next morning, we made the 2.5 hour drive from Echo Park to the Quarry Visitor Center to see the dinosaurs…well, their fossils at least. The hall features about 1,500 bones and exhibits that tell the story of the dinosaurs that called this area home. It's a humbling reminder of the incredible natural past of the places we get to explore. You even get the chance to touch some bones which is pretty cool.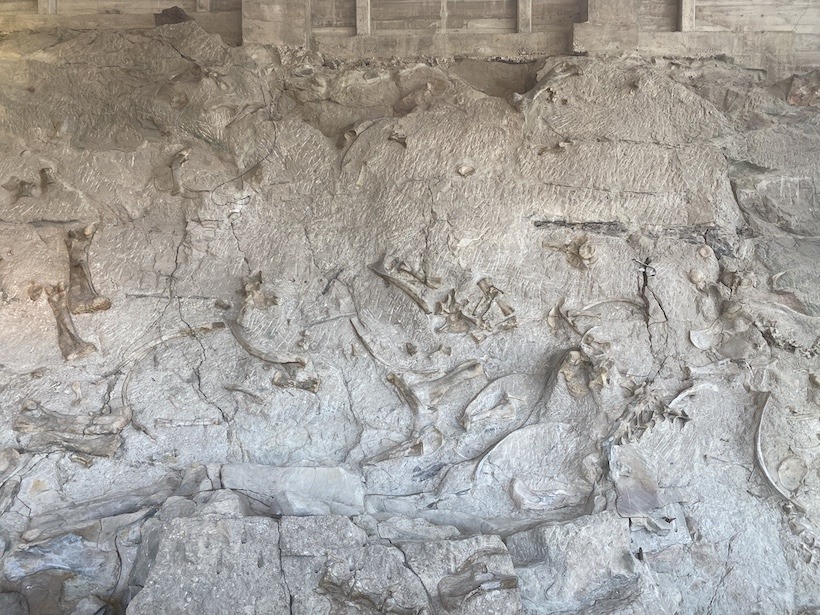 Staying at Green River Campground
On this side of Dinosaur National Monument is Green River Campground, where we stayed. It's a seasonal campground with 80 sites, some of which can be reserved in advance. This popular campground has flushing toilets, dumpsters, potable water, easy river access and limited cell service. Although it's not as remote and peaceful as Echo Park Campground, we enjoyed the stay, especially cooling off in the river.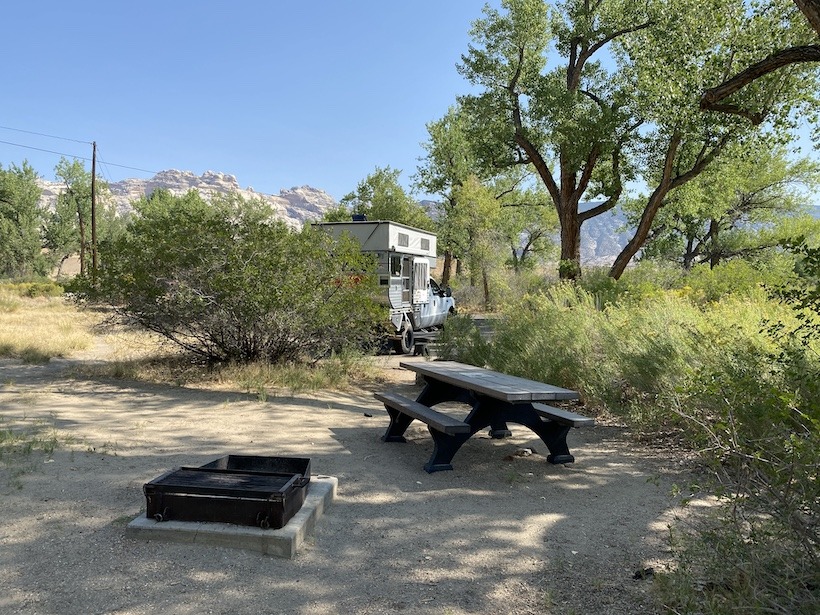 Taking Cub Creek Road to Josie Morris' Cabin
After we checked out of Green River Campground we drove Club Creek Road to Josie Morris' Cabin. Taking a walk on the property where Josie lived for over 50 years is like stepping back in time. What was it like to live in that cabin next to Cub Creek without the amenities and conveniences that we use daily in our truck camper? How many hours a day did she spend tending to her garden and chickens? Luckily, there are picnic tables where visitors can site and contemplate these questions and image what life was like for Josie and her occasional visitors like Butch Cassidy and the "Wild Bunch."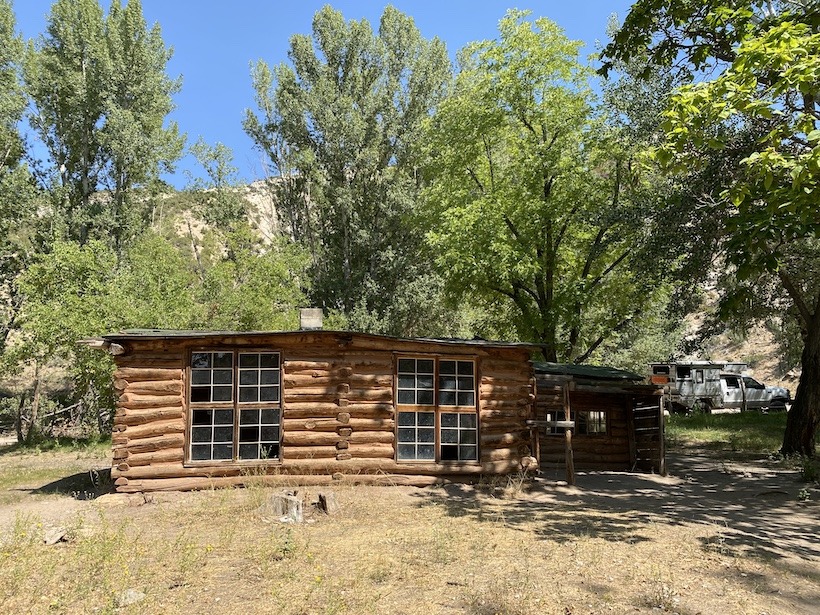 Not far from her cabin there are two easy hiking trails: Box Canyon Trail and Hog Canyon Trail. We opted to skip the trails this visit and head to the Cub Creek petroglyph site to view more designs left behind by the Fremont people. There are five established petroglyph and pictograph sites inside Dinosaur National Monument and as we learned, more that aren't officially marked which means more to discover on our own the next time.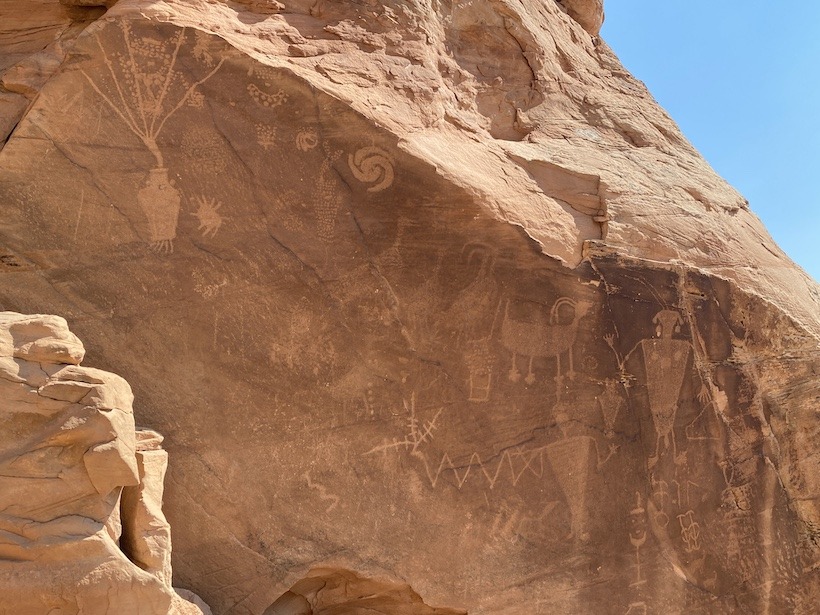 Watch the video to see what it's like to explore Dinosaur National Monument in our truck camper.
Needless to say, we absolutely loved our first (and definitely not last) visit to Dinosaur National Monument. While you should do some research and plan for weather, seasonal closures and road conditions before visiting, I hope you'll add this hidden gem to your list of places to visit on your next vehicle based adventure.
We're the Russos:
Joe Russo grew up in the San Fernando Valley of Los Angeles. He's had an eclectic career starting in video game design, TV production and finally a 10 year career in Advertising and Product Development before deciding to leave it all behind and pursue a life of adventure. In 2015 Joe and his wife Kait quit their jobs, got rid of most of their possessions to live their dream – travel and work for themselves. Joe and Kait now live a minimalist life on the road and share their journey with the world through their website https://weretherussos.com, YouTube channel https://youtube.com/weretherussos, and book series https://weretherussos.com/books. Joe's first book, Take Risks https://www.amazon.com/Take-Risks-Couples-Journey-Russos-ebook/dp/B07566RT6B, explores the Russo's journey to turn their dream of full-time travel into a reality, and offers insights and advice for others who want to live life on their own terms. Joe and Kait are passionate about inspiring others to take risks and pave their own road to fulfillment.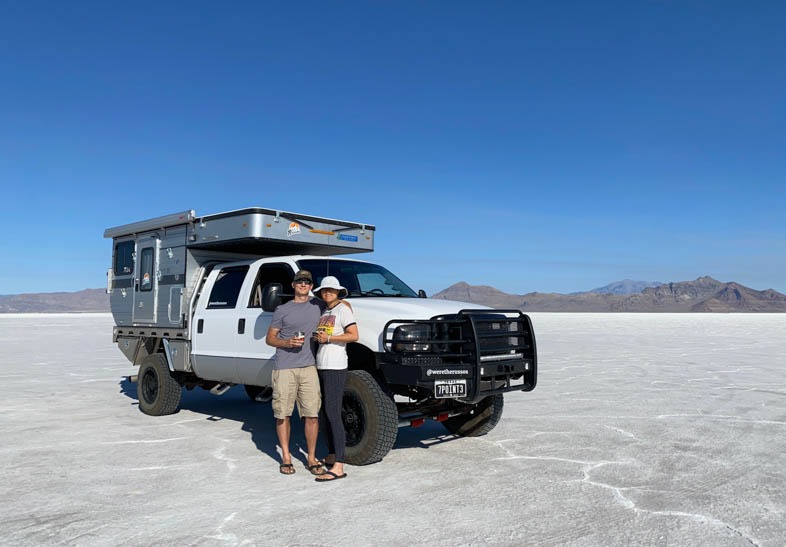 ______________________________________________________________________
For more Pop Up Camper stories, CHECK HERE