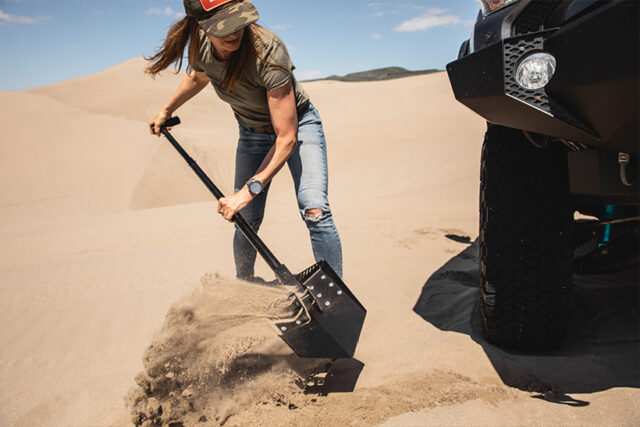 The new "Behind the Wheel" series is an up close and personal look at brands and their owners who are an authentic and passionate part of the exciting world of Vehicle Supported Adventure. Today we're sitting down with SUSAN PIEPER, Founder of DMOS Collective, the leading brand in the premium overland recovery shovels for adventurers around the world.

Susan, great to chat with you. Let's start with your background and why and how you founded DMOS Collective?
Our brand story starts with me. I grew up in the Midwest, was educated in the East, worked in corporate finance and tech, became a wife and mother of four, and sailed 10,000 ocean miles (half of it as captain and owner). When I moved to the Jackson Hole area 10 years ago, I found myself at a career and life crossroads. I knew I had always wanted to start a company, create jobs, be an American manufacturer, and solve a problem. So, I got divorced, became a single parent, and put all of my effort into creating and shaping DMOS into an expression of American ingenuity, quality, and service.
That may leave your readers wondering, "why shovels?" So, here's THAT story (I am full of stories by the way!). I was not born an inventor and I always advise people who want to start a business to work with startups first. So, before I started DMOS, when it was just the germ of an idea, I had been working with a former tech colleague from Park City. He invented a snow paddle (I am not making this up… those who know, know!) and I was helping him because I believed in him and in the process of invention. In the spring of 2014, my friend and former colleague became seriously ill with a life-threatening condition. He turned to me on Mother's Day of 2014 and asked me to take over the idea. I call that my "Mother's Day" CEO promotion and, of course, I said yes. (He eventually recovered and, as for his career, became a successful tech CEO and Board member).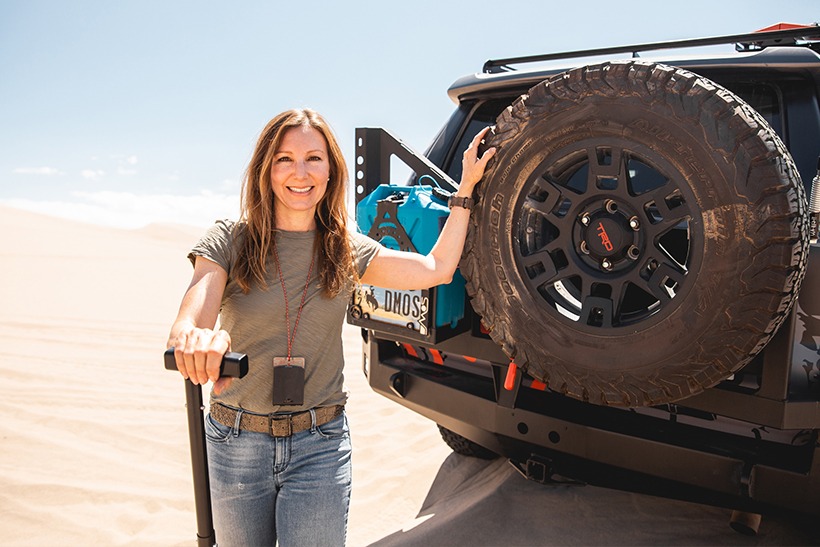 With his invention, to make it more successful, I removed the paddle from the telescoping, full-sized handle, and put on a shovel/rake head. This product became first the Kicker Tool and today's Stealth Shovel which is a compact, portable, and versatile. It came to market in October of 2015 with a successfully funded Kickstarter campaign and won the best new Hard Good at the ISPO Show that year (International Sports Products Organization).
I believed then and believe now that the off-road ready Stealth Shovel proved that the market for hand tools was lacking innovation for how people live and work today. Hardware store shovels dig but are not portable. Plastic driveway shovels are cheap, made to fail and don't fit your body. E-tools were invented to be short-shafted so that you didn't get shot in your trench. Today, people need full-sized, super durable, and portable tools that are purpose built for mobility (for your car, truck, or camper).
DMOS exists to make pro grade, American-made shovels, storage and goods. We exist to make trusted gear that is always at hand and never in the way for your adventures, expeditions and work.
What's been the greatest challenge with DMOS?
The greatest challenge has been growing a company in a resort town, while being a single parent, learning engineering and digital marketing and getting supply chain right. So, it has ALL been a challenge. I think if you ask any company founder, they'd have to admit that you have to really believe in what you're doing to keep at it year after year. I clearly really believe in what we're doing and I'm so proud to provide a livelihood for my team and products that make a difference to our customers.
Personally speaking, design aesthetics, coupled with a quality build is all important when parting with my hard earned $. Tell us a little about the design and production process of your product and why they are different than your competitors?
DMOS's shovels are to hardware store type shovels as the Apple Mac was to a PC clone. It's just a totally different design approach. First of all, we believe that the worst shovel problem you can have is not having one with you when you need it. So, we first designed for portability. Second, we know that hardware store shovels and driveway shovels are sized for shipping containers and not people, so we design shovels that are sized for people to improve the ergonomics. Third, we manufacture right here in the United States out of premium materials that will last a lifetime. We use US sourced 6061 (aircraft) aluminum and US sourced 12 and 14 gauge cold rolled steel. We offer multiple finishes at different price levels including the premium hardening finishes of Type II and Type III anodization and the industry-leading ceramic coating, Cerakote. DMOS's shovels are not just a shovel but they are essential gear to keep in your car.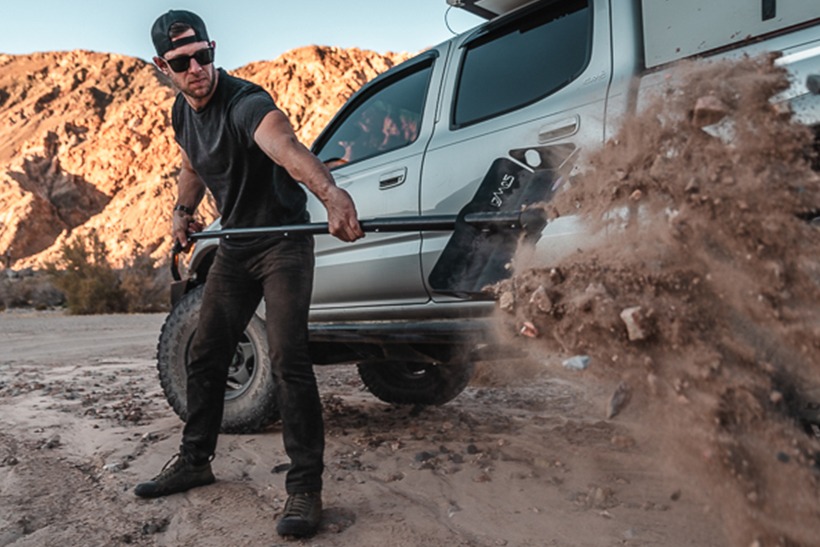 In your opinion, what keeps DMOS Collective as the innovative leader in this category? Is there one thing or is it a multitude of reasons?
We just think differently and will continue to do so. I am passionate about solving problems that people have. Gear that is not portable really annoys me as much as gear that is built to fail and ends up in landfills. I also hate the problem that hardware-store type shovels present to an overlander which is that you have to build your build around your shovel not to be awesome.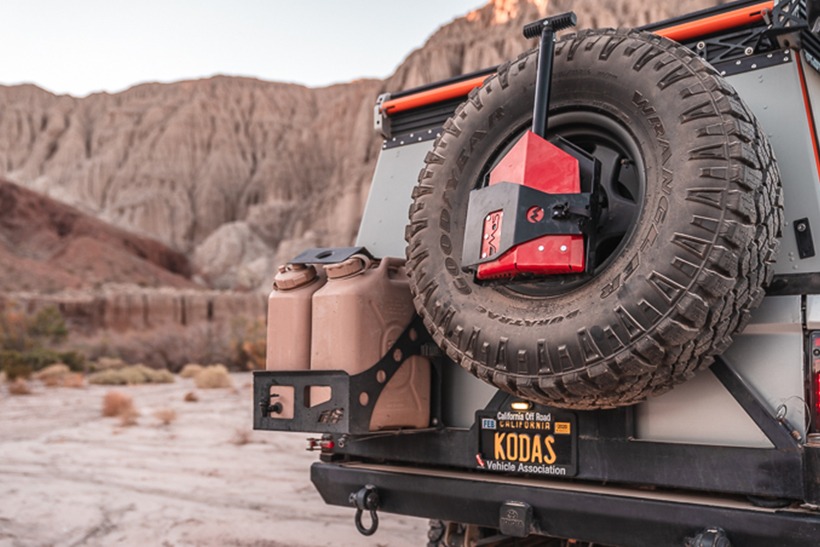 Any new products you're working on and if so, when are you debuting them?
Yes! Always! We are making a whole line of overland storage goods… bags, boxes, and panels – soft launching this fall and with a major launch in 2022. Our spare tire mount will be on the market in August.
Vehicle Supported Adventure/Overlanding has obviously exponentially grown in the past 24 months. Have you seen demand come from areas outside of the core overlander?
Yes, we are increasingly supplying government agencies and the military with our shovel tools and mounts.
As a passionate overlander, what's been your favorite trip you've taken? Also, what your current rig?
I have two rigs: a 2016 TRD Pro 4Runner that has been substantially rebuilt and features Total Chaos control arms and sway bars as well as 10" King shocks and Eibach Springs. I have front and rear CBI Offroad Fab bumpers and two Rigid LED light bars and a Prinsu roof rack. I also have CBI Offroad Fab body armor (rock sliders and skid plates). I run an Optima battery and Air Raid filters and, for a little highway fun, a Pedal Commander. I run BFG K02 275/70/R17 tires on it and have 1.5" wheel spacers. On top of that, my DMOS gear includes our rear quarter panel interior 5th Gen 4Runner MOLLE panels, and I mount my DMOS Delta and mount on my spare tire on my swing arm bumper. I keep my DMOS Roadside Kit and Stealth Shovel mounted to my MOLLE panels. I have a DMOS Wavian Can holder and milled aluminum DMOS license plate frame.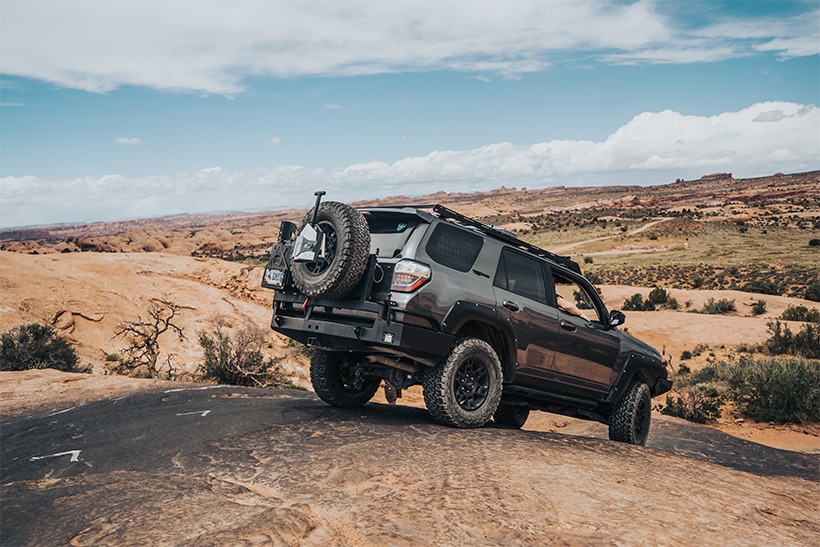 My second rig is new to me as of June. I just bought a 2017 Jeep JK Wrangler Willys and am working on building it to include a hardtop, a 2.5" AEV Lift, BFG K02 35" tires and, as I removed the second row of seats, I am building DMOS storage panels in the back for to secure my recovery and camping gear and a Dometic refrigerator. I keep my DMOS Delta Shovel and Mount on our Spare Tire adaptor (since in the Wrangler JK it doesn't cover a backup camera). I also keep my DMOS Roadside Kit and Stealth Shovel under the driver's seat.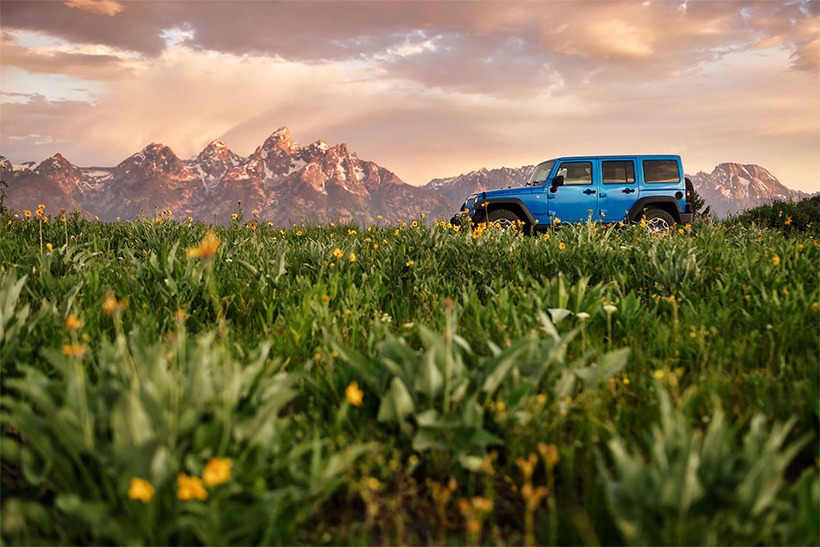 My favorite trip that I've taken is the Rebelle Rally that I've competed in three times. I love it so much that I will be back this October for my 4th attempt at the podium. If you don't know, it's a 1200 mile offroad navigation rally raid through Nevada and California and it's simply epic.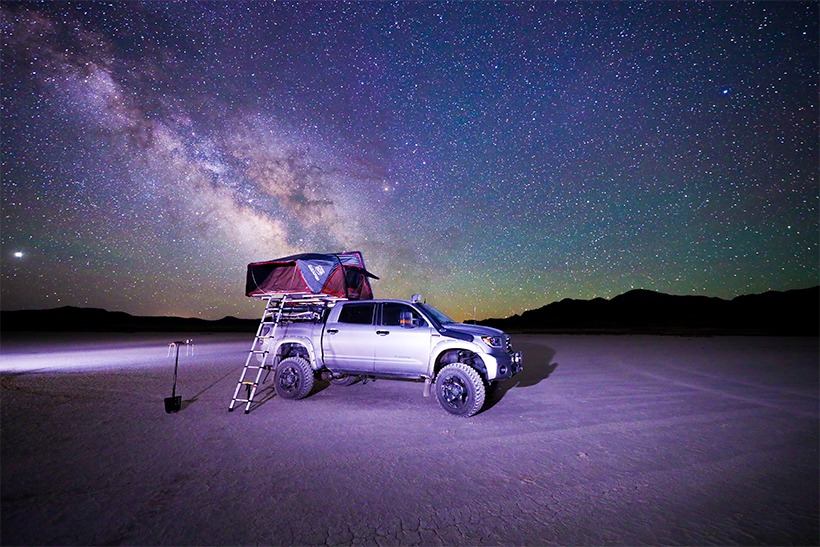 Finally, any funny DMOS Collective stories you can share with us?
One Winter a few years ago, on a trip back to Jackson from Colorado when I was in the remote Irish Canyon area, I came upon a hunter and his wife, stuck in the snow in a ¾ ton truck buried up to the axles. I jumped out of the car and offered DMOS shovels to him and his wife (as I always have sales samples in the car plus my own gear) and helped them dig out. He insisted on paying me $50 to help him dig out. For a 5'5" smallish woman that I am, that's my favorite story ever of how this business has turned into the life of my dreams where I get to be creative, drive innovation, create jobs and be of service. It's so damn cool!
Thanks for spending the time with us today Susan. Good luck in 2021 and we hope to see you on the trails!
__________________________________________________________________________
Check out TAP's Ultimate Resource Guide to Vehicle Supported Adventure and Overlanding HERE