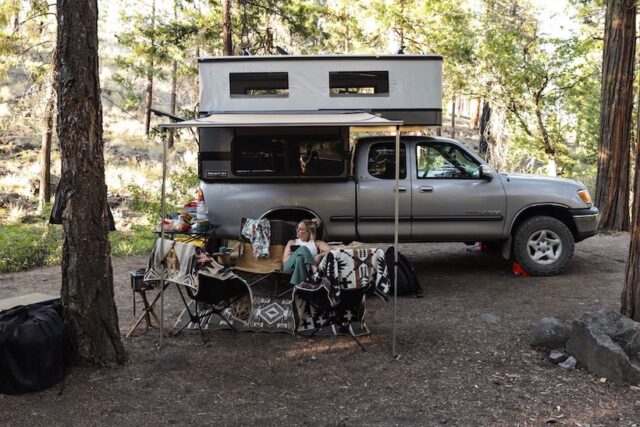 Featured Story: Sponsored Content
Overland Adventures in a Project M Shell: This isn't your typical love story. Matt is the wildest human you've ever met with an unending love affair with the outdoors. I'm more of a brunch and massage in the city type with a love affair for all things cozy. I'm also eight years older, have had a day planner and a retirement plan since sixth grade and Matt didn't even have a credit card when we met and he still couldn't tell you what we're doing tomorrow, much less in a few years. We were introduced by mutual friends, hung out a few times and honestly just loved being together. But we never stopped hanging out. Eight months after we met, we were engaged at Crater Lake and five months after that, we eloped on the Columbia River Gorge under a waterfall. A bit broke but totally in love. On paper, we make no sense. But here we are, eight years together, and living out our mutual dream of adventuring and seeing as much of the beautiful Pacific Northwest as possible in our beloved Project M shell from Four Wheel Campers.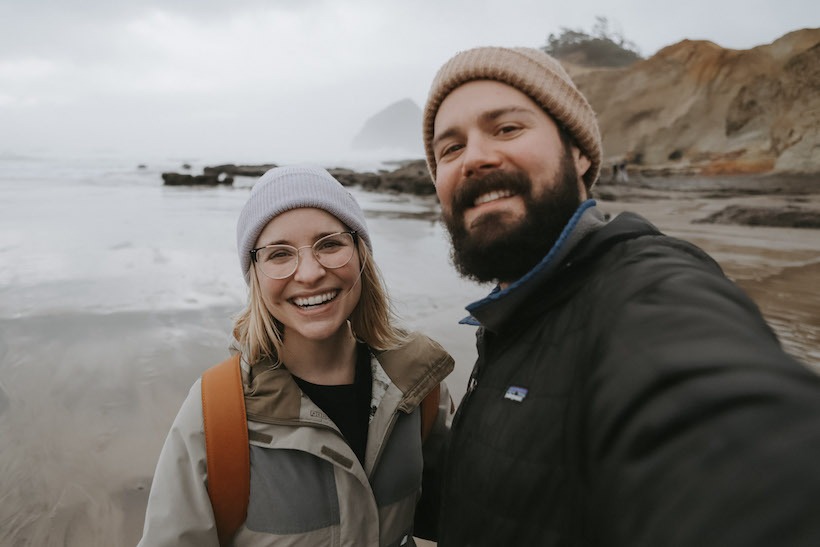 We're what you would call weekend warriors. Both of us have 9-5 jobs in Portland, OR and live it up during the weekdays enjoying the city but on the weekends, we're headed to the wilderness. I wasn't always like this. I've always loved the outdoors but Matt has given me the courage to embrace it in a way I never had the nerve to. It also helps that he does all the cooking while we're camping and adventuring. Yes, all of it. I know, I'm one lucky girl. But I handle the cocktails so I feel like it's even.
Our search for the perfect off-road adventure vehicle began a few years ago. I love being in the city but Matt craves time away and the longer we've been together, I've begun to feel the same. I'm from East Texas where the woods are deep and the trees are huge. You can't get that out of your blood. We both work hard during the week (I'm in marketing and Matt is a carpenter) so when Friday rolls around, most every weekend is spent at the Oregon coast, in the woods or on Mt Hood, especially in the winter. We purchased a Volkswagen Eurovan a few years ago and thought it would be the perfect mix of functionality, vibes and camping ease. Yes, I already know what you're going to say but they ARE so damn cute. We're one vehicle household and needed something for city life and overland adventuring. We had the van for about two years before realizing it wasn't quite as functional as we had hoped plus we were spending more than we budgeted on repairs. It was tough to do but we decided to sell the van about a year ago. After that, we bought a 2002 Toyota Tundra sr5 access cab 4×4 and Matt built out the truck bed to be a camp space. It worked but honestly, the comfort level just wasn't there for me. Plus, having something you can stand up in is a complete game changer. We knew this would be a short term fix while we researched the perfect option for us. After months and months of watching YouTube reviews, researching online, talking to friends and really digging into what we needed we decided on the Project M from Four Wheel Campers. We drove down to Sacramento about a month ago to have it installed and WE ARE IN LOVE! Please believe me when I say I'm getting the best sleep of my life in this thing. It's now July and we have every weekend booked through October at different spots.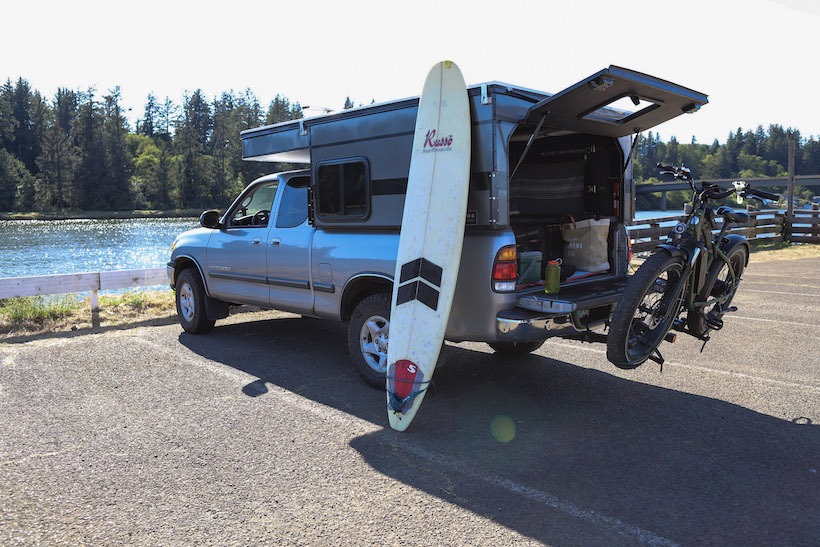 Here's what we love about our Project M Shell:
This over land camper is big. Like, really big. We went with the Project M shell because once again we're a one vehicle household and needed something practical that we could still park in downtown Portland. Also, Matt is a carpenter and uses the truck to haul tools and lumber during the week but on weekends it's surfboards, paddle boards, bikes, skis and everything else you can imagine. We like having the use of the full truck bed.
The Project M shell is extremely comfortable. If it's not quiet and cozy, I just can't do it. Some of you are happy as can be on a bed of rocks and a view but yall, it ain't me. I have mad respect for those that can manage, my husband is the same, but I need a bit more elements of comfie. We both love that we're able to stand up in our Project M and the space under the bed is perfect for a couple of camp chairs. We have the Four Wheel Campers mattress and also installed a solar powered fan and it is heaven on earth. Did I mention the bed is king size?! It's bigger than what we have at home. It's also super easy to use and a major conversation starter. We've only had it a few weeks but so many people stop to ask us about it. Which we love, because we might be the most outgoing folks in Oregon. Come hang out with us is what I'm saying.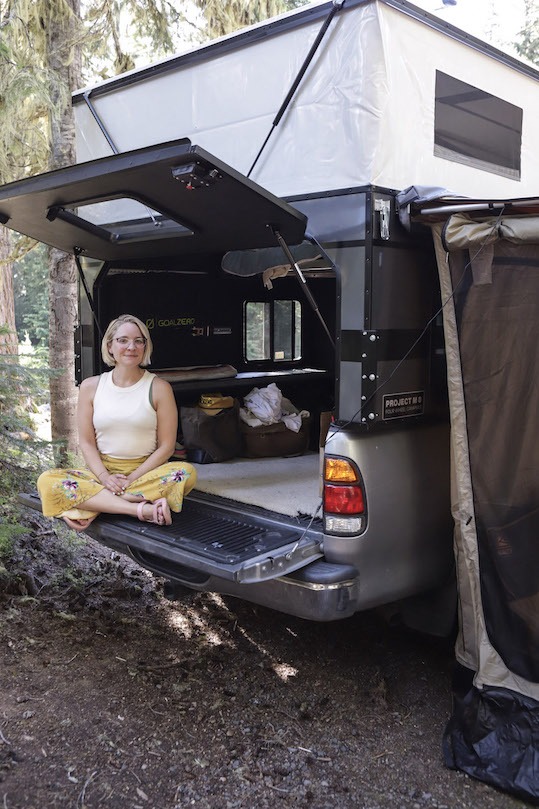 We also love the add ons which have made our Four Wheel Camper exactly what we needed. The awning with the screen + privacy wall is incredible and adds a living room feel that's also protected from bugs. Goodbye, gnarly Oregon alpine lake mosquitoes. We purchased a cheap outdoor rug from the hardware store to add to the inside which has really made it work. Matt enjoys cooking under the awning as it keeps you protected from wind and other elements.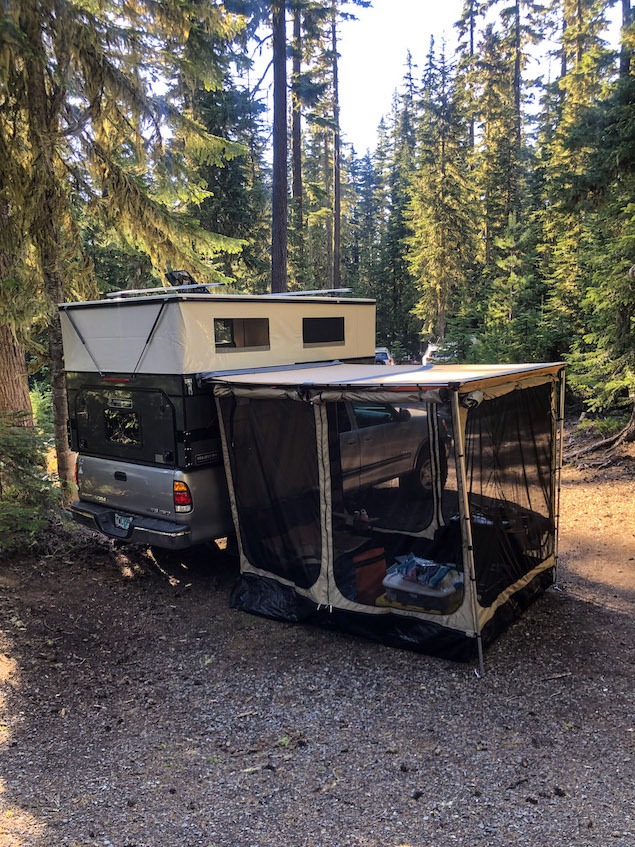 The company can be trusted. Four Wheel Campers has been around quite a while which made us feel safe choosing to invest in a rig that was outfitted by their organization. They're also all so unbelievably kind which made our buying process a breeze. I look forward to my interactions with their team. The install was easy and they were very patient with all the questions we had. Matt is a thorough researcher who has loads of questions and it didn't bother them at all.

There's also plenty of room to haul our gear. And yall, we have a lot of gear. You could say we try everything. (And I do mean everything.) Between the two of us we bike, ski, hike, surf, camp, rollerskate, swim, paddleboard, fish and continue to pick up new hobbies every year. The beauty of living in Oregon is how many fun vehicle supported adventure outdoor options are available year round as well as all the people who are willing to join you on adventures.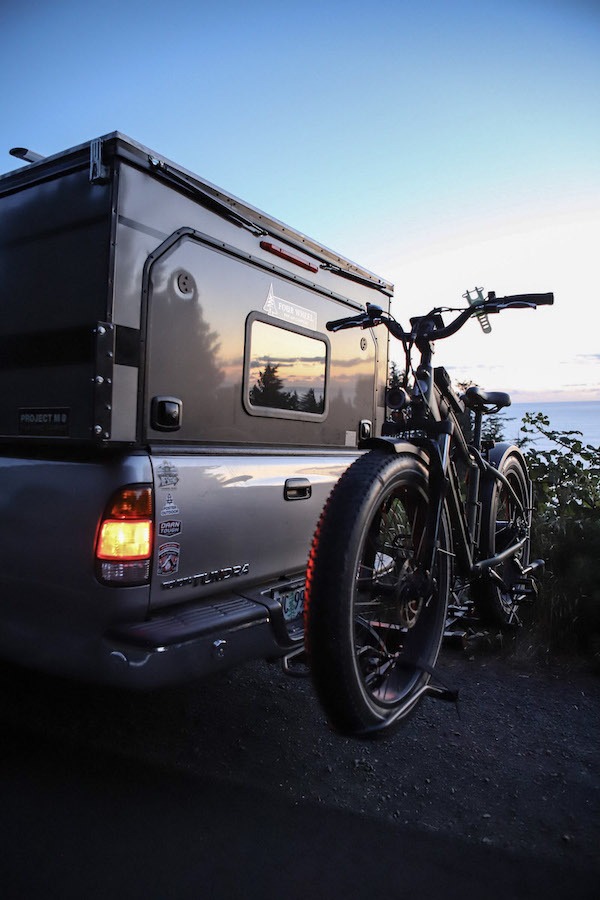 We're thrilled with our Project M shell and can't wait for fall camping and winter ski trips. One thing I've pressed into is the understanding that you can work full time and also have a full and rich life in the outdoors. I don't necessarily love spending 40 hours a week in front of a computer screen but I do enjoy my work (most of the time) and the freedom it gives me to explore wild places. Even if it's just 2-3 days a week. We make it work and hope to encourage others that they can do the same. We're all figuring it out as we go and your perfect life might look different than other people's. Again, that's ok!

If you ever see us out and about, please say hello! I'll make you a killer margarita and Matt will most likely offer to take you surfing. It's just how we are. Massive thanks to all of you enjoying the outdoors and inspiring others, like myself, to continue doing the same. What a beautiful world we live in. I'm just happy to be here.
Check out Laura and Matt's IG's and Website below:
_____________________________________________________________
For more Four Wheel Camper stories check HERE
Sponsored Content: