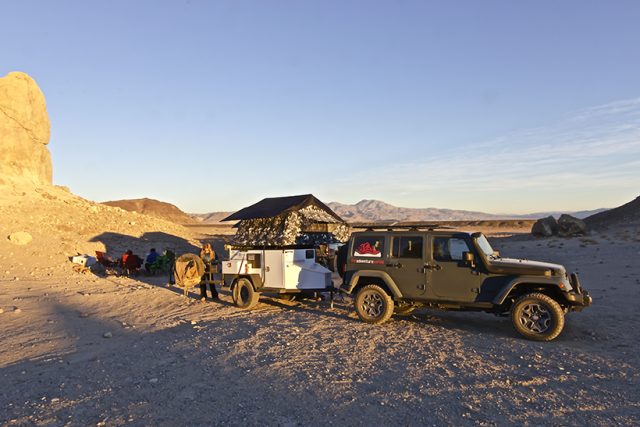 Off – road trailers are certainly an emotive subject, some people swear by them, others…well, they swear at them. TAP took possession of a brand new, off-road ready Turtleback Trailer in April 2014 and spent the next 12 months towing it several thousand miles around California. We went from crazy busy Californian freeways to switchback mountain roads and decidedly "interesting" overland trails in the desert, where trailers didn't seem like they belonged. For about 50 nights we camped using the Turtleback, all in primitive locations. We probably put several years of use on it in this one year period. TAP also owns and has extensively used an off-road capable Sierra4x4 trailer (The company is no longer in business.) since 2010. It has been very interesting to compare the bare bones box-on-wheels Sierra4x4, to the fully loaded "glamping machine": The Turtleback Trailer.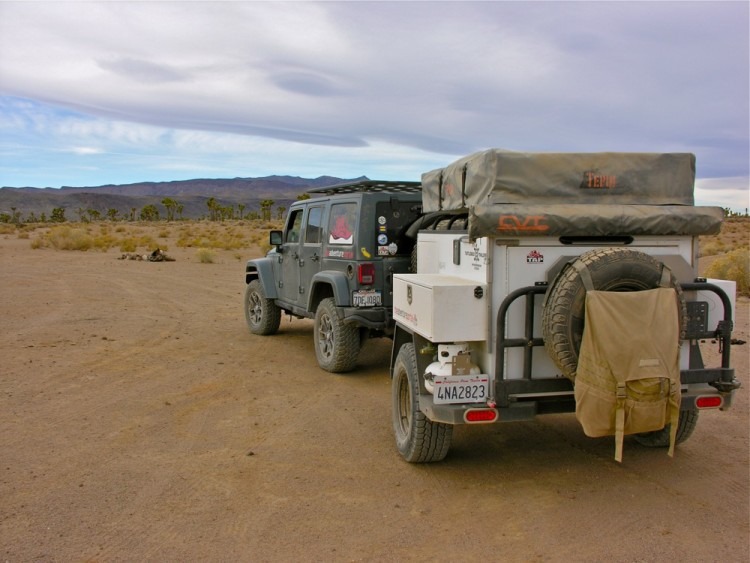 The off-road trailer unit we ordered was fully loaded with the following options:
-Full Steel Trailer 2×3 Perimeter Box Frame, 3500# stub Rubber Torsion axles 2500# Springs
-10″ Electric Brakes
-15″ Steel Wheels, 31/10.50/15 AT Tires
-Forward and Aft Receiver Hitch on frame
-Bedliner Coated Chassis
-050″ White Powder Coated Aluminum Skin
-2 Side and 1 Rear Compartment Doors w/ Matching Keys
-LED Lighting
-20# Propane Tank with Stainless Steel Bracket
-Deka Group 24 AGM Marine Battery in Box
-Blue Sea Systems® Marine Grade Electrical Components
-4 Rail Cargo Bar Roof Rack Bedliner Coated
-2000# Swing Away Tongue Jack with Foot
-Safety Chains
-7 Way Flat Trailer Plug Wired to: Running, Brake, Turn Charge Line & Trailer Brakes
-
Interior Lighting in Cargo Area and Kitchen
-42 Gallon Fresh Water Tank Food Grade, BPA Free Construction
-Flowjet 12v Demand Water Pump
-Atwood 6 Gallon DSI Water Heater
-Exterior Shower
-Baltic Birch Pantry Drawer in Kitchen Area
-Baltic Birch Slide Out Kitchen with 2 Drawers
-2 Burner Wedgewood Stainless Steel Stove with Stainless Cover by Atwood
-Stainless Steel Sink with Hot & Cold Faucet
-48″x32″ Nose Box, 45″ Side Box, 25″ Side Box
-Upgrade to UCF Torsion Axle
-Spare Axle Trailing Arm for Flexride 3500# torsion axle
-TBT Tailgate with Spare Tire mount and drop down table.
-31-10.50-15 Tire and Wheel
-Electrical System addition to STD box Turtleback Trailer. Includes 
Blue Sea Battery Disconnect, Blue Sea 6 Circuit Fuse Block, 6 Amp 
Marine Battery Charger (Shore Power), 10 Amp Solar controller.
-Black Accent Group – Water Heater Door, Water Fill, Outdoor Shower
-Valterra Stabilizer Jack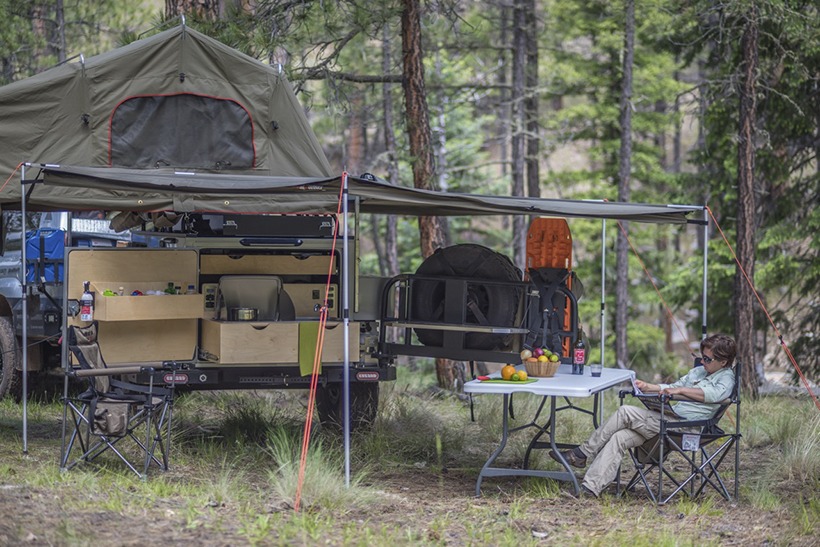 When we picked it up in Phoenix from Dave at Turtleback Trailers, I was impressed with his attention to detail and the overall finish of the trailer. There is no question that Dave cares about what he makes and runs a professional organization. Small domestic businesses thrive and survive based on their product and their customer service. Buying a product like this can be stressful due to the monies involved. Let's be honest too, many times, not all couples are 100% on board with the decision to buy. Dave personally manages each trailer pick up with the customer, which is essential. Our advice is to ask a lot of questions and remember to listen, it will save time working it out later.
The trailer was definitely bigger than our Sierra4x4. (Dry weight differences are 750lbs compared to approx. 1200lbs). This being said, it never felt too big for either our Tacoma doublecab TRD or Jeep Unlimited Rubicon, either on or off road. When fully loaded and weighing approximately 2000 lbs, it did cause some laboring on road hill climbs, when being towed by our Jeep. I blame this on the under- powered Jeep engine, rather than the trailer, as this isn't something the Tacoma ever suffered from. After several thousand miles of towing, I can honestly say that the Turtleback trailer tracks with the tow vehicle beautifully. On long journeys the majority of the time you settle in and forget it's behind you. Actually, be careful of this, as it's easy to cut people off when changing lanes!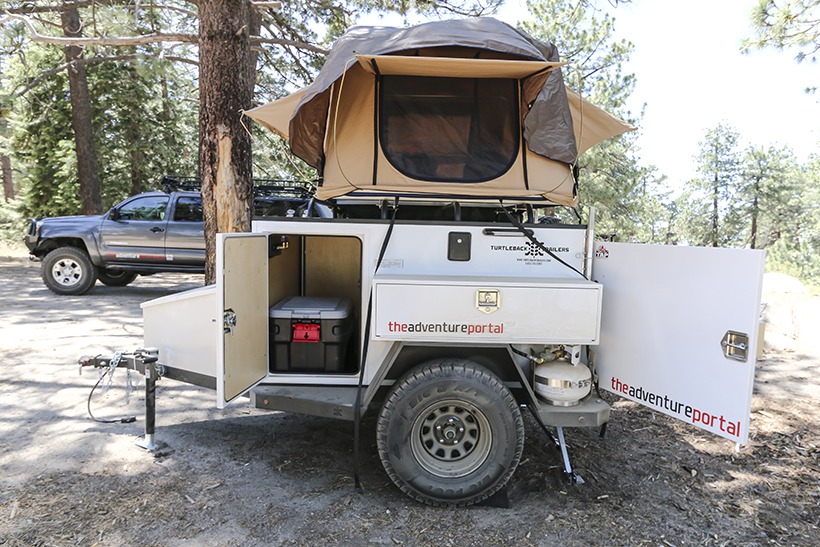 So let's take a look at and assess what we had bought. (I'm not going to go into a lot of technical information here as you can find everything you need spelled out in detail on their website www.turtlebacktrailers.com). The basic Turtleback comes nicely appointed, but if you're like me, there are also many options that you simply "need" to complete the experience. "Need" is obviously a relative term and looking back here's some things I learned.
-The 42 gallon water tank comes standard. We went on many multi night trips where we were primitive camping with 3 of us and a dog. Better to have too much than too little but we never used 42 gallons of water and always ended up draining it on our journey home. Of course you never want to run out of water when in the backcountry, but this amount of water weighs a lot, so experiment with how much you really need to carry.
-The tailgate with spare tire and stainless drop down table. This to me is an essential upgrade as I wouldn't trail anywhere without a spare tire. The stainless drop down table was always used and super useful when cooking and preparing food. It packs away easily and out of the way.
-We had the UCF flexride axel upgrade. I obviously can't compare it to the standard axel, but it definitely created a stable platform off and on road.
-I really thought we'd use the rear awning, especially since we spend so much time in the desert. In actuality we didn't and it became just an extra piece of gear to mess with. I do however see many trailers with them erected, so maybe that's just us?
-The exterior shower and Atwood on demand 50k water heater seemed like such a great idea. It worked great, but we didn't use it very much at all. I have short hair so I used it to wash off, but I could have done this with a bucket of water. My ladies both have long hair and didn't want to hassle with washing their hair or showering when camping primitively. If we had been in a camp-site, they would have simply used the showers.
-If you going off road with your trailer, definitely up-grade to the Multi-Coupler. It gives you articulation security when towing off road and 100% safety that the trailer won't jump off a ball hitch. Believe me, this can happen and did to us with a $600 repair bill on the trailer. Luckily we were only doing 5 miles an hour and I hesitate to think of the consequences of this happening a higher speeds!
-Battery Electrical upgrade: One battery proved completely sufficient for our needs and we never had issues with a low battery charge. To be fair, we tend to move campsites along our travels so are constantly charging while trailing. If you intend to create a static basecamp, then maybe a second battery is required or a solar system to power up. If opting for the solar option, make sure you use roll up or fold up systems for ease of storage and use.
-If you're going to tow a trailer then a roof rack and RTT (Rood top tent) is an obvious choice. There are many on the market and Dave can sell you one as part of the package. We've been using RTT's for almost a decade and will never ground camp again!
-Nose and side boxes. The nose box was useful for battery and electrical system storage. We also opted for the side boxes and in reality, we never really "needed" them for extra space as the combination of the kitchen slide outs and the large storage area at the front of the trailer proved sufficient. They do finish the aesthetics though and make the trailer look killer.
-Tire and wheel size is debatable. The standard setup comes with AT 265×70-R16. For most trails that people will tow on, this is absolutely fine. If you truly intend to trail across moderate to difficult terrain then I suggest you go up in size. We did touch down on the odd occasion when on questionable trailer suitable terrain and a bigger tire set up would have avoided this. Also, when possible, try and match the size and make of tires/wheels to your tow rig, as this gives security of having matching spares. Finally, bigger tires simply make the trailer look great!
-The kitchen was fantastic. The Baltic birch drawers all functioned perfectly and now even come with dove-tailed corners. I really liked the stove flame cut-off when you pulled out the top drawer above the stove. Occasionally annoying when you were wondering why the kettle wasn't boiling, but a great idea. The water heater worked well too and it was nice to have hot water to do the dishes even if we didn't use the shower option. One slight gripe was that the grey water drainage pipe was positioned too close to where you were standing while cooking. An easy fix though.
-No fridge. A lot of other trailers come with space for a fridge and a slide out. The Turtleback doesn't. Dave's point is that most people use or want a fridge or cooler in their rig when out on the trails. That's true for us and we used an Engel 45l in the Tacoma and an Engel cooler in the front compartment of the trailer when on multi day trips. I do feel however that a proportion of buyers would still wish there was a fridge option around or close to the kitchen area.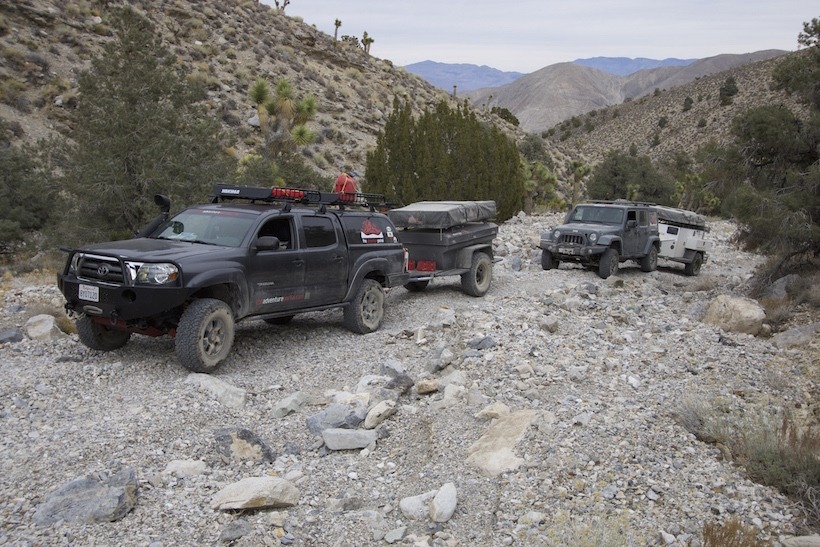 So, after 12 months of significant use, the Turtleback trailer performed extremely well and stood up admirably to any conditions we threw at it. Everything worked perfectly and it is still in great shape and looks it. Dave has also made some upgrades to his next generation trailers and they are even more dialed today. TAP has no hesitation in recommending this product and it will give you many years of fantastic glamping experiences.
Finally, there are obviously many trailer options out there. Is it a simple box on wheels to carry gear or is it something that gives you some of the comforts of home in true glamping style. Everything has its place and prices can range from affordable to "I'll need a loan for that".
* In the spirit of full disclosure, since we always take two rigs, we ended up not needing two trailers. We decided that for our use, a simple rugged box on wheels was most appropriate. We sold our Turtleback to the Managing Editor of Toyota Cruisers and Trucks (TCT) Magazine and it is now being towed around the SW behind a very nicely built FJ Cruiser. Turtlebacks can also be seen behind some very experienced drivers and rigs, like Adventure Driven who guide tours in the North Rim area of the Grand Canyon. Another fantastic testament to the quality and build of this rugged glamping machine!
To check out these trailers yourself, go to turtlebacktrailers.com.