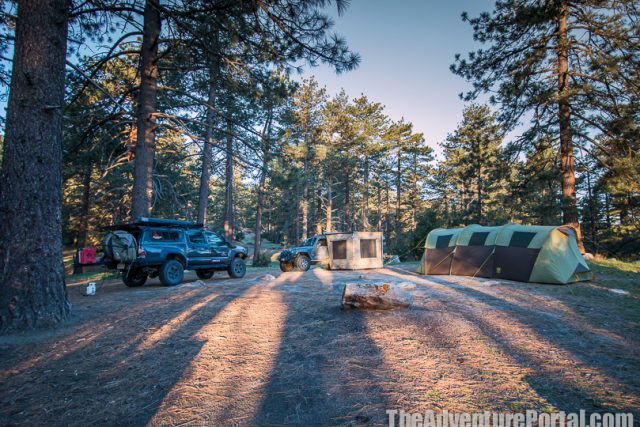 There's many ways to skin the overlanding camping cat, but this time we decided to go back to some basics and take a look at 3 different ground tent options that can definitely get the job done. The 3 styles we chose were the ingeniously designed and rigid framed Oz-tent, the more traditional and wildly spacious Overland 10 from Slumberjack and finally the oh so simplistically easy, ARB awning and 5 paneled room. The main testing prerequisites were, space for 2 people with room to set up cots, the ability to stand up and the ability to store some extra gear.
Ground Tent vs Roof Top Tent – So, the first obvious difference is that you're on the ground and not elevated on top of a rig roof or trailer. In all reality not a big deal, but you of course now have to find a fairly flat spot to set up. Being elevated off the ground certainly gives a sense of security against intrusion from critters, especially in the desert. On the other hand, not having to deal with a ladder in the middle of the night will be a positive for a lot of people.
The OZ-Tent RV-5: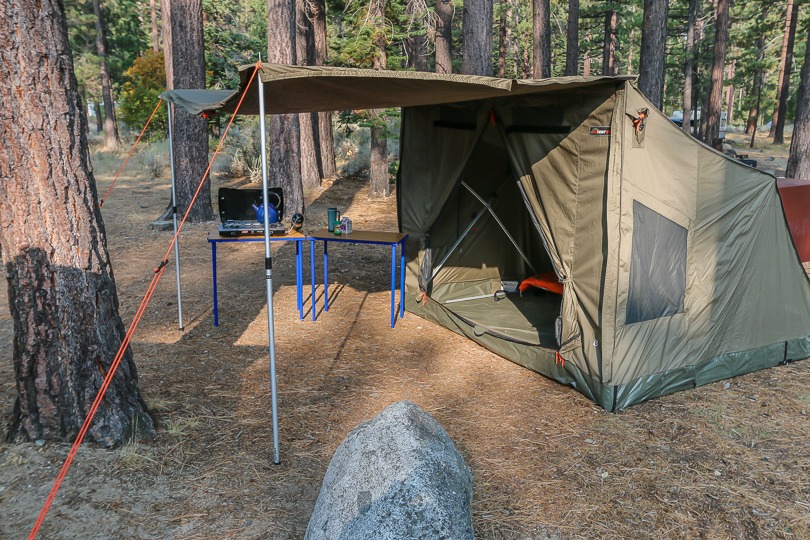 We've camped with the RV-5 on a several trips over a 12 month period: A 3 night November trip to Baja, a 3 night freezing December adventure along the Mojave Road and a June exploration in the Sierra. We did not encounter rain or snow, but we did experience significantly windy conditions both in Baja and the Mojave.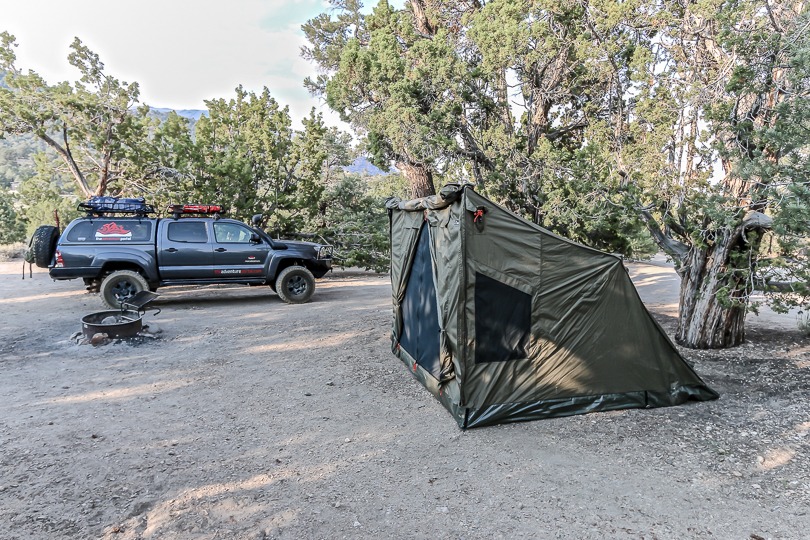 Set up time, ease and stability– Set up probably took twice as long as an RTT. The marketing says "a 30 second tent" but that's really only looking at the actual erection once it's on the ground. I had it dialed all in, at around 5 minutes which included taking it off the roof rack, taking it out of the case and pegging out all the corners. Not a big deal, but a firm reality. This time does not include putting up the awning, which took another couple of minutes. If you use the additional side panels, you're realistically looking at 10 minutes. It's fairly easy to set up by one person, but two people would have made it a breeze. This is something actually stated in the set up manual. Once erect, the tent was very stable and if there's no wind, you really don't need the guide ropes. This being said, the guide ropes saved our bacon against the infernal Baja Sea of Cortez winds. The build quality and materials used in construction (high-quality waterproof 8 Ounce Rip-Stop Poly Cotton Canvas, taped waterproof seems, YKK zips, quality window/door mesh and heavy-duty heat-sealed PVC floor) are rugged, and have stood up really well to the abuse we've put it through over the last 12 months. I particularly like the fact that the entire rear of the ground tent rolls up, it has openings on both sides and a mesh front door. All this gives great ventilation.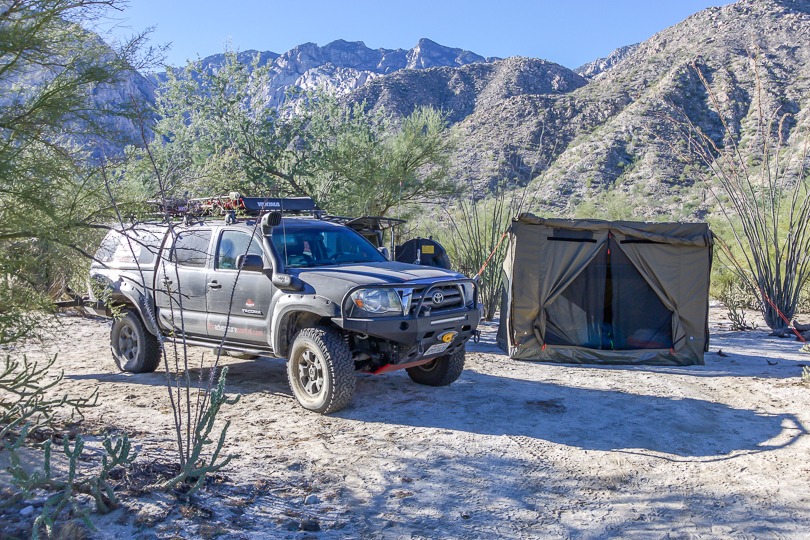 Size– The tent is named RV-5, which definitely doesn't mean it can hold five people. In our experience, three people on cots (and a dog), is very cozy but doable. The addition of the side and front panels to the awning creates a lot more livable space (as well as sleeping space if a ground sheet is used) and a dry sheltered area to cook and get out of any weather. If you're setting up a base-camp for a multi day adventure, this is a great addition.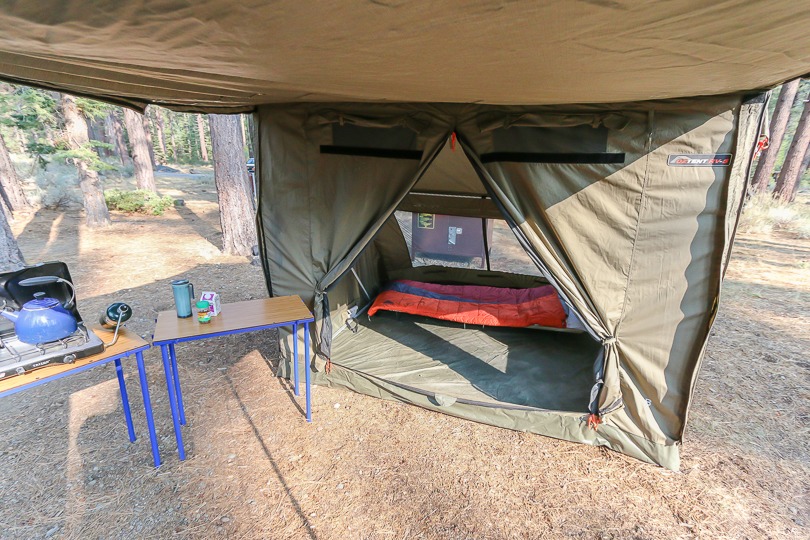 The OZ Tent was too large to fit in the shell covered 5ft bed of our Tacoma, so every day it has to loaded onto the roof rack and strapped down. This is a concern when going through tight tree-lined trails and added weight on the roof can impact stability on trails which are off camber. Potential for theft is also a concern which is why we always use Yakima locking cables. Of course, this is a personal issue based on our own vehicle choice and will not be relevant to everyone. I also had some sticker shock with the RV-5 coming in at $1100 and the additional deluxe side and front panels adding another $500. At this price it's right up there with the RTT's. However, having used it for nearly a year, I can see how the innovative design and quality construction justifies the price.
Pros: Design and ease of erection. Quality of materials used and construction. Carry case very sturdy. Stability in wind.
Cons: Weight and size. Price. It's not really a 30 second tent, unless you only count raising the roof.
The Slumberjack Overland 10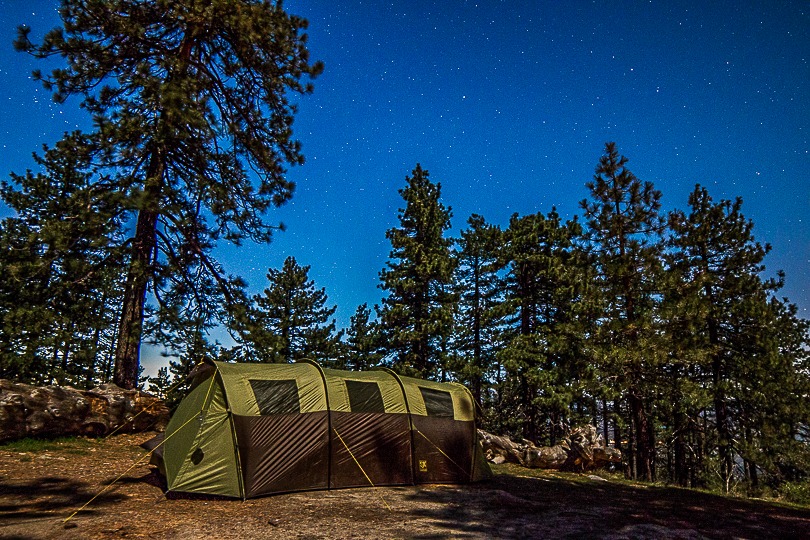 Slumberjack is a company focused primarily on the hunting category and comes from a stable of brands with a high degree of ground tent and camping pedigree (Kelty and Sierra Designs). We only have short-term experience with this tent, but the recent 3 day trip we took to Anza Borrego and the San Jacinto Mountains certainly put it through its paces.
Set- up time, ease and stability: I've got to be honest and admit it's been a while since we've used a more traditional ground tent and I was initially unsure of the whole set up process. Instructions are on-line, however we chose to ignore them and truly replicate the majority of people's behavior. Set up turned out to be intuitively easy and with two people, took approximately 10+ minutes. Set up with one person would be difficult and frankly why use such a large profile if you're on your own. Over the 3 days we camped with the Overland 10, we experienced consistent 20 mph winds with gusts reaching 40! The tent handled it extremely well and at no stage did I fear it coming down. I was actually most concerned about being killed by a falling tree, the night we spent in the mountains.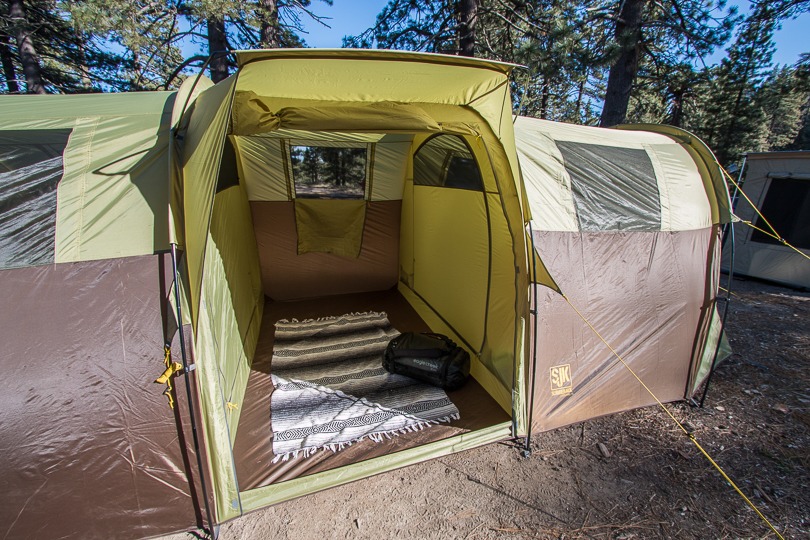 Quality of materials and construction seem excellent, using 66D polyester walls, 68D polyester floors, taped seems and hybrid steel and aluminum poles. 5 large windows and top and bottom vents make for fantastic ventilation. The tent weighs in at just under 27 lbs and comes in a very compact approximately 1 ft x 2ft carry bag.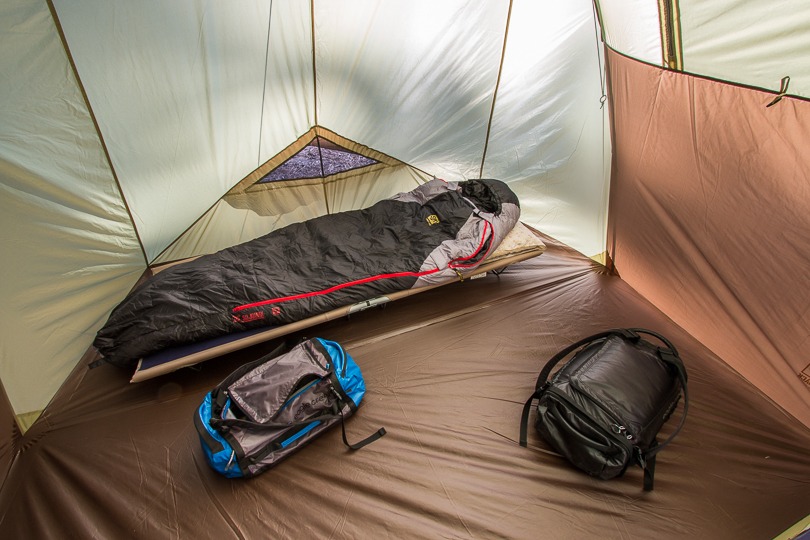 Size – Make no mistake this is a big tent! It's marketed as a 10 person tent (a tight squeeze), but honestly who wants to squeeze that many people into any sleeping space. It could easily sleep a family of 6 but in our opinion, 4 people on cots would be ideal ( 2 in each divided end), giving ample space for gear and move around comfort. This would leave the middle atrium completely clear for gear, the dog, or a camp stove if the weather was inclement. We really liked the fact that the middle entry way was tall enough to stand upright and the sleeping areas are compartmentalized by internal zipping walls. This gives privacy to individuals or couples and we jokingly each slept at either end both nights!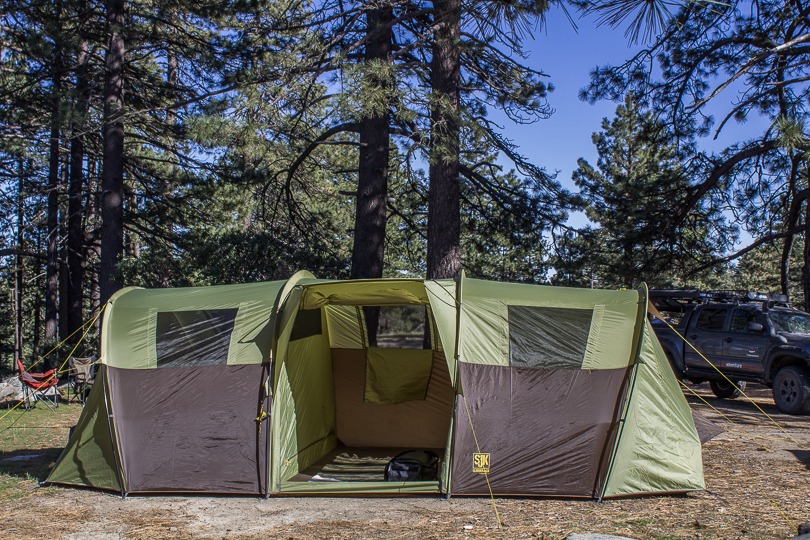 We really liked this tent and would recommend it for folks who like to set up a basecamp and do day trips. At $399 this is a good price for a great tent and significantly less expensive than any RTT out there.
Pros: Price. Packed away size and weight. Quality construction and materials used. Stability in strong winds.
Cons: Size of tent not for all occasions. Time to set up compared to an RTT. Sleeping on ground not for everyone.
ARB touring awning and 5 paneled room: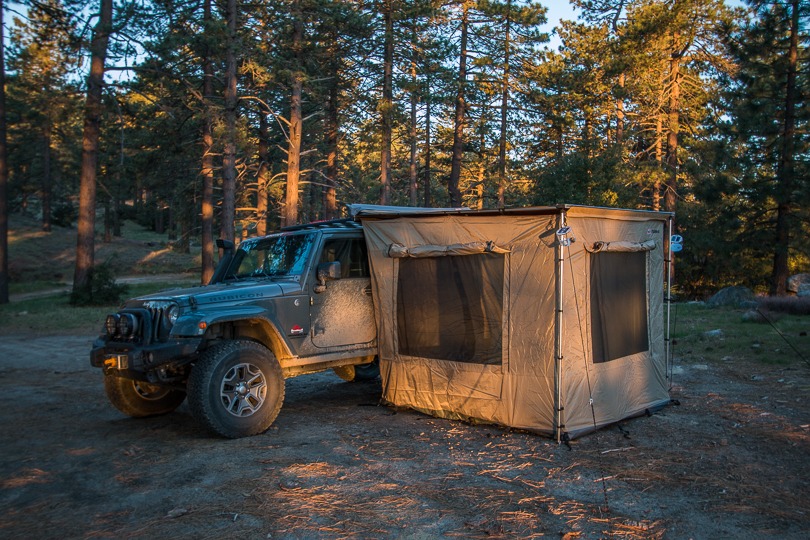 ARB have a reputation for making quality gear and this is no exception. Although not really advertised and marketed as a ground tent, we thought it had a relevant place in the test line up. When we spoke to ARB they made sure to tell us that it wasn't designed as a 3 or 4 season tent and that it shouldn't necessarily be used in a high wind environment. Interestingly, we ended up setting it up in just that and it survived our stormy 3 day trip just fine.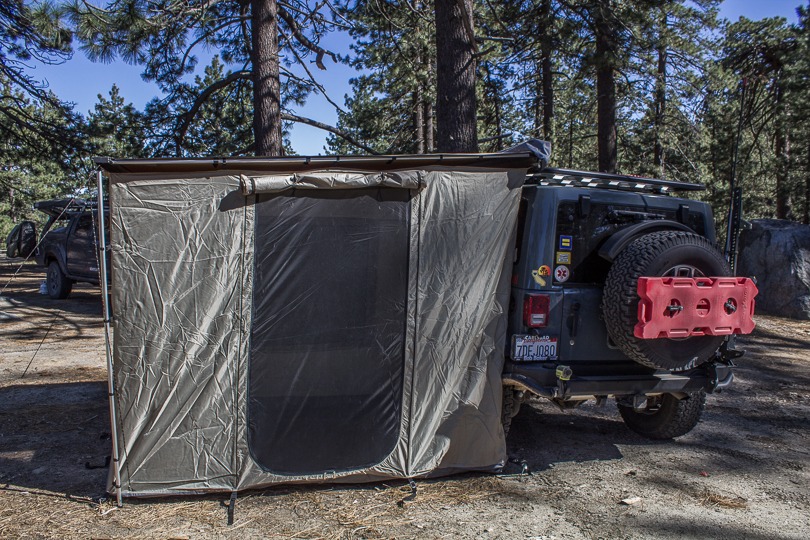 Set- up time, ease and stability: The awning is very easy to set up and once staked out is pretty stable and solid. It's certainly doable with one person, but two people make it a fast and efficient process. Adding the room is frankly extremely easy, with the front and rear sections simply sliding into the awnings aluminum tracking. Click the rooms roof onto the top and vertical poles, stake out the bottom tabs like any tent and you're done. 5 mins easy! As I said, we erected this in high winds and over night rolled up the meshed windows to allow the passage of the wind. Not ideal, but it helped significantly with stability in fairy extreme conditions.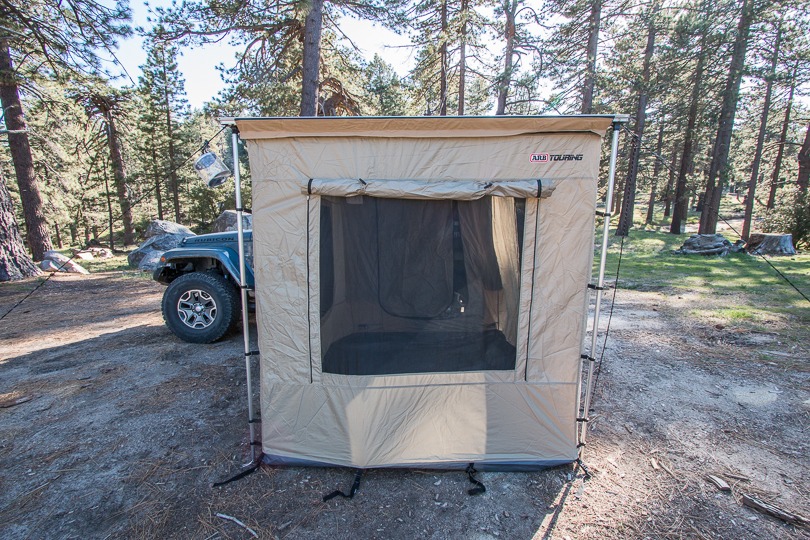 Designed to function as a fully enclosed room, the awning room includes a durable floor, two large mesh windows with roll up blinds and a zippered door with solid and mesh panels. The awning room is fully enclosed as it has an integrated roof that hangs just below the main awning canvas. The rear wall features a central door that can be used to access the vehicle rear door or canopy (This is dependent on the awning mounting position and in fact ours was set 10 inches too far back – now rectified) along with additional ventilation panels and access points for 12v/120v power leads. The side walls of the room have a slight taper towards the outer awning beam to help encourage water run off.
Size – This set up is significantly smaller than the other two reviewed tents, but is a comfortable fit for two people on cots (+ dog). It has standing room height and we didn't feel cramped. Ventilation was excellent.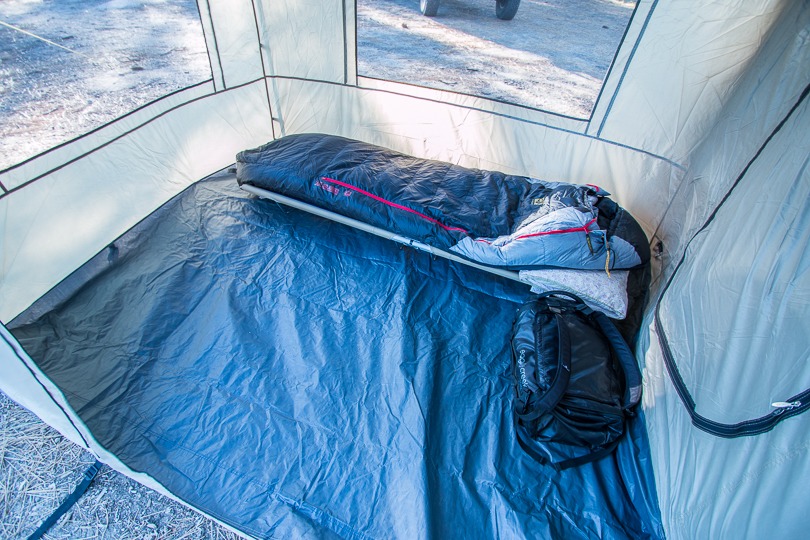 We really liked the awning room and I can see us definitely using it on quick strike trips where we're trying to cut down on gear taken. It was extremely easy to set up and take down and perfect for those trips where you move everyday. Finally, with a price tag of $500 complete, it's a definite options for fine weather camping for up to two.
Pros: Price. Ease of set up. Quality.
Cons: Small platform. Should only be used in mild weather.
Overall conclusions:
The Ground tent certainly have their place in the overland community despite perhaps currently not seemingly being the fashion choice. We found all 3 styles were fairly easy and intuitive to set up and although they genuinely do take longer than a RTT, the extra time taken really isn't a big deal. The ability to sleep on a comfortable cot was certainly appreciated as was being able to have standing room. Finally, both the Slumberjack and the ARB awning and room were at least 50% less expensive than most RTT's, a factor that shouldn't be ignored.