The Kelty Trash Pak – Since the pandemic started last year, we've all seen increased participation in the outdoors and the extra burden this has placed on the all the areas we love to camp and recreate in. It's never been more important to Tread Lightly and adopt the principles of Pack in and Pack out. That said, it's great to see a traditional outdoor camping brand like Kelty, stepping into the Overlanding space, with a product that supports this concept.
________________________________________________________________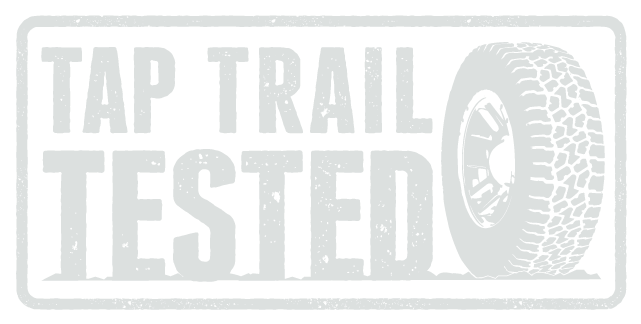 Here at TAP, we received the Kelty Trash Pak several months ago and have been testing and using it on one of our rigs 24/7, to see how quickly the elements break it down. To date we've taken it on 3 trips, one in freezing temps in the High Sierra and also to dry desert environments in Southern Utah and Northern Arizona. The bag has already taken a beating, but shows no signs of degradation of stitching or fabric. Of course it's still early days.
Initial thoughts:
Fabric and construction: It's made of 600D poly and vinyl for UV and water resistance. The fabric appears to be a good choice as it has been easy to wash off dirt and grime after a trip, without it becoming too engrained in the fabric. Overall, the bag has a high quality construction with taped internal seams for strength and longevity.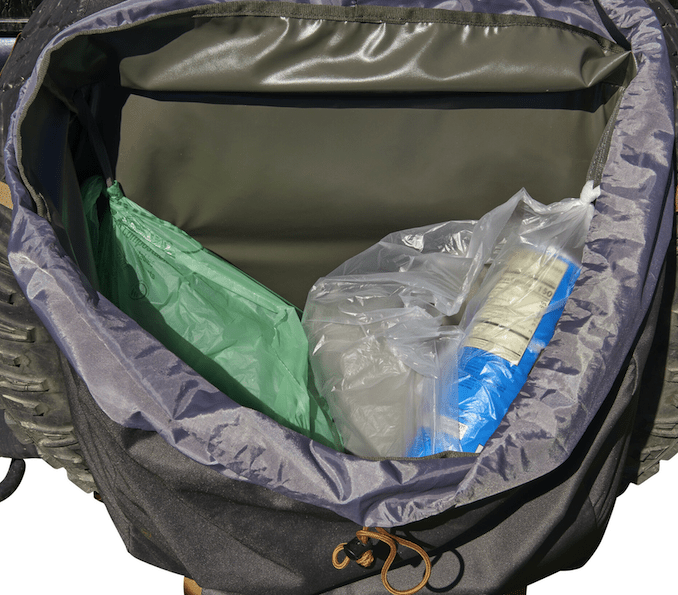 Attachment straps and buckles: I like that there are 6 attachment straps to support and keep the bag rigid on the tire. We set ours up months ago and even after heavy use, I have not had to adjust it. Regarding straps, I was doubtful they'd be long enough to fit over my 35″ spare and AEV Fuel Caddy. It was tight, but they did when fully extended. Although I've not had an issue, I would have liked to have seen the top straps made of wider fabric. Maybe it's unnecessary, but it would seem like extra strength wouldn't be a bad option, as they take most of the weight. The 4 side and bottom straps simply keep the bag from moving around. Buckles have always been a problem in every utility bag I've ever used. They eventually harden from the sun and crack. These look solid, but again time will tell.
Overall design: The Kelty Trash Pak is the right size and easily held everything I packed out after 6 days of trail time on each of my trip. It synchs down tight when empty, without flapping around at highway speed and expands to a large bag, when full. I like the added feature of internal loops to tie trash bags and I especially like the extra hardware provided to attach the bag to the back of van doors. Well done Kelty!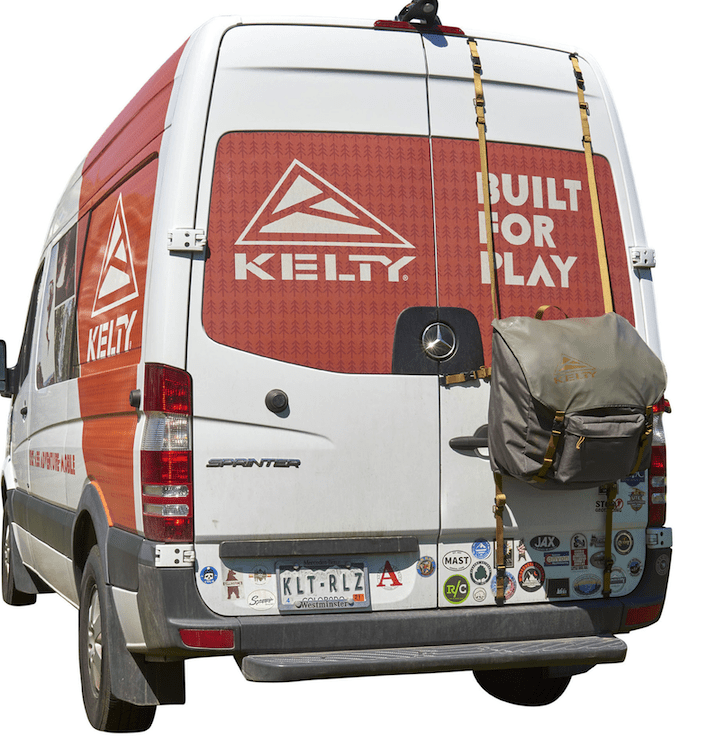 Things I'd change: Although a useful idea, I'm not keen on the zippered small outside pocket. My concern is that the amount of dirt this bag will endure, will ultimately render the zipper inoperable. The bag also has a foam padded back to protect the vehicle; I think this is unnecessary, as most of these bags will likely be used on a spare tire. Perhaps, offer two renditions, a padded one for vans and a less expensive unpadded version for spare tires use? Finally, as previously mentioned, I'd like to see beefed up load bearing top straps for added security.
To conclude this short review, I think Kelty have a winner on their hands here and I applaud this product introduction into the overlanding market. It's obvious that they have researched the category and listened to people who actually use this type of product. HIGHLY RECOMMENDED
KELTY TRASH PAK $99 – BUY HERE
_____________________________________________________________________