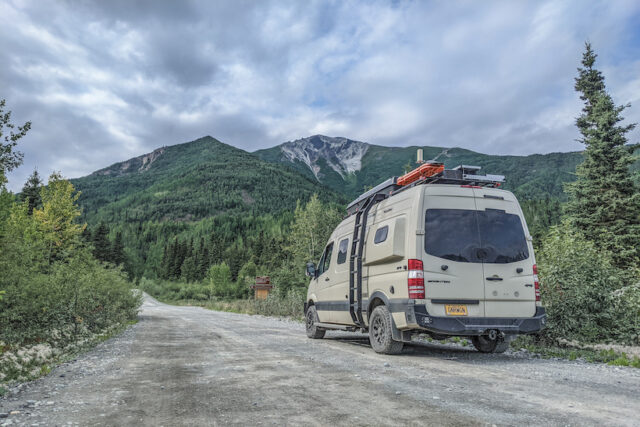 By: Kelly Laustsen and David Somach @Gnrwgn
As a quick introduction, we are David and Kelly, 30-somethings from Portland, Oregon who have the good fortune of spending the summer in Alaska in our van, the Gnar Wagon. We've had our van, a 2019 Winnebago Revel, for about three years and spent fifteen months traveling around the United States and Canada in 2019/2020. We intended to end our original trip in Alaska, but with COVID ended up returning to Portland for a bit and delaying our Alaska travel. We love hiking, nature photography, boondocking, breweries, art, and planning trips as we go. We couldn't ask for a better place to spend the summer or a better rig to do it in. We picked our van for its toughness (4×4, short wheel base, expedition front bumper) but we love the comforts it provides (induction stove, toilet and shower, furnace, lithium batteries, twenty-one gallons of fresh water storage). We never miss an opportunity to leave the pavement and get away from civilization, which we recently accomplished with a trip to Kennicott and McCarthy.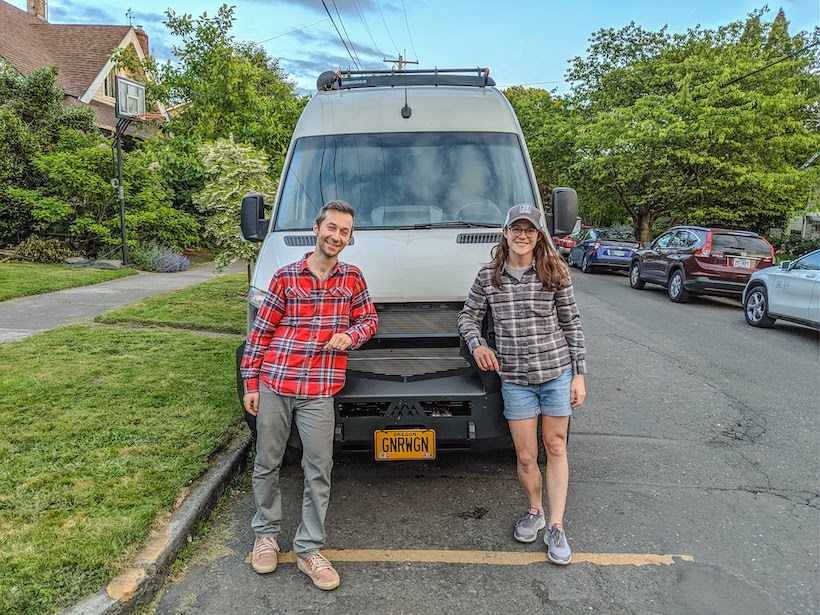 Kennicott is located on the southern side of Wrangell-St. Elias National Park and Preserve. It's the largest national park in the United States, covering 13.2 million acres! Most of Wrangell-St. Elias isn't accessible by road and there are few established trails in the park. Kennecott was developed in the early 1900s after prospectors discovered rich copper veins in the mountains and was quickly built up as a company town. A second town, McCarthy, was built just five miles away to support the vices of the miners, as drinking wasn't allowed in the company town. Kennicott and McCarthy are located about ninety miles east of one of Alaska's primary highways (Richardson Highway), and reaching them by vehicle requires driving over forty miles of unpaved roadway. When researching how to spend our summer in Alaska, we were immediately attracted to Kennicott and McCarthy by the history and hiking, in addition to the exciting route to get there!
While some of the businesses in Kennicott and McCarthy have running water and electricity, there aren't any dump stations or hose hook-ups for RVs. Therefore, we were sure to start our journey with a full water tank, empty gray tank, empty cassette toilet, stocked fridge, and full tank of diesel. The sixty-mile largely unpaved road to McCarthy starts in Chitina, a small railroad town that sprung up when the railroad to Kennicott was completed in the early 1910s. The road largely follows the old railroad route, which was abandoned in 1938 when the mine closed down. Just after leaving Chitina you pass through the narrow "railroad cut," which was originally a tunnel for the railroad. Other signs of the railroad are evident along the way, including the Gilahina Trestle, which was built in eight days in the winter of 2011. Although most of the railroad track was removed for scrap metal, we still saw pieces of track occasionally and were warned to watch for railroad spikes on the road.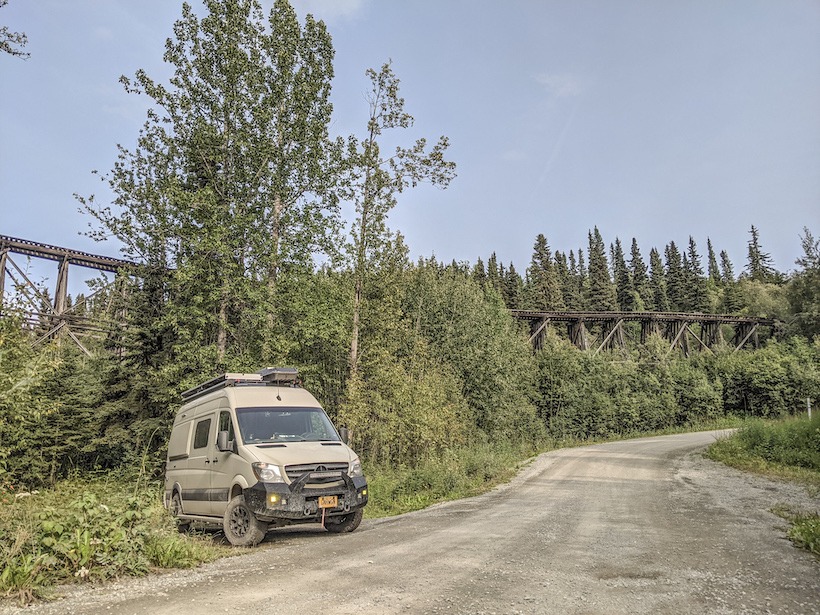 We aired down to about half of our typical tire pressure after the pavement ended just east of Chitina. We'll usually reduce our tire pressure if we expect to be on dirt and gravel for more than a few miles, as this helps soften the ride and makes washboard a little more tolerable. We were pleasantly surprised by the road condition and for the most part maintained a speed of about twenty miles per hour. We stopped every so often for pictures and once to do a short hike before deciding to camp for the night. We found a large pull off and checked our mapping app to make sure we were on public land, as there is lots of private land along McCarthy Road.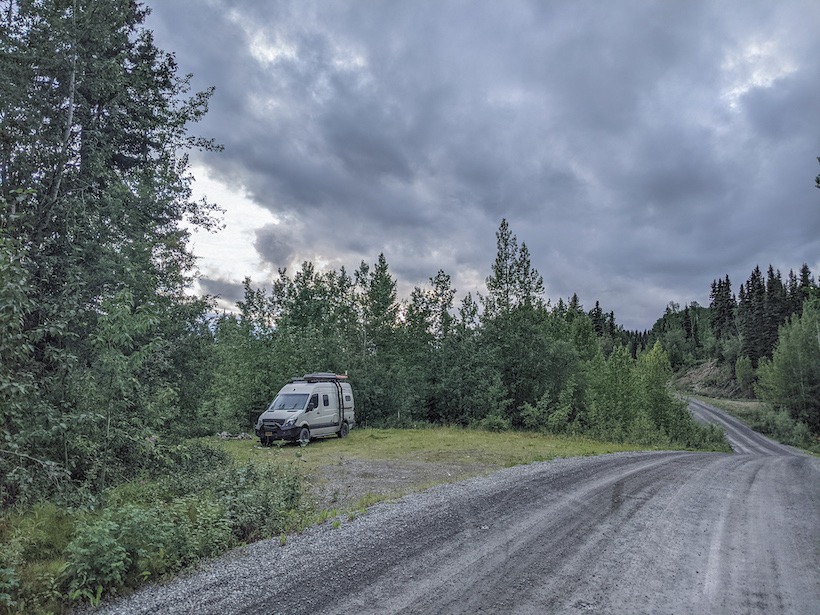 The next morning we completed our drive to McCarthy, or at least as close as we could get. Visitors aren't actually allowed to drive into the town but must park at the end of a footbridge about a mile away. There are two campgrounds at the end of the road, which are really just dispersed camping on private land. The campground we stayed at cost $25/night and didn't have any formal sites or amenities, beyond a single pit toilet. There isn't any free camping within a few miles of McCarthy, so we opted for the convenience of the campground. After spending too long trying to find the best site, we left our van for the day and walked to McCarthy to look around. There are only a couple dozen people who live in McCarthy year round, although the population swells a bit in the summer to support the tourists. There are a couple of restaurants, a small museum, a few pit toilets, and a some guide companies in McCarthy. There are also a lot of very friendly dogs roaming around, raspberry bushes, and a small number of tourists. Most of the activities we planned to do are in Kennicott, which is about five miles up a dusty, bumpy road. One of the biggest challenges during our trip was getting between McCarthy and Kennicott. After walking the road our first time up to Kennicott, we opted to rely on local shuttles for future trips. There are two rival shuttle companies in town. We quickly warmed to the short white bus driven by Dan, a long-time local. Dan is a chatty character, full of stories and well known among McCarthy's residents. We learned about the property he inherited in town from a longtime friend as well as the work he is doing for kids in the area. After just a few rides with Dan, we felt like regulars on the bus.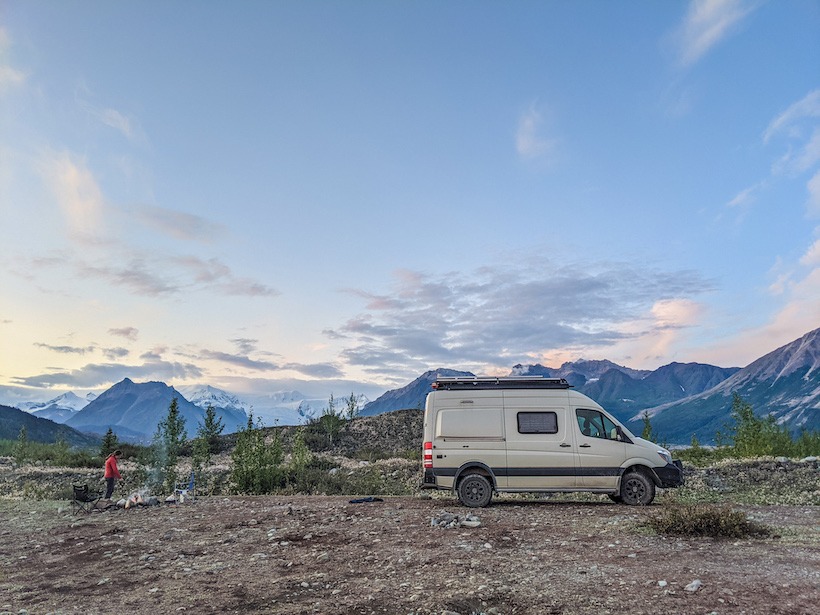 We spent our first afternoon touring the mining operation in Kennicott. The town of Kennicott is named for the Kennicott Glacier, but the mining company is the Kennecott Copper Corporation (supposedly the spelling difference is due to a clerical error). When the mine shut down in 1938 much of the equipment and buildings were abandoned, leaving a ghost town for decades until some people saw an opportunity to reinvigorate the area as a tourist destination. The National Park Service has rehabilitated many of the original buildings, some of which you can only enter with a tour guide. We spent the majority of our tour in the fourteen-story concentration mill, where ore arrived by tramway to be crushed, sorted, bagged, and placed in rail cars for transportation to the coast. The building has been refurbished just enough to be safe for entry, but feels abandoned with random artifacts scattered around, including old tools and equipment. The setting for the mill and town is incredible, with views of glaciers and some of the highest mountains in the United States, including Mt. Blackburn.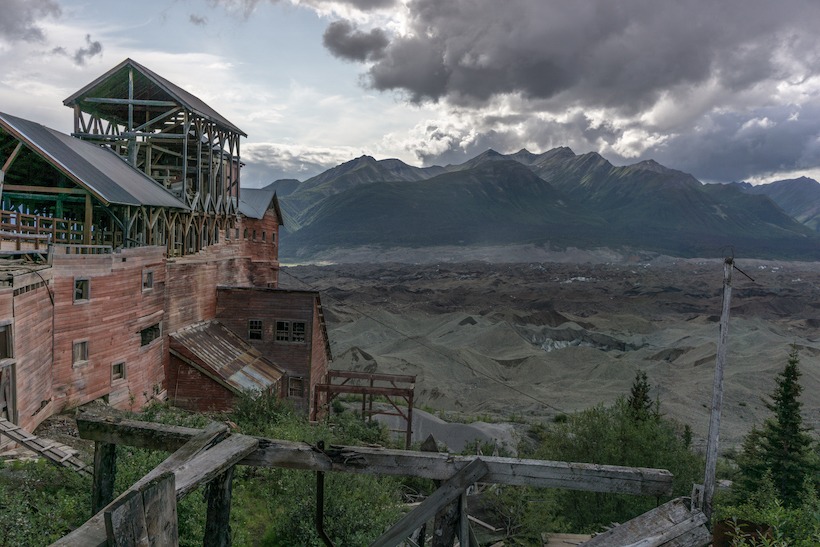 Several hikes leave from Kennicott, most leading to original mining areas and the Root Glacier. We hiked to Bonanza Mine our second day and ended our visit to Kennecott hiking on Root Glacier. Weather in Alaska in the summer is unpredictable and often grey, but we lucked out with partial sunshine and enough visibility to see some of the surrounding mountains. Bonanza Mine is about four miles from Kennicott and the trail gains almost 4,000 feet in elevation. Miners would live in a bunkhouse at the mine and only occasionally make the trip to Kennicott, sometimes by riding on the tram cars that moved ore from the mine to the concentration mill! There are old tools and appliances scattered around the mine and hillside, which we learned the National Park Service considers "historic refuse." We loved exploring around the mine and guessing at how the various equipment worked.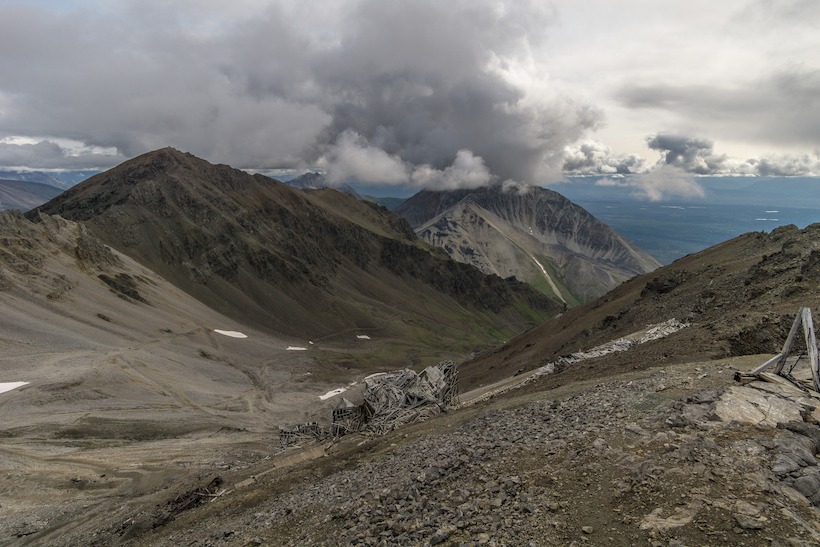 Root Glacier is only a couple miles from Kennicott and the most accessible way to walk on some of the over 5,000 square miles of glacial ice in Wrangell-St. Elias. Much of the glacier is covered by dirt and rocks, but the Root Glacier trail leads you to an area that is largely ice. We only had one pair of yak traks between the two of us and the glacier is quite slippery, so we didn't venture too far. While we've skied on the Palmer Glacier on Mt. Hood at home, this was our first time walking on a glacier in Alaska. While a local told us, "Once you've seen one glacier you've seen them all," our fascination with glaciers likely won't end anytime soon.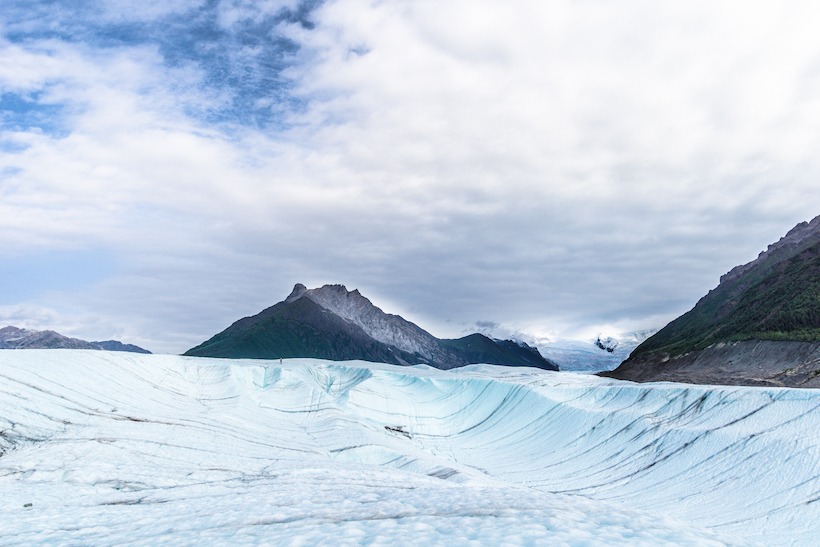 After hiking on Root Glacier, we returned to our van and left the campground in the early afternoon, deciding to camp one night on McCarthy Road on our way back. At this point, it had been five nights since our last dump station/water fill-up and our fresh water was running very low, along with our supply of produce and refrigerated food. We've found about five days is the maximum time we can go between water fill-ups, which is our limiting factor when off the grid. By this time we are usually craving some fresh food, a restaurant meal, or a real shower. We spent our last night in an informal campsite that we scouted using aerial imagery from Google Maps. We usually rely on iOverlander, a great app for finding camp spots on public land, but it didn't have much to offer in this area. The next day we finished the drive to Chitina, aired the tires back up, and returned to pavement for the rest of our drive back to Anchorage to prepare for our next adventure.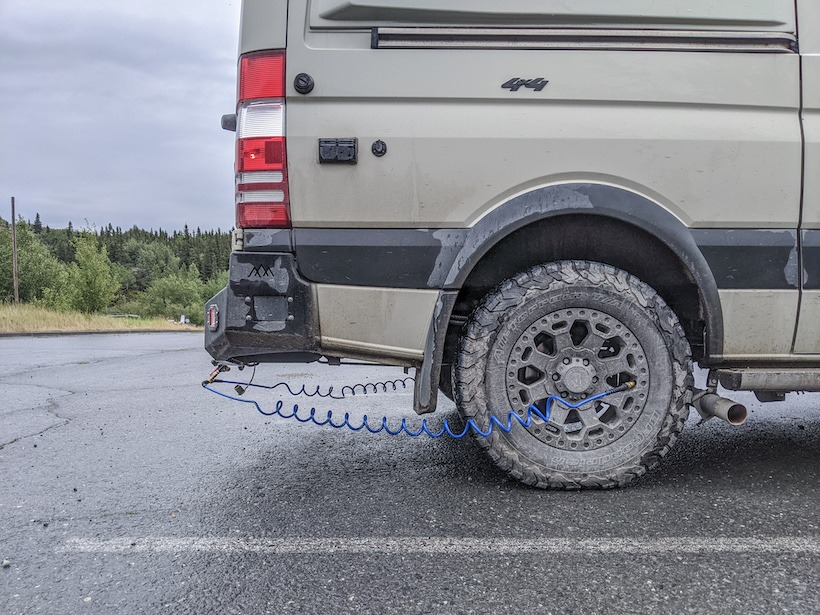 ___________________________________________________________________
To Learn more about the Winnebago Revel check HERE