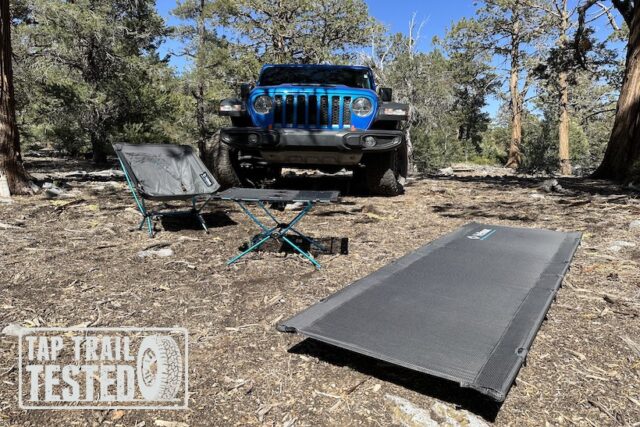 The spirit of overlanding is all about vehicle-based travel. For many of us, this entails equipping our rigs for maximum enjoyment at camp. This often includes many of the creature comforts of home but packed into smart mobile solutions. Up until recently, this has largely been my experience and personal preference.
However, I've recently "unlocked" an entirely new set of experiences that have come from venturing away from my vehicle. I will share some examples along with a few gear recommendations for how I have made this transition a comfortable and enjoyable experience.
My first example comes from an overlanding trip I took through Death Valley, CA. On this trip, I was fortunate enough to come across one of the many historical cabins located in this region. These cabins are free to camp in and are available to travelers on a first come, first serve basis. That's right. If you find an unoccupied cabin, post-up and spend the night in a little bit of history! With the right light weight gear, you can seamlessly take advantage of lodging situations like these or other unique opportunities to spend the night in structures that you may find in your travels. Note: In the spirit of the old west, always leave it better than you found it!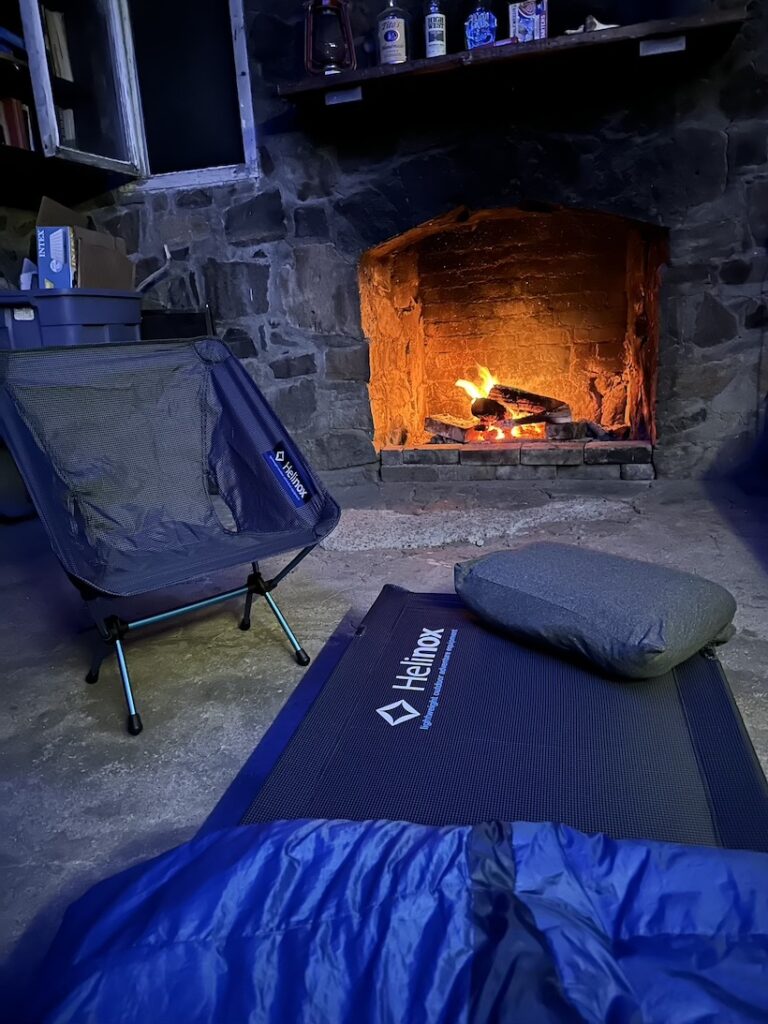 My next example is the all too common "road's end" scenario. On another recent trip, I found myself at a point where the vehicle could go no further. I was underwhelmed with the setting but did not feel like turning around, so I grabbed my pack with a few pieces of my light weight gear and hit the trail on foot. In a very short distance, I found a beautiful creek with a sandy beach. Within a few minutes, I was able to set-up a campsite and spent the night under the stars listening to a beautiful creek.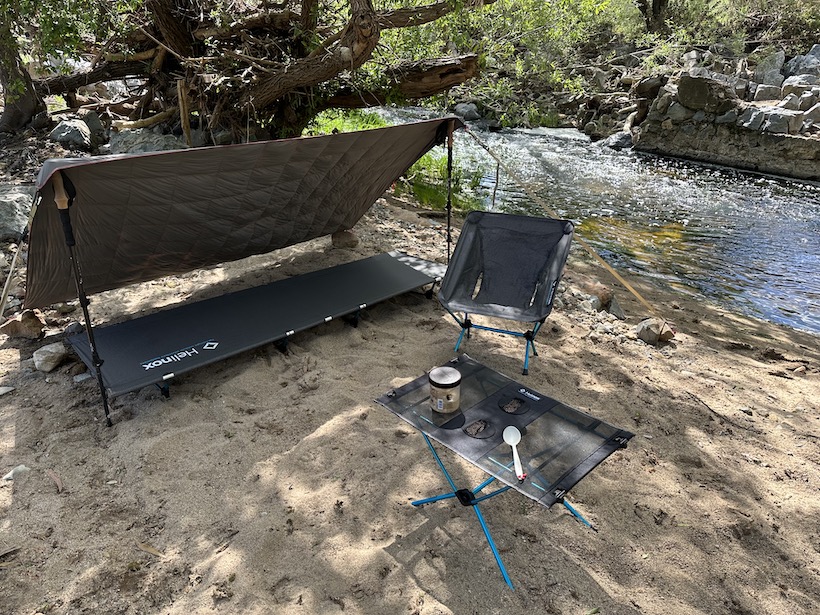 Both of these experiences were made possible by keeping a few pieces of light weight gear in my rig along with a reasonably sized backpack for carrying my gear. While I may add other miscellaneous items, the following are in my core "mobile kit."
Chair
Small table
Sleeping pad or cot
Tent/tarp (optional)
Sleeping bag/quilt
For the first three items, I use Helinox gear. Helinox has been in business for almost 15 years and produces attractive, easy assembly, compact and ultra-lightweight gear. I find these features to be an excellent fit within my overland rig. I easily store these items in my cargo bins or in nooks and crannies. These same benefits translate to the trail and my Helinox gear easily fits inside a daypack with plenty of room for other stuff.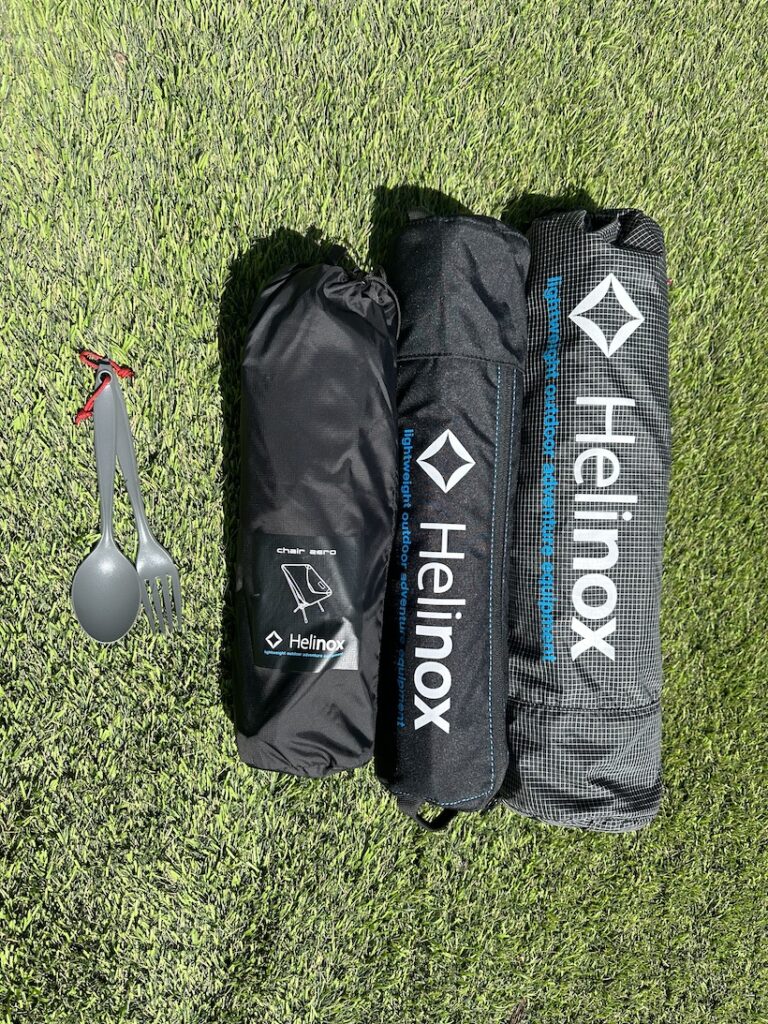 Details:
Chair Zero – This is one of the lightest and smallest backpacking chairs on the market. It weighs only 17 oz and packed, is smaller than an average person's forearm at 13.5 inches in length. This chair is one of the easiest chairs on the market to assemble and takes me less than a minute to take a seat. If you are looking for a slightly larger chair and level-up on comfort, I'd recommend the high back version.
Table One – Again, super small and lightweight at only 1 lb 8 oz and packed, only 16 inches in length. I especially appreciate the engineering that went into this design and is one of my favorite pieces. It is easy to assemble, has cup holders and enough space to eat off while sitting in Chair Zero. Keep in mind that this table is small and low. If you're looking for a larger/taller dinner table, this might not be the product for you. But otherwise, say goodbye to putting your stuff on the ground!
Lite Cot – Is a full size, ultra-light cot that only weighs 2lbs 12oz and packed, only 20.5 inches in length. At first glance, the cot's sleek design gives the perception that it would not be comfortable or durable. In reality, my experience has been quite the opposite. It "feels" large, and the fabric tension is fantastically comfortable. Shoot, even my dog prefers to lay on the cot vs. her normal travel mat. As for durability, I have been rough on mine, and it has withstood the tests without a glitch. My concern with this cot is the assembly process. It takes some strength to snap the pieces in place and if you are not careful, you can pinch the skin on your hand.
Regardless of the equipment you choose, I encourage you to branch out and modify your overlanding experiences.
In-Field Contributor: Chris Lenkeit – 2021 JLU Rubicon
Every overlander/car camper has a philosophy. Mine was to build my vehicle with a minimalist mindset. While my rig is designed for cabin sleeping with all the necessities, I never travel in excess of GVWR. This enables safe travel for me, my vehicle, those around me and finally the places I visit.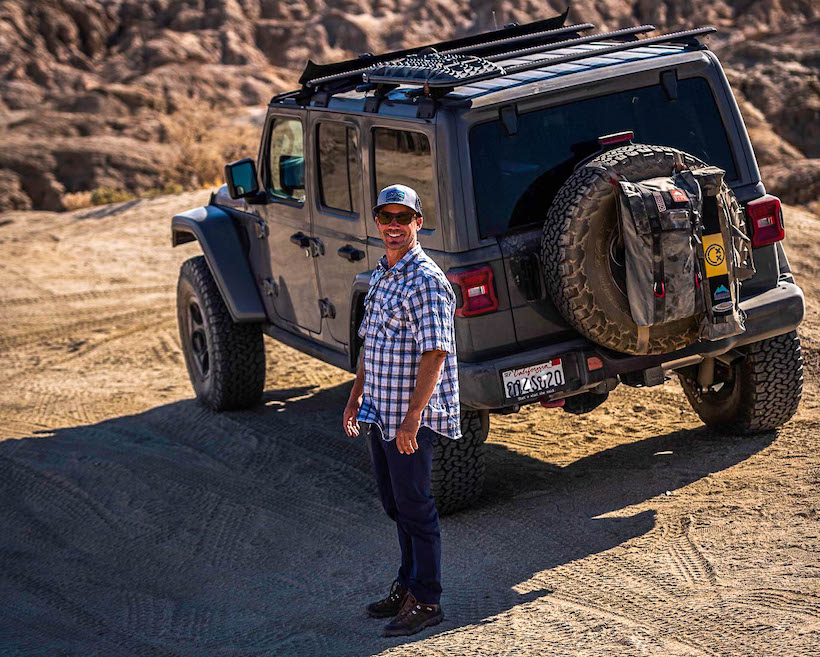 For more TAP Trail Tested Reviews CLICK HERE