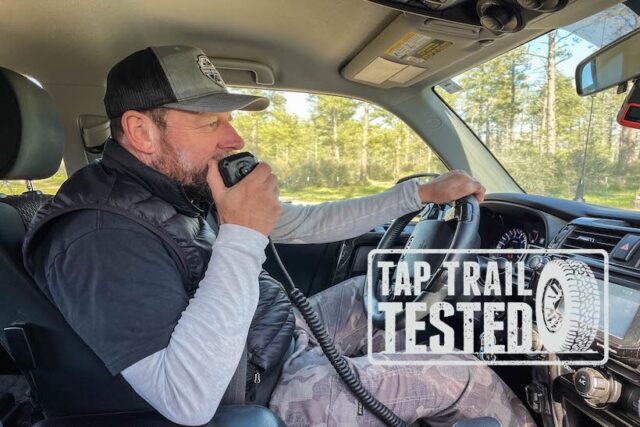 In our opinion, a good comms system on the trail is an essential piece of overland gear and in full disclosure, TAP has been using Midland Radios for several years. Initially we solely used their hand held X-Talker walkie talkie units, however, for the last couple of years, have combined these with built in 15 watt MXT275 MicroMobile GMRS units. Last year Midland released their MXT500 and MXT575 maximum wattage GMRS radios and we jumped at the chance of testing them. The MXT500 has a traditional radio format/body with handheld mic, while the MXT575 has a remote radio unit with all the controls built into the handheld mic. As always, cab space is critical, so we chose the smaller bodied remote brain location, MXT575.
General Mobile Radio Service (GMRS):
The GMRS system is a licensed radio service on FM UHF frequencies. It uses a higher maximum output up to 50 watts, has a total of 30 numbered channels as below:
1-7 ERP of 5 watts
8-14 1/2 watt ERP
15-22 Max of 50 watts
23-30 (repeater channels) Max of 50 watts.
Note, it requires a no-test license which costs $35 and is valid for 10 years. TAP's call sign is WRPY684 and all GMRS users should follow the following conditions:
(a) The GMRS station call sign must be transmitted: (1) Following a single transmission or a series of transmissions; and, (2) After 15 minutes and at least once every 15 minutes thereafter during a series of transmissions lasting more than 15 minutes.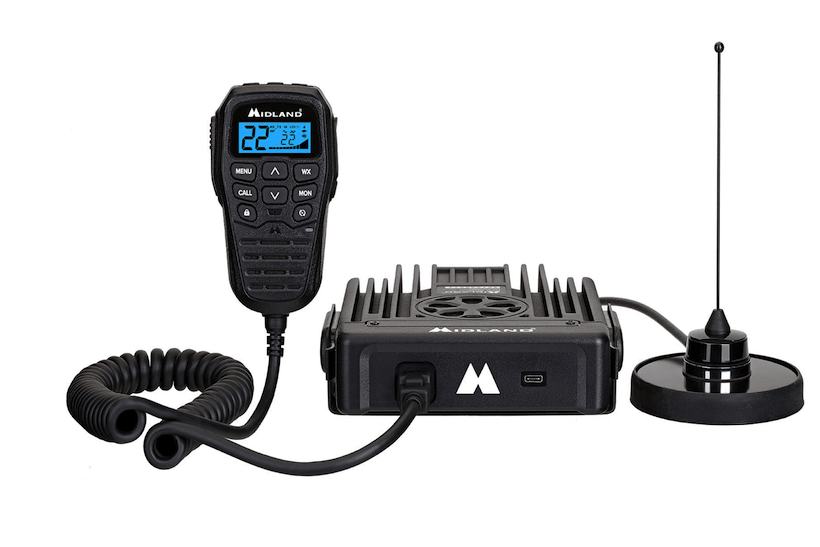 50-Watts of Power
8 repeater channels
Split Tone Repeater Capable
15 high-powered GMRS channels
142 privacy codes
Fully-Integrated Control Microphone
NOAA Weather Scan + Alert
USB-C Charging
Speaker Mic Jack
Channel Scan
Programmable squelch
Compatible with all Midland FRS/GMRS radios
Installation:
As mentioned, we had already installed a MXT275 unit in our 4runner, so had previously gone through the installation process. That said, it's an easy process and is basically "plug and play". It would have been nice to have been able to use the existing 275 bracket and wiring, but the additional brain unit size (about 40% larger – 1.5″Hx5.5″Wx7.3D") and wiring requirements for 50 watts of power made this impossible. We located the brain mounting bracket on the driver side of the center consul and the unit simply slides into it. The antenna wire and wiring harness were fed behind the steering column and through the wire rubber grommet into the engine compartment. At this point the wires were hooked up to our Spod unit and the antenna wire connected to the antenna. Finally the mic is plugged into the unit and that's it…."plug and play" and a 45 minute job at most!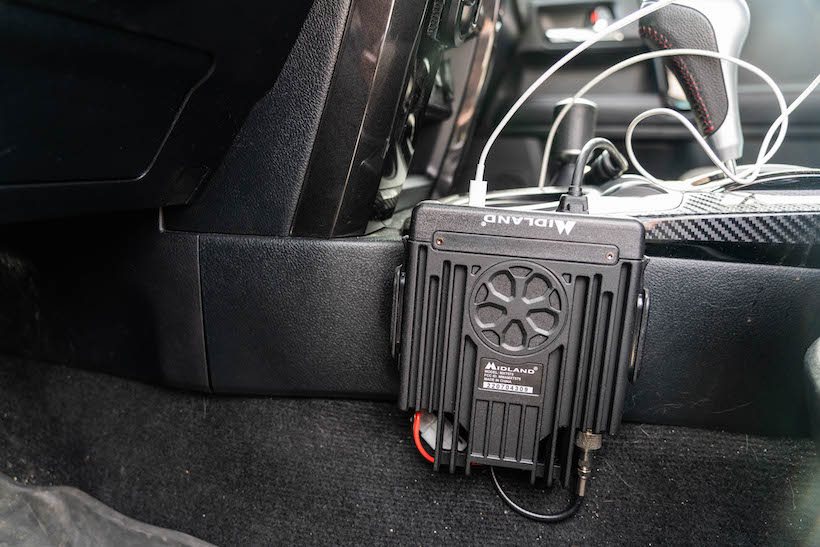 Regarding the antenna, we have been using the low profile Midland Ghost Antenna but switched it out for the higher performance Midland Whip antenna. Personally, I prefer the aesthetic and low profile format of the Ghost, but performance is essential, hence the change.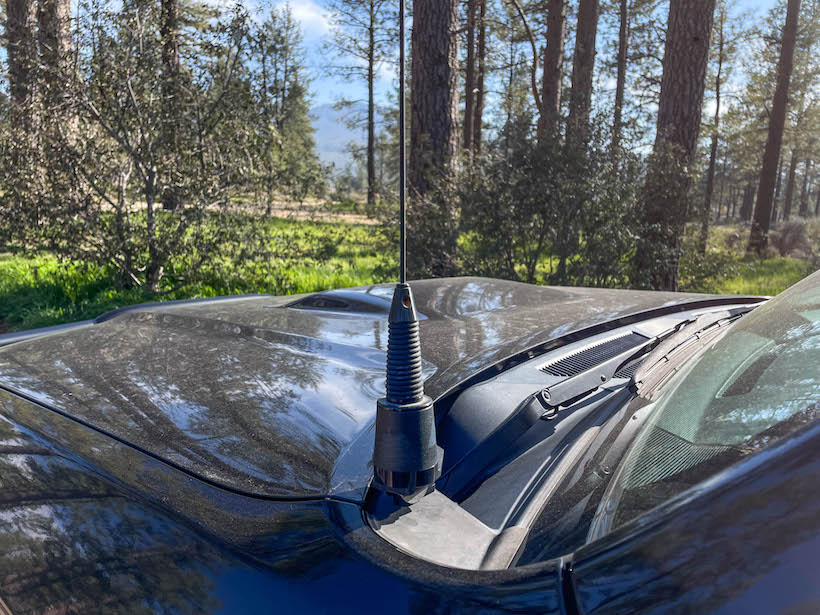 Out on the trail:
We found the MXT575 easy to read and the controls intuitive. A pet peeve I have with technology, is the need to spend hours on YouTube or God forbid, actually reading the manual (Midland – Could you make the font any smaller..lol). I also like the fact that Midland have not crammed in useless features, with the device actually feeling like it's designed by someone with real world experience. Well done Midland!
So far, we've tested in desert locations (hilly and large rock strewn geography) with the second rig using a 15 watt Midland MXT275 unit, and the clarity of transmission has been exceptional up to a distance of around 2.5 miles. Past this point static appears, although transmission can still be understood up to around 4 miles. We have not tested the claimed 20 miles of range using a repeater signal, with a recipient also using a 50 watt unit. This article will be updated once that is tested.
A few features I particularly like while on a trip:
Compatibility with FRS/GMRS hand held's is a welcome feature, as we're constantly jumping out of the rig for spotting and photography needs.
NOAA Weather Radio Station.
USB -C fast charging port.
Privacy codes to limit communication to the group.
Conclusion:
We've been happy with our 15 watt MXT275 unit for the past two years, but the 50 watt MXT575 is a fantastic upgrade. Clarity of communication was exceptional within the 2-3 mile range. Ease of installation is welcomed, as is how user friendly this device is. I also appreciate the fact that Midland offer two variations in their 50 watt offering. For us the 575 was the obvious choice, but users with more cab space, may well prefer the slightly larger 500, where the digital read out can be potentially mounted directly in front of you, as opposed to being on the hand held mic.
Overall, Midland nailed it and TAP highly recommends this trail ready communication system.