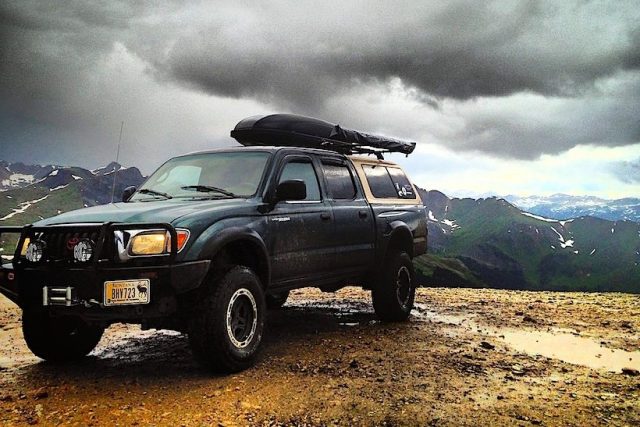 As a reasonably new transplant to Denver Colorado from Montana, I have to say, there were a number of things that I was excited about. I was excited about baseball, trying new restaurants and I was really excited about checking out the hockey. But what I wasn't excited about (remember I'm from Montana) were the overlanding opportunities in Colorado. Sure, there are a ton of off-road trail heads, Forest Service roads, and 14ers, but there are also nearly 5.5 million people wanting to share those areas with you. Boy, was I surprised when we headed over to the town of Lake City, CO to explore the iconic over land Alpine Loop.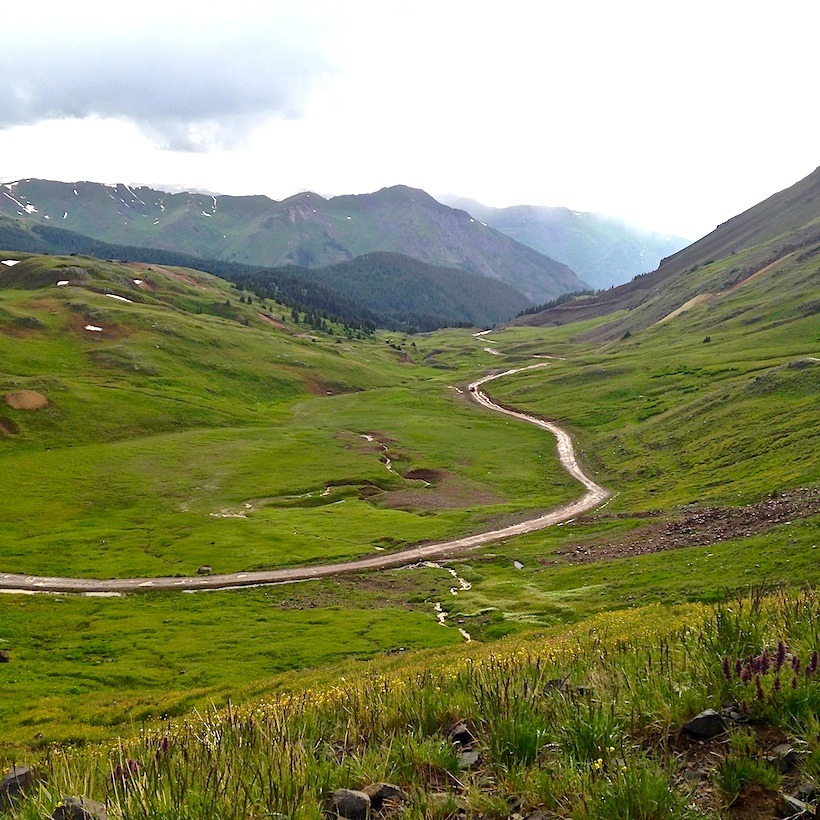 The Alpine Loop is a 63 mile route through the San Juan Mountain range that links up the towns of Lake City, Ouray and Silverton. This over land route is generally unimproved dirt road with some stretches of moderate wheeling that requires a high clearance, four-wheel drive vehicle.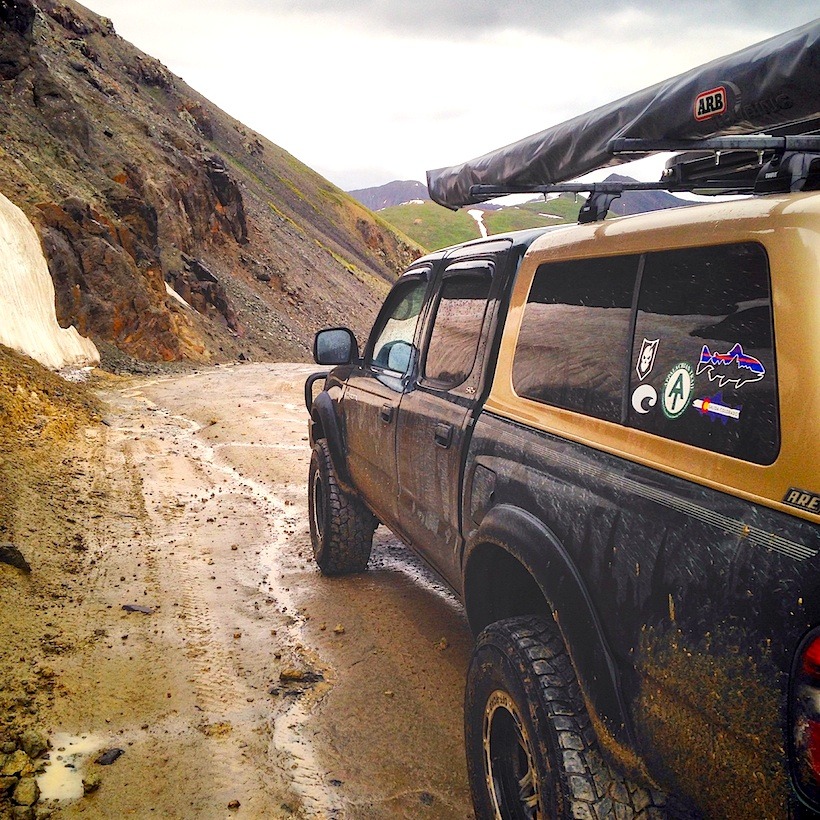 Our vehicle supported adventure trip started on a Saturday morning at our home on the south side of Denver. We had decided the night before that we wanted to get out of the city, explore and go camping. We decided to check out the Alpine Loop. I had never heard of it before our google search, but my wife was quickly sold on the relative remoteness of parts of the route as well as the opportunity to explore some towns we had heard good things about (Ouray, Lake City, and Silverton). We hurriedly packed the Tacoma full of camping gear, our Yeti cooler, photo gear, and our two black Labs: Teal and Hudson.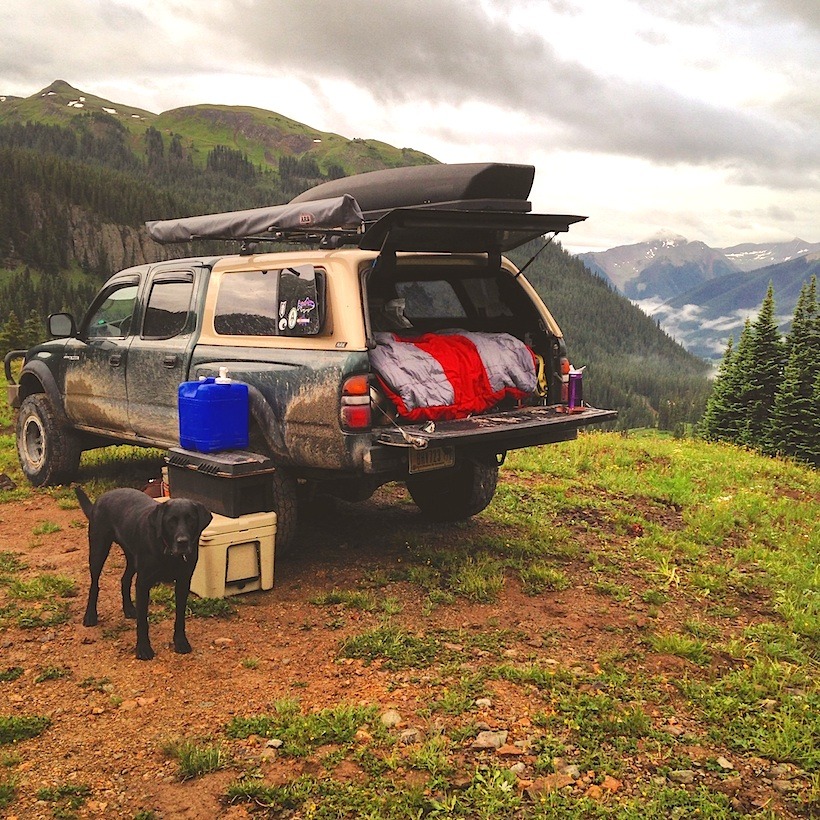 The traffic heading out of Denver on a gorgeous summer Saturday morning was less than ideal, but once we neared Buena Vista, the roads opened up a bit and we thoroughly enjoyed the nearly five-hour drive through Gunnison, along highway 50, and then up CO-149 to Lake City. Once we arrived in Lake City, we stopped to top off our fuel and do a last-minute check to make sure we had enough beer for the campfire. After adding an extra bag of ice and a six-pack of Colorado's finest, we loaded up and headed for The Alpine Loop.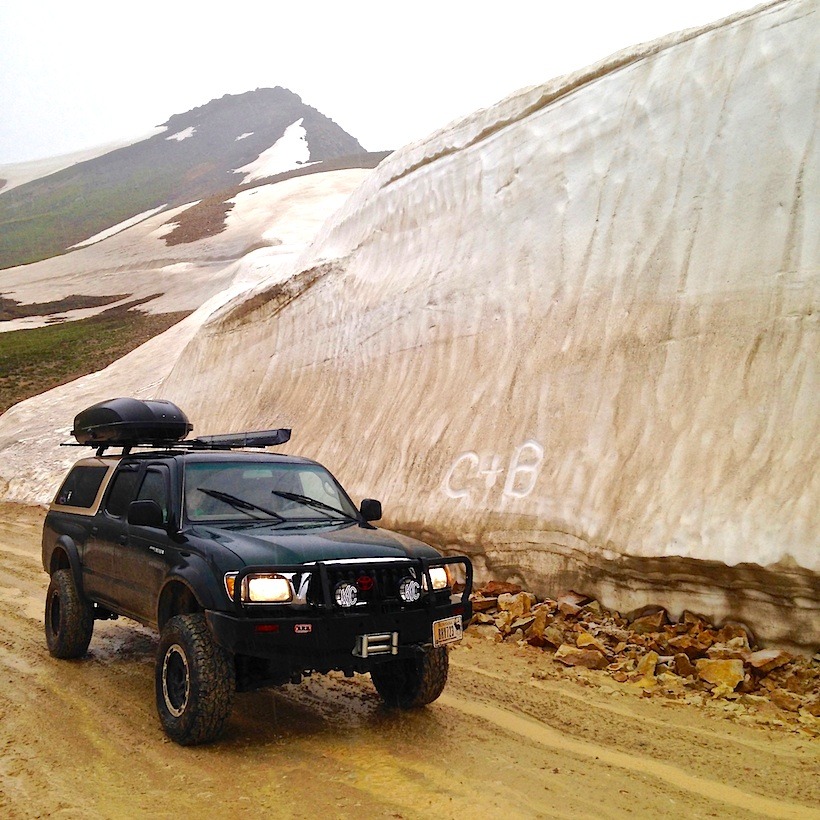 The Alpine Loop starts out as a well-graded gravel road. There are a number of excellent places to stop including numerous waterfalls, old mining towns, trailheads that lead to 14ers and many places where you just want to stop and take in the view. One place my wife especially enjoyed, was a decent sized waterfall somewhere in the first 5 or so miles of road. We stopped and took loads of photos, then decided that we needed a closer view, so we scrambled down the side of a muddy hill and took even more photos. Once we left the road and were down near the waterfall, it felt as if there was no one around for miles and miles. It was wonderful having this beautiful place all to ourselves.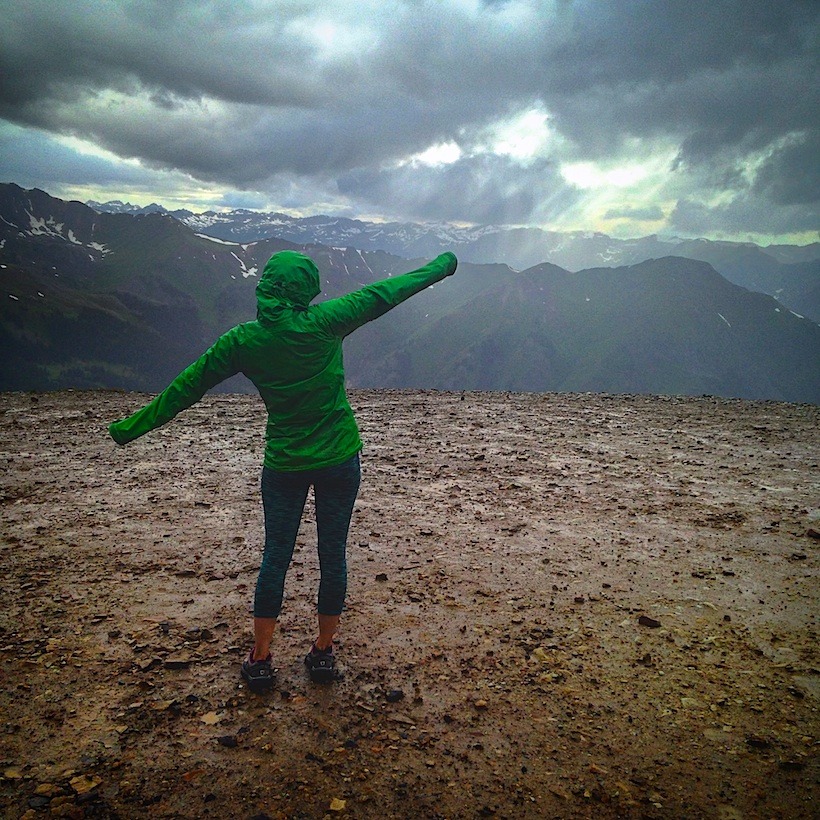 As I mentioned earlier, the first section of the Alpine Loop is pretty tame. We were probably ten miles in before I engaged the four-wheel drive, as it really wasn't required. There was only one section up at the top of Engineer Pass where I felt inclined to drop into four low. If the road had been dry, it would have been unnecessary. I drove up in four low as much for the excuse to drive slower and enjoy the view as anything. Let me tell you, I've yet to enjoy a drive in the state of Colorado as much as I enjoyed the drive to the top of Engineer Pass. The views into the Uncompahgre Wilderness are gorgeous, dramatic, and well worth the effort to get there.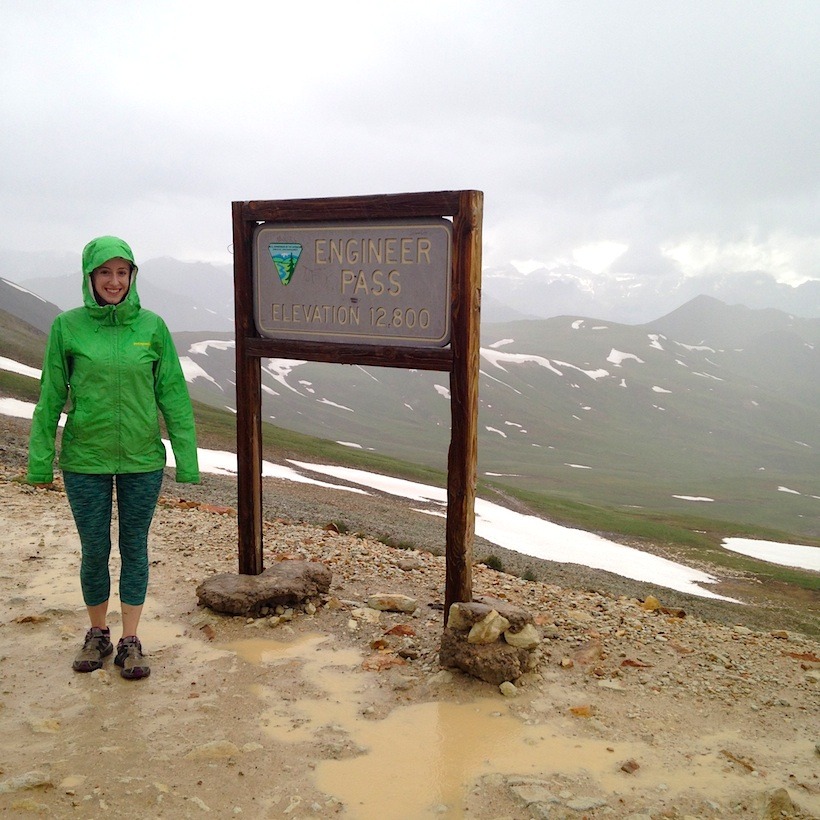 We started down from Engineer Pass at 12,800 feet to grab some dinner in Ouray. I knew the road split and either headed up Cinnamon Pass and back to Lake City (or Silverton if you make a right turn before Cinnamon Pass) or we could take the right hand turn and head down to Ouray. After our adventure and an awesome thunderstorm at the top of the pass, we had decided we felt like getting a hot meal and exploring the town of Ouray.
The road down into Ouray wasn't too long, but there were a few ledges just large enough to put my skid plates to good use, and a couple of places narrow enough to make my wife a little nervous. Needless to say, we made it down into town without serious mishap, but I would not recommend driving a stock, long wheelbase vehicle down that trail. Once onto the highway, it's a few miles into Ouray, and there are a couple of places worth pulling off the road and checking out if you aren't in too much of a hurry.
As we were coming into town, I suddenly remembered that FJ Summit was taking place that weekend. This explained why we had seen so many FJ's that day and we occupied ourselves enjoying all of the well built FJ's around town. We also got to meet Clay Croft and his wife of Expedition Overland fame, who live in the same town we recently moved from. They were extremely kind after what I'm sure had been a full day of talking to hundreds of people.
After a nice dinner in an Irish pub, we decided it was time to look for a place to sleep. When an event as big as FJ Summit is in town, finding a suitable campsite can be tough. We knew we were going to be heading towards Silverton the next day, so we started looking for a campsite in that direction. The remainder of our trip, unfortunately, had no more exciting off road driving. We wound through Silverton and Durango before stopping in Pagosa Springs for a relaxing soak, after all the time spent in the driver's seat. By the time we rolled back into Denver on Sunday evening, we had covered around 700 miles and enjoyed many of the most beautiful parts of the state that I now call home.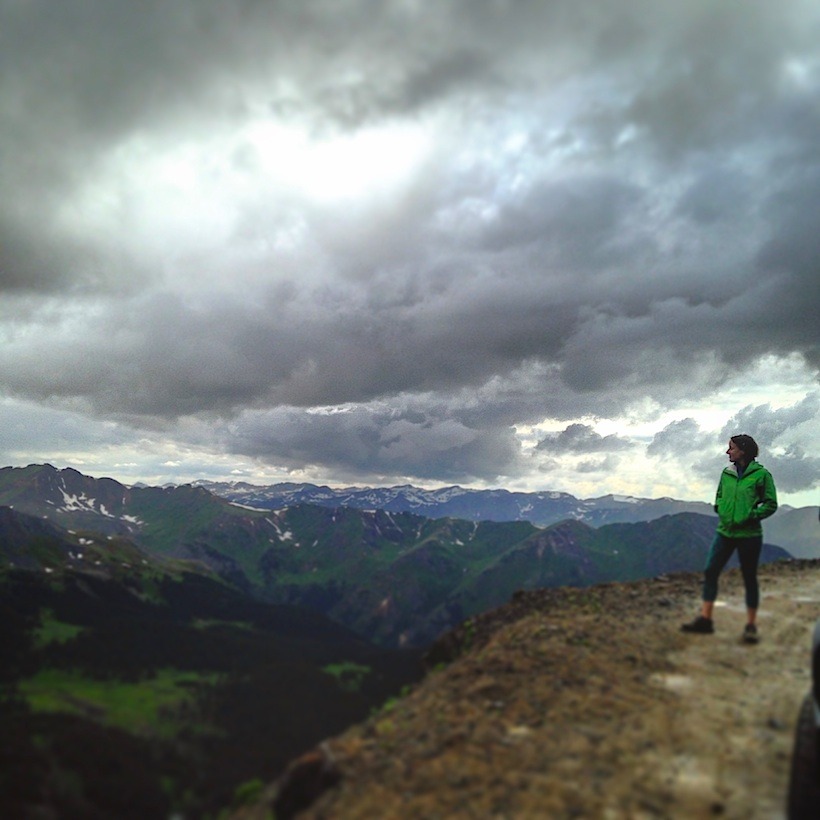 Author Josh Bent is the owner of Bomber Products. Check out Bomber Products here
Bomber Products Social Media Links:
Facebook Page www.facebook.com/bomberproducts
Twitter:twitter.com/bomberproducts
Instagram: instagram.com/bomberproducts
For more overland and off-road vehicle supported adventures, CHECK HERE