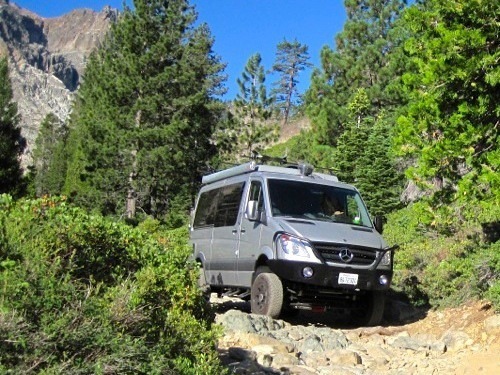 Fellow adventurer, blogger and author of the book 2013 Sprinter RV Buyer's Guide and Sprinter RV Conversion Sourcebook, Greg Keith interviewed Doug Chase who converted his Mercedes Sprinter Van into an off-road, rock crawling machine.
"In Europe, there are plenty of 4×4 Sprinter vans, but her in the U.S. we have had to subsist mostly on a diet of rumors and aftermarket conversions. Doug Chase was determined to build an off-road, rock-crawling Spinter that would be able to conquer any terrain." The following is an interview between Greg and Doug:
What What were your reasons for doing this conversion on a Sprinter, and a 144″ regular-roof Sprinter 2500 at that?
DC: "Well, we chose the Sprinter over other vans because of its great gas mileage, great resale value, and great performance with the turbo at altitude. That said, we chose the short/low Sprinter model because it fits in the tent area of campgrounds, the 144″ wheelbase fits in normal parking spots in town, the short Sprinter works better for maneuvering on narrow 4WD trails, and the low-roof model is the only roof that Sportsmobile will do a popup on. So we ended up ordering a 2010 Sprinter 2500 144″ wheelbase regular-roof Sprinter."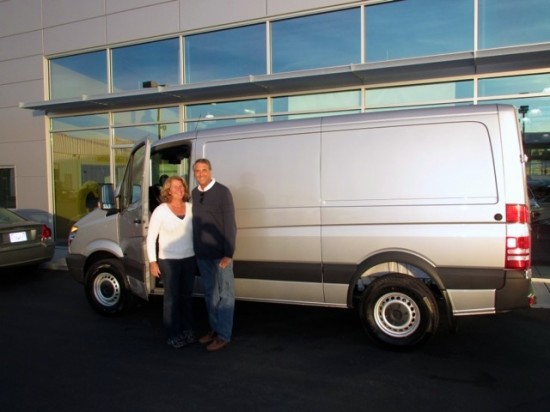 How did you learn about the Sprinter van?
DC: "We saw a Sprinter conversion at Sportsmobile and were impressed, but they would not convert it to a 4X4, so we bought a Sprinter locally and had that done by Whitefeather 4×4 Conversions."
Were there particular things that attracted you to the type of Sprinter van you chose?
DC: "Sure – better head clearance to start, better room for your feet on the front passenger side, and great visibility when driving with the larger window format, compared to an Econoline or any of the domestic vans."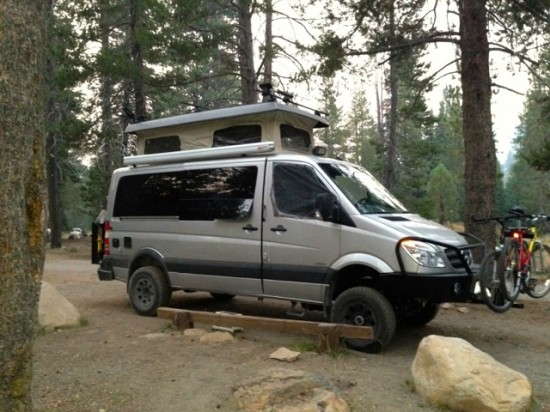 Did you consider any other vehicles?
DC: "We started out wanting the Ford Econoline, but then noted the major problems: the resale value is terrible, the engines are typically trashed after so many miles, visibility from the van is poor, and the fuel mileage is terrible. "
What were your major design goals? Did you have specific needs that weren't met by commercial 4×4 Sprinter conversions?
DC: "We wanted a basic hauler for camping/kayaking/skiing/snowshoeing/backpacking and day trips with the dogs. We also really wanted to have just one fuel source for both heating and cooking. We didn't feel we needed a bathroom in the van, but we did want an outdoor shower (more for the dogs than for us!), large sturdy bumpers for 4X4 trails, good storage, pivoting seats, and the ability to sleep either in the airy top in summer or inside the van body in poor weather."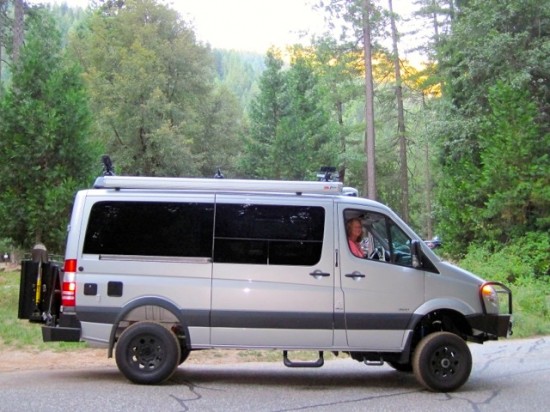 "We also wanted four-wheel-drive with good clearance, an easy entrance with flip-up stairs, a side door cabinet for the times we do camp from it (ours converts to a table for outside), a nice GPS system with bread crumb capability, and of course a good sound system since we often travel some distance to get to where we want to go."
Did you end up doing several designs, or just one?
DC: "Just one, based on my research and the advice of our builder, GTRV."
About how long did the 4×4 Sprinter conversion take to design and build?
DC: "From the point of ordering the Sprinter straight from the factory in Germany to actually finishing the whole conversion, one year. The cabinets took about three months to complete, and the 4X4 conversion took about two months."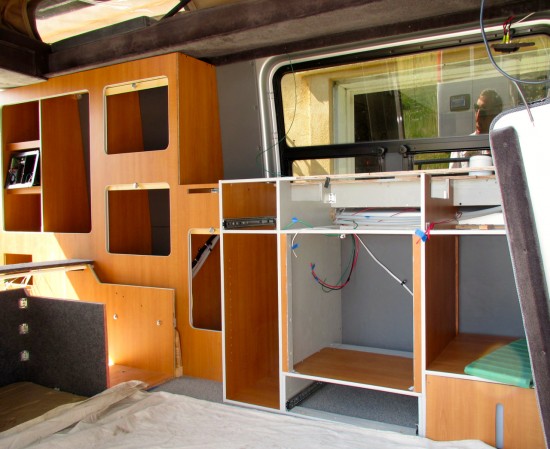 What are the features of the design that you feel turned out the best?
DC: "It is all really cool. The GoLight remote spotlight is expensive, but I love having it, it's great for getting into camp late and packing out late in the dark or in bad weather. Also, the GPS/audio system is really nice. The diesel stove/heater is great, the popup works really well for us, and we love having the solar system to power all the LED lights in the interior."
What are the things you wish you'd done differently?
DC: "What can I say – for us, it's perfect! The finished product is amazing…perhaps the largest difficulty has been that so much is "out of the box" that we had to go to multiple people in different cities to get it all done. We also have had to make some changes to deal with all the rock-crawling: we scraped the rear differential cover, which caused a leak, and scraped the plastic on the diesel and DEF tanks as well, so we had some steel sheeting done and beefed up the covers for all three. I feel much better taking the Sprinter into tough rocky trails now! Also we worked with Aluminess to add the ability to carry an ax & shovel in the spring/summer, then change that out to a ski rack for the winters, which has been a great addition."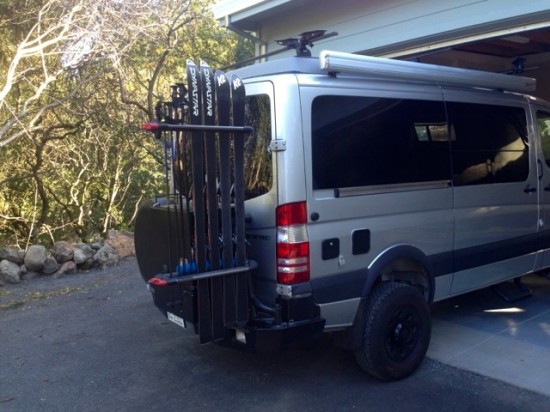 Doug Chases's 4×4 Sprinter Conversion – Equipment List
-4X4 Conversion: Whitefeather Conversions of Red Bluff, CA, did the Sprinter 4×4 conversion. This includes: 4.5 inch lift, HD-welded steel subframe constructed of box tube and high tensile steel plate to replace OE lighter weight sub frame, attaches to Mercedes-Benz body in stock location with stock bolts, manual hub locks, 6,000-lb. load rated Dana 60 Super mono-beam front axle with rear axle appropriate gear ratio, HD Rancho steering stabilizer, open front differential front disc brakes (approx. 36 % bigger than OE Sprinter), 2 speed manual shift New Venture NV271F transfer case (low gear is a crawling gear with transmission in low), oversized front and rear Roadmaster chrome-moly sway bars with poly bushings, Bilstein gas pressure front shock absorbers, Rancho gas pressure adjustable rear shock absorbers, pair billet aluminum rear wheel adaptors, set of 4 forged polished aluminum 17-inch wheels with center caps (spare tire mounted on steel wheel), BFG Rugged Trail E-rated tires, Dana Spicer front driveshaft, OE rear shaft shortened and rebalanced, steel rear lift blocks, Tri-8 rear U-bolts, Pari multileaf rear springs, Tru Trak Gear Drive front differential.
-Penthouse: The penthouse pop-up top was installed by Sportsmobile of Fresno, CA.
-Bumpers: Aluminess built our custom bumpers and custom underbody protection, including:
custom front bumper with grille guard and wrench compartment, 2-inch front hitch receiver, incorporating Lightforce driving lights (110,000 candlewatt).
custom rear bumper with swing away spare tire carrier and deluxe swing-away cargo box with rail on top, expedition kit, and custom ski holder attachment.
-Backup Lights: from www.4WD.com, 800913-8195 260H Series 55W
-Searchlight: GoLight/RadioRay LED 200,000 Candela beam
-Cabinetry: The cabinetry was done by our builder, GTRV of Sebastopol, CA, including:
Couchbed conversion, custom side cabinet with flip-down table, swiveling captain's chairs, 3 panel solar power system, LED cabin lights, refrigerator, SMEV 7307 deep sink, Wallas 85DU diesel stove/heater, external shower, dual AGM house batteries, CR Laurence camper windows.
-Stereo/GPS/backup camera: Alpine INE-W927HD GPS Nav/Receiver
-Toilet: Thetford 550P Porta-Pottie
-Roof Racks: Thule 60" roof tracks with podium towers, square cross bars and Thule 884 Roll Model kayak carrier.
-Weather Monitor: La Crosse WS-9049U-IT
-Light Bar: Firestorm 60 with amber turn lights from Pickup Specialties.
-Basement storage: GTRV custom.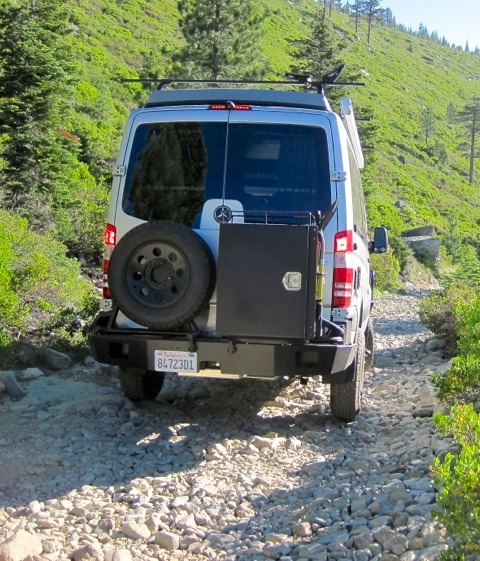 Happy Trails! TAP into Adventure and share yours with us below.
[TAP note: Factory Mercedes-Benz 4×4 Sprinters are now available. If interested see the Sprinter website and go to "cargo van" tab]
Thanks to Greg Keith of Sprinter RV and Doug Chase for sharing this conversion with us.