We've been using Roof Top Tents for a decade or more and in the early days, were often asked, "What's that on your roof?". Well, those days are truly gone and Roof Top Tents (RTT's) are now a staple of the front and backcountry off-roading. This article explores the pros and cons of Roof Top Tents ownership and gives some insight into what styles are on the market today. Whatever you end up choosing, one thing I'm certain about, is that it'll be a compromise. There is no perfect setup for vehicle Supported Adventure.
Roof Top Tents:
Why Buy a Roof Top Tent
Key considerations in buying a Roof Top Tent
Hard Shell Pros and Cons
Soft Shell Pros and Cons
Conclusion on which Roof Top Tent to Buy
______________________________________________________________
So why buy Roof Top Tents?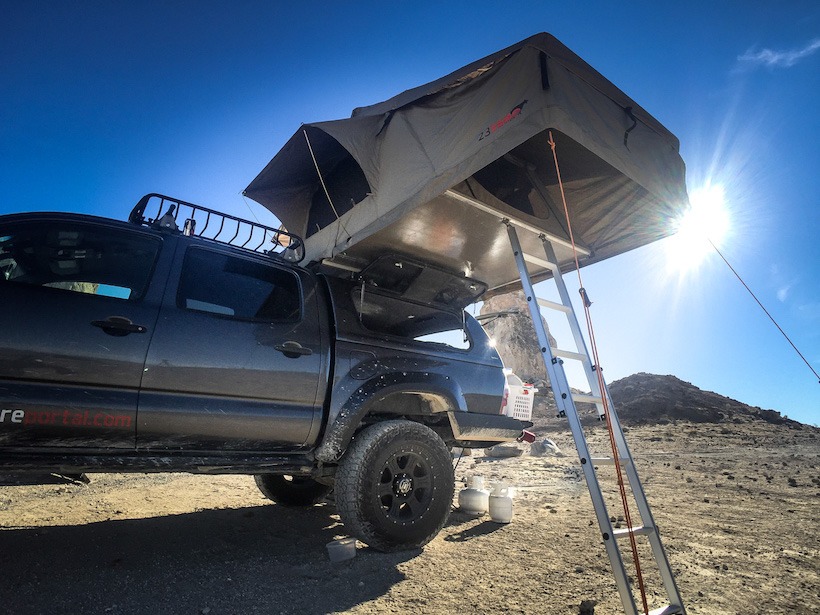 Well firstly, (tongue in cheek!) there's nothing quite like the Overland look of sporting a Roof Top Tent (maybe the snorkel can compete).
Here's some real world Pros and Cons of owning Roof Top Tents.
PROS:
Perceived safety: Whether you're out in the desert or the mountains, there's plenty of creepy crawlies that are out for blood. Seriously though, having had giant tarantellas and the odd snake roll through camp, it does feel good to be off the ground. Don't however expect your Roof Top Tents to save you from a Grizzly's intent of eating you or your snacks.
Ease of setup: In general, RTT's set up pretty quickly and easily. In our experience, with soft shells, you'll be clambering around the vehicle a little, while unzipping the cover. Secondly, it's really nice not to have to worry about stony, wet, muddy, snowy ground. All you're really looking for is somewhere that's relatively flat. Leveling blocks can be used on uneven ground.
Speed of setup: Definitely a lot faster than erecting a ground tent, which is especially nice after a late camp arrival or a long day in the saddle.
Comfort: This of course is subjective for the individual, but most RTT's have a 2-3″ wall to wall foam mattress, that are generally pretty comfortable to sleep on. No more slipping off sleeping pads in the middle of the night. In our experience, cheaper brands tend to have lower quality foam.
Storage of bedding: Some Roof Top Tents offer the ability to store your bedding in them while on the trail/road. This is great extra storage for owners of smaller capacity vehicles like Jeeps.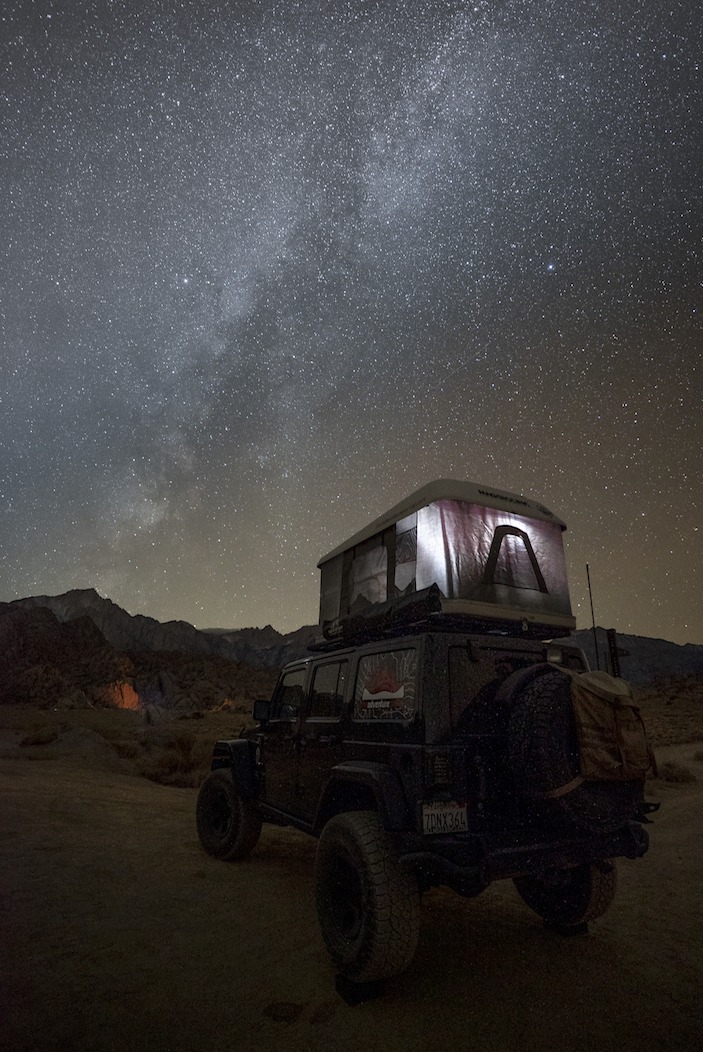 CONS:
Price: Let's just get this one off our chest straight away. Roff Top Tents aren't inexpensive and can range from $700 – $5000. if you're buying directly from the manufacturer, expect another $250 shipping fee. That's a real commitment to the lifestyle of Vehicle Supported Adventure and significantly more money than even a very high quality ground tent.
Using your rig daily: This is probably the biggest reason to develop a love hate relationship with your RTT, or even to decide not to purchase one. Unlike a trailer or a ground tent, if you're on the move each day you're going to be packing and unpacking your RTT. Even if you're staying in the same location each night, if you want to use your rig….well, pack it up. It can get tiresome!
Aerodynamics and fuel efficiency: There's no getting away from the fact that you're now driving around with a large brick on your roof. This, without question, lowers your fuel efficiency and increases the wind noise. Even with the more aerodynamic hard shells, you're going to experience this.
Vehicle stability: It raises your rigs center of gravity, so when on the freeway and certainly driving on windy roads, you can feel it up there. In our experience however, we worry about it more when off-road and particularly when on off camber trails. Certainly, if we know we're going to areas that require significant rock crawling (Moab trails for instance), we'll leave it at home and take a ground tent instead.
Removal: This takes time and is a two person operation. 90% of the time we leave ours on our roof as it's a PIA and creates home storage difficulties. Some people buy or rig up elaborate pulley systems in their garage to make it easier, but if you have vehicles that are lifted like we do, that's not even an option.
Night time sorties: Many people need to pee during the night and climbing up and down a ladder when half asleep isn't for everyone. Personally for dudes, I'm an advocate of a pee bottle.
Bad weather: If you don't have an annex or a decent awning, then sitting out a days worth of rain on top of your car can become tiresome.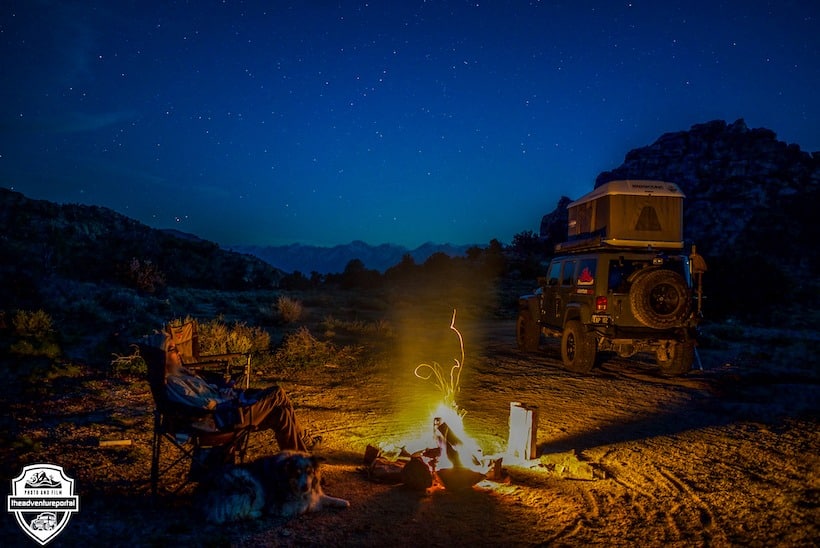 Key considerations when looking at Roof Top Tents:
Tent fabric: It depends on where you live and under what conditions you intend to use your tent. Ideal fabric weights range from lightweight 140 GSM to heavyweight 380 GSM. As always it's a compromise, as lightweight fabrics are generally good for summer use but won't last long in heavy weather use. Heavyweight fabrics are great for bad weather, but you loose breathability and they can cause condensation issues. If you intend to 3 season camp, a mid range weight is probably the correct choice.
Floor panels: Aluminum floors are standard on most Roof Top Tents, but look for a honeycomb construction for strength and insulation properties.
Sleeping pad or mattress: Not all mattresses are created equal. This is a very important component for a good nights sleep. Density of foam is as important as thickness. If a thick pad compresses, you'll feel like you're sleeping on the ground. Many RTT owners add additional padding to their RTT's standard mattress.
Weight capacity of your vehicle: Dynamic weight is weight capacity in motion. Static weight is weight capacity when stationary. Always check the weights capacities of your rig to avoid damage to your vehicle.
Roof Rack configuration: Like your roof, your rack has to provide enough capacity for both dynamic and static use. Again, check this before purchase and use of an Roof Top Tents. That being said, carrying anything as heavy and large on your roof, will alter the driving feel of your rig.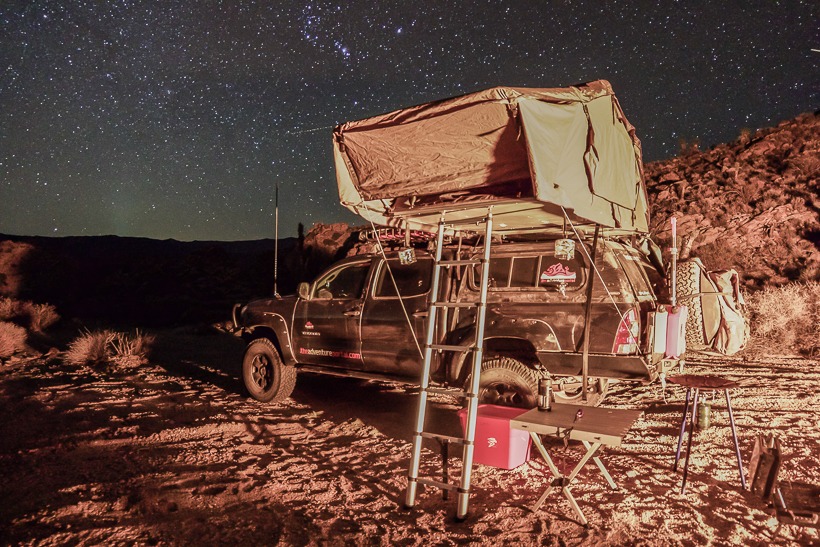 Hard Shell Roof Top Tents:
Hard shells are generally made of fiberglass, re-enforced plastic or aluminum and will last the longest. They are significantly more expensive than soft shells, starting at just under $3000 and going up to $5000. In our experience, they are easier to open and set up and certainly more aerodynamic on the road. Hard shells come in three distinct styles. The rectangular box, the clamshell, and the hybrid expandable model.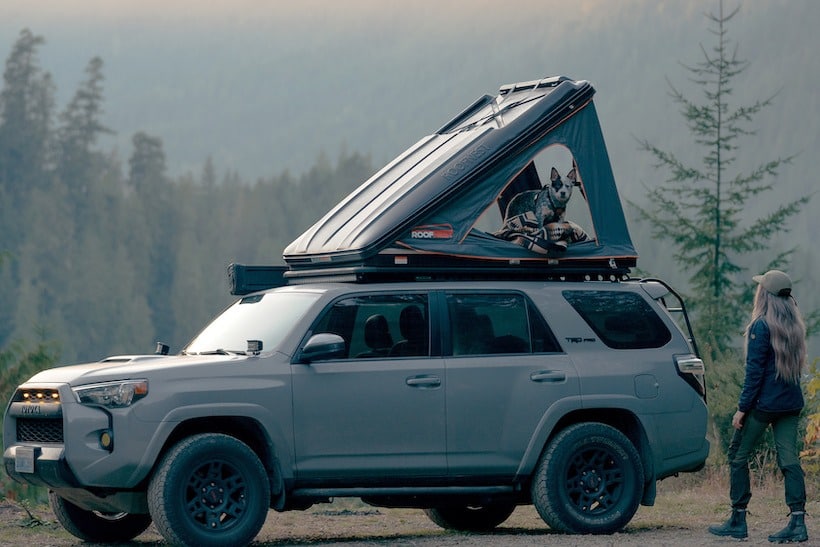 Pros:
Durability: They simply last longer. The structure of the shell, makes the tent more rigid when open against the elements.
Aerodynamic: They are fairly aerodynamic and significantly less noisy on the freeway than a soft shell version.
Set-up: Fast and efficient.
Storage: Many hard-shells allow for storage of bedding when closed.
Seasonality: They are definitely built for 4 seasons and will protect you against the elements.
Cons:
Price: They are a major investment in your vehicle supported Adventure lifestyle.
Heavy: In general, they are heavier than a soft-shell RTT and harder to take on and off.
Lack of customization and add ons: Most hard-shells don't offer the ability to add an annex, so they can be limited in space.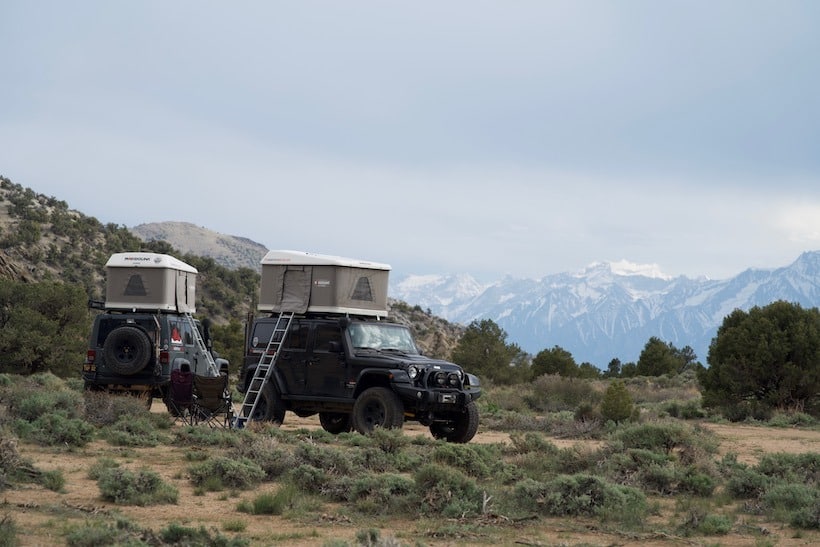 Soft Shell Roof Top Tents:
Prices can vary considerably from an entry level $700 to an expedition level $1800. It is worth noting that despite all soft shell Roof Top Tents fundamentally looking the same, they are not. With a more expensive tent you'll get better grade fabrics, a much more rugged construction and sealed seams. Thus making it a tent that will be four season compatible and last a long time. That being said, if you're only going to use your RTT on a few occasions a year and in mild camping conditions, then the cheaper option may well be the right choice. Ultimately you get what you pay for and frankly that's okay, just know that going into the purchase. A few brands that we have personally used and can recommend, are CVT, 23Zero and Tepui .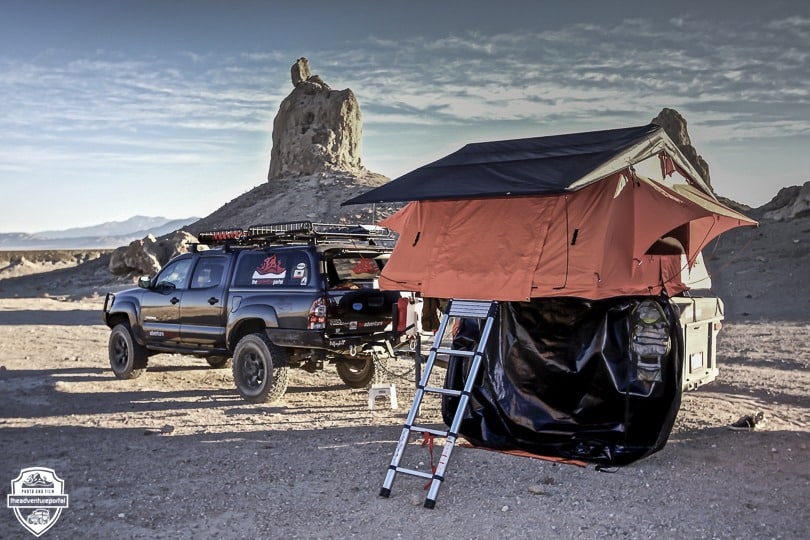 Pros:
Price: Once again, this is the biggest factor for most people when choosing a RTT, particularly between soft or hard shell. An entry level soft shell tent at $700 is a lot more palatable than a $3800 expedition level hard shell.
Space: Soft shells are sized for anywhere from 2 to 6 and many have add on annexes for storing extra gear. They generally feel a lot more spacious than hard-shells.
Extras: Some more expensive soft shells have skylight features, allowing you to lie in bed watching the stars. Some also feature shoe bags and LED lighting.
4 season capability: As mentioned above, the higher end soft shells are perfectly capable of offering you a 4 season experience for many years.
Cons:
Price: Even the entry level Roof Top Tents are twice the price of a decent ground tent.
Lack of Aerodynamics: Any RTT is heavy and the soft shells feel like you're driving around with a brick on the roof. You'll increase your road noise and lower your MPG.
Set up time: Set up is slower than a hard shell and you're likely to be clambering around your rig undoing the zip to the cover, pulling on straps etc. This difficulty increases exponentially, if you're driving a lifted vehicle.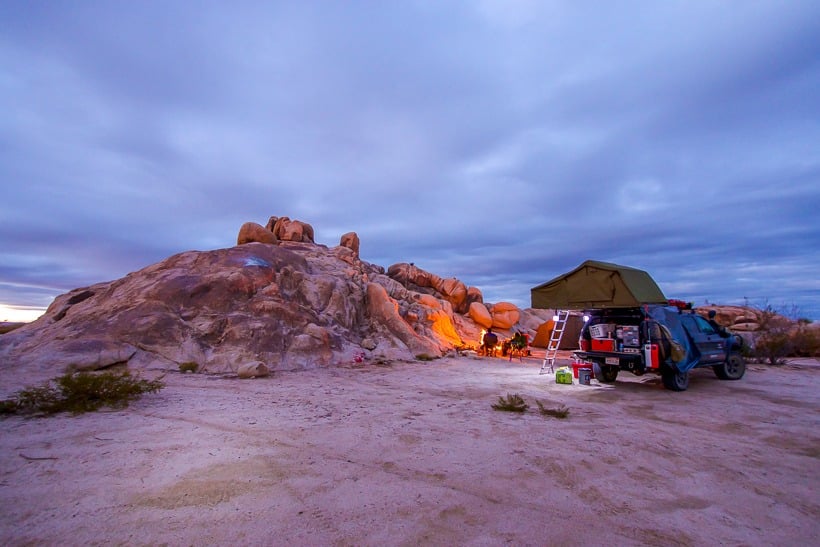 Conclusion:
As we said at the beginning, anyway you cut it, Roof Top Tents are an expensive investment into the lifestyle of Vehicle Supported Adventure. That being said, our personal experiences with multiple soft and hard shell brands over the years, have been excellent and we consider it an investment worth making. For the past three years we've been using hard shells on both our Jeeps and our decision was based on a combination of trying to reduce noise and wind drag, plus ease of set up. We drive long distances and rarely stay in one place for more than one night, so this is an important factor for us after a long day in the saddle.
To conclude, our advice is to truly decide what your top needs and priorities are, before you begin the process of choosing a brand. Good luck and #TAPintoAdventure.
Check out TAP's Ultimate Overland and Off-Road Gear Guide HERE
_________________________________________________________________