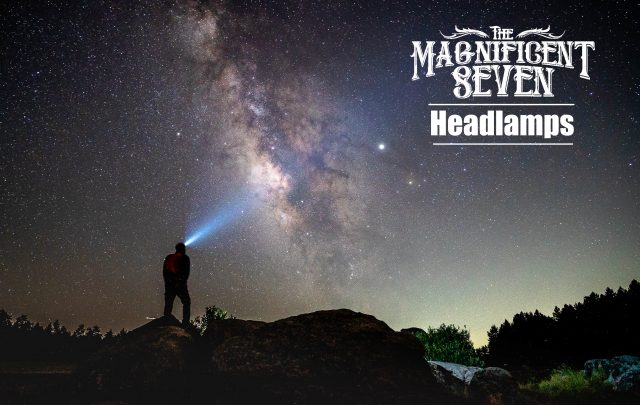 Good headlamps are an important but often overlooked pieces of overlanding gear. Whether you're using it around the camp after dark or like us spending many dark hours recording astro time-lapse, an easy to operate, light and comfortable model is essential. Here in our MAG7 Headlamps Resource Guide, we feature seven varieties that you might find enlightening.
Products that we have personally used and can recommend are marked with a TAP Trail Tested logo.
_____________________________________________________________________
Black Diamond: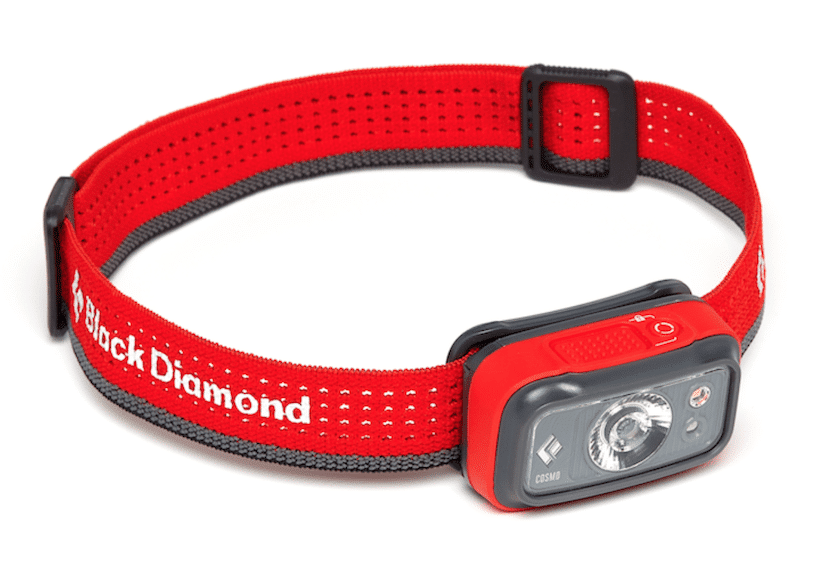 With 300 lumens of power housed in a super compact, watertight body, the Cosmo 300 is perfect for urban adventures and overnighters in the woods. The Cosmo's new, compact body, is more ergonomic with a lower profile for improved balance, and the updated user interface includes a second switch for easy lens selection. In addition, the updated optical efficiency not only provides brighter light, but also saves battery life. And thanks to its watertight construction, the Cosmo keeps lighting the way whether you're forced to bike home in the rain, or you're hiking back to camp in an unexpected downpour.
Tech Specs:
Weight With Batteries : 83 g
Max Distances : [High] 74 m; [Low] 8 m
Max Burn Time : High 6.5 hours, Low 200 hours
Batteries : 3 AAA (included)
_____________________________________________________________________
BioLite: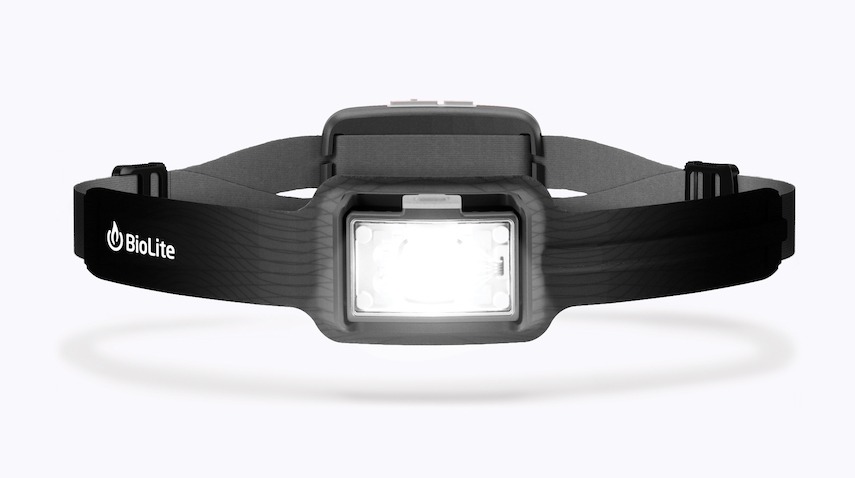 Featuring BioLite's award-winning 3D SlimFit construction, HeadLamp 750 integrates electronics directly into the 3D molded band, reducing unnecessary materials and wasted space from the design. Featuring a rear-power unit with included visibility light, the headlamp distributes weight for a balanced feel and delivers a no-bounce fit thanks to a front unit that sits flush on the forehead.
Designed to put users in control of their energy usage, HeadLamp 750 features two unique settings that reinforce its pro-level status: Constant Mode and Run Forever Mode. Constant Mode gives users the option to maintain a fixed level of illumination without any loss of brightness, a noteworthy alternative from the typical auto-regulated settings found in most headlamps that result in passive dimming. Run Forever Mode takes advantage of HeadLamp 750's rechargeability, enabling users to connect to an external power source in a pack or vest via an included 3 foot USB cord and engage pass-thru charging while in use, extending runtimes of the unit indefinitely.
BioLite can be found at several retailers nationwide and HeadLamp 750 will be in store for the Holiday season.
BioLite HeadLamp 750 Technical Specifications:
Weight = 150g (5.29oz)
Lumen Options = 750 LUMENS BURST / 500 LUMENS HIGH, / 5 LUMENS LO (reserve mode)
Light Modes (8) ALL DIMMABLE:

White Spot
White Flood
White Spot + Flood
30-second BURST
White Strobe
Red Flood
Red Tail Light
Red Tail Strobe

Maximum Beam Length = 130M
Battery = USB Rechargeable 3,000mAh Li-Ion Battery
Run Time​ = 150 LO / 7 HI Burn Time
Safety Feature: ​Reserve Power Mode = 8 hours on LO
Constant Mode​ = 500 Lumens over the course of 2 hours
Reserve Power Mode: ​8+ hours of battery life (5 Lumens)
3 Foot Run Forever Cable​ with Pass-Thru charging capabilities
Articulating Front Bezel
Proprietary 3D SlimFit Construction with Moisture-Wicking Fabric
Weather Resistance = IPX4
Battery Lock-out Mode for Safe Transit & Battery Conservation
Available in two colors: Midnight Grey & Moss Green
__________________________________________________________________
Petzl: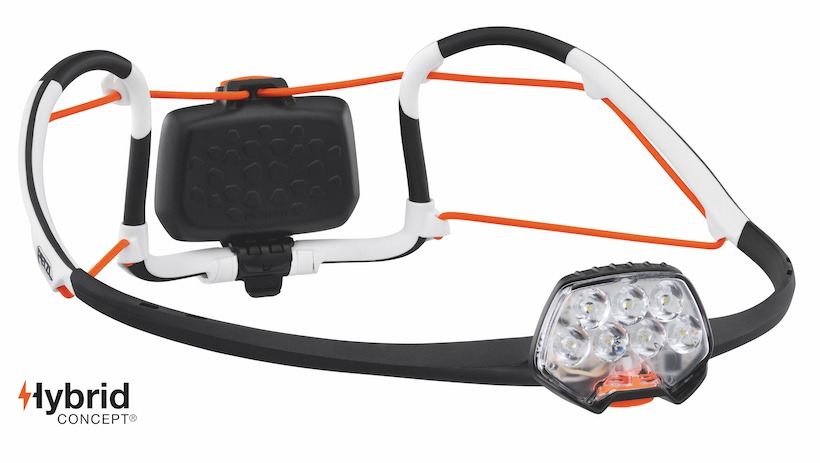 Lightweight rechargeable headlamp with multi-beam and AIRFIT headband.
The rechargeable IKO CORE headlamp combines multiple technologies to offer 500 lumens at only 79 g. Featuring an AIRFIT headband, an ultra-thin lamp body and an energy source worn in the rear, the headlamp is balanced and comfortable enough to be imperceptible. The multiple LEDs are ideally distributed to provide uniform lighting, for optimal visual comfort. Thanks to its HYBRID CONCEPT design, IKO CORE comes with the CORE rechargeable battery and is also compatible with three AAA/LR03 batteries (not included). It is versatile: can also be worn around the neck, or transformed into a lantern, using the storage pouch. It can be flattened to reduce bulk, making it practical for all outdoor activities.
Lighting performance as defined by the ANSI/PLATO FL 1 protocol
MAX BURN TIME 6 lumens, 10 meters, 100 hrs
STANDARD 100 lumens, 45 meters, 9 hrs (plus 2hr30m reserve time)
MAX POWER 500 lumens, 100 meters, 2hrs 30m (plus 4hr30m reserve time)
_____________________________________________________________________
Fenix: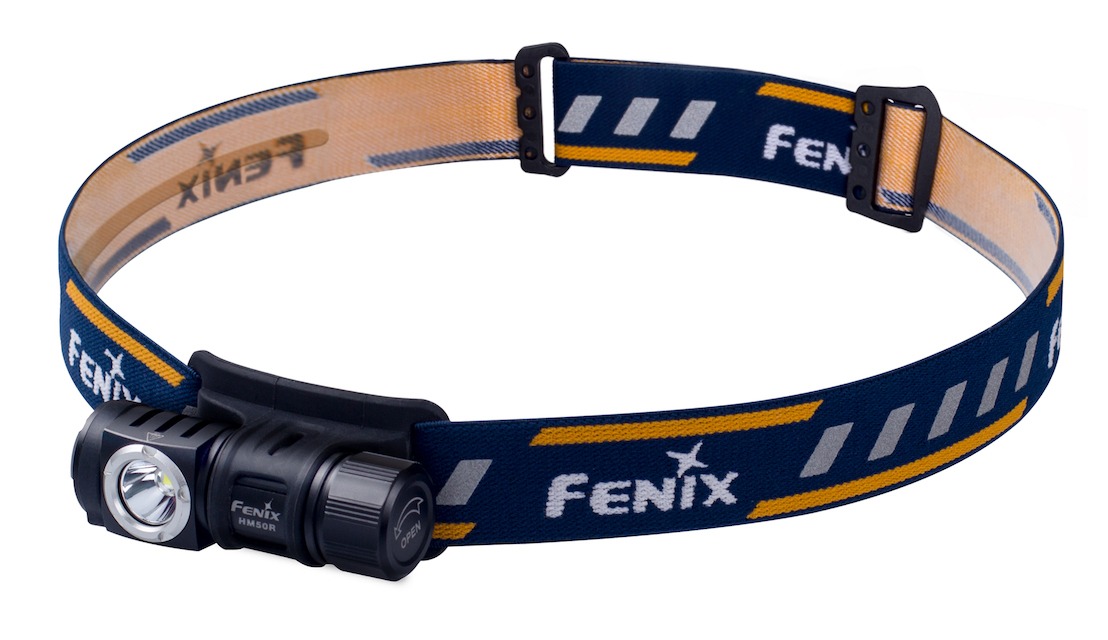 Never let the elements keep you from pursuing your passions. We would like to introduce the HM50R rechargeable headlamp with its lightweight and indestructible body. Don't let its small size fool you; this headlamp is power packed throwing a 500 lumen beam to a max range of over 250 feet. Its surprisingly long run time at lower settings and fantastic value makes it the perfect partner to take camping, hiking or running when your goal is to extend your day.
The HM50R is one of our top picks for an everyday rechargeable headlamp with its solid construction and lightweight size. One 16340 rechargeable Li-ion battery is included or you can use one CR123A lithium battery to power it. This rechargeable headlamp also comes with a spare O-ring, spare rubber anti-dust cover, spare silicone holder, charging cable. Watch the HM50R quickly become your go-to headlamps !
Max lumens = 500
Lighting modes = 4
Size (including the lamp holder):
Length: 2.7″ (67.5mm)
Width: 1.3″ (33mm)
Height: 1.1″ (28mm)
Weight: 2.2 oz. (63g) excluding battery
Batteries: One 16340 rechargeable Li-ion battery (Included) or one CR123A lithium battery
Included: ARB-L16-700 Li-ion battery, spare O-ring, spare rubber anti-dust cover, spare silicone holder, charging cable
Warranty: Limited Lifetime Guarantee from Fenix Lighting U.S.
___________________________________________________________________
Princeton Tec:
The SNAP made its entrance into our product line last year, and we've already got a few upgrades for it. First, we're adding 100 lumens, bringing the SNAP up to 300 lumens at its max white setting. Second, because we didn't feel the multi-use light was versatile enough, we've added red, green and blue light. Mode selection has stayed simple, and involves toggling through via a single, easy to find button on the body of the SNAP. The SNAP is a one stop tool for any of your lighting needs: headlamps , flashlight, bike light, safety flasher, lantern and magnetic area light. The SNAP kit comes with all the mounts needed to turn the light into whatever you need. Not a fan of our original bright green colorway? No worries, you've got more options now.
300 Lumens
1 Maxbright LED (dimmable)
1 Red Ultrabright LED
1 Blue Ultrabright LED
1 Green Ultrabright LED
Burn Time: 155 Hours
Batteries: 3 AAA Alkaline
IPX4 Water Resistant
Snap Head Unit
Two Way Carabiner Mount
Handlebar Attachment
___________________________________________________________________
Ledlenser: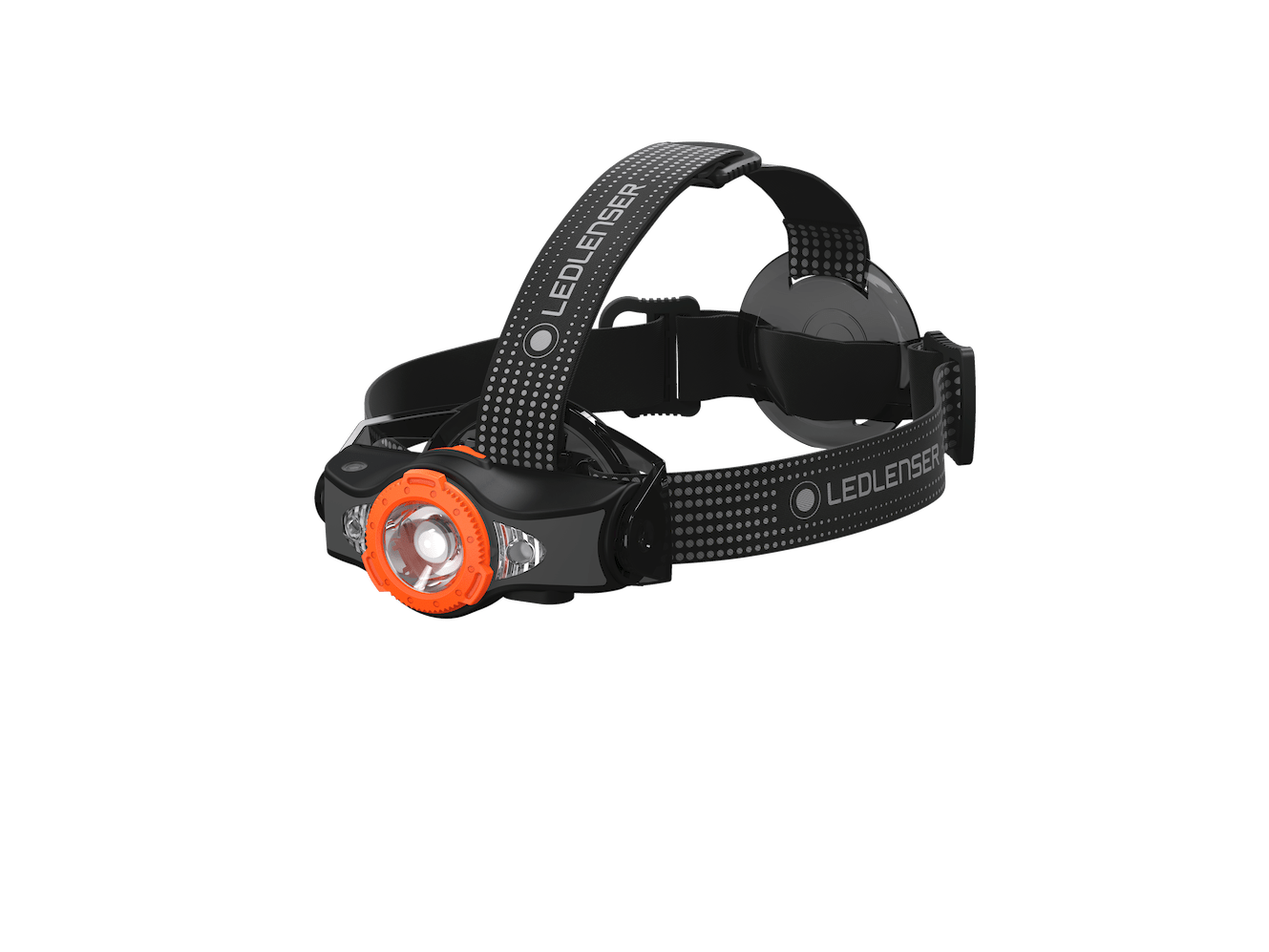 Our brightest (and smartest) headlamp yet.
The MH11 is the flagship of the Ledlenser MH headlamp collection. These rechargeable headlamps will guide you on your next adventure and beyond, with powerful brightness and innovative technology to support any low-light activity. A Bluetooth connection with your smartphone allows you to control the light remotely and create personalized settings. The MH11 is equipped with a boost mode of up to 1,000 lumens and has aluminum heat sink (so it won't overheat) allowing the LED to run brighter. In addition, the MH11 also has a red/green/blue multi-color front light option, is rechargeable via a magnetic charging cable and has a battery status indicator, so you know when to power back up.
Boost mode: Up to 1000 lumen – right when you need it
Connects to your smartphone via Bluetooth for custom settings, timer, etc.
Variable pivot mechanism to direct the light cone, even upward
Advanced Focus System for easy and intuitive light cone adjustment
Optisense Technology – automatically adapts to lighting conditions
Innovative Mounting System to easily remove and attach the lamp head for maximum flexibility
Multi-color LED in red, green and blue for fishing or hunting
___________________________________________________________________
Nite IZE: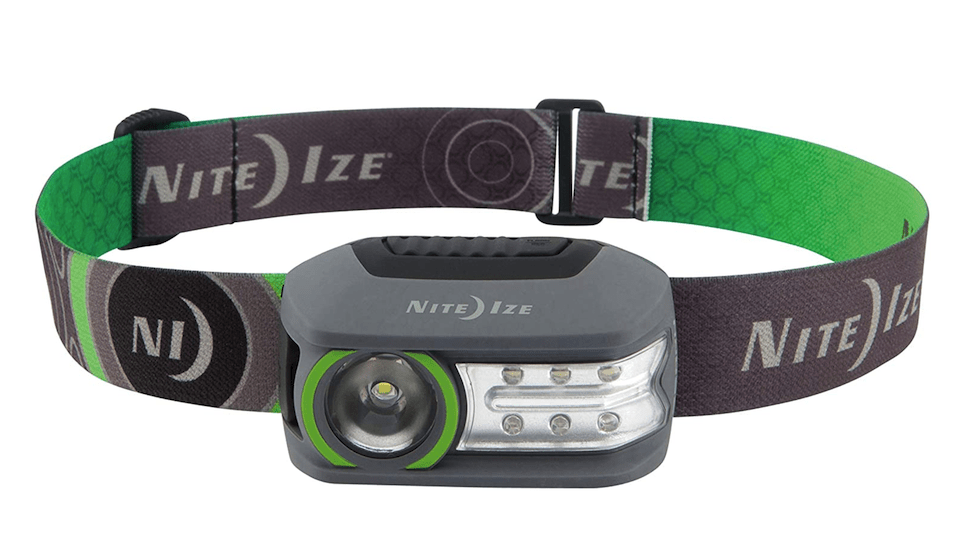 The Radiant® 300 Rechargeable Headlamp combines powerful brightness with the convenience of a micro USB rechargeable design. Featuring 300 lumens of bright white light, this dual-color headlamp offers the ability to switch between white and red LEDs to preserve night vision. Independent dual-button control allows you to operate the spot and flood light modes separately for ease-of-use and ultimate convenience. In addition to five LED modes, this headlamp offers lockout to prevent accidental activation and battery drain. This versatile hands-free lighting solution is impact and water resistant (IPX4) and features a body that can be tilted up to 90° for easy beam adjustment. Powered by a rechargeable lithium ion battery that charges using a micro USB cable (included), this headlamp offers a beam distance of 239 feet and can run for up to 36 hours.
300 lumens
Five modes (plus lockout):

White LED: high spot, low spot, high flood, low flood
Red LED: flood

Easy dual-button design allows independent operation of spot and flood modes
Spot and flood modes can be used separately or together
Red mode illuminates while preserving night vision
Headlamp body tilts 90° for easy beam adjustment
Impact resistant (drop proof to 2 meters)
Water resistant (IPX4)
Comfortable, high-quality adjustable strap
Red mode is activated by pressing and holding flood button for 1.5 seconds
Lockout feature is activated/deactivated by pressing and holding spot button for 5 seconds
Powered by a rechargeable lithium ion battery
Recharges in approximately 2 hours using micro USB cable (included)
Dimensions: 2.7″ x 1.6″ x 1.6″ | 69mm x 41mm x 40mm
Weight: 3.2oz | 90g
_________________________________________________________________