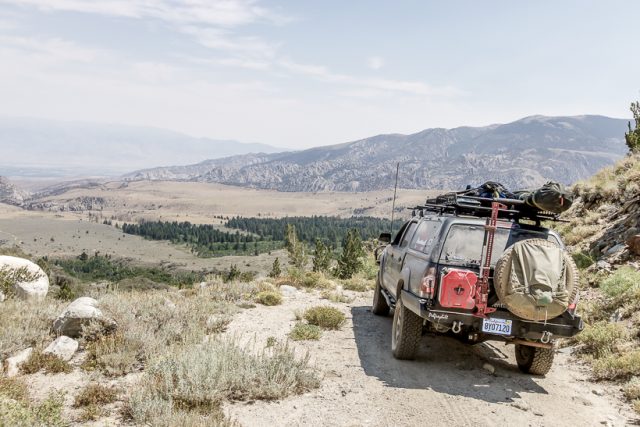 Here at TAP we're lucky to have two very prepared and well built rigs. Usually we travel as a team because we both want to drive, and we want to have the security of back up, should anything go wrong. This year, unfortunately, threw us a curve ball which put me out on the trails this summer exploring on my own (Accompanied by BlueDog, but he's not a good driver despite what he claims!). I ended up in some pretty remote and interesting places. The photos contained in this article were taken by me on the trails written about and are not indicative of the challenging portions of these trails. I was too busy driving to think about taking pictures on the dicey sections…and no apologies are offered here.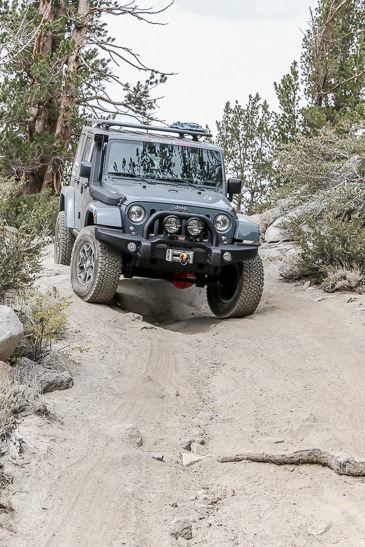 I admit I am a worrier, definitely an over preparer, but luckily I don't panic in a crisis, so solo travel although not preferable, seemed okay. As I said, both rigs are extremely capable, well maintained and I'm fairly experienced off road. This year we both also made sure we were qualified in wilderness first aid.
So what does backcountry overlanding preparation mean for us?
-First, I always get a qualified mechanic to give the rigs a once over before any trip where we'll be in the backcountry. That means, tightening down bolts that inevitably come loose, checking all fluids and basically looking bumper to bumper for any potential issues. It's not fool proof of course, as things can break on the trail, but it does give a certain peace of mind.
-Second, I really think through what I pack. A basic tool kit for simple trail repairs and self recovery gear (snatch straps, winch gear, tire plug kit, sand ladders and shovel (more on the shovel later!).
-Third, I never travel without my Delorme In-Reach personal beacon. It's satellite driven and is a great and essential last resort device, if safety or medical concerns occur. It's not cheap and has a monthly fee, but I wouldn't travel without it.
-Last but not least, I always travel with a well thought out first aid kit (we'll be doing an article specifically on first aid kits next month), extra fuel, water, some food, warm clothes (even in the summer), a space blanket and sleeping bag. Basically, enough gear to be able to spend a few days hunkered down waiting for help to arrive.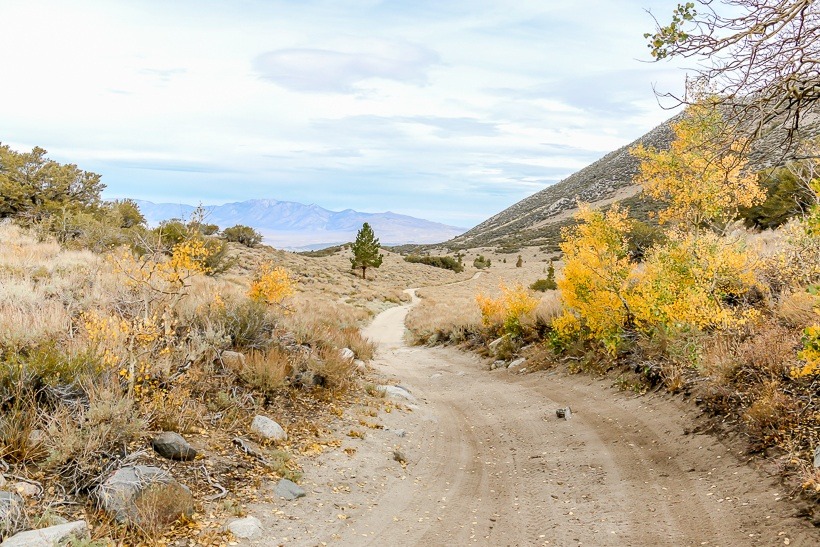 Okay, packed and ready for the zombie apocalypse, I am ready to hit the trails. This summer I've tried to explore the Sierra's as much as possible and have traveled up the I-395 to as far as Tahoe. In general, being solo I've kept my exploration focused on easy to moderate overlanding trails, where primitive camping under the stars is as much the adventure as the driving. Despite this mind set, I have also raised my pulse a few times.
The first time was on the Wyman Trail which frankly, is pretty easy in the summer with a lot of simple stream crossings. I would imagine this would change significantly after snow melt. So, what set my heart racing? It was an area 10 miles into the trail, where the stream had washed away the path leaving a boulder ridden drop into the stream bed. In all reality, something my Taco handled easily but in the solo moment and being in a remote area, something that made me take pause in case I got stuck. I did pause, actually, got out, chose my line and got through just fine.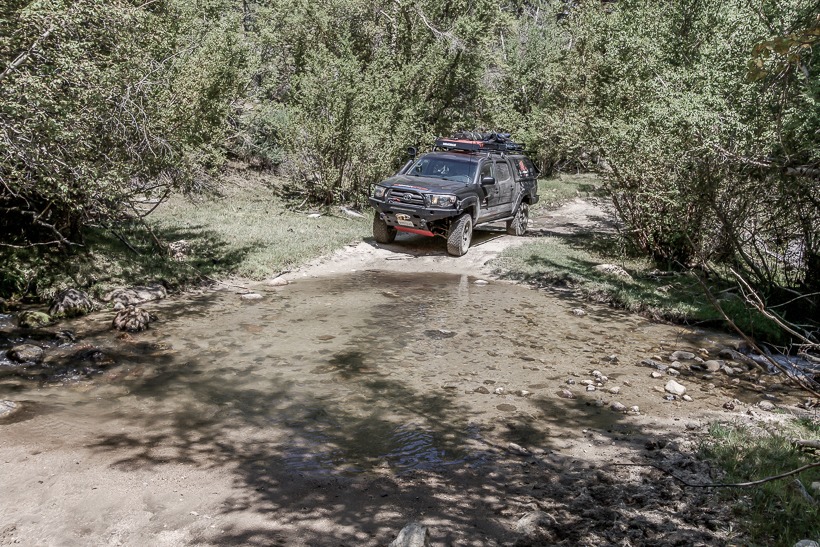 The second time was on the same trip and was on the short but very steep Silver Canyon Trail that takes you off the White Mountains and down to Bishop. It wasn't the technicality of the trail, it was the steep descent. My Taco is heavy with gear and armor and half way down, the front brakes were smoking and very spongy! This was extremely nerve wracking and once again, my fears were heightened by being solo.
The last time was this week on the Wheeler Ridge Trail, just northwest of Bishop. You ascend on the beautiful and easy Sandstone Canyon Trail and can either continue to its end or join the Wheeler Ridge Trail. This trip I was in the Jeep Rubicon, so my trail confidence was raised. As I joined the trail, I read the posting indicating, "Most Difficult". I am in the Rubi, so what could go wrong? The trail up is technically difficult and I ended up using front and rear lockers on more than one occasion. The trail was made harder by not having a spotter. Something I'd neglected to think about. Half way up the trail, I hit one spot that had the Jeep feeling like it was going to tip. A pucker moment for sure, which had me breathing hard and slowing down my headway, making sure I got out to scout the line.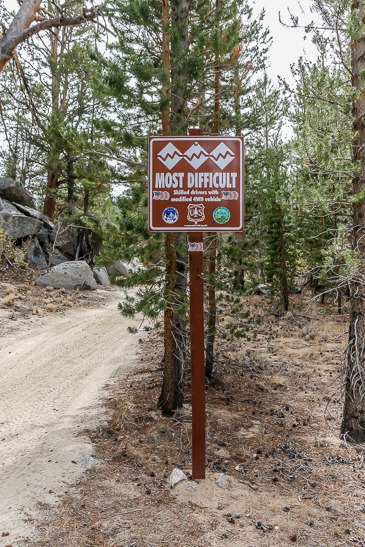 At the top of the trail, the technical terrain mellows and you find yourself heading across a high altitude meadow and lake bed. This time of year the lake was dry. After crossing the meadow you come to an off camber shelf road, with a significant and potentially life threatening drop. Once on it you're committed and there's no turning back. This was my BIG mistake! As I said, the trail is off camber, leaning toward the drop off, and very narrow, so your outside wheels are basically on the edge. It is also loose sand. I was struggling and had a death grip on the wheel. Half way along I came across an area where the camber was so severe I didn't think I could make it past without going over the edge. As you can imagine, this was no longer fun. So, remember the shovel I mentioned earlier? I spent 20 minutes shoveling the trail flat-ish so I could pass safely. Without it, I truly don't know what I would have done, as I couldn't reverse and I couldn't safely go on.
Thoughts of being alone stuck at 10,500ft in the Sierra's were racing through my head. Well, obviously it all worked out as here I am telling my tale, but it was a good example of how when traveling solo, you can easily get in over your head. Traveling with another person/rig may have stopped us traversing the shelf road. Maybe not, but two heads are generally better than one.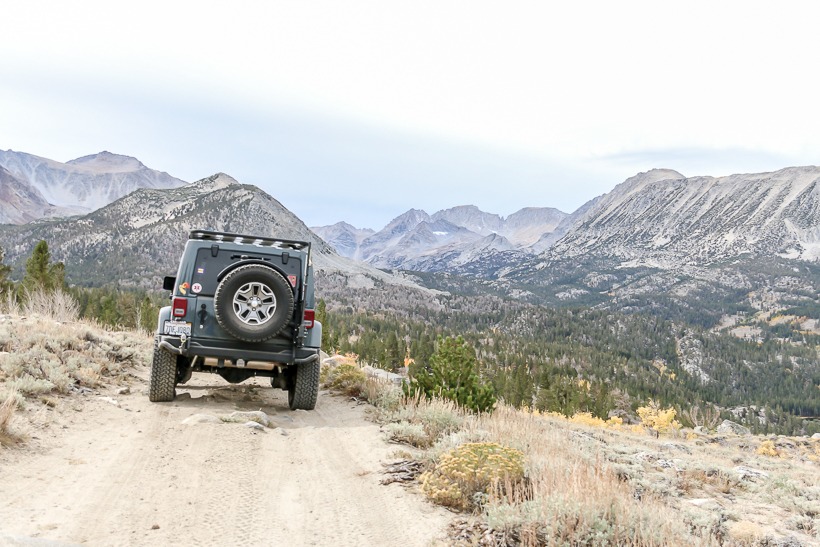 Okay, so what does all this mean? I'm not saying that solo travel shouldn't happen, but whenever possible it's definitely more sensible to go with at least one other rig and frankly more enjoyable to share the adventure and story (Nobody believes my "I could have died" stories!). We strongly encourage you to take seriously your trip preparation, get trained in your driving skills and first aid. It's very important to be prepared and ready to tackle any challenge put in front of you.
Finally, backcountry overland adventure is exciting and up lifting and we recommend you to……. TAP into Adventure!
Author and photographer: Andy Palmer
Editor: Lori Palmer