Fall is here and the holidays are coming fast. Check out our 2018 Holiday Buyer's guide for some great ideas to improve upon your backcountry vehicle supported adventure kit. These products are tried and true. Read on and TAP into Adventure!

Quality communication devices are essential, whether you are hunting, hiking, off roading, camping in the backcountry or if you find yourself stuck in an emergency situation, such as a natural disaster. Midland has been producing two-way radio technology for over 50 years. Its reach spans North America, Europe and Asia. The Midland Radio Corporation sells CBs, two-way radios, NOAA weather radios, E+Ready radios and portable power stations. TAP had the opportunity to take a few products out on a road trip to test for quality, range, and durability and they passed with flying colors. Here are a few items to check out and add to your holiday wish list.
E+Ready Emergency Compact Crank Radio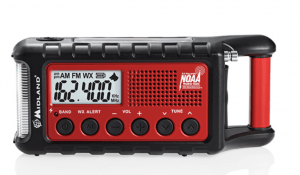 To begin using your ER210, fully charge the internal rechargeable battery pack using the USB charge cable. In the field, the radio pack can be recharged by using the hand crank, the USB cable or by exposing its solar panel to sunlight. It features 7 NOAA/NWS weather alert channels, an LED flashlight, SOS Morse code flashlight beacon, the ability to charge other electronic devices, AM/FM radio, a digital clock, headphone jack, a brightly backlit LCD and a rotatable telescopic antenna. A perfect addition to your emergency response kit, or for everyday use. With this radio you can be rest assured that you will be connected no matter how far away from civilization your vehicle supported adventure takes you. Midlandusa.com
MXT275 MicroMobile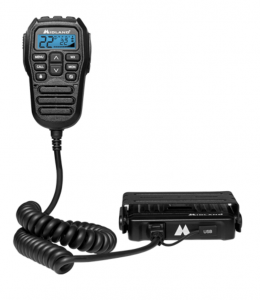 This is a phenomenal radio. I used it with their MXTA11 6 Ddb Gain Antenna mounted outside my window. The MicroMobile gave me excellent reception and range. This is a 15 Watt two-way GMRS radio featuring a fully integrated handheld microphone. It's small size makes it perfect for limited dashboard space. The MXT275 MicroMobile broadcasts over 15 GMRS channels plus eight high-powered repeater channels. It also allows you to tune into NOAA Weather Radio to get weather updates from the National Weather Service. It comes with a Mounting bracket, 12V power cord, detachable antenna and magnetic antenna mount. Midlandusa.com
GXT 1000 Walkie Talkies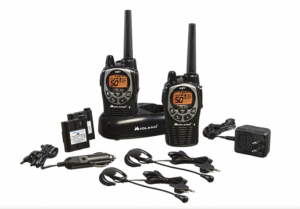 We always travel with a communication unit in our rigs as well as having a set or two of compatible handheld radios. I tested these out in Death Valley and they provided excellent reception and output. Some of their features include: 50 Channels, 142 privacy codes to help block out others who may be on the same channel, and they are waterproof. These walkie talkies provide the maximum strength of output allowed by law. Midlandusa.com

Sea to Summit is an Australian brand of camping gear distributed here in the U.S. It has a solid reputation in the hiking, climbing, outdoor sports world, but I have not seen it used much in the overlanding community. I decided to try it out. Their gear is compact and light yet tough. Perfect when packing for an off road adventure. I took these products when driving across Utah this summer and the performance was stellar.
Alpha 2 pot cook set 4.2 and the Alpha pan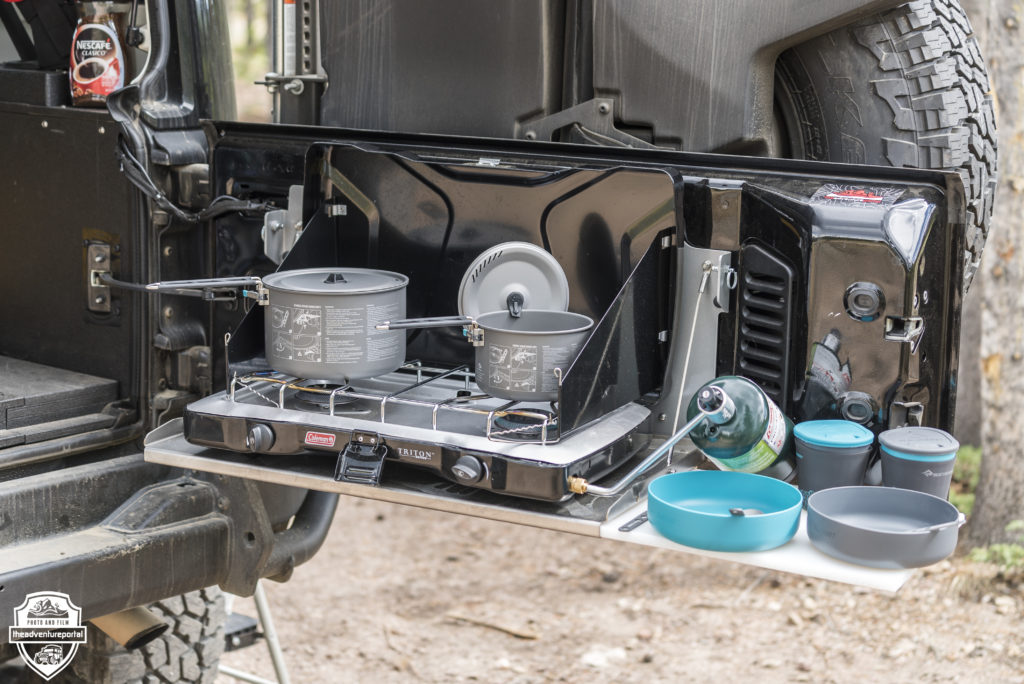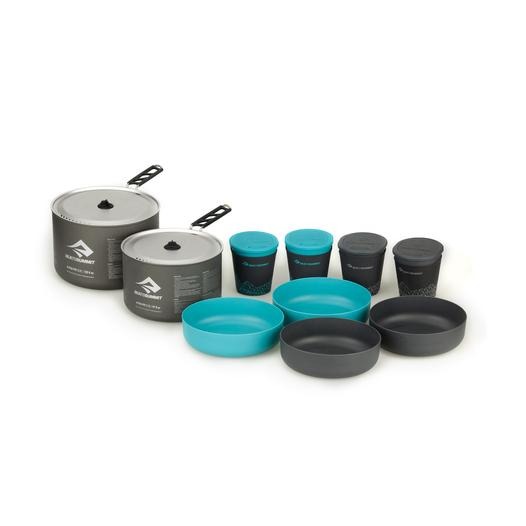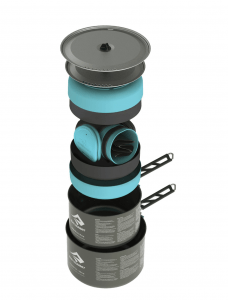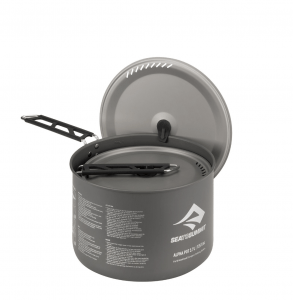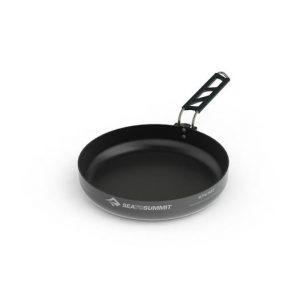 These cooking products are made of lightweight hard anodized alloy. They are tough and due to the fact that all the pots, bowls and cups fit inside the larger pot, they are extremely space efficient. One other aspect that I like about the pots and pan is that their handles are made with a pivot lock. They fold in and extend easily then lock in place. For more info on these pots and pan and others that they carry, check out seatosummitusa.com.
Sleeping System: Cold weather Comfort
These three items will keep you warm and comfy on cold nights at camp.
The Sea to Summit Comfort Plus™ Insulated Sleeping Mat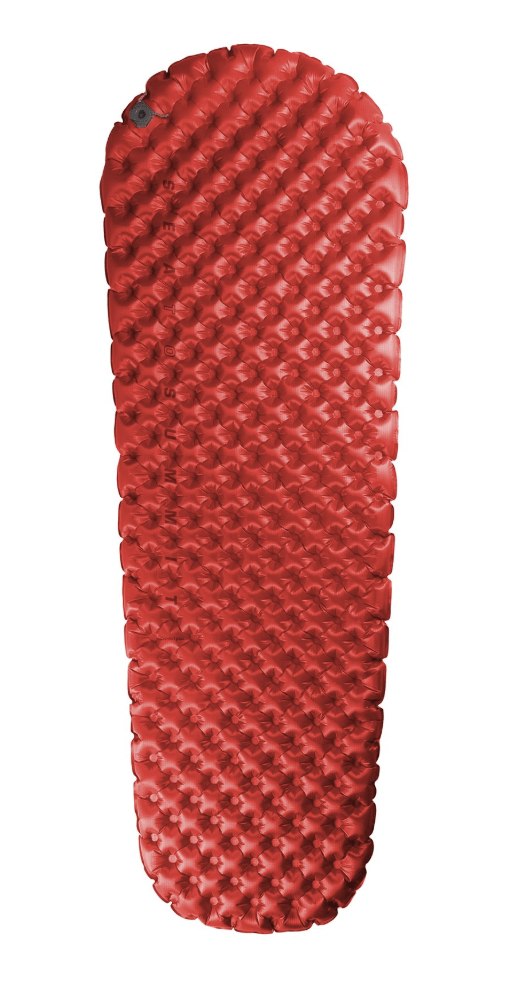 This little beauty packs down to the size of a water bottle and not only insulates you from the cold with by using Exkin Platinum® fabric and Thermolite® insulation, but it can take a beating. It comes with a stuff sack which doubles as a pump, a repair kit containing six self-adhesive patches for repairing punctures in the field, and two spare silicone one-way valve inserts. It's multi-function valve makes for fast and easy inflation, deflation and fine tuning of air pressure. Sea to Summit.
The Latitude Series Sleeping Bag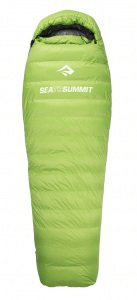 These bags are remarkably light weight and compact. They are made with RDS certified ULTRA-DRY Down 750+ loft 90% Down cluster duck down for comfort, durability and warmth and a 2D NanoShell™ which gives them a high degree of breathability along with a high level of water repellency. The Latitude Series sleeping bags feature an oversized neck-collar, hood seal, and oversized zipper draft tube along with an internal cell phone pocket. The bags come with a lightweight Ultra-Sil™ compression bag and a combined storage cell/laundry bag. They come in three styles: LtI (to be used in temps down to 25F), LtII (15F) or LtIII (1F). Sea to Summit
Thermolite® Reactor Fleece Liner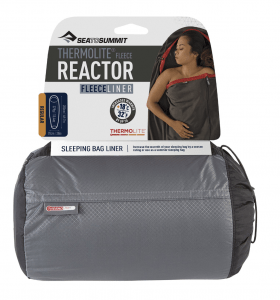 The THERMOLITE® Reactor™ Fleece sleeping bag liner is a soft and super warm liner that can bump up the warmth of your sleeping bag considerably. It can also be used as a stand-alone sleeping bag in warmer climates and has a quarter length zipper to control temperature that allows you to get in and out easier. The hollow core fibers that make up this fabric trap heat effectively, keeping you toasty warm. Using a liner will keep your bag cleaner, which means you'll be washing it less often. There's an often overlooked aspect of keeping your bag clean. Fine-grain sand (which is famous for sticking to your feet when you're out exploring) can make its way through the sleeping bag fabric and act like sandpaper on the insulation. You pay good money for quality down or synthetic insulation – a liner is an inexpensive way of preventing this kind of damage. Sea to Summit
Aeros Pillow Premium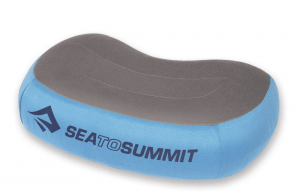 The Sea To Summit Aeros Premium Delux Pillow packs down to the size of a sandwich and is so comfortable! I had my doubts, having tried other blow up pillows, but was genuinely surprised at how comfortable it is. One side has a soft, knit polyester finish, which makes it cozy and comfortable. The internal baffle pattern creates contours that cradle your head. This is a phenomenal product. Packs down small, blows up quickly and is extremely comfortable. Sea to Summit
Wilderness Wipes and the Tek Towel Wash Kit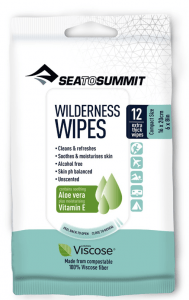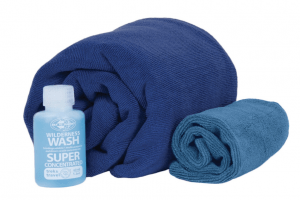 Multiple day adventures require the use of a portable shower and body wipes. I used the Tec Towel Wash Kit on shower days and the wilderness wipes in between. Again, the products are compact and premium quality. Check out Sea To Summit's towels and personal care products here.
The Lightweight Dry Sack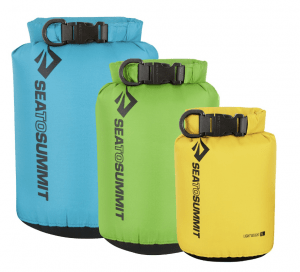 Sea to Summit makes an array of Dry Sacks. Choose them by size and color. They are made of durable nylon fabric and are waterproof. Made originally for water sports, they are handy editions for overlanders. These Dry Sacks are perfect for storing wet items in your rig until you hit a camp spot to air dry them. Sea to Summit

Axis Rechargeable Head Lamp

With 250 lumens, a spotlight, floodlight, dimmer and red light, this headlamp out performs others that we have used by far. The fact that it's rechargeable also makes it handy. No extra batteries to pack. It is easy to use, multifunctional and solid. This headlamp gets a 5 star rating! Check out more of its functions at princetontec.com.
The Helix Backcountry Rechargeable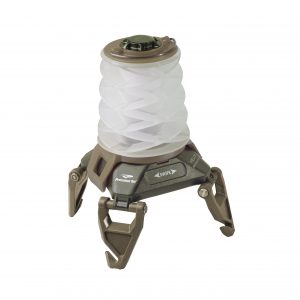 Helix Backcountry Rechargeable has a unique control surface that is free of buttons, yet gives access to a dimmable white mode well as a dimmable red mode for low profile use. The expanding globe and folding legs help Helix Backcountry Rechargeable to shine over a wide area and pack down to fit easily in hand. The Helix lantern design also incorporates several hanging and spotlight options. The globe can be removed to swap the diffused glow to a direct spot light. A remarkably versatile addition to your camp kit. Princeton Tec


Shelta brand hats were Initially designed to provide sun protection for multiple water sport enthusiasts, but we thought they could be used for other ventures as well. We took them on our trip across Utah this summer and they got enthusiastic thumbs up from the group. Shelta hats proved to be durable. They provide excellent protection from the sun and can withstand healthy wind gusts and rain showers. They are also SPF 50 rated for sun protection. Yes, we know, this is a HOLIDAY (cold weather) guide. All the same, we love these hats and know you will too. www.sheltahats.com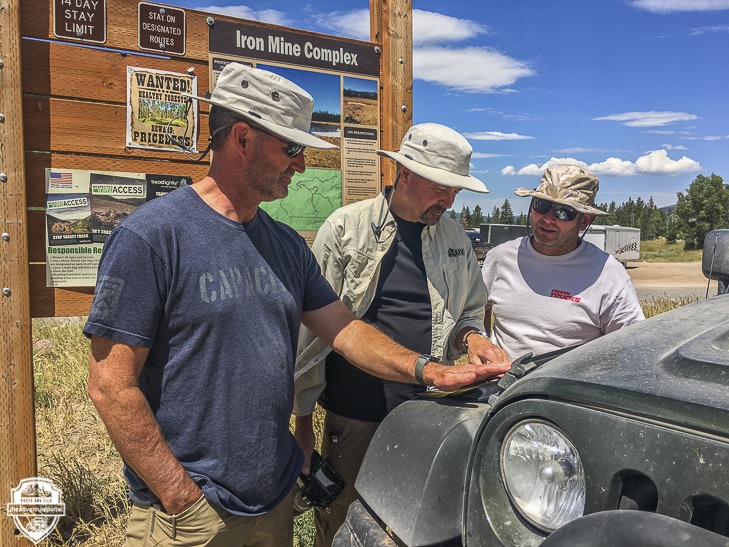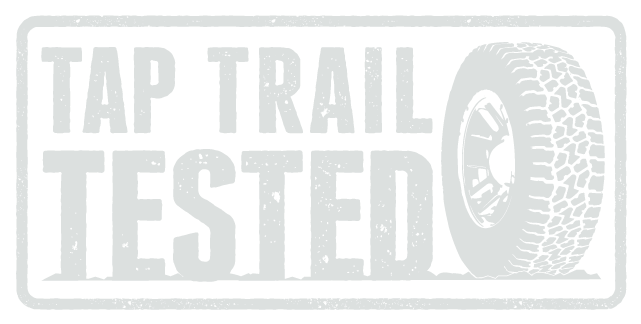 TUFF STUFF® ROOF TOP AWNING, 4.5′ X 6′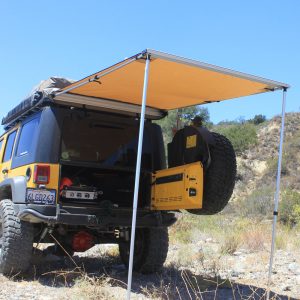 TAP has been using a Tuff Stuff awning for 4 years now and it's weathered rain, snow, and wind storms with no issues at all. We spotted another awning that we liked and thought we'd include it in the guide. Its's their 4.5′ x 6′ car awning that attaches to the back of the rig. That means protection from sun, rain and snow when cooking. Handy! ……..and they are on sale now.
tuffstuff4x4.com

The SEVENTY2™ Survival System
Uncharted Supply Company is the brainchild of founder Christian Schauf. He started the company after driving through Colorado in the middle of a blizzard seeing dozens of motorists stranded by the side of the road. Knowing that rescue teams were surely on their way, he was left with the realization that these folks would be at the mercy of the storm until they arrived.
Many of us who partake in vehicle supported adventure journey far into the backcountry. This 72-hour survival kit is a great addition to your emergency preparation items.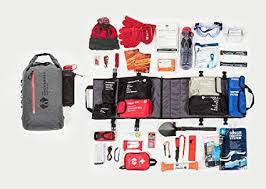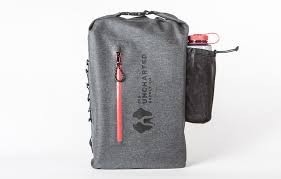 The SEVENTY2™ Survival System comes with these essentials in these categories: first aid, food and water, warmth and shelter, air and vision, tools and electronics.

Explore confidently. unchartedsupplyco.com
TAP Trail Approved
________________________________________________________________________________________________________________________
So that's the 2018 Holiday Gear Guide. Most of the products above we've tested over the last 6 months and carry in our rigs today. TAP into Adventure!
Author: Lori Palmer