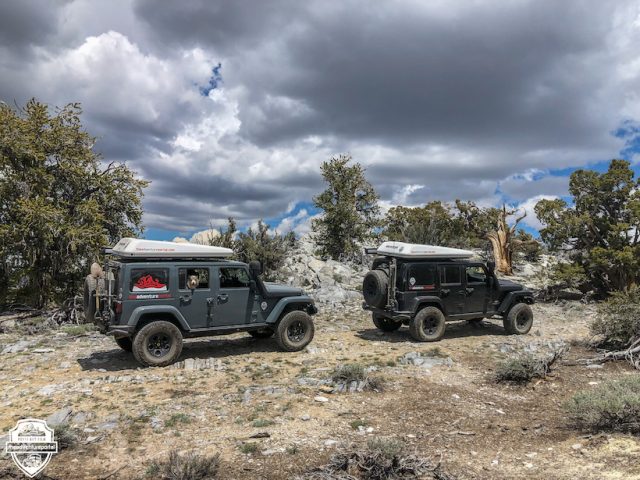 The Adventure Portal rigs are built specifically for the ability to perform well in a variety of environments. We've equipped them for exploring the backcountry, the ability to "crawl" safely when the trail demands, and last but not least, they must be pavement friendly. They are our everyday rides and need to handle as well on blacktop as they do on dirt, sand, mud, and rocks. When considering aftermarket parts, we chose a solid brand that would meet these criteria.
Our vehicles are built on the 2014 Wrangler JKU platform with American Expedition Vehicles (AEV) aftermarket parts. What follows is a rundown of our components and the reasons why we chose AEV. I will call the black JKU TAP01 and my Anvil Jeep TAP02. I will also highlightother non-AEV upgrades that we made in order to meet each rig's individual purpose.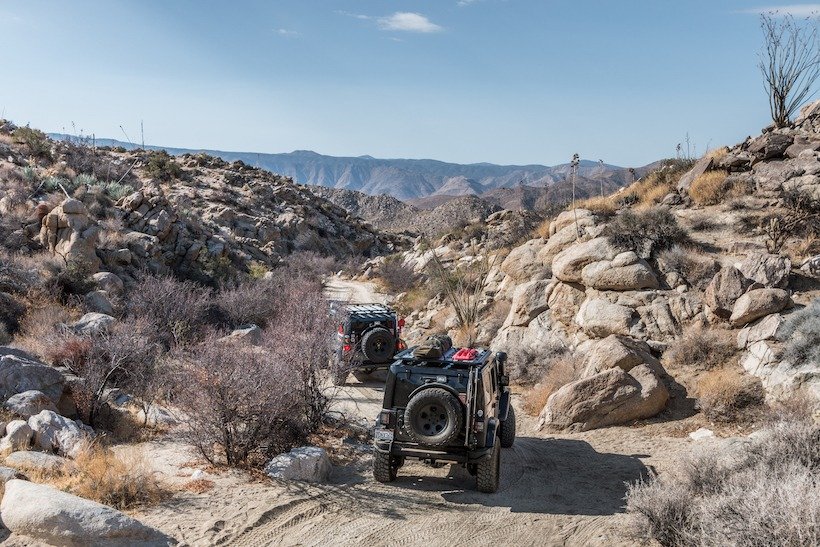 The Adventure Portal rigs feature AEV front and rear bumpers, fuel caddies, roof racks, differential armor, heat reduction hoods and snorkels. Despite similar build choices, each rig serves a specific role and therefore have a few unique variants in their builds. TAP 01 is the photo and film workhorse, while TAP02 sports extra body armor for protection when rock crawling.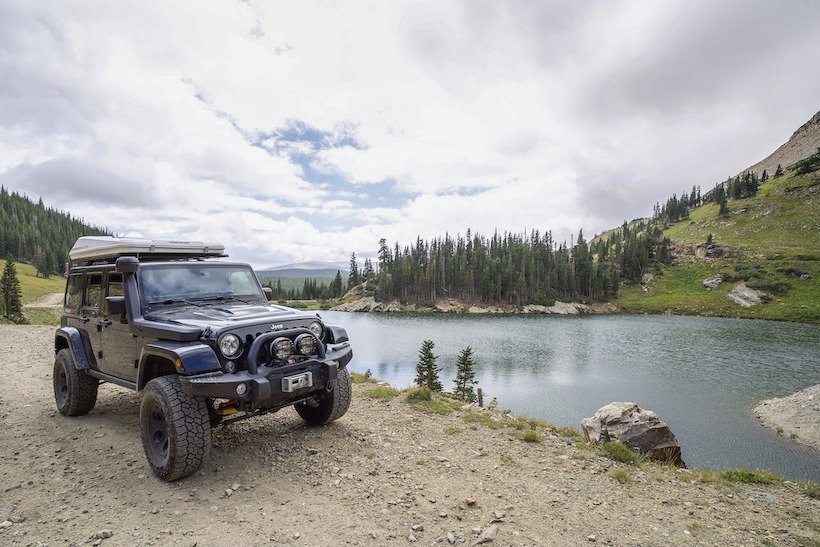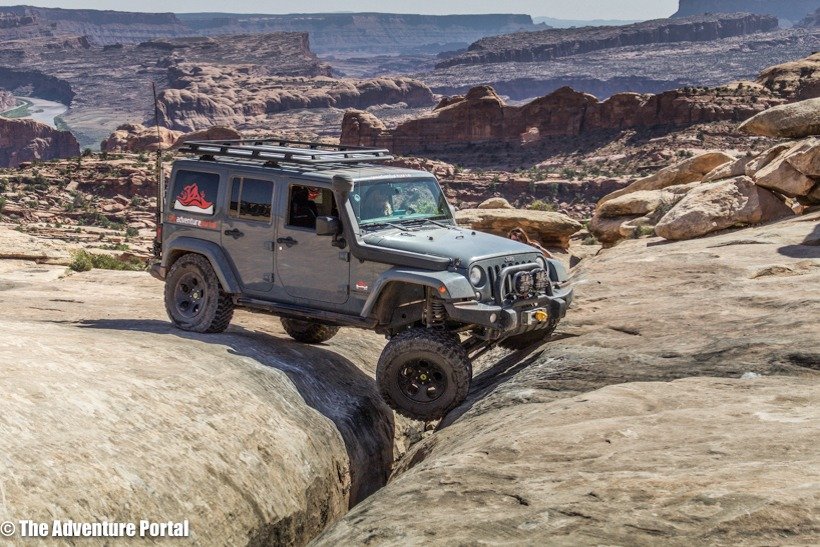 Why AEV Front Bumper and Heat Reduction Hood
AEV uses galvannealed, stamped steel for all of their steel accessories (i.e. bumpers and hoods). Both galvannealed and galvanized steel are zinc coated and are designed for rust and corrosion resistance. They are also passed through a hot dip coating process for rust prevention. The galvannealed steel goes through an additional annealing (heat treating) process, vastly improving the formability of the steel, while helping to eliminate internal stresses and increasing paint adhesion. The benefit of using stamped steel is that it makes the components stronger and more integrated in their appearance.
AEV's Heat Reduction Hood is engineered to increase air flow to cool the engine, particularly in difficult low-speed terrain. The hood design is engineered with OE (Original Equipment) crumple zones for maximum impact protection. Crumple zones are areas of a vehicle that aredesigned to deform and crumple in a collision, thus absorbing some of the energy of the impact and preventing it from being transmitted to the occupants. I'm not going to lie; another bonus is that the Heat Reduction Hood looks awesome.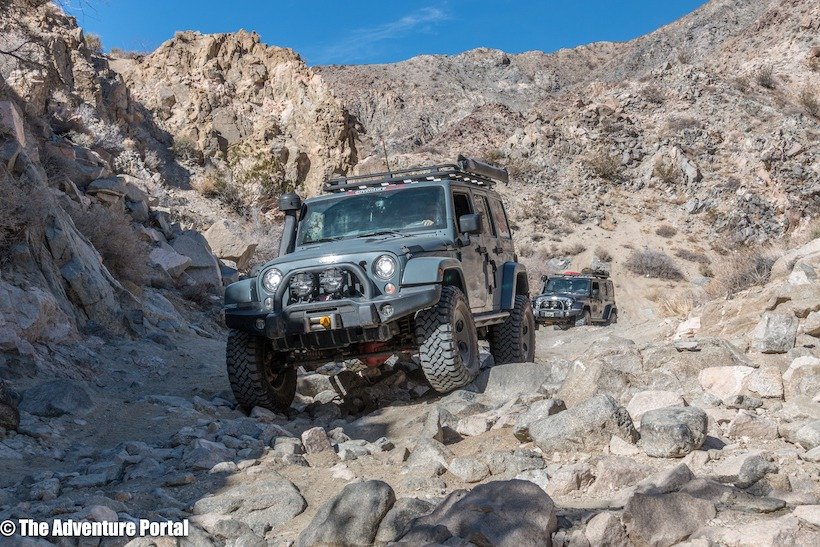 AEV Fuel Caddy, Tire Carrier and Back Bumper
All three parts are designed to work together. The rear bumper has all the same specs as the front bumper in terms of strength and aesthetics as well as a 2.4 gallon liquid storage tank. The fuel caddy holds 10.2 gallons of fuel and is made with high strength, cross-link polyethylene, the same material used in OE fuel tanks. The caddy is designed to work in conjunction with AEV's tire carrier system. Their tire carrier is chassis-mounted and carries tires up to 40". It also accommodates our Hi-Lift Jack/Pull-Pal mount, shovel, antennae flag mount and back light. This is a marriage made in heaven.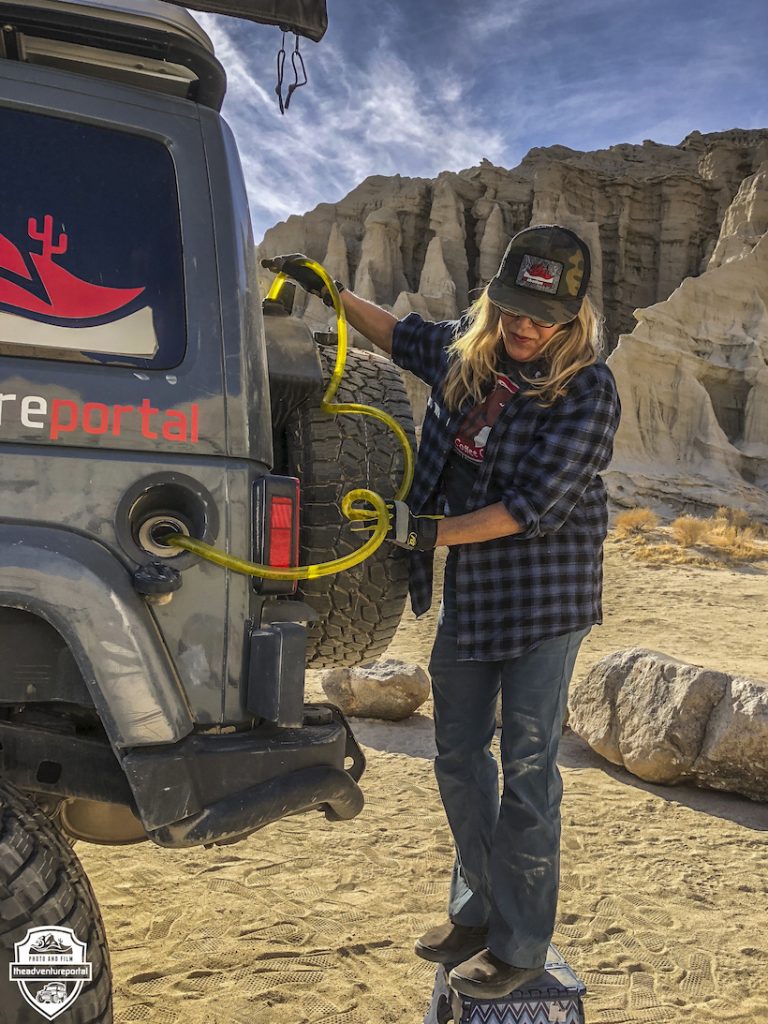 AEV Snorkel
The Adventure Portal Rigs drive in the desert a lot and climb dunes when given the opportunity. We don't shy away from deep water crossings either. Because of this, both of our rigs have snorkels. Our snorkels provide the engine with clean air because it is ` in from a raised intake source. If you are looking for a heated argument with an off-road enthusiast, bring up the topic of whether or not snorkels actually make a difference. You won't find many, "Oh, I don't know." answers. In our experience, people either solidly back the addition of a snorkel or they think we are a bunch of posers for having one. We believe that they are a sound investment and have a few years under our belt to confirm that belief.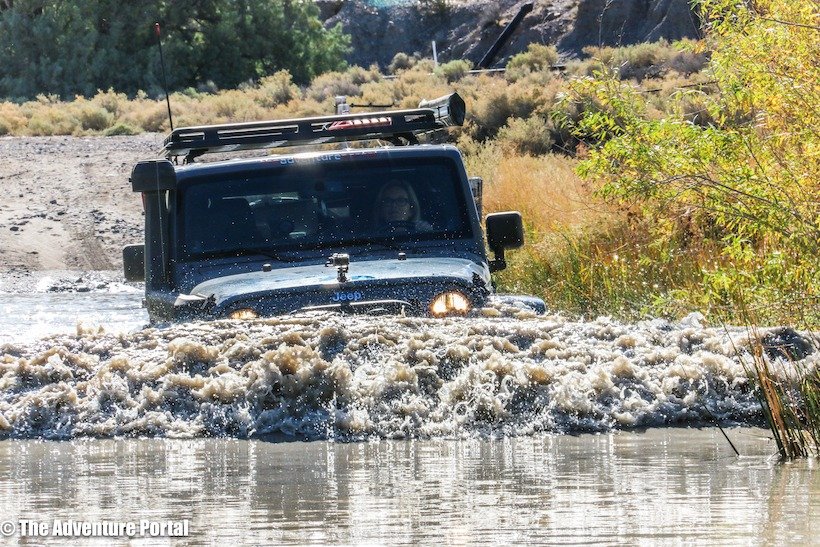 AEV 4.5" DualSport Suspension and 4.5" High Capacity Coils
AEV employs OE factory-trained suspension engineers who create and test for the best overall symmetry of their suspension packages as possible. The result being a lift that we have found provides a smooth ride, both on and off roads devoid of the annoying nose-dive, body-roll and poor impact response that can be the byproducts of many aftermarket suspension kits. While both rigs sport the 4.5" DS suspensions, TAP02 has added their 4.5" High Capacity Coils. The High Capacity Coils are golden if you regularly carry a lot of extra weight. They've worked out so well, that we'll be adding them soon to TAP01
As previously mentioned, TAP01 is the Photo and Film workhorse and has been internally built for this purpose. To capture our photographic needs, we have a lot of gear (cameras, drones, camera sliders, etc.) and to efficiently give access to this equipment, we went with the Goose Gear 60% platform and cubbies.
TAP02 acts as the kitchen and galley for our expeditions and is also taken rock crawling whenever the opportunity arises. Internally, we added the Goose Gear plate and side cubby systems for their durability as well as the ability to store items in the floor and side cubbies. We installed a GCP-1 storage drawer to hold all recovery gear. TAP02 also sports a full underbody skid plate system from Rockhard 4×4, to protect the undercarriage from trail damage.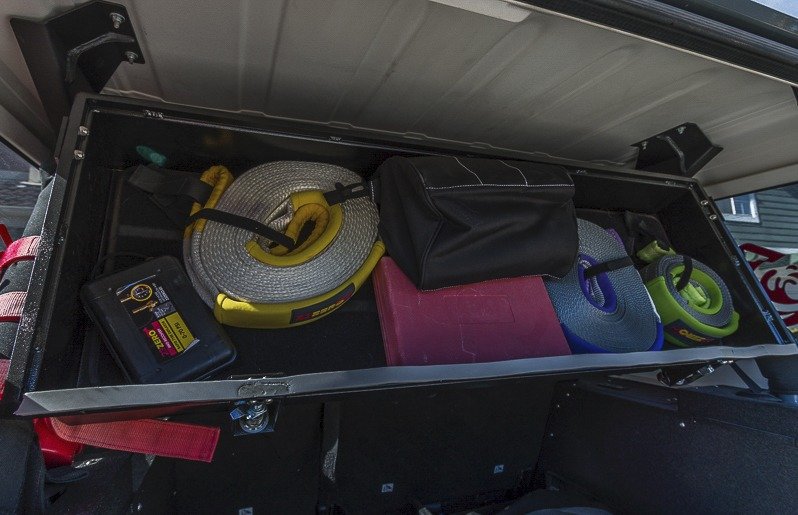 In addition, both The Adventure Portal rigs have on board ARB compressors, dash mounted Vector Bars and 67 Designs Phone and GPS mounts, Falken Wildpeak AT'S 3 tires (35"X 17X 12.5), Tembo Tusk fridge slides and one Engel and one Snomaster 45L fridge/freezers. We've also both had the Outback Adventures Trailgator tables installed as well. To finish the two builds, we recently added two small Autohome Maggiolina Extreme RTT's that have quickly proven to be easy to erect and super comfortable.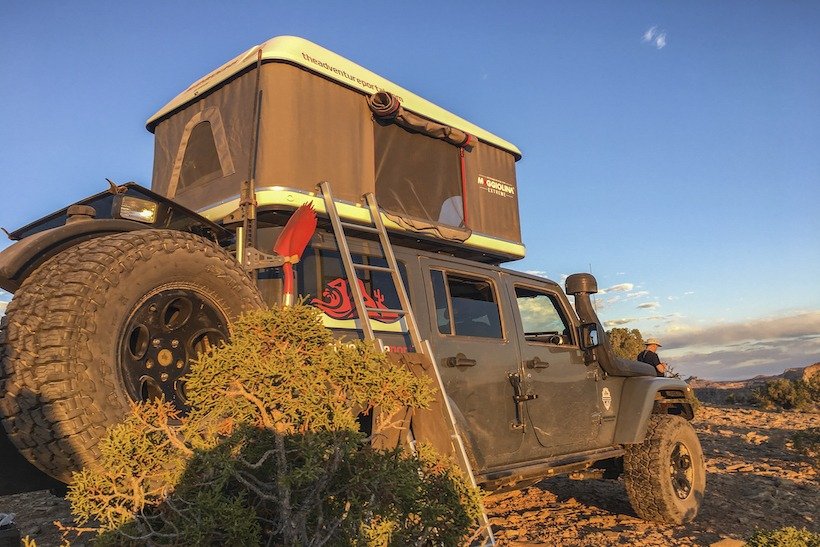 Avoiding the impending lightning storm in the Rockies, CO
We have truly come to know the meaning of the acronym J.E.E.P. Just empty every pocket. We have spent a lot of money on quality aftermarket products and in return they have given us some of the best adventures we've ever had. Our AEV conversions as well as our internal build-outs provide us not only with a solid ride, but safe and enjoyable experiences in all kinds of environments. So, is the money spent it worth it? Absolutely!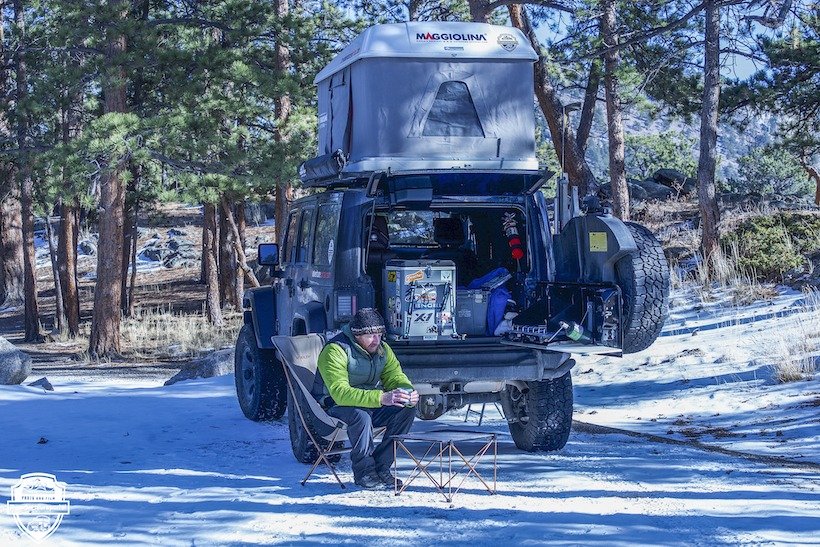 _________________________________________________________________________________________________
For more overland and off-road capable rigs, CHECK HERE